Pizza and Unlimited Prosecco At Revolution Derby
---
Published On Sunday 9 Jun 2019 by Sticky Beak
See Recent Dining Out Reviews | See All Recent Reviews


Go me! I won a competition to have Pizza and bottomless Prosecco at Revolution, Derby. It isn't often that I win competitions so I was a little bit giddy with excitement when I found out, although I did have to give some of the credit to The Man Bird.
I was the one who spied the competition, but as I was about to sort a GIF out to post, nature called (so off I duly tootled), and when I came back His Nibs had already posted what he deemed an accurate representation of me on a night out! Picture if you will, one of those brightly coloured parrots, plastic cup in beak, bouncing around like some demented chicken; yep, that apparently is me after one Daiquiri too many! Charming. Clearly, it appealed to the Revolution team and they chose me as their winner.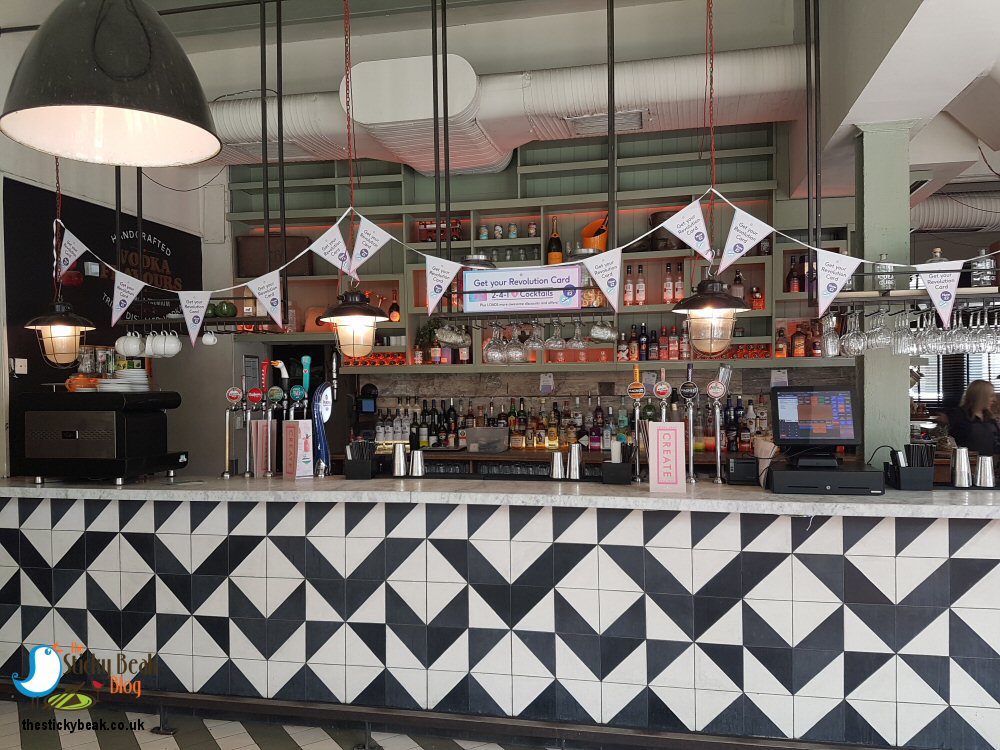 Revolution have been offering their Pizza and Bottomless Prosecco offer for about a month now; it's priced at £25 per person and is available on Saturdays and Sundays with slots at Noon, 1pm, 2pm , and 3pm. What I like about this offer is the fact that your 2 hour drinking window doesn't start until you have your first drink order placed.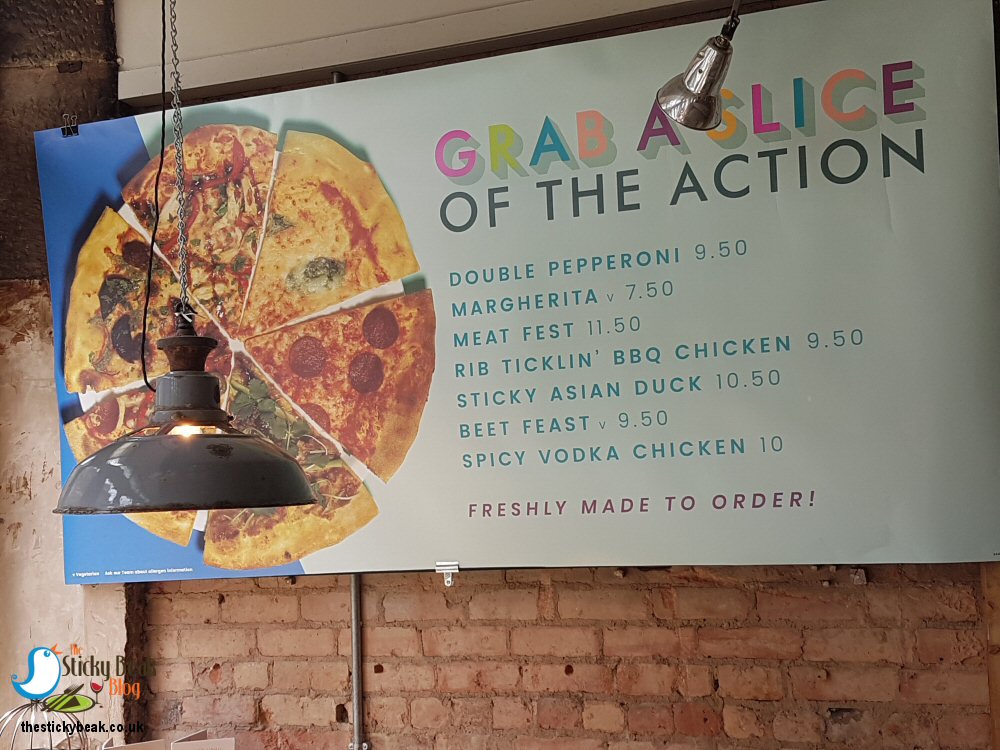 Drinks-wise you're not restricted to just Prosecco either; you can also choose to have Amstel beer, Bloody Marys, Bubblegum Daiquiri, or the Blank Canvas cocktail where you can add your own choice of Revolution Vodka shot to customise your tipple. The Man Bird kicked off with a classic Pear Drop-enhanced Blank Canvas, and I had the frozen Bubblegum Daiquiri which comes decorated with proper old-fashioned, face contortingly sour Flying Saucer sweets. I shared one with my beloved, and we sat there with our mushes screwed up tight; if there'd been a gurning competition we'd have won that too!!

We'd met one of the Revolution team in his previous job at Byron Burgers, so it was lovely to see (little) Will again. Big Will (boss man) came to see what Pizzas we fancied, explaining that they're all included in the offer – yay! I hate it when there's an offer but this isn't included and that isn't included – I'm a simple gal, make it easy for me lol!




The Sticky Asian Duck pizza was ringing all the bells for me with its sticky onion glaze base that then gets loaded with Mozzarella, Hoisin sauce, Coriander, finely sliced Spring Onion, sliced Cucumber and shredded Duck. His Nibs couldn't decide between the Rib Ticklin' BBQ Chicken and the Spicy Vodka Chicken, but he eventually went for the Spicy Vodka Chicken pizza; this has pulled Chicken Breast, Pepperoni, peppers, Jalapenos, Chilli Flakes, and Parsley on a Mozzarella and Tomato base. The real star is the Chilli Vodka Salsa though; this has a real kick to it!

So there we are, chowing down on a pair of absolutely bangin' pizzas; all is going well, belly is filling nicely and I have no desire for anything else in my life at that moment. Enter little Will. Oh so casually, he drops in "yeah, the Bacon Cheesy Fries are superb too; we get loads of rave reviews about them". Squeeze me? Baking powder? So there I am, stuffing my face greedily, now craving those fries as if I hadn't eaten for like the last decade! Cheers for that, bud (as he nonchalantly saunters away!). His Nibs takes one look at my face and starts chuckling away at my discontent... shut it fella. I managed to resist temptation, but don't ask me how.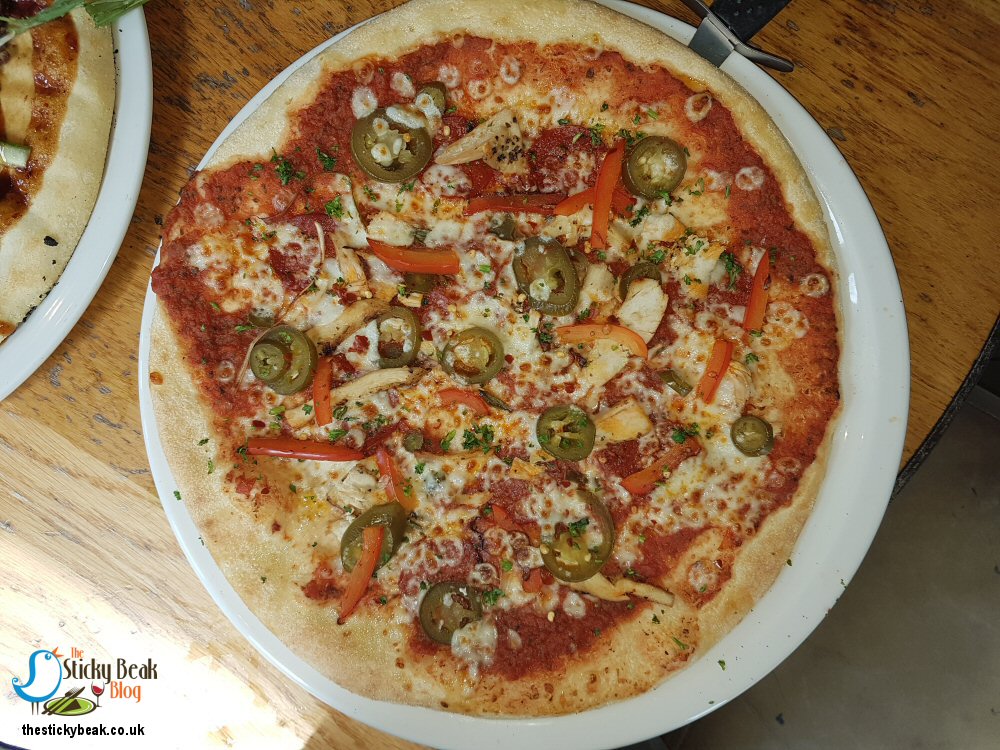 I have to say though that my pizza was absolutely glorious. I loved the thin, crispy base and you really couldn't wish for any more toppings on a pizza – it was fully loaded. The Hoisin just gave its fragrant notes nicely in the mouth, partnering the super-succulent Duck perfectly. There was a fab crunchy element from the Spring Onion, and the Cucumber ribbons cooled things down nicely in the mouth. I'd totally eat this all day long, so you won't be disappointed if you try this morsel yourselves.

Those of you that are spice monsters will just eat the Spicy Vodka Chicken pizza up – no pun intended! There's plenty to keep your taste buds on red alert: Pepperoni slices have a fab punch of their own, tangy Jalapeno slices are wanged on left-right-and-centre, and the Chilli Vodka Salsa gives you a full-on kipper slap round your chops just to make sure you're appreciating the heat levels properly.Chef Dale was clearly on fire (again, no pun intended) in the kitchen when making these delicioso pizzas!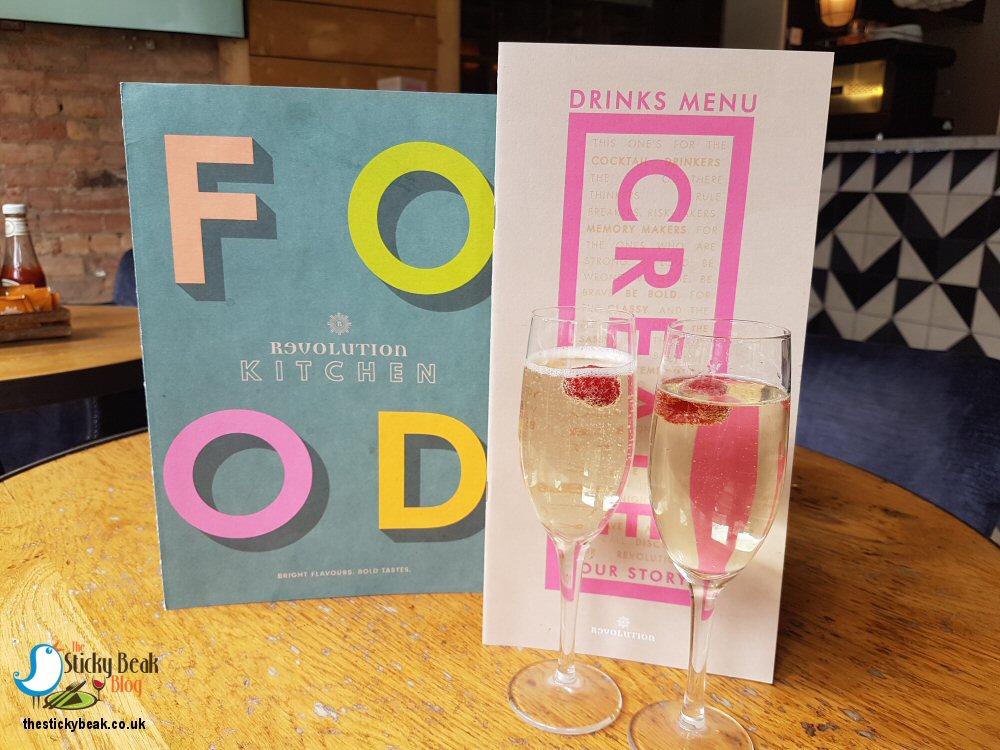 Carly was keeping us nicely watered with our choices of Blank Canvasses: Jelly Baby, Classic Pear Drop, Sour Blast, Raving Raspberry, and Wild Watermelon. We also supped our way through some Prosecco, and this comes decorated with a fresh Raspberry in the glass. A nice easy way to get one of your 5-a-day, I reckon.

We'd really been looked after well all the way through our time at Revolution in Derby; hats off to the dream team of Big Will, Little Will, Dale and Carly, you guys were fantastic. Hot Wings (and then some!) given to you <3. Just a shame I didn't manage to try more of the great sounding vodka shots on the Revolution menu. Oh well, guess I'll have to go again another time!




Before we knew it , it was time to go home. Well, that's what His Nibs thought anyway! I thought we might have a pootle down Sadler Gate, and what do you know, we just happened to pop into Jack Wills – Chickadee, it was your lucky day!.

To let The Man recover from this impromptu spend, I took him up to Rowley's for a sneaky Gin and then went to Cosy Club for a pitcher of English Garden (just the job on a hot Summer day). David (aka Mr Bramble) has gone to the delights of Durham, so Heather shall now be known Miss English Garden. We first met Heather at Turtle Bay (where we'd also had to have a Marley Mojito and a Reggae Rum Punch earlier in the day!), so it was lovely to see her still working in Derby . She's a beautiful young lady with an incredible smile, and she always gives you her all in customer service.

Yet again, the city of Derby provided us with a memorable afternoon; so if you fancy going into its bright lights, be prepared to fall for all its charms!!
No incentive was provided to visit this venue
read more