New From Nutural World - Crunchy Chocolate Nutty Spread
---
Published On Tuesday 4 Jun 2019 by Sticky Beak
See Recent Food Producer Reviews | See All Recent Reviews


I've sampled the products from Nutural World a couple of times now, and I always enjoy what Mordechai concocts. It never fails to amaze me how he manages to cram so much taste and goodness into his products (which are 100% natural, no additives or preservatives other than what Mother Nature has bestowed); then it makes me angry that all companies don't do this! Anyhow back to the purpose of this post, Mordechai's latest marvel: Crunchy Chocolate Nutty Spread.
You may recall that I was given the prototype Smooth Chocolate Nutty Spread to review at The Fine Food North Show in Harrogate in March this year, and loved it. Seriously, if you haven't tried it, you're missing out; you absolutely need this chap in your life – like pronto, Tonto! Imagine Nutella spread, but a squillion times better. No chemicals, just pure unadulterated Nuts, Dates and Cacao; boom, taste explosion in your mouth. Best of all though, it's spreadable straight from the jar at room temperature, which makes it perfect for midnight snacks.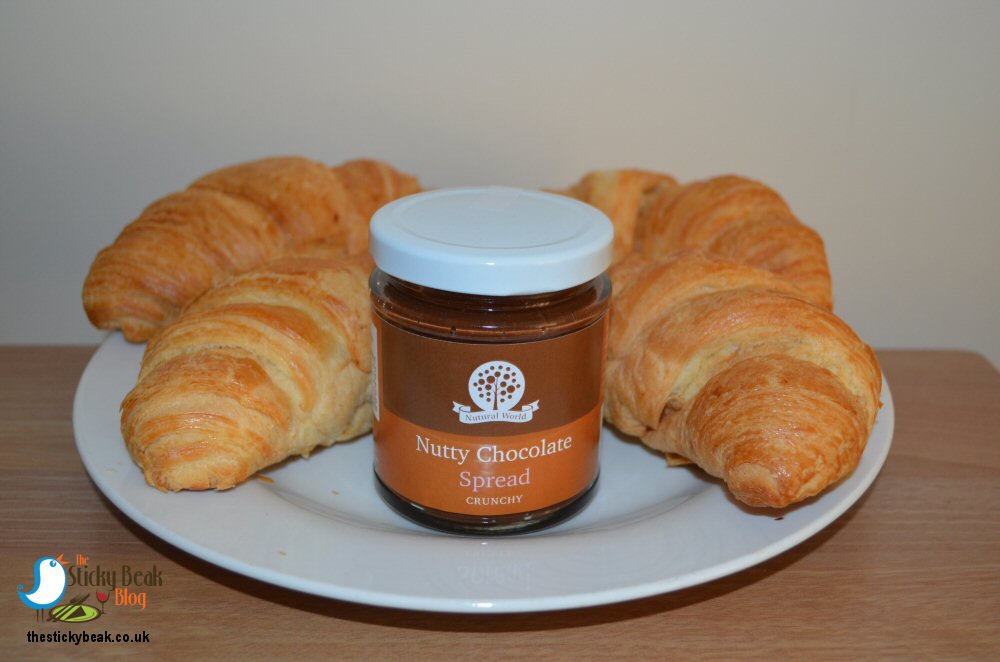 You're probably thinking (like I did) 'how on earth do you improve on perfection?'; fair question. The answer is to make a crunchy version that totally rolls all over Ferrero Rocher choccies (minus the wafer component, obviously) – which are another of my fave things by the way. As with the smooth version, there are only 5 ingredients: Almond, Cashew, Hazelnut, Cacao, and Dates. Given the level of taste, it really is hard to wrap your head around the fact there is only a quintet of components in this unassuming glass jar! I might just have to call them the "Quintet of Awesomeness" from now on.




You've got that incredible fusion of Chocolate and Nutty flavour but with the added bonus of a gentle crunch from nut pieces' running throughout it – which is where it reminds me of the Ferrero Rocher morsels. You can spread this bad lad straight from the jar too; but try to resist its charms longer than I did. I didn't even bother popping it on the toast first time, just gobbled it straight from the jar – naughty yes, but oh my goodness SO worth it!

I have to admit to giggling and feeling admiration for Mordechai's optimism all at the same time; on the jar label it advises that this product should be consumed within three months of opening. Three months?! Not going to last 3 days chez Beak, Mordechai #SorryNotSorry !

Yet again Nutural World manages to smash commercial products out of the water with its all-natural offerings. Hotter-than-Hot Wings given for this complete bobby dazzler, it's the "Nuts' Nuts".