Breakfast At The BookCafe In The Quarter, Derby
---
Published On Thursday 9 May 2019 by Sticky Beak
See Recent Dining Out Reviews | See All Recent Reviews


The Man Bird and I were in Derby at the weekend; one of my jewellery items had a stone missing and we had taken it in for an estimate on getting it repaired. For the amount of wear this ring has, it shouldn't need repairing - but that's a WHOLE other story!! Anyhow, once we'd done that job we noticed the time and thought "blimey, we've not had any breakfast"; shameful of us, I know, so we set about rectifying the situation pdq!
We had visited the Book Cafe on one previous occasion, ages ago actually, just to have a quick coffee and remarked back then that we would love to go back and try the food. It was absolutely heaving when we rocked up about 11am, and there was a great range of folks there; families with kids of various ages (in prams right up to teens), couples of all generations, and groups of friends. A lovely lady showed us where there were some empty tables and we sat ourselves down at one of them and looked at the menu. I noticed that a lot of tables had been reserved earlier in the morning, and that some had reserved signs on for lunchtime. Mental note to self: phone ahead to reserve a table if we want to come for an evening meal or eat at peak times.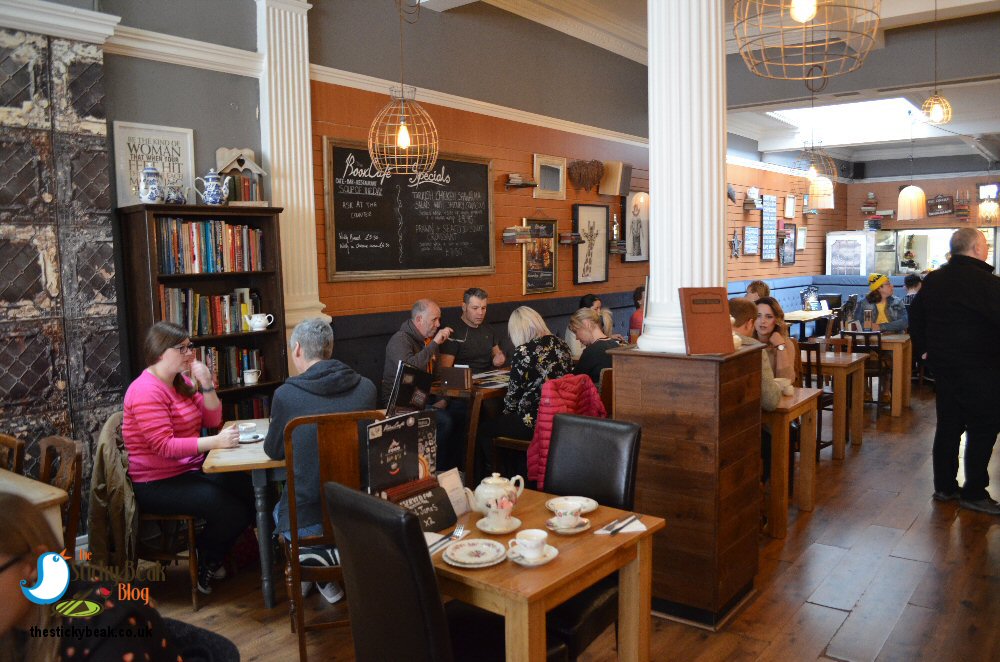 I really like the quirkiness of the interior too. The front portion of the downstairs space has a sort of faded, dimmed character reminiscent of grand libraries you see in films; the ambience was very chilled and relaxed, almost as if time stood still for a while. Piles of books had mis-matched china cups and saucers on them, and there were bookcases scattered around with their shelves heaving under the weight of the tomes upon them. As you walk through the space, towards the middle and rear portion of the venue (where the counter and access to the facilities are) the decor takes on a more modern, brighter feel; the lines are more angular here and the walls are painted in brighter tones.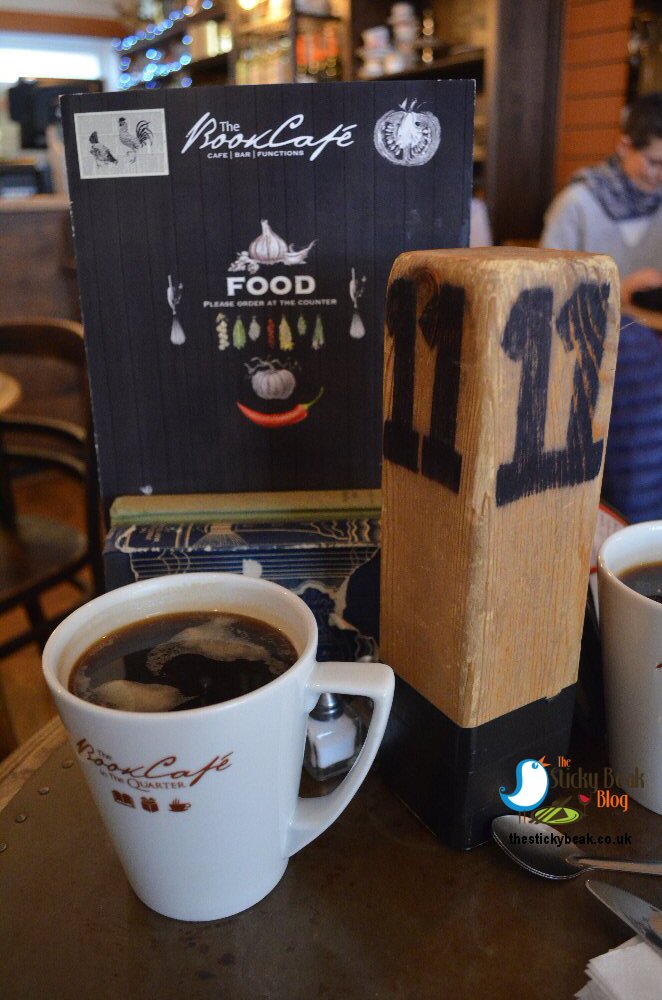 All the tables are good sturdy affairs, not that they all match; some are round, some square, and some rectangular. They all are ample enough for the amount of persons they seat (and food to be served) and the chairs are comfy too. When we'd made our choices His Nibs went up to the counter to order and pay, and came back with a wooden numbered block that would let one of the serving team know where we were.

The coffee was lovely; a nice medium roast with a soft, rounded flavour that was perfect for easy sipping.At only £2.60 for a large cup, it was cracking good value too. We didn't have long to wait before a lovely young lady was bringing our breakfasts over; The Full Derbyshire (£9.45) for The Man, and Avocado with Feta and Chilli flakes on Sourdough toast (£7.95) with added Salmon and 2 Poached Eggs for me (extra £1.50 per item, and there was the option of Bacon too).




My breakfast was delicious; the Avo was distributed plentifully over the 2 large slices of sourdough toast that had been halved. The toast itself had a beautiful thick crust to it and that lovely gentle "tang" on the palate that comes through when chewed. Each piece of toast had a slice of succulent Salmon crowning it, and the contrast of its peachy pink tone and gentle green of the Avocado looked very pretty on the plate. Perfectly poached eggs added to the creaminess of the Avocado, their rich yolks like liquid sunshine when they were pierced. A side garnish of Balsamic roasted baby vine Tomatoes and Rocket leaves looked, and tasted, wonderful, with a balance of sharp, sweet, and peppery notes coming through clearly.




His Nibs' Full Derbyshire breakfast comes with a choice of toasts, which he didn't fully explore, other than going for the gluten-free option. This breakfast also allows you to choose how you would like your free-range eggs cooking: poached, fried or scrambled; The Boy Wonder went for fried, no surprise there! The Chef at The Book Cafe in Derby's Cathedral Quarter is clearly skilled in the art of eggs; they were precisely fried, no dry crisp edges here, and marvellously runny yolks to dip things into. Dry-cured Back Bacon is offered as one thick slice in this version of the breakfast and has a dense, meaty texture and rich flavour to it. I was a happy little soul as the juicy field Mushroom came winging its way over to me and totally savoured its firm texture and deep, earthy taste; his loss = my gain.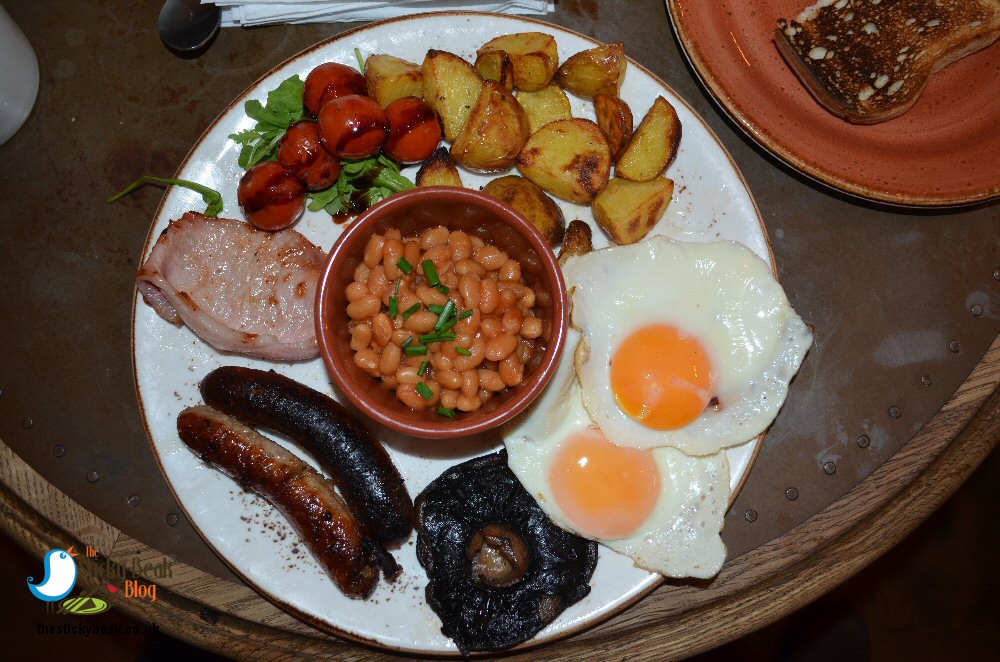 I always say that it's the small touches that make a big difference, and by just adding a sprinkle of fresh, chopped Chive on the top of the humble Baked Beans they looked so much more impressive and inviting. Chunks of the delicious Sausage were soon getting dunked into them at a fair old pace! Speaking of the Sausage, it was also jolly tasty; not the thickest specimen that His Nibs has had in a fry-up, but not a piddly little thing either. Got to say that the big banger done by Owen Taylor and Sons butcher is still the champ in his eyes!

The Rosemary-roasted Parmentier Potatoes were another bit hit with The Man Bird. He loved their invitingly crisp outers and the taste of their just-firm inners was lovely and sweet on his tongue. Herbs always bring a nice element to any dish and the use of Rosemary and Chive (on the beans), certainly made their mark on this occasion.




It's only been recently that His Nibs has come around to enjoying the delights of roasted Tomatoes; previously he wouldn't go near any form of this vegetable/fruit, but I have managed to persuade him to broaden his culinary horizons a bit more. Baby steps, but progress nonetheless. The ones served at The Book Cafe were soft, juicy, sweet and glazed with Balsamic Vinegar before being roasted. The result was utterly glorious; a riot of flavours all hot and intense in the mouth.




Needless to say, the plate was spotlessly clean and The Man Bird declared this to be "up there in the best brekkie stakes". Praise indeed! He said that the only improvement would be the addition of a Derbyshire Oatcake, but I pointed out that this may well be one of the "bread" options for the toast. If you find out, can you let me know please dear readers?

Hot Wings happily awarded to this lovely Derby team, working hard to put The Book Cafe on the map in the Cathedral Quarter of the city .If you get chance, it's well worth a visit let me assure you.
No incentive was provided to visit this venue
read more