The Taster Menu At The Merchant's Yard in Tideswell
---
Published On Sunday 5 May 2019 by Sticky Beak
See Recent Dining Out Reviews | See All Recent Reviews


I'm loving the lighter nights (not so much the lighter mornings, as I can't sleep as much!) as it means The Man and I get to admire the beautiful Derbyshire countryside as we jaunt around. On this occasion we were heading up to the picturesque village of Tideswell to sample the food on offer at The Merchant's Yard.
As with many villages, there isn't a lot of parking always available at venues that are relative newcomers, and so it was with The Merchant's Yard. We managed to find a spot on the main road though, with only a short walk needed back to the premises. As a nod to its former use as a builders' merchants yard, the Markovitz family (and its Hopkins branch of the tree) have kept the decor very much inspired by the trade; exposed brickwork abounds, there's plenty of woodwork to admire and the metal pipes can be found as table legs and lighting.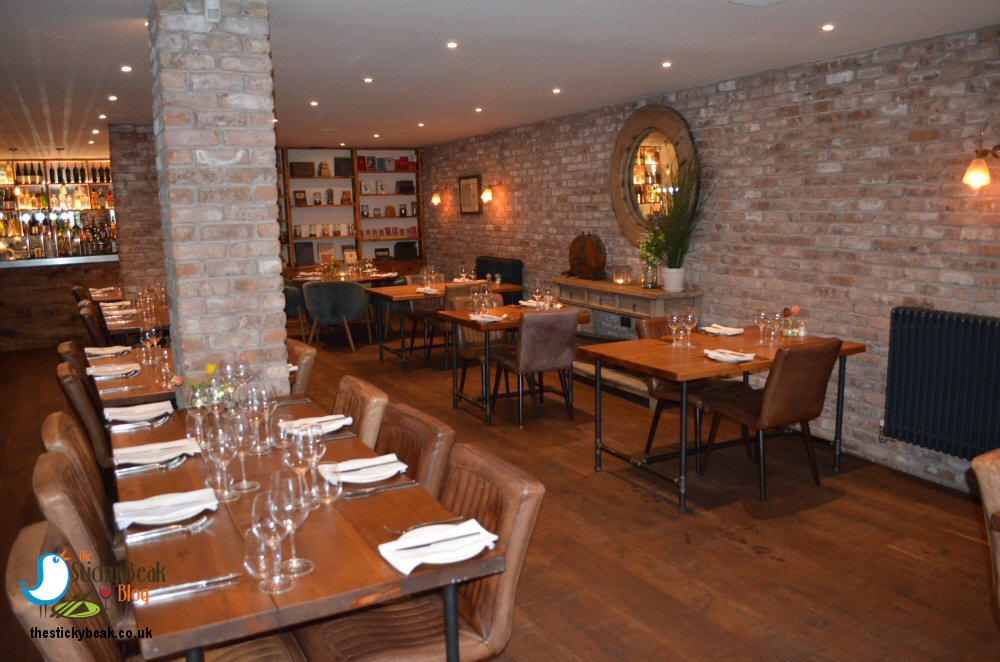 Recently, the team have had an extra restaurant space added, meaning that diners can now be accommodated over three floors – all of which blend seamlessly together. The new extension has its own bar and facilities which makes it ideal for larger private functions when the doors are closed off to the older, existing bar and restaurant.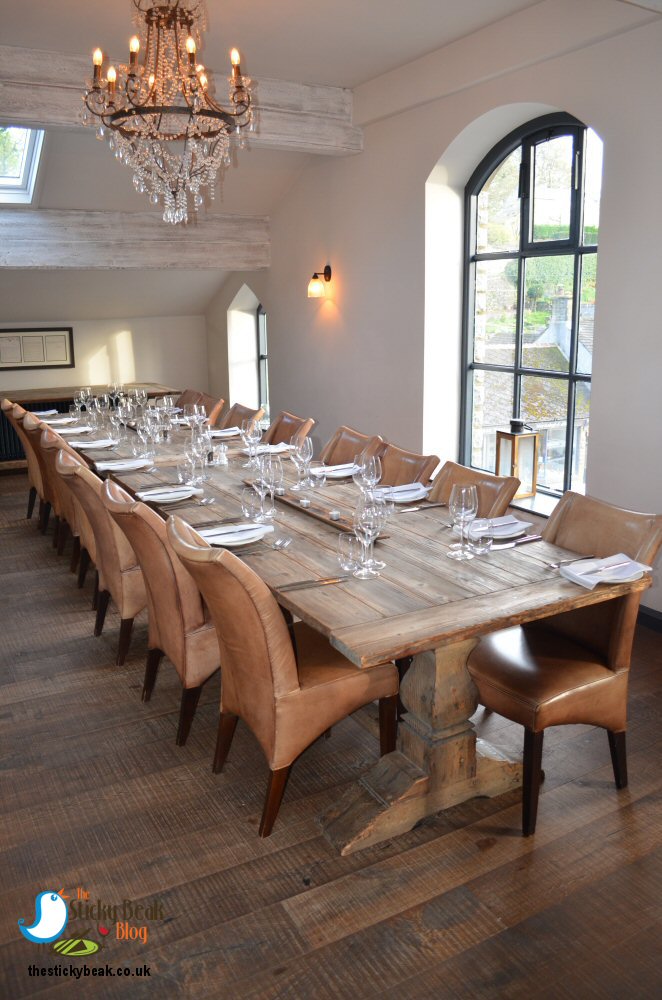 Danny Hopkins, The Merchant's Yard Manager, kindly gave us a tour around the entire building; I particularly love the upper floor with its limed ceiling beams and impressive view over Tideswell. This space is just made for Baby Showers, Afternoon Teas (yummy!!) and smaller parties as it can accommodate up to 26 people – there's even a large table to pop gifts on!.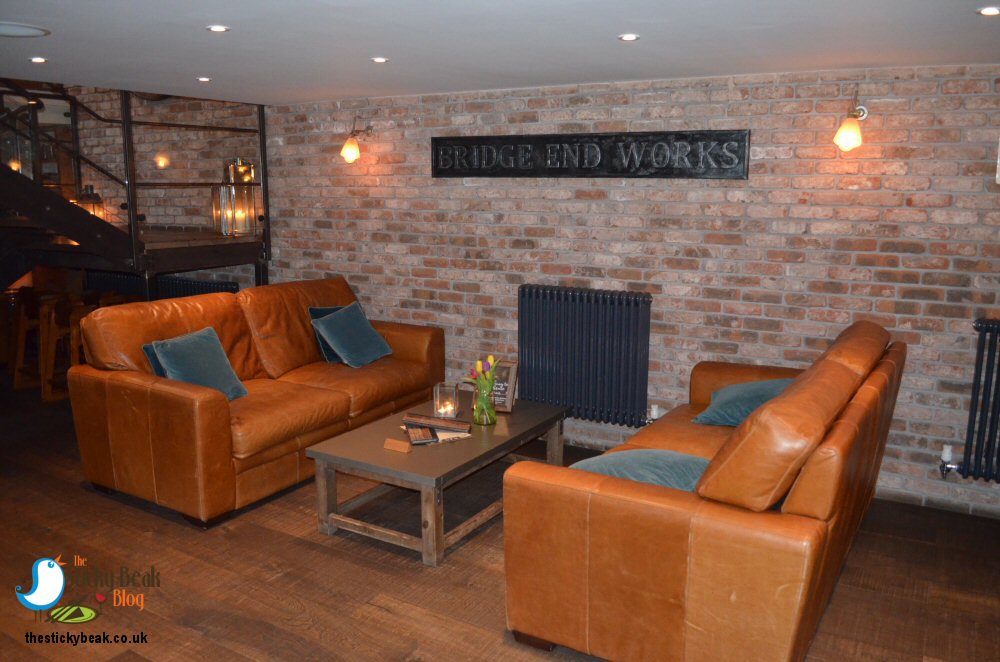 The great thing about having one of the family members show you round is that you get the details and history not only about the building itself, but also about the objets used to decorate the restaurant. Many of the items have been salvaged from Danny's Grandma, and include original ledger books for the merchants' business dealings and some furniture too; who says hoarding doesn't come in handy?!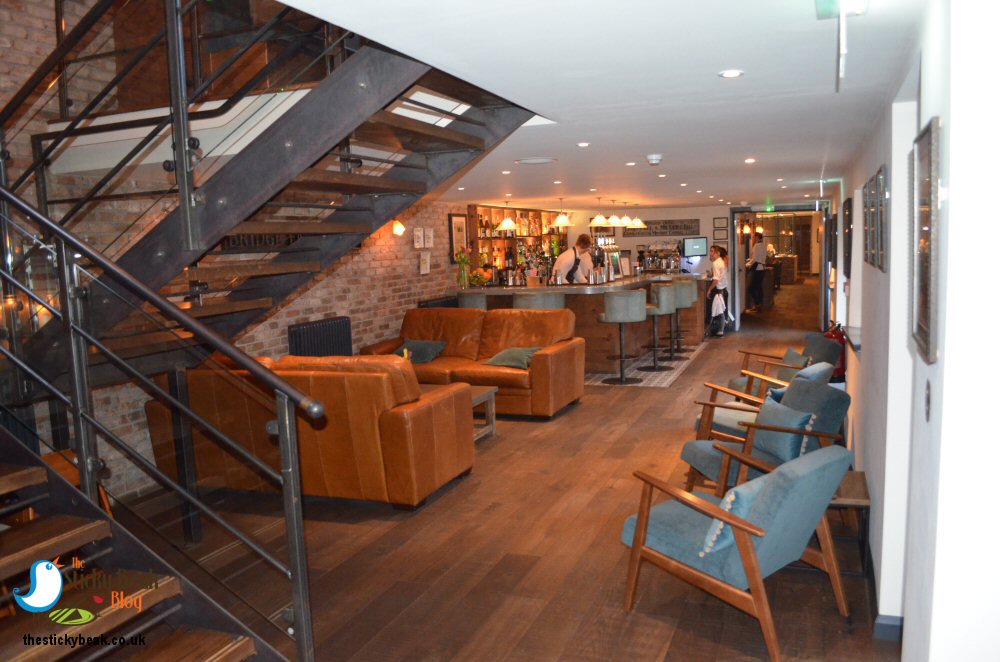 By Dannys own admission, the family don't come from a restaurateur background, so when they initially set up this venture they did so from a customer's point of view. This translates into super-comfy chairs to dine in, and extra touches such as soft sofas on which to enjoy a post-meal coffee. Plans are also well under way for the opening of 5 boutique accommodation rooms, which the team is hoping to open later in the year – watch this space!




Having completed our tour, Danny took us to our table and let us give the menu our full attention! Head Chef Carl Riley strives to use seasonal, locally sourced, top quality ingredients in the dishes he and his dedicated team prepare. At The Merchant's Yard you'll find something for every appetite and time of day; lighter options such as salads and sandwiches are there, as well as classics that have been given a contemporary spin, a delicious a la carte menu, and (what we opted for) the Taster Menu. There's also a cracking Market Menu/ Early Bird Offer available on Monday and Weds-Friday if orders are placed before 6.30pm; 2 courses are £14.95pp, 3 courses for £18.95pp.




The Taster Menu showcases the finest fare of the season and is priced at £59.95 or £94.95 per person depending on if you choose to have the accompanying wine flight or not. Sadly we didn't, as His Nibs was driving and I'm not a solo drinker – another time perhaps. The Merchant's Yard sources their wines from John Hattersley in Bakewell, and they have some beautiful one's for you to sample. I did however have a glass of Malbec, His Nibs had a pint, and we also had some water for the table.

Before our Gastro tour began, our lovely server brought out some homemade Caraway bread rolls with yeast-flaked butter to nibble at whilst our Amuse Bouche was being prepared by Chef Carl. Caraway has an earthy, anise-like pungency, so it's often a love/hate flavour; personally, I love it - but then I like Aniseed and Liquorice anyway. This seed gave the bread a fantastic, clean note on the palate, and it stood up to the tang of the yeast on the butter really well. Not a bad start to the evening if you ask me.




With our side plates and butter knives cleared away, we waited with bated breath for our Amuse Bouche: Oyster, Cucumber, Compressed Apple, Lemon, and Caviar. And what a thing of beauty it was too, displayed simply in its shell that perched on a bed of grains, and decorated with micro herbs.

Visually this dish was beautiful to look at with the contrast in colours within it; the inky black Caviar contrasted with the verdancy of the Green herbs and Apple. Taste-wise it was every bit as delicious! The Oyster was lovely and meaty in texture, its soft flesh yielding easily to my teeth and this opposed the crunch of the Apple, arousing the senses nicely. The Oyster and the Caviar both evoked that clean, Ozonic taste of the sea and this was a perfect start to the journey Chef Carl Riley wanted to take us on.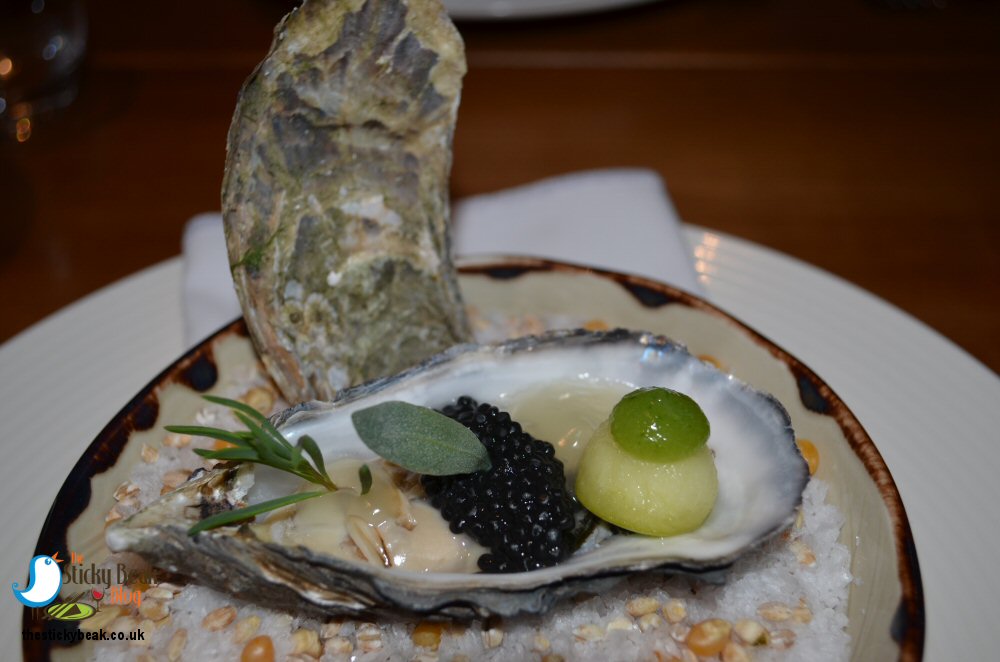 The second course was a soup of Spring Peas with Rocket espuma, coddled Hens Egg, and Angels' Spice. Again, it looked incredible with the pearly white of the egg nestled in a sea of pea-green; the espuma looking like delicate sea foam. A gentle scattering of sunny hued Angels' Spice added a pop of extra colour and wowed the palate with its vibrant, aromatic flavour that was a symphony of taste without the "heat" factor. We both loved the beautiful taste of this soup; it absolutely did justice to the character of freshly podded peas. The rich yolk of the hens' egg was partnered superbly by the peppery notes of the Rocket espuma and our taste buds were doing a cheerleading routine of approval!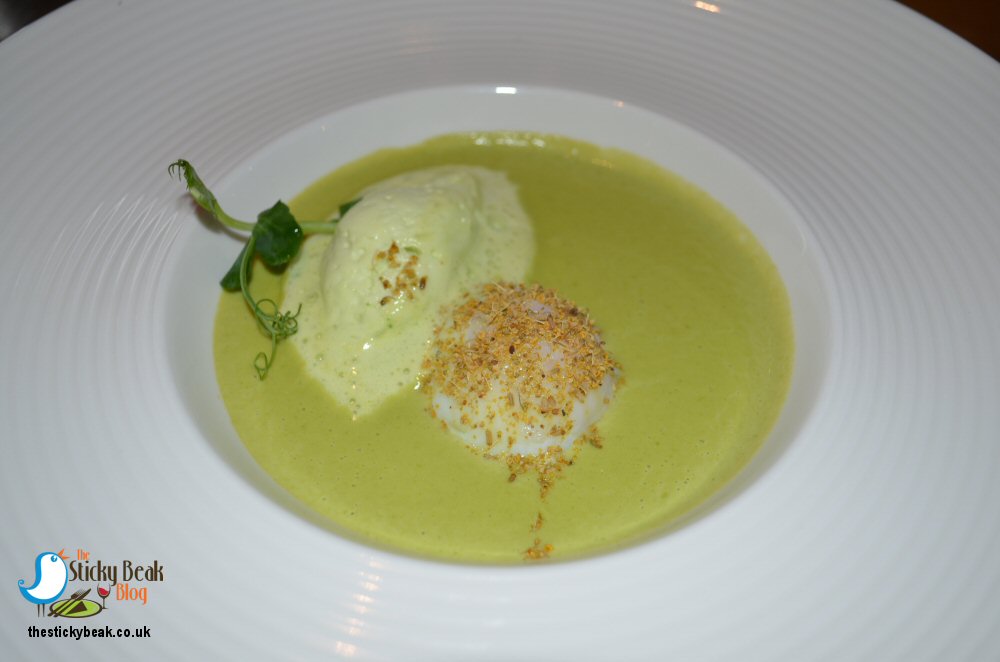 You can't fault the service at all from The Merchant's Yard team; each time our servers came to clear the table they took time to garner feedback and also took a smooth glance as to whether our glasses needed refreshing.

Next up was the Seared Duck Liver, Parfait, Cherry, Feuille de Bric, Anise, and Fig concoction. I was really looking forward to this – I love Offal as you know and Liver's intensity is one of my favourite tastes. His Nibs wasn't so sure about this at first, but once he'd taken those initial bites he was a convert; perhaps not the fanatic that I am, but he enjoyed it – and I was very proud of him for trying it. The delicacy of the Livers' flavour surprised him somewhat; I think he'd been expecting more of "Liver and Onions" type Liver!




Perversely, to say he isn't an Offal fan, he absolutely loves pâtés and parfaits; go figure?!The parfait was ridiculously intense in flavour with a very seductive moreishness to it and that musky hint that had my tongue swooning. Complimenting this muskiness was the fragrant notes of the fresh, ripe Figs and also the elegant Anise hint. Best of all though was that sweet/sour conundrum that the Cherry gel provided – boy did it sing like a soprano in the mouth – total bliss! Got to give it to Head Chef Carl Riley and his kitchen team, they were certainly all over things with this menu.

We moved on to the Sesame Scallop, White Asparagus, Penny Muscle, Pickled Shallot, and Radish dish next. Apparently Penny Muscle is another term for Pigs' Cheek, and this was tender-as-you-like with a fantastic depth of flavour to it that opposed its creamy Shellfish partner brilliantly. This was a really cleverly executed dish; not only had you got the contrast between the meat and shellfish tastes, but you'd also got it between the firmness of the crispy coated Asparagus and the tenderness of the meat. More texture came via the nutty tasting Black- and White- Sesame seeds and there was a delicious piquancy from the Pickled Shallot and the tangy Radish.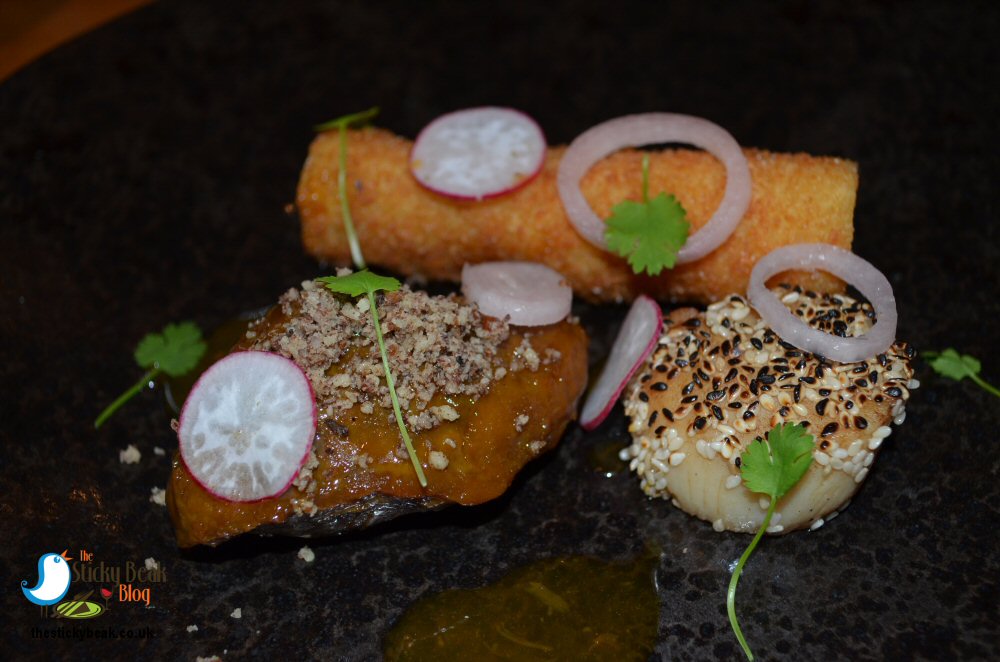 Continuing the meat theme, we had Lamb Cannon, Pommes Anna, Kidney, Olive, Onion purée, and Baby Carrot next. The Lamb was just wondrous, with a flavour as bouncy as the spring Lamb it had come from! Its creamy texture was beautiful in the mouth, softly surrendering to the bite. Both pieces of Cannon were strictly uniform in dimension and were cooked perfectly pink, glistening subtly on the surface with juice where the muscle fibres had been allowed to rest and release their moistness. As with the Liver previously, the Kidney had a superb muskiness to its taste and I revelled in its intensity as the velvety texture rolled around my mouth.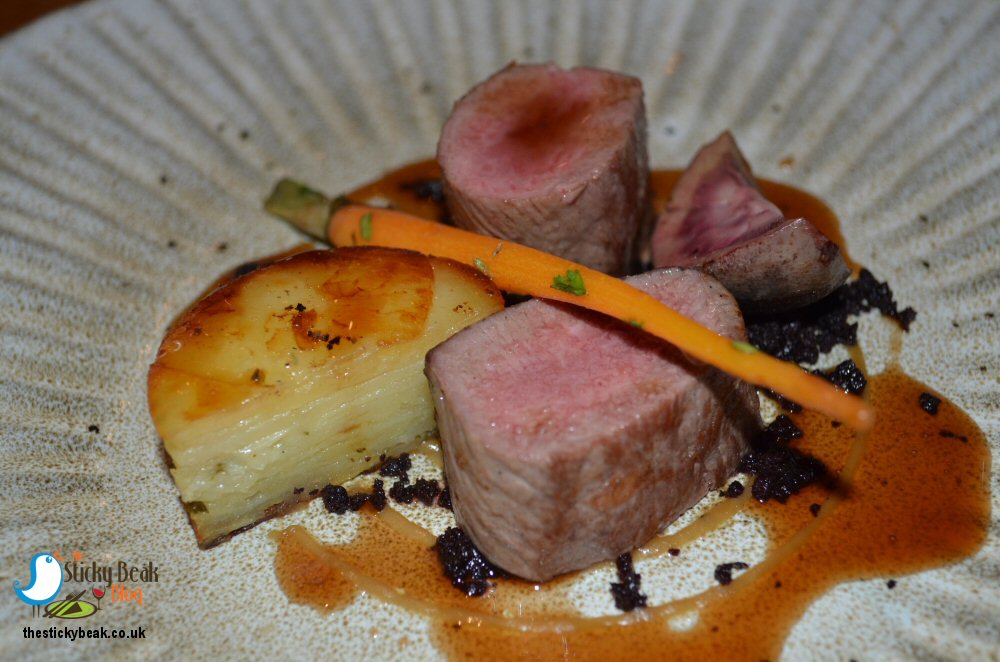 The baby Carrot was perfectly al dente and sweeter than honey in its flavour; a sprinkling of finely chopped fresh Coriander lifted things on the palate without over-shadowing anything. Black Olives had been pulverised to a super-fine texture and this only seemed to intensify their distinct taste; I would describe it as lightly salty and almost floral in nature. I don't know how Chef did it, but he managed to fashion the Onion purée into a magical meld of soft, rounded intensity. To say there was only a delicate swirl of it on the plate, the purée didn't half make its presence known! The Pommes Anna was a sublime sphere of gorgeously floury potatoes that had a marvellous caramelised underside that just had a whisper of crispness to it. His Nibs is a massive Potato-o-holic, and had I averted my gaze for a millisecond, I have no doubt that mine would've disappeared into his tummy!

Our savoury courses had come to their conclusion, and now it was time for the puddings to showcase their talents. Heralding the change of flavours was the "Vanilla Aromas", a pot of amber-toned liquid topped with dry ice that caused mist to issue over the surface of the table very dramatically – and you all know how I love a bit of table theatre!.I also love the smell of Vanilla, it seems to cosset the senses in its warmth and mellowness.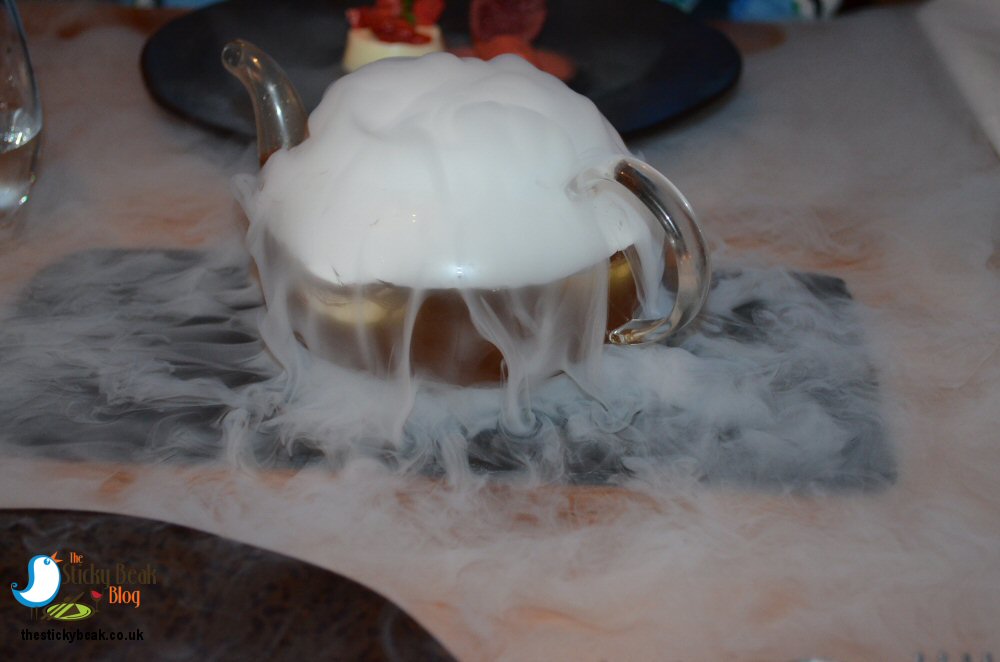 After oohing and aahing over the Vanilla Aromas it was time to get down to the serious business of tasting the sweet treats. First up was White Chocolate Delice, Vanilla, and Strawberry and it looked divine on the plate I have to say. The creamy, indulgent delice had been decorated with both fresh and freeze-dried Strawberries that popped crisply against the rich dessert. A gossamer-thin piece of Beetroot provided further adornment to the delice and went surprisingly well with the other flavours! The White Chocolate was nicely balanced so that it wasn't cloying or the dominant taste, and everything worked in harmony on the palate.




Our final course was the Rhubarb Soufflé, set Custard, and Rhubarb Sorbet. You just can't surpass Rhubarb when it's in season. The way it makes you scrunch your face up with its curious combination of sweet and sharp (that hit you simultaneously) is just unbeatable. The soufflé was amazingly high and when I pierced its gentle crust I was met with a rose-hued, feather light inner. The steam wafted that glorious fruity note of Rhubarb up to my nostrils and I took my first mouthful greedily, eager to laze in its glory. Thankfully Chef Carl hadn't overly sweetened this morsel so its tart edge came bouncing through cleanly in the mouth. Both of us grinned with happiness as we made our way through this delight.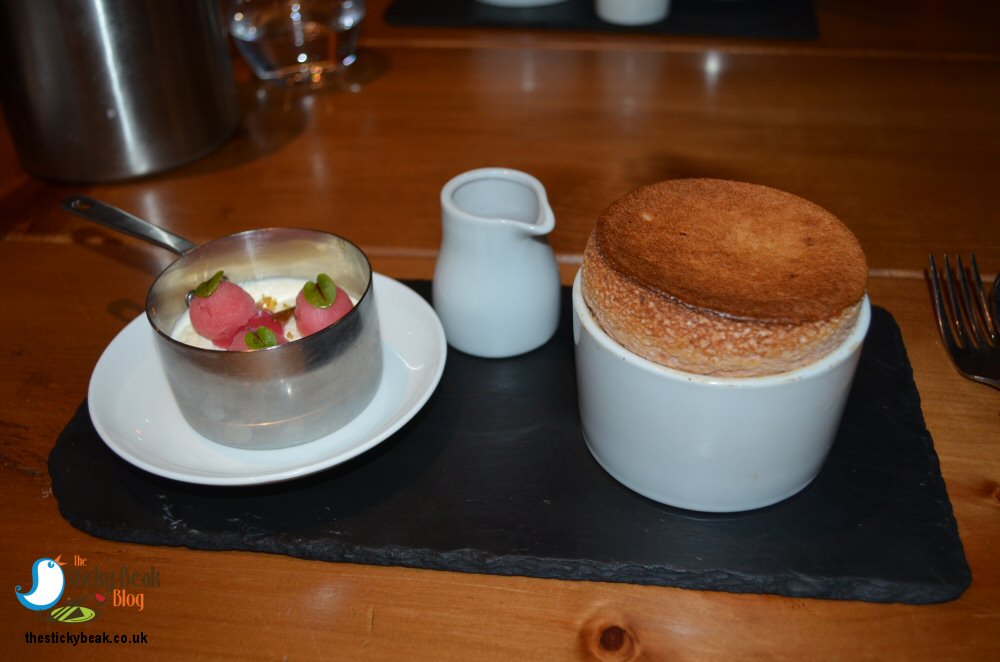 The set Custard was just that: set firm; but gastro firm, not in a break-your-tooth firm, silly! I was really impressed with its silkiness and its creamy texture and taste; even more so by the way it was offset by the crisp, vibrant Sorbet. His Nibs looked quizzically at me as I let out a small sigh; I smiled wryly and just said "DeLorean for two?" . He silently nodded and joined me in allowing himself to sigh with sadness that the culinary journey (bar the Coffee and Petit Fours) had come to an end.

To enjoy our Coffees and Petit Fours we adjourned to aforementioned soft sofas and reflected on what a magnificent evening we'd spent at The Merchant's Yard, Tideswell. I should mention that it had got incredibly busy as the evening progressed, so definitely book ahead to reserve a table – unless you're a local and are taking advantage of the pizza delivery service that this venue offers!

Hot Wings given here without reserve to Chef Carl and his team, and Danny for his efforts and vision to provide unsurpassable service and choice!
Some form of incentive was provided to visit this venue
read more