Portuguese Supper & Wine Tasting At Coghlans @ Stancliffe Hall
---
Published On Sunday 28 Apr 2019 by Sticky Beak
See Recent Experience Reviews | See All Recent Reviews


You may recall that His Nibs and I did a short cookery course with Master Chef Simon Lilley at Coghlans at Stancliffe Hall a while back. It was a complete hoot and I actually managed to cook something edible (!) thanks to Simon and his limitless patience. As well as the fantastic cookery courses, Coghlans at Stancliffe Hall have started to offer themed evenings and we were invited along to the "Taste of Portugal" event.
The sense of expectation was building steadily throughout the day for me, and as we cruised slowly down the sweeping driveway it only got more intense. We rounded the final curve and got our first glimpse of the impressive venue and its immaculately manicured lawn. A lovely gentleman by the name of Steve, looking very dapper in his black tailcoat suit, greeted us and gave us directions to the event.




Once inside the hall itself, we were greeted by a lovely young chap called Tom who escorted us through to the bar area where the arrivals drinks were being served. We were handed a chilled tipple that comprised Amaretto, Honey Vodka, Triple Sec, Apple juice, and Lemonade, and it was wonderfully light and refreshing.




Before too long we were seated at our allocated tables and it was time to get to know our fellow diners a bit better; we had a couple of birthday celebrators on our particular table, and some folks had come from Staffordshire and Leicestershire. Everyone was really lovely and the conversation wasn't forced at all, so the hours passed by smoothly.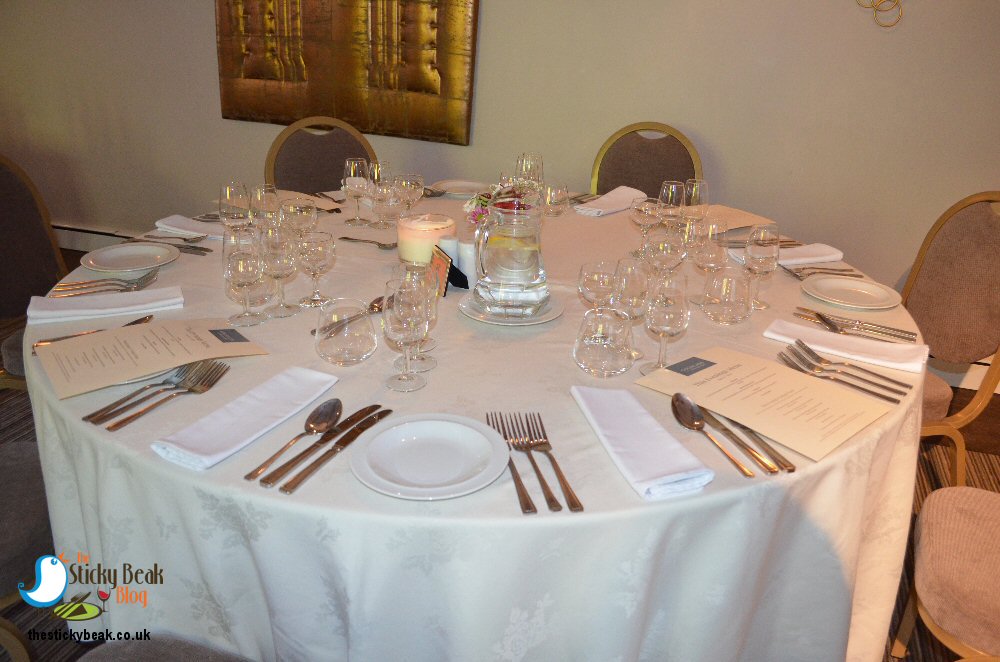 The elegant Whitworth Room was the setting for this particular soirée and prior to everyone being seated, it really did look stunning. Each circular table had been set with thick, cream cloth napkins, sparkling wine and water glasses, and precisely placed silver toned cutlery ready to be used at each course. Subtly fragranced candles flickered merrily away, releasing their delicate aromas across each table, and beautiful ceiling lights provided a nice level of illumination.




Before we got down to the serious business of eating, Andrew Coghlan gave us a talk about some of the wines of Portugal and we were guided through a tasting session of three wines (two whites and a rosé), with a further red to be served with our main course. We learnt what "legs" were – sugar, basically -, and where to smell wine (from the rim of the glass) and how to sample it properly (slurp!). We'd been expecting a cooking demonstration when we'd been told there would be a "demo", so we were all surprised to be tasting wines – but in a pleasant way. Even better, the wines we were sampling were going to be available to purchase at the end of the evening.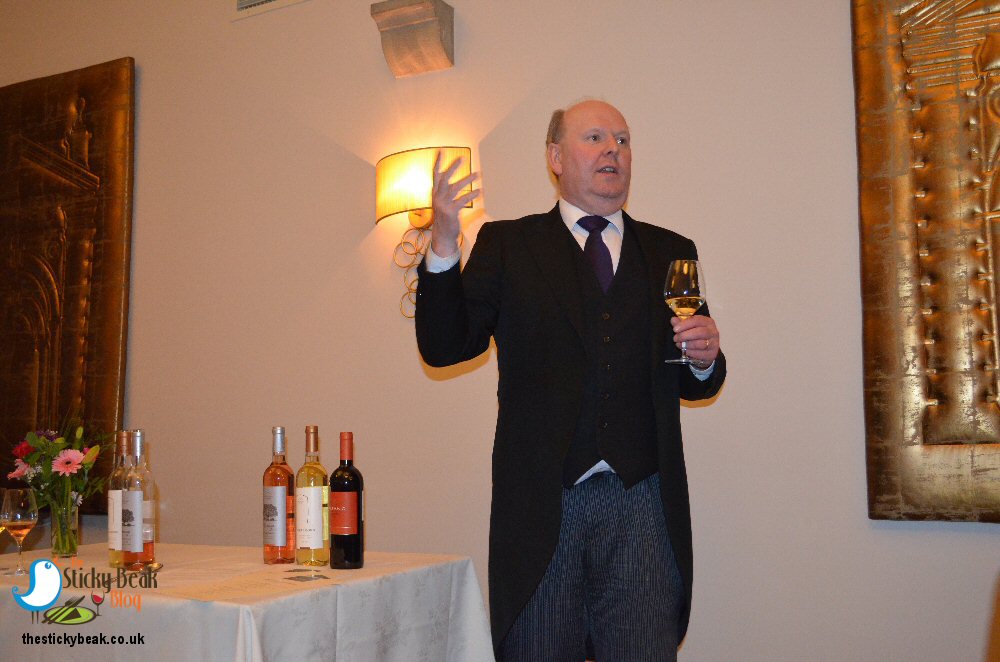 The serving team came round with a wooden platter upon which was a round loaf, ready sliced and still warm, and pats of butter to slather on it. There is something wondrous about freshly baked bread and the springy texture of this was superb; I have to confess to having a fair few slices of this through the course of the night!

To kick our culinary feast off we were served the traditional Portuguese and Azorean dish of Bacalhao, which is Salt Cod, Olives, Peppers and Potatoes, with Eggs and Olive Oil (lots of Olive oil according to Andrew, and he should know because this was made to a recipe kept in his family and made since 1850!). This morsel was served with a mixed salad, and both dishes came in large pots to be served "en famille" as would be done around a family table.




Chef Simon Lilley and his kitchen team had soaked the Salt Cod for a couple of hours previously to remove the excess salt, but even so there was no extra seasoning to this dish as the salinity was still quite strong. The Bacalhao was beautifully light and flavoursome on the palate and had been superbly layered so as to ensure every guest got the full impact of the dish. I used a couple of slices of the bread to mop up the cooking liquor, it was simply too good to leave on the plate!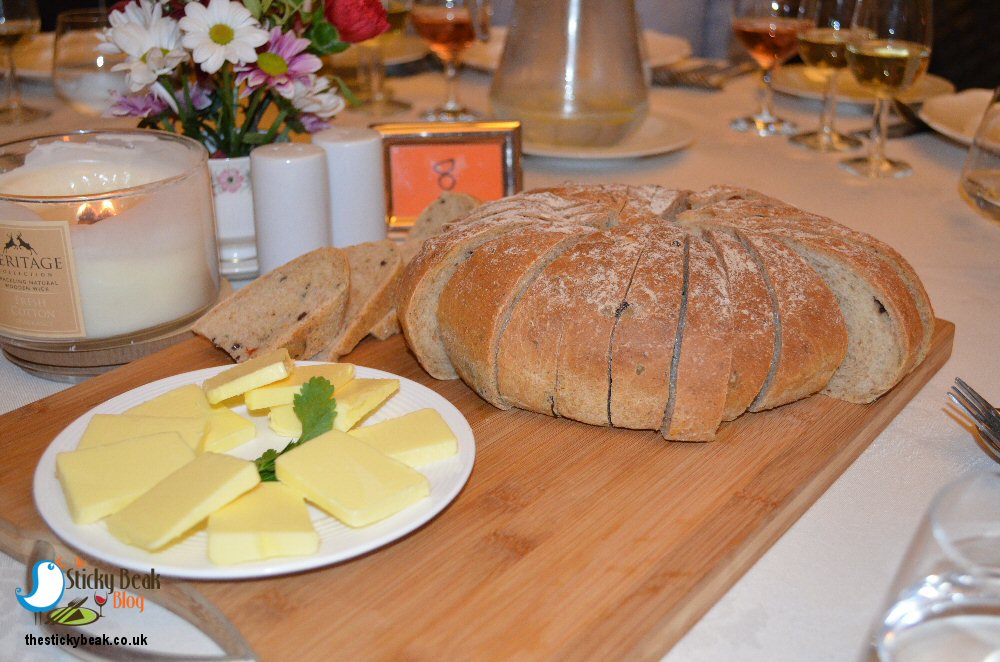 The empty starter plates were efficiently removed and soon after our second course was presented to us, this time on individual plates. Spiced Alentejo Pork had been slow-braised with Tomatoes, Garlic, Chorizo sausage, and Cannellini Beans, and this came with a separate dish of Potatoes and shredded Cabbage to help ourselves to.

I loved the Pork, it was creamy, tender and chock full of flavour; the best bit was the crackling though! The skin had been scored and seasoned to get it perfectly dark caramel in colour and super-crispy when bitten into, and I am rather partial to a good bit of crackling. Special mention has to be given to Darley Dale butchers, E W Coates, who provided the meat.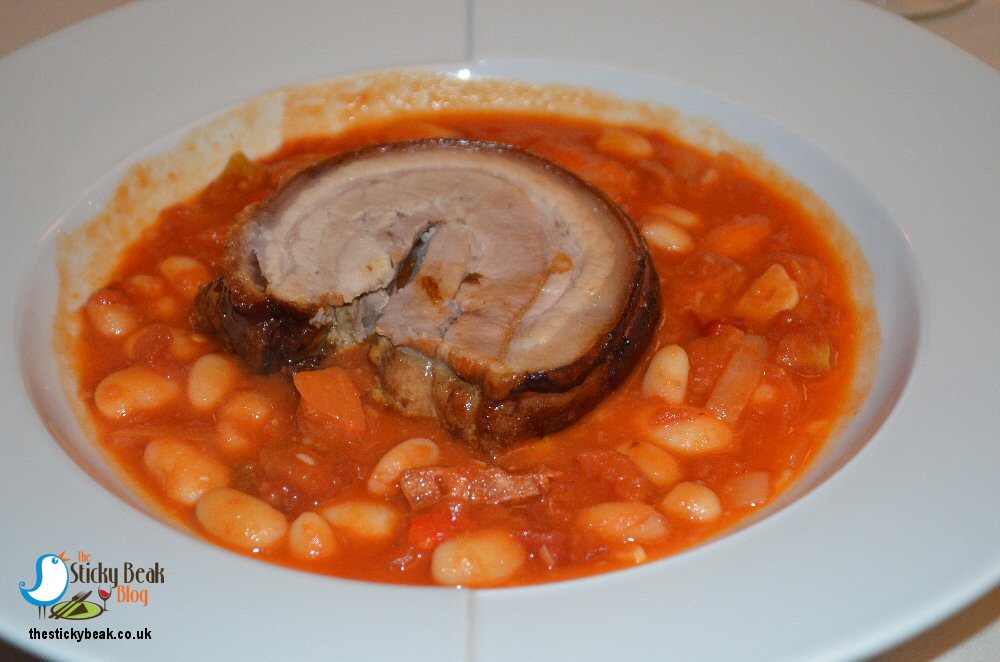 The shredded Cabbage still had a bit of its lovely natural crunch left, and the halved New Potatoes were sweet and lightly nutty in flavour. I was impressed with the robustness of the Tomato sauce and I loved the creamy texture of the Beans; Smoky, spicy notes of the Chorizo came shining through too, making this a marvellous dish to savour with our new acquaintances, who all said how delicious it was.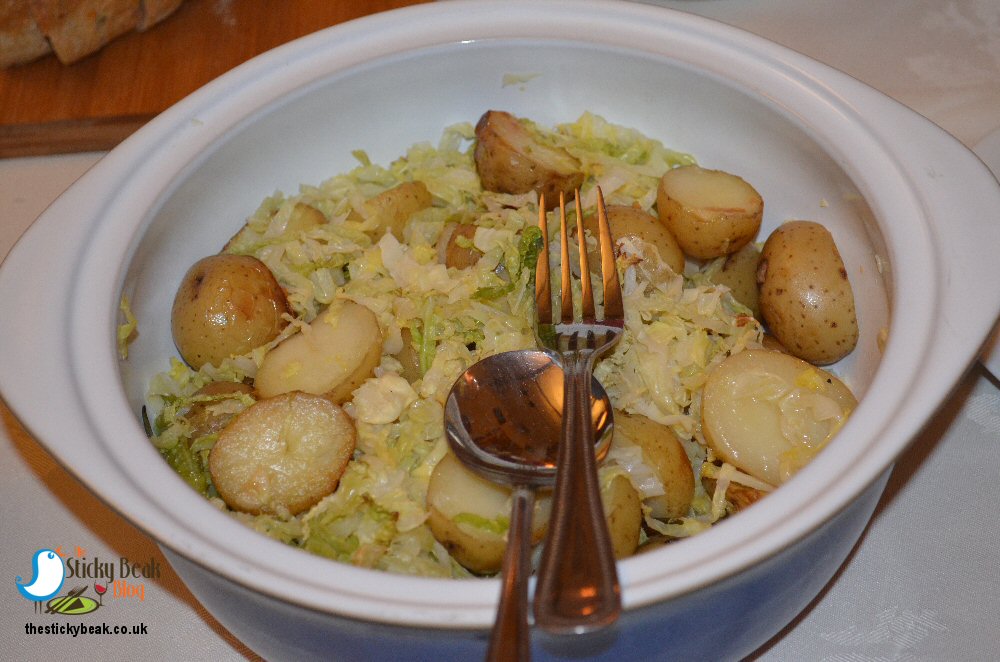 Our final course, dessert, was a rich Almond, Orange and Egg tart from the island of Pico. To the naked eye it resembled a delicate, creamy toned egg custard-type tart with a gorgeous Almondy edge to it. The pastry was just sublime; not soggy at all, and rich and buttery in taste. Dots of Orange Purée provided an intense citrus hit that really popped against the creamy tart itself, and a slice of segmented fresh Orange was cool and clear on the palate. As a final course, you won't find anything much better than this Tarte Pico.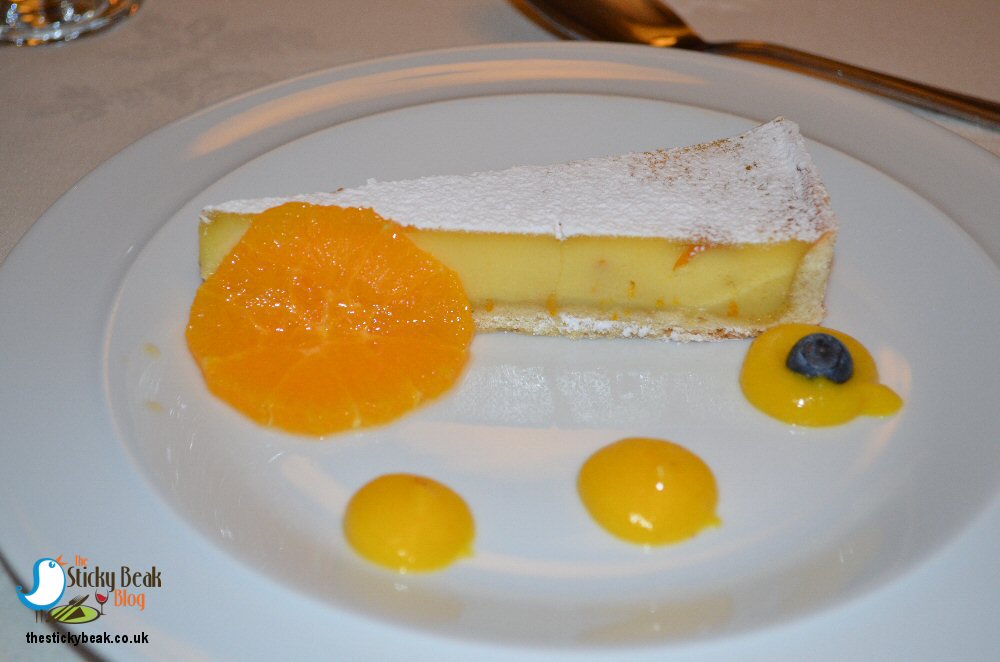 Freshly brewed Tea and Coffee was available to those who wanted to wander to the table and help themselves, and decanters of Taylors reserve Port were placed on each table for those wanting it. I love Port and this was full-bodied and rich in the mouth; sadly, there was no Stilton to go with it – although I honestly couldn't have eaten another crumb!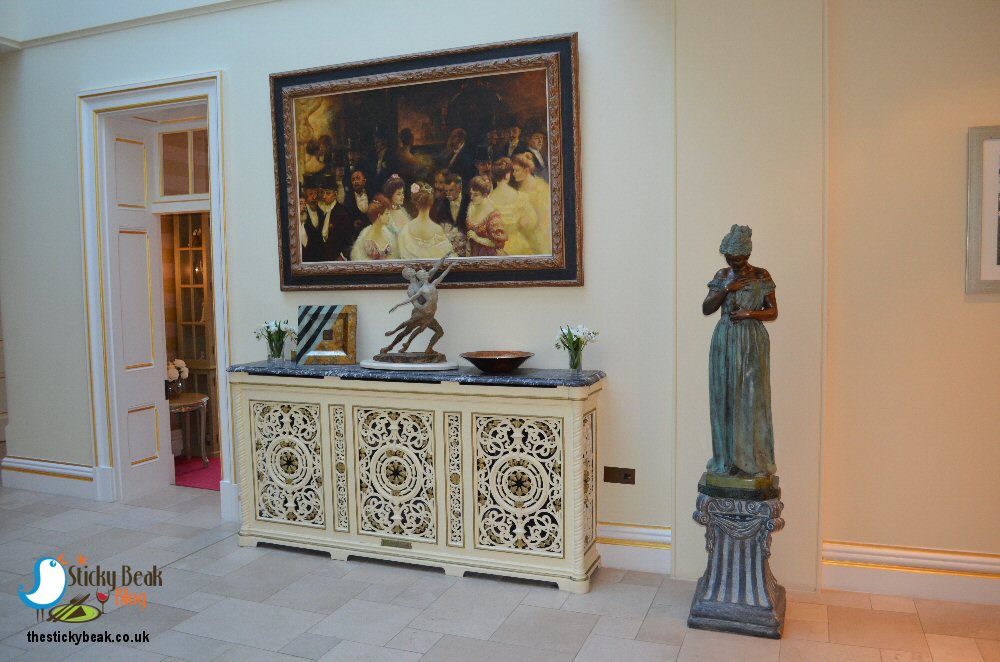 After dinner we were free to explore the downstairs rooms before departing. Farewells were said to our new-found friends and we hopped back in the trusty jalopy and made our way back to the nest. We'd had a fabulous evening, and if this sounds your kind of thing there are several other dates available through 2019: Gin Tasting and Dining on Tuesday 2nd July, Craft Beer and Dining on Tuesday 4th June, Demo and Dine (Patisserie) 12th June, Demo and Dine (Chocolate Petit Fours) 29th August, and Demo and Dine (Chocolate Desserts) 27th November. Find out more

The food and drink had been, without exception, superb; when you factor in the exquisite venue of Stancliffe Hall too, you can imagine what a brilliant evening we'd had! Hot Wings most definitely awarded here.