The New Grill & Kebab Night At The Plough Inn, Brackenfield
---
Published On Monday 22 Apr 2019 by Sticky Beak
See Recent Dining Out Reviews | See All Recent Reviews


The Brough family, owners of The Plough Inn at Brackenfield, must think that The Man Bird and I are like buses; they don't see us for ages, then it's twice in quick succession! We went out for Sunday Lunch there with Mummy Bird recently and whilst eating, Steve mentioned they were re-launching the Steak, Grill, and Kebab night and invited us along.
To all the parents out there, I just want to say this; if you've got a Fledgling who is able and insured to drive, make use of them! Chickadee offered (well, we compulsory volunteered her!) to be our taxi for the night, so we could have a couple of drinks if the mood took us.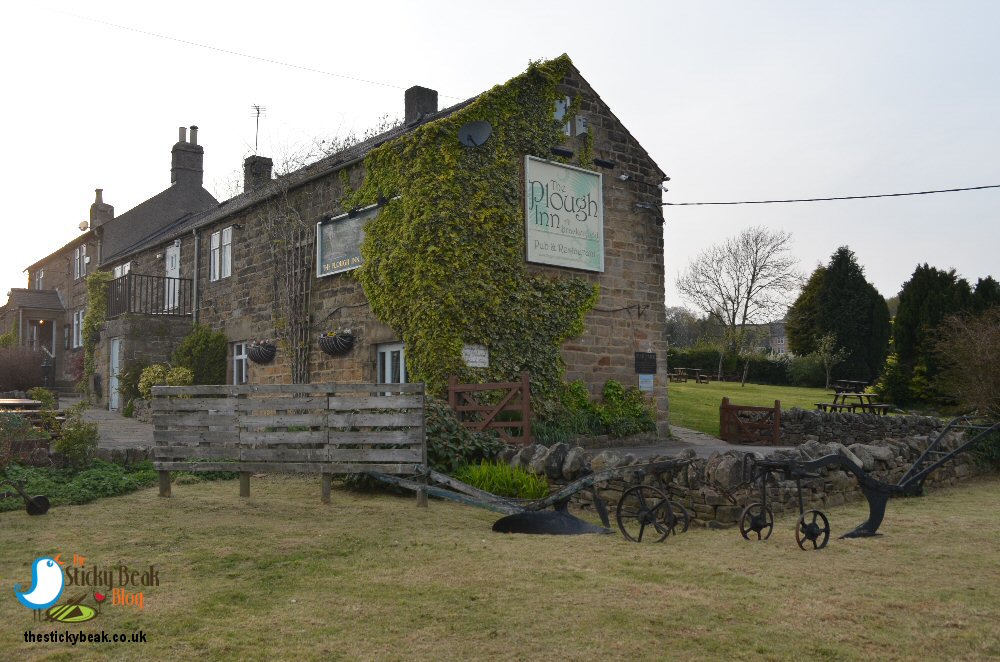 So, having been dropped off, His Nibs and I walked into the bar and ordered a Gin and Tonic and were then shown to our table by a lovely young lady. To start, The Boy Wonder had his Beer battered Brie wedge with Cranberry relish and the Thai Pork Belly with Spring Onion and Pork Quaver (posh piece of crackling, to you and me) sounded right up my street.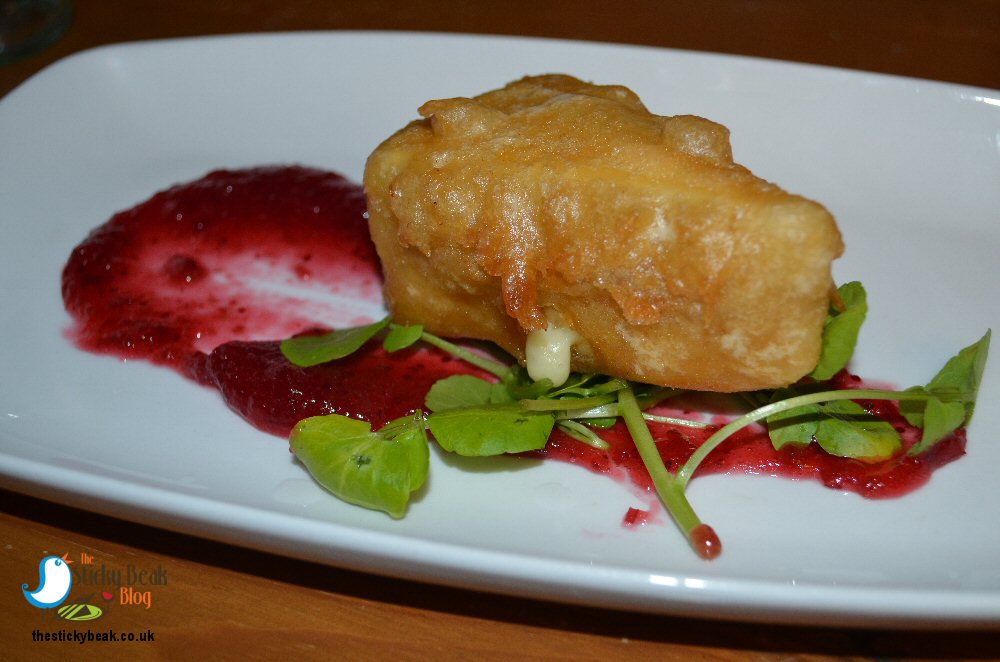 As on the previous excursion out for Sunday Lunch, the Brie starter was blooming superb; at least we can say that the Chef at The Plough Inn is consistent! The lovely, pale gold batter was light as a feather, and there was no trace of greasiness or oil taste so the true taste of the Brie came through on the palate. One of the best things about fried Brie is the way it goes all gooey and oozy, and this was perfect; it also had a marvellously gentle creaminess that lingered nicely in the mouth. In contrast, the fruity Cranberry relish bounced onto the palate with a fanfare of glory, and the fresh Watercress garnish added a great peppery brightness into the mix.




Most establishments serve their Pork Belly in a rectangular strip, but at The Plough Inn, Brackenfield, Chef likes to do things a bit differently. My Pork Belly had been cut into cubes for presentation and it was all coated in a gorgeously sticky, rich glaze that had a delicious mix of spices in it. Pork has a beautiful natural creamy taste and moistness if cooked properly and carefully, and Chef did a superb job with my starter. If you love crackling, you'll absolutely adore the Quaver here; it scored 10/10 with me for its thickness and crispiness. A complete stonker sums it up nicely I think. Crunchy Spring Onion added a lovely bright taste to this dish, and in all honesty I could've doubled the portion and had this for main course with rice – I loved it that much!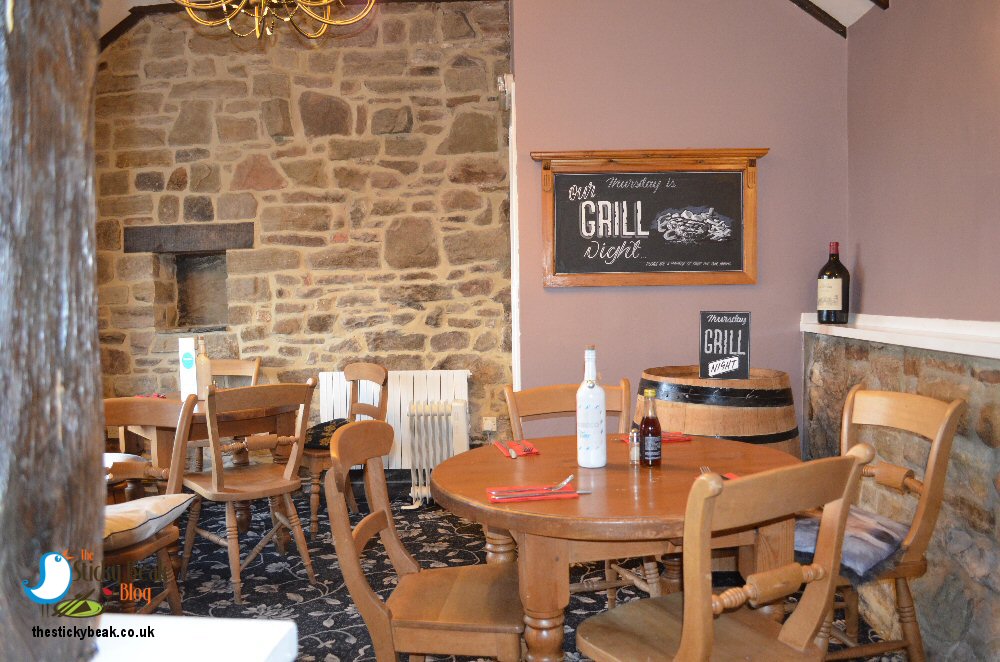 Our lovely server came to check we were getting on ok, and we took advantage of her arrival and the fact we weren't driving, to order a bottle of red wine: Sangiovese Ancora from Puglia, Italy. This minx costs £16 for the bottle and whilst no-one is pretending it's a rare vintage or anything, it's a bloody honest little bottle of medium-bodied red with lots of fruitiness and hint of spice. In my opinion, if you're having Steaks and aren't sure of red wines, this is your go-to; it's easy drinking, affordable, and goes jolly nicely with beef and spicier dishes.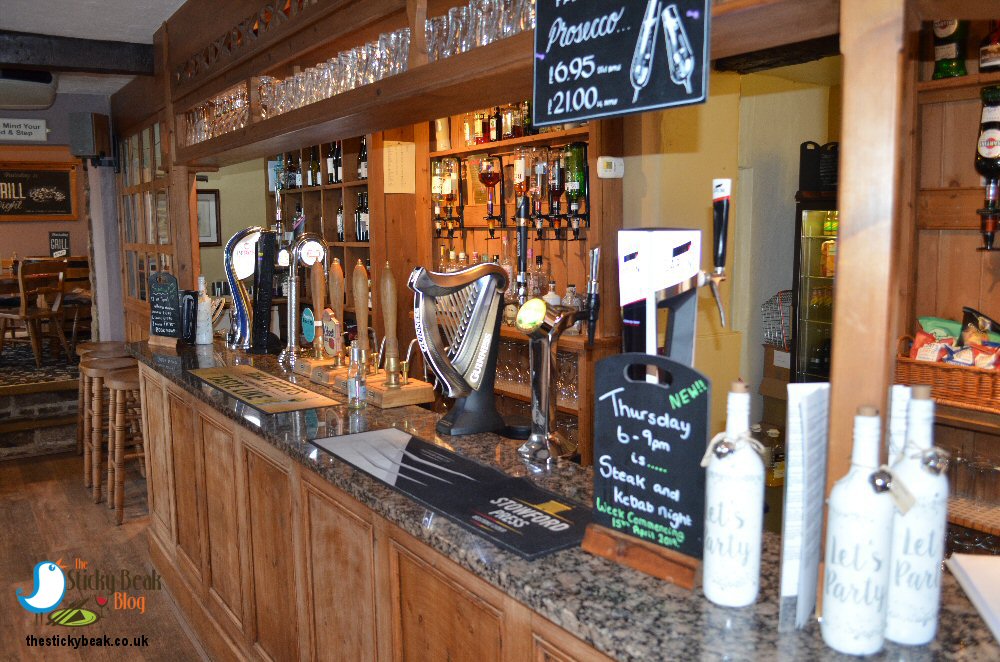 As well as a range of Steaks, Chicken Breast and a whopper of a mega-20oz Mixed Grill, the Plough Inn offers Hanging Kebabs and Sizzlers on Thursdays. I fancied the 12oz Ribeye Steak, so that was what I had (all steaks come with hand cut Chips, Mushroom, roasted Tomato, and Mixed Leaf salad) and His Nibs chose one of the Hanging Kebabs; the Tandoori Mixed Grill variety. The Hanging Kebabs come with your choice of skin-on Fries, hand cut Chips, Basmati Rice or Mixed Leaf Salad, and The Man opted for hand cut Chips; he also ordered a portion of Beer battered Onion Rings.

The well-oiled wheels of our munching machine nearly came off though when one of the sizzlers went past! Seriously, the aromas coming from the trail of steam and the sizzling sound fair made our noses twitch, mouths water, and tummies rumble; so much so that The Man Bird nearly went to change his order. Each sizzler comes with Fajita wraps and dips so that you can add as much or as little to the hot meat-and-vegetable (or just veggie) skillet as you like.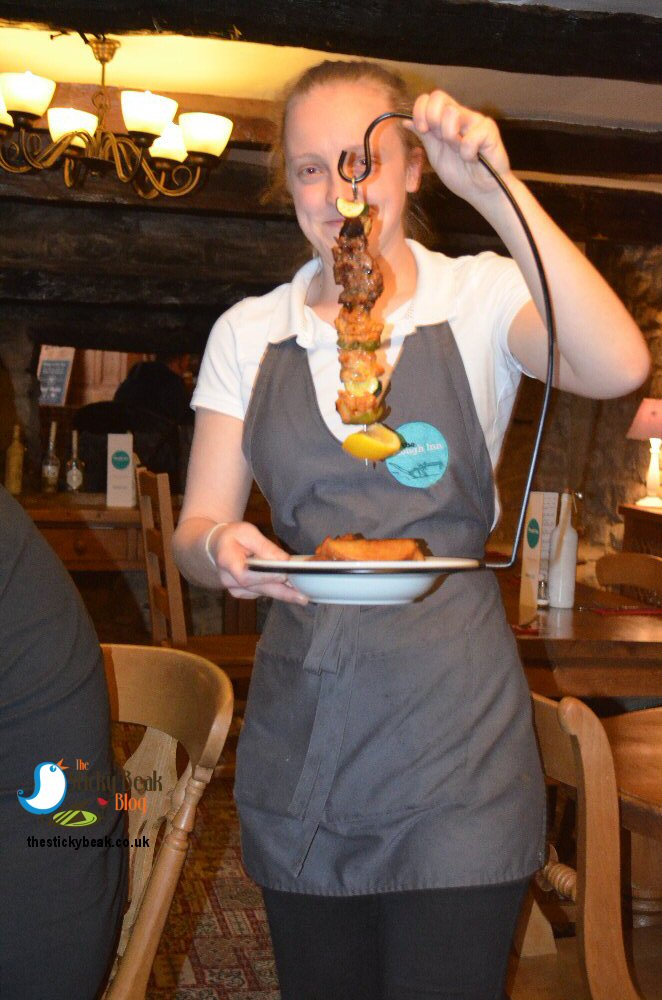 A series of Hanging Kebabs were winging their way to various tables and their eager recipients, and by 7.15pm the Tandoori Mixed Grill version had sold out! At 7.15pm!! I don't think The Plough Inn team were expecting them to be so popular; success talks in terms of sales guys and I think you were successful!

His Nibs had ordered the last Tandoori Mixed Grill Hanging Kebab and all the meats were superb; you'd got chunks of Tandoori Chicken, Thai Chicken, and Lamb Kofta all interspersed with Aubergine, Courgette, and Peppers to nibble at. The Boy Wonder said that each piece of meat was juicy, tender and chockfull of flavour, and from the pieces I was allowed to try, I would heartily agree. The spices were perfect within each type of meat and they all complimented each other nicely. I was especially impressed by the Lamb Kofta; this was wonderfully spiced, but not spicy in the heat sense; very cleverly done, Chef.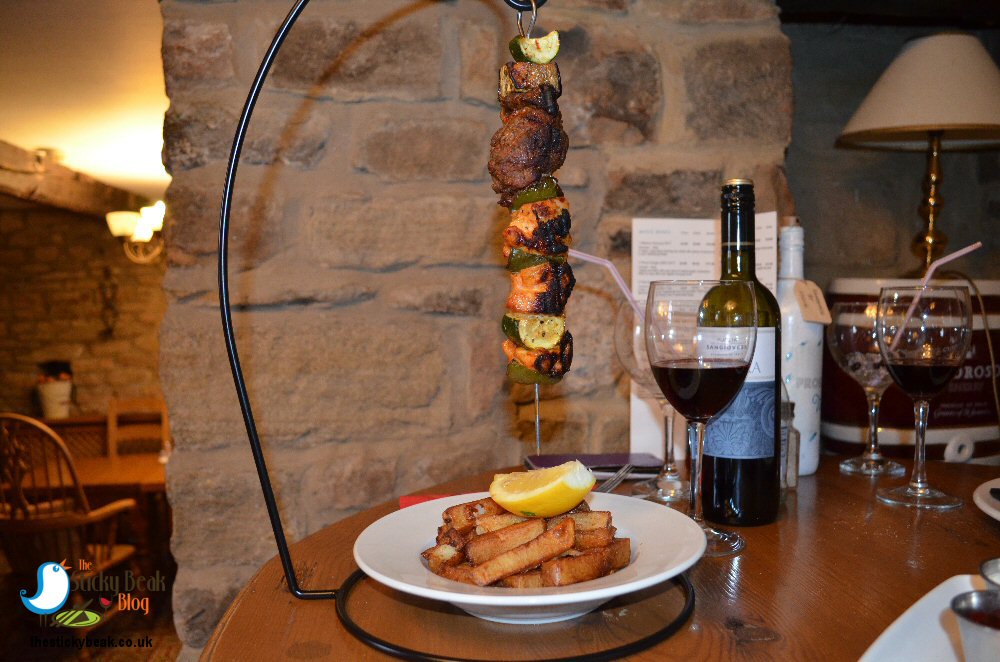 Whilst cooking, the Aubergine had absorbed all the spices' flavours (like the sponge it is!) and this made for a great vegetable treat in the mouth. Both the Courgette and Peppers still had some firmness to them, so they weren't just a soft mess when bitten into. Yup, these Hanging Kebabs are going to be very popular I reckon.

My Ribeye Steak was delicious too. There was a lovely layer of fat at its edge and one central vein of fat running through it, both of which contributed to its flavour and juiciness; and it really was a beautifully tasty steak that had been skilfully cooked. The steak knife didn't need much pressure at all to cut into the flesh, even in the thickest middle part of the steak, and the beef melted in my mouth as I chewed it.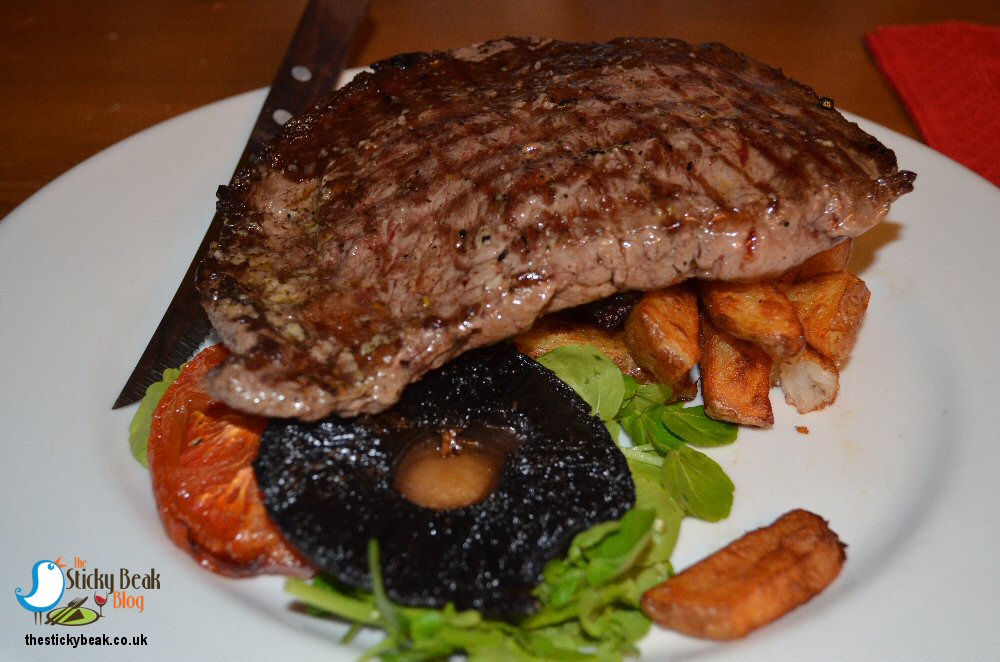 You can't beat a classic steak garnish of Mushroom, Tomato and Chips and the one at The Plough Inn, Brackenfield hit the spot perfectly. A large field Mushroom had been grilled to release its gorgeous earthy taste and it stayed moist and tender thanks to not being over-cooked, and the Tomato half was soft and sweet in my mouth. I had ordered some of the homemade Stilton sauce as well, and this came in a separate jug, perfect for dunking the pillow soft homemade Chips in.I got a fab hit of the pungent Stilton on my palate, and then a lightly seasoned creamy hint too.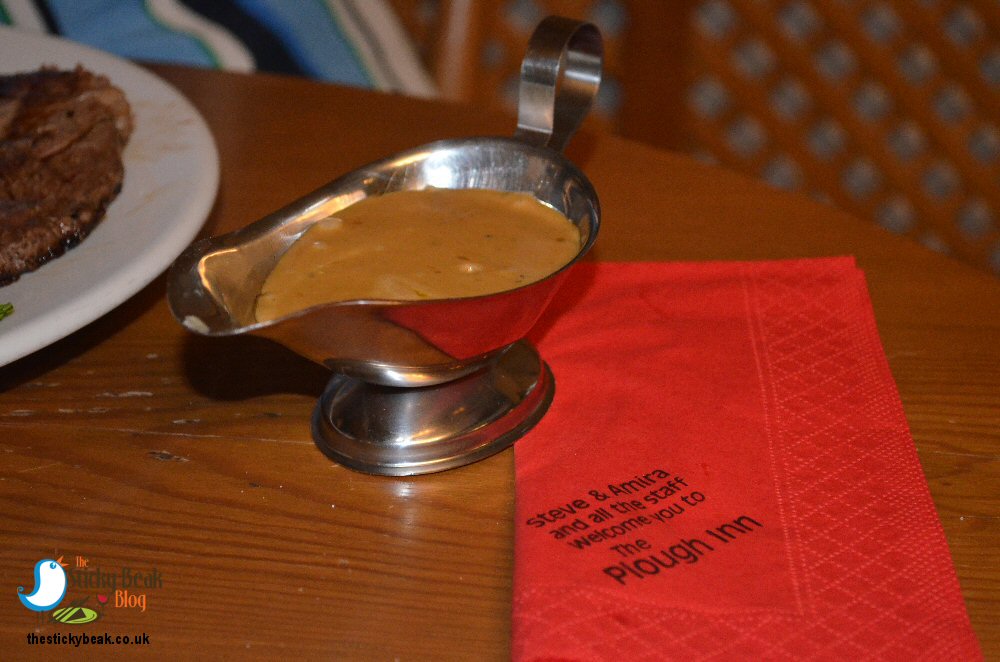 If you haven't had the homemade, hand cut Chips at The Plough Inn then trust me, you need these bad boys in your life. Remember when your Mum used to make those wonderfully golden chips in her chip-pan at home? Well these are just like that; hint of firmness on their outers and then deliciously soft and yielding inside, with that moreish lightly-earthy-but-sweet Potato taste. Yum!!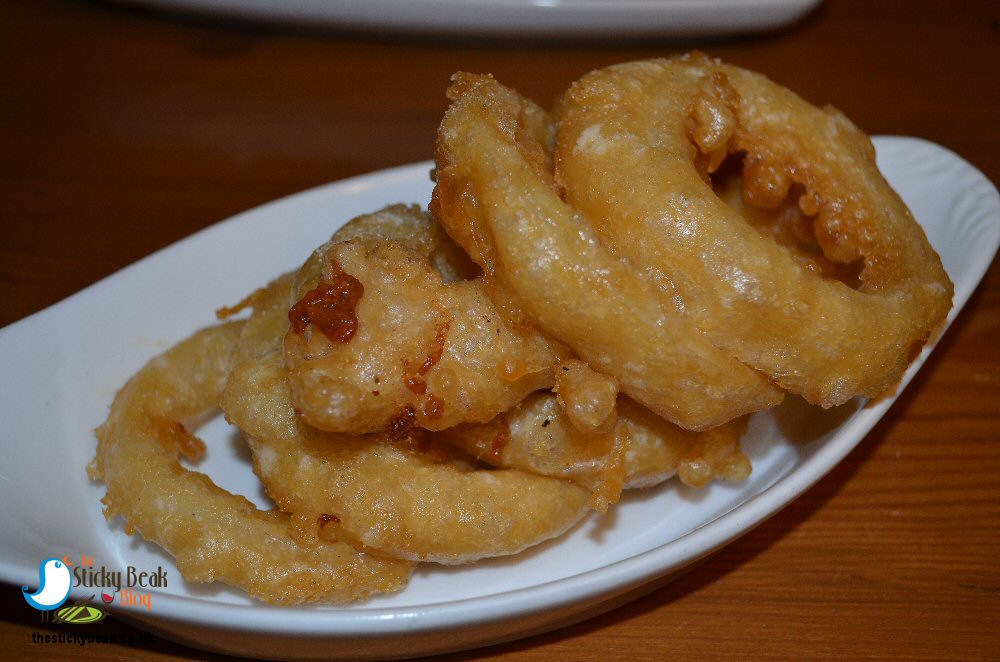 The Beer battered Onion rings were equally magnificent; I may just have to kidnap Chef and demand he makes these every night for us. Fat, plump rings of onion were nicely softened which was in stark contrast to the ridiculously crunchy batter that surrounded them. I think you'd probably hear the sound of them breaking over in Matlock! Top marks for these beauts.

After two brilliant, plentiful courses you'd think our tummies would be full (and they were) but we still somehow found ourselves saying "yes please" when the young lady asked if we'd like pudding! When it comes to Crème Brulee though, I do have a weak spot as you all know; His Nibs was swayed by the Gluten-free nature of the Syrup Sponge, and chose custard to go with it.




Oh my days, the Crème Brulee did not disappoint; it was utterly magical. I loved the rounded warmth of the Vanilla note within it, and texture-wise it was beautifully thick and almost squelched as I popped my spoon into it. What really got me squeaking with delight though was the crunch of the caramelised sugar top as I thwacked it; it really is one of the sweetest sounds on earth I think. As if this indulgence wasn't enough, the team at The Plough Inn serve their Crème Brulee with an intensely creamy Vanilla Ice cream. This was a really, really gorgeous finish to my meal.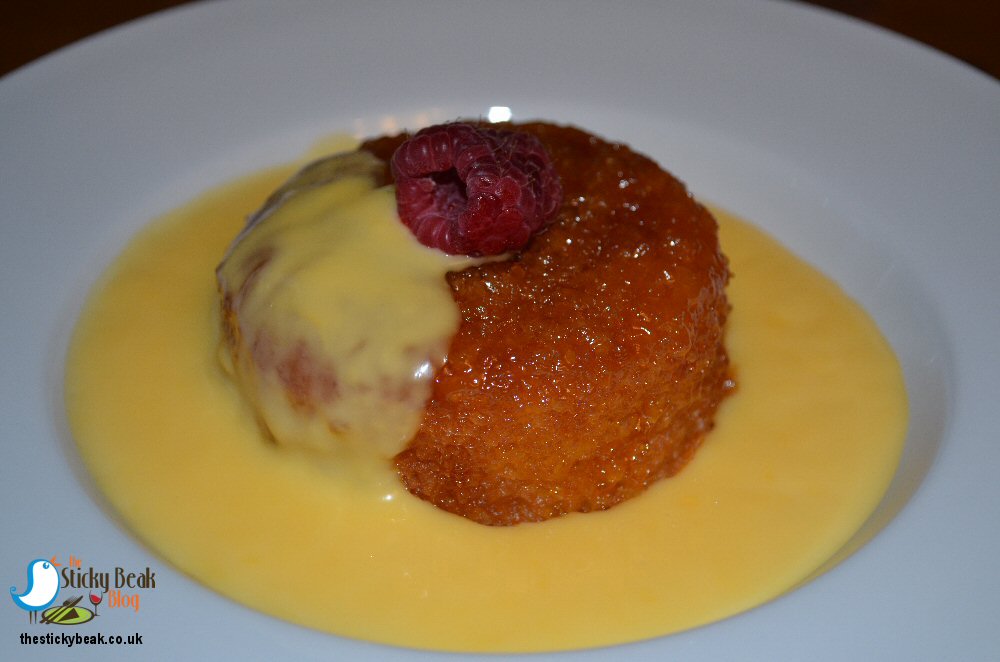 Across the table, His Nibs was tucking into his gluten-free pud quite merrily and taste-wise there was absolutely no difference to a "normal" version. Texturally, the gluten-free sponge layer is slightly "looser" I would say and not dry as in claggy dry, but drier/ crumblier in the mouth. The main thing though is that it was just as yummy as you would want it to be. Those of you with a sweet tooth, and those that are fans of old-school puds, you'll be delighted to hear that the sponge is topped with a deep, gooey, sticky syrup layer! This is proper, full-on sugar rush territory and it went blindingly well with the sponge; oodles of creamy custard provided all the comfort your tummy could ever need, making this another fabulous dessert at The Plough Inn.




For the second time on the bounce, we didn't have room for coffee! In mitigation though, we had polished off a bottle of wine which we don't normally do – clearly this had taken up the room that the coffee would've occupied! A shrill "ting" punctuated the air, signalling the arrival of Chickadee and our taxi home, so we bade farewell to Steve and his fantastic team and headed out into the night.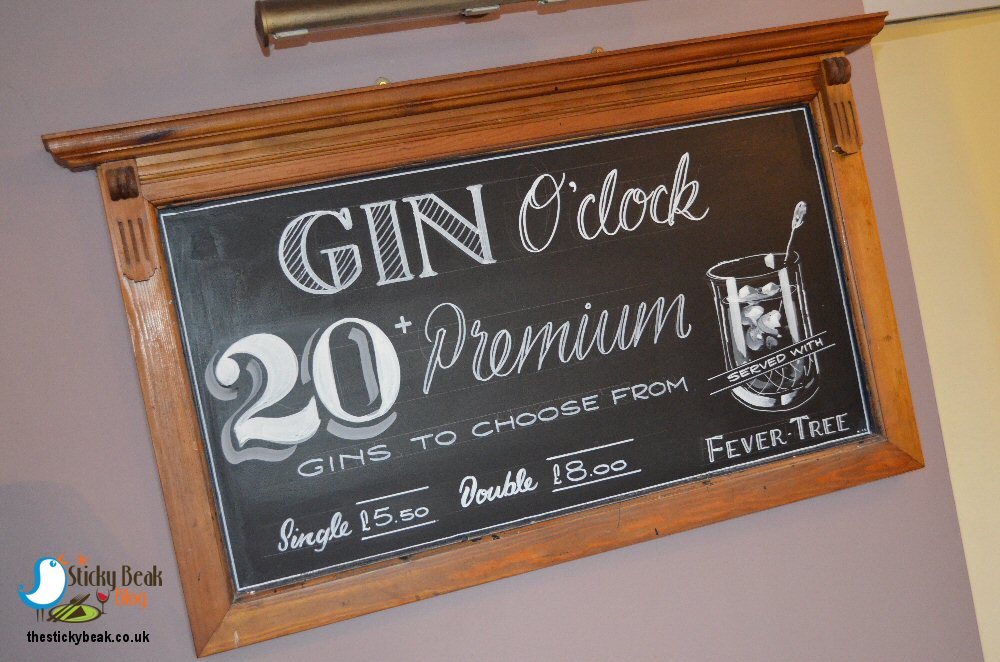 Hot Wings absolutely given here, we'd had a great time; service, surroundings and food were all spot on. I would definitely book ahead for a table though, and have a second choice handy – the food flies out of the kitchen here!! Oh, and don't forget, if your kids are drivers, take full advantage.
Some form of incentive was provided to visit this venue
read more