Lunch And A Break From Shopping At Carnero Lounge, Derby
---
Published On Tuesday 9 Apr 2019 by Sticky Beak
See Recent Dining Out Reviews | See All Recent Reviews


The Man Bird and I were in Derby (again!), but we did have a good excuse – it was Chickadees birthday and she'd wanted to go shopping; money always burns a hole in youngsters pockets doesn't it?! So we'd dashed around like mad things, in and out of all the shops, arms laden with clothes that were duly tried on, discarded or bought (bought normally!), and then Chick announced that she was heading back to the nest to get ready. Eh? We aren't going out until tonight – it was only 1pm! How long does it take to get ready?!
So off she popped, leaving me and her Daddy Bird in a daze, quite frankly. We had tired feet, we were still trying to decipher what the heck we'd just participated in (everything had happened at breakneck speed!), and I needed to get my breath back. Thank goodness for Carnero Lounge; it looked like an oasis in the middle of a desert – wondrous and magical.

The Man Bird and I aren't big daytime drinkers, but it was a case of "we've earned this" as we sipped at our wine and lager! A big family night out had been planned later in the day, so we didn't want an overly heavy lunch, and the Tapas deal at Carnero Lounge was the perfect solution: a choice of 3 Tapas dishes on a board for £10.50, served with Ciabatta. We each had one, choosing slightly different dishes; I had the Teriyaki Chicken, Supergreen Bowl, and Halloumi and Sweetcorn Fritters, His Nibs went for the Patatas Bravas, Salt and Pepper Squid, and Beef and Pork Meatballs.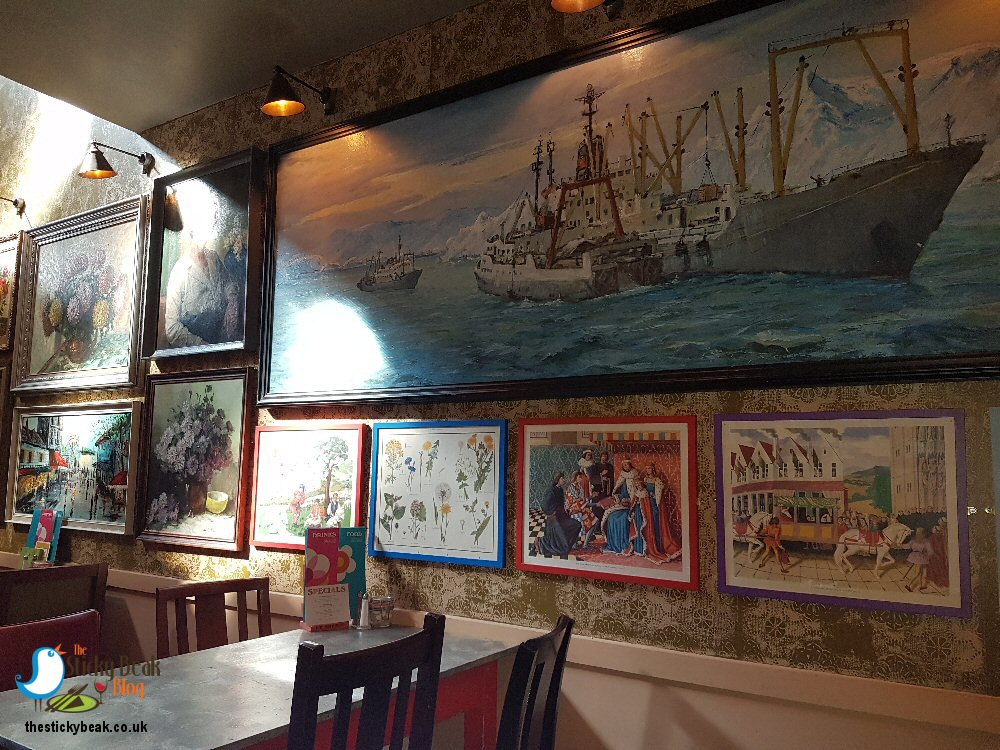 John, Carnero Lounge's manager, asked if we wanted anything else – sauces etc., and I asked if I could have some oil to dip my Ciabatta into. In no time at all he came back with a little bowl with Balsamic vinegar and Olive oil in for me – it's the little touches that make all the difference.

Each of the Tapas dishes were a decent size for "small plates", so even paying for them singly, at £3.95, you wouldn't have felt cheated. The Teriyaki Chicken was superb with its sticky, rich glaze bursting on the palate, and some nuttiness coming through from the Sesame seeds scattered over the meat pieces. Slivers of Spring Onion added a splash of colour to the dish as well as some fab texture and a nice zingy taste when crunched into.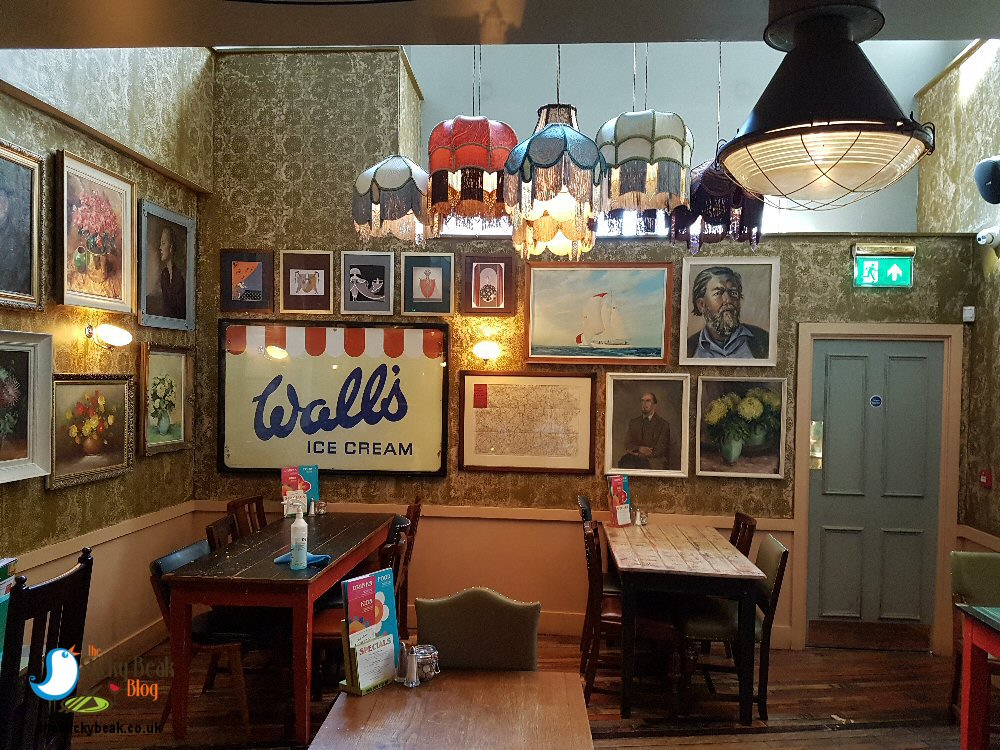 The Supergreen Bowl is a real veggie delight; there's Tenderstem Broccoli, Avocado, Rocket, Edamame beans, and Beetroot Hummus with toasted Seeds to tuck into. Honestly, there is everything you could possibly want in here – crunchiness, softness, bright flavours, creamy flavours, you name it, it's here! I loved the earthiness of the beetroot Hummus though, and it was a delightful ruby colour too.

I love Halloumi, and on Carnero Lounge's Tapas selection there were a couple of Halloumi options to choose from; the fritters I chose, or the Halloumi, Courgettes and Peppers pan-fried in Rose Harissa (which sounded equally yummy). I was more than happy with my choice though, as the Halloumi and Sweetcorn Fritters were a lovely generous size and piping hot when they came. Even better, they had a firm texture to them that stopped them from just disintegrating when they were cut into! A deliciously smoky, piquant Chipotle Chilli Jam comes with the fritters and I dipped into it with every morsel I ate.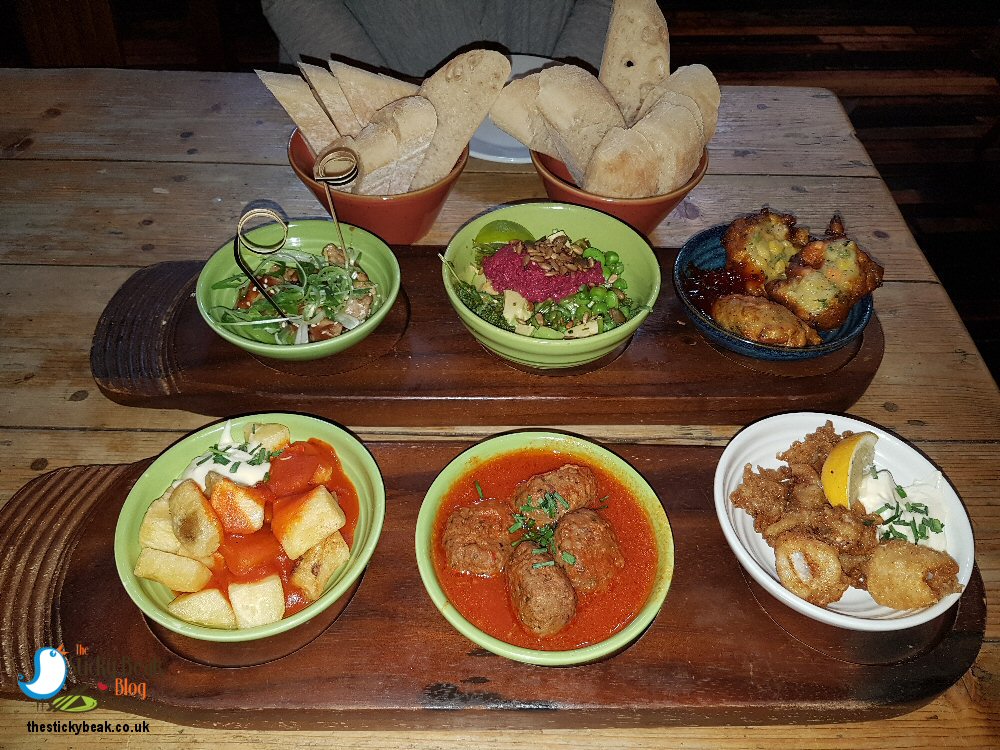 His Nibs has to be careful with the amount of bread he eats at the moment, so I was in my element as I pinched bits of his Ciabatta to dunk into the fruity-but-sharp Olive Oil and Balsamic combo that John had brought out for me. The Ciabatta was lovely and open textured with a great bounciness to its texture, and it just made a simple but effective grazing accompaniment to the other Tapas dishes.

The Beef and Pork meatballs were superb; made from gorgeously tender, flavoursome meat, they'd been rolled into firm balls that again held their shape when cut into. A punchy Tomato and Red Wine sauce really lifted things in the mouth, providing the perfect contrast to the Beef and Pork elements.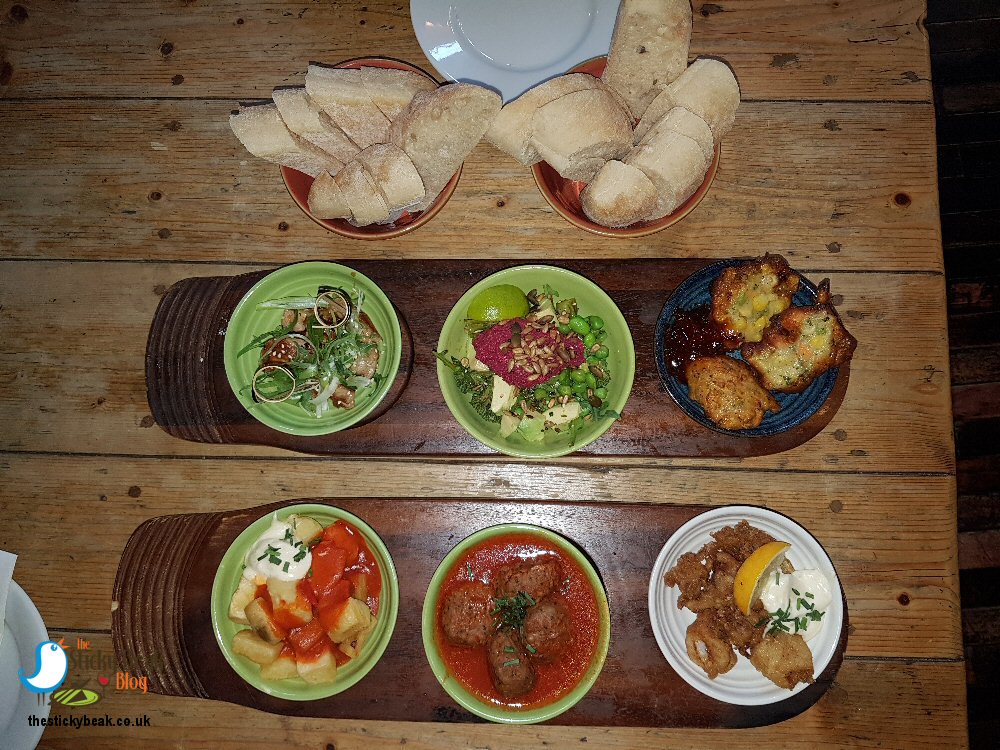 Patatas Bravas is an absolutely classic Tapas dish, and the one at Carnero Lounge won't leave you feeling deflated. Cubes of fabulously crispy fried Potato are nestled in a Tomato sauce and then covered with a creamy roasted Garlic Mayo; the result is a superb fusion of sweetness and smokiness with just the right hint of heat to it on the palate. I was a cheeky minx and pinched a couple of the Potato cubes for myself, and they were beautiful; nice and crunchy outside, soft inside.

The final Tapas dish that His Nibs had selected was the Salt and Pepper Squid, and I'm glad to say that it was another marvellous dish. Squid has a habit of going like toughened rubber if it's over-cooked, and there's nothing worse; once you've experienced it for yourself, you never forget! In fact, I bet if any of you reading this have had the mis-fortune to have rubberised Squid, you're currently "chewing" a piece in your mouth now!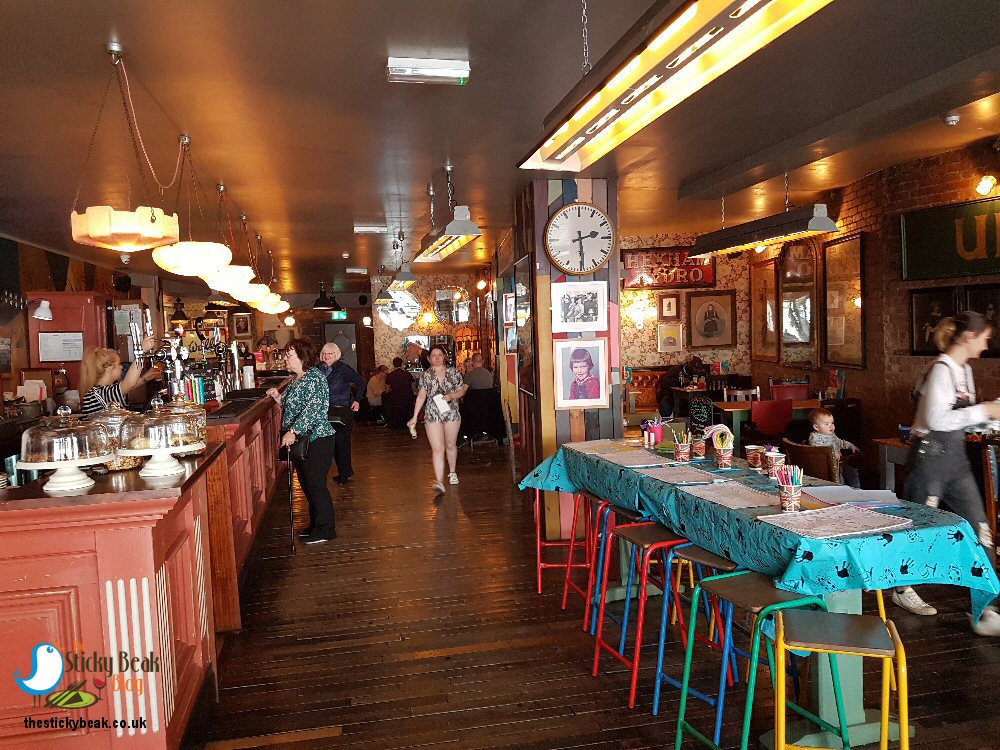 Thankfully, the Chef at Derbys Carnero Lounge knows what he's doing and the rings of seasoned Squid came out and were lovely and soft in The Man Birds' mouth. A beautifully light, crispy batter coated each ring and the batter had been carefully seasoned to release its pepper heat in the mouth gently. This dish comes with the Roasted Garlic Mayo too, and its delicate flavour and creaminess goes superbly with the crispy seafood rings.

Hot Wings to John and his deputy manager Courtney, they and the rest of their team made our lunchtime nice and relaxed, and we headed home re-fuelled and ready to face the onslaught of the evening ahead! Hot Wings given here for a lovely lunch.
No incentive was provided to visit this venue
read more