A Taste Of Africa From Africa Al's Handmade African Sauces
---
Published On Monday 25 Mar 2019 by Sticky Beak
See Recent Food Producer Reviews | See All Recent Reviews


I'm going to start with a quick confession; I have very little knowledge (ok, none!) about the cuisine styles of West African Countries. Thank goodness for the likes of Africa Al, aka Alex, and his lovely wife Lorraine who I got to meet and talk to at The Fine Food Show North in Harrogate.
Alex himself has mixed heritage, and his products honour both his African roots and his Irish background – if you look closely on the Africa Al's packaging you'll see a little shamrock! Lorraine had whipped up a Butternut Squash, Spinach and Chickpea curry using the mild West African Curry Paste and it really was yummy.

All of Africa Al's range is Vegan friendly, Gluten free, Dairy free, and there are no additives or preservatives. Each product has been made to Al's own recipe, and inspired by West African cuisine from Ghana, Nigeria, Sierra Leone, Gambia, and Senegal.

Very Kindly, Alex gave me a few of their products to bring back to the Nest and try them at our leisure. Having been out and about, we'd got some TV to catch up on so we opened a bag of Tortilla chips and broke into the jar of Africa Al's Hot Chilli Dip. The dip itself has a coarse texture and flavour-wise it's a spicy little minx thanks to the Scotch Bonnet-, African Birds Eye-, and Kenya Bullet- peppers in it. As well as these renowned fiery peppers, red Capsicums and sweet Peppers are also pounded down (seeds and all) into a paste/dip that can stand alone as a snack, as we used it, or be used to ramp up stews and casseroles. The spices and herbs used in this dip give it some lovely earthy, smoky tones as well as the familiar chilli heat.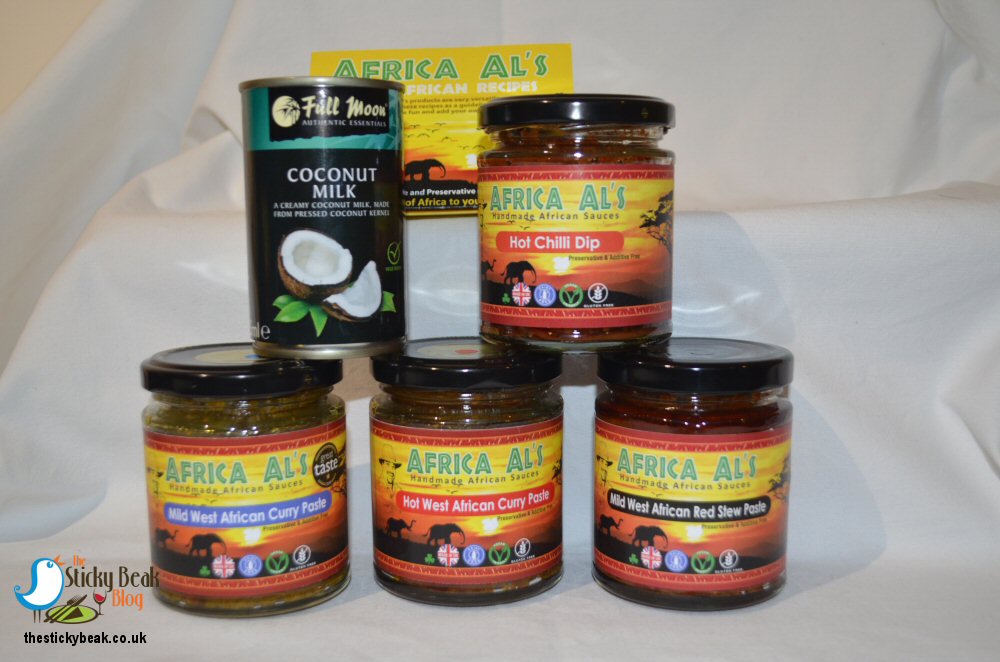 The first Flock meal I cooked with Africa Al's products was with the Red Stew sauce, and this is quite possibly the easiest thing you will ever come across to cook with. Literally all you do is bung 500g (about 1 ¼ lb in "old money") of meat, seafood or vegetables into your pan, add the jar of sauce, add a jar-full of water – slightly less if using chicken – bring it all to the boil, then cover and simmer until everything is cooked. Et Voila! It was mild in the sense that it doesn't make your lips or tongue tingle, but it is absolutely bursting with flavour thanks to the blend of peppers, spices, herbs, and African Birds Eye Chillies in it. We all loved this, with Chickadee saying it makes the soul happy – praise indeed!

I went on to use the Mild West African Curry Paste for another easy family meal mid-week when time is always short. This is a beautifully aromatic sauce with ingredients including Ginger, Scotch Bonnet Peppers, Thyme, fennel, and Paprika. I thought his was a nicely balanced sauce; not too spicy and not too mild as to make it insipid. Sometimes mild sauces can be a bit wishy-washy, but not this one. As per Alex's direction, I added a small can of coconut milk which brought creaminess and sweetness to this gastro party! To say I'd made a hefty pan full of food there was nothing left, which is always what a cook wants to see isn't it?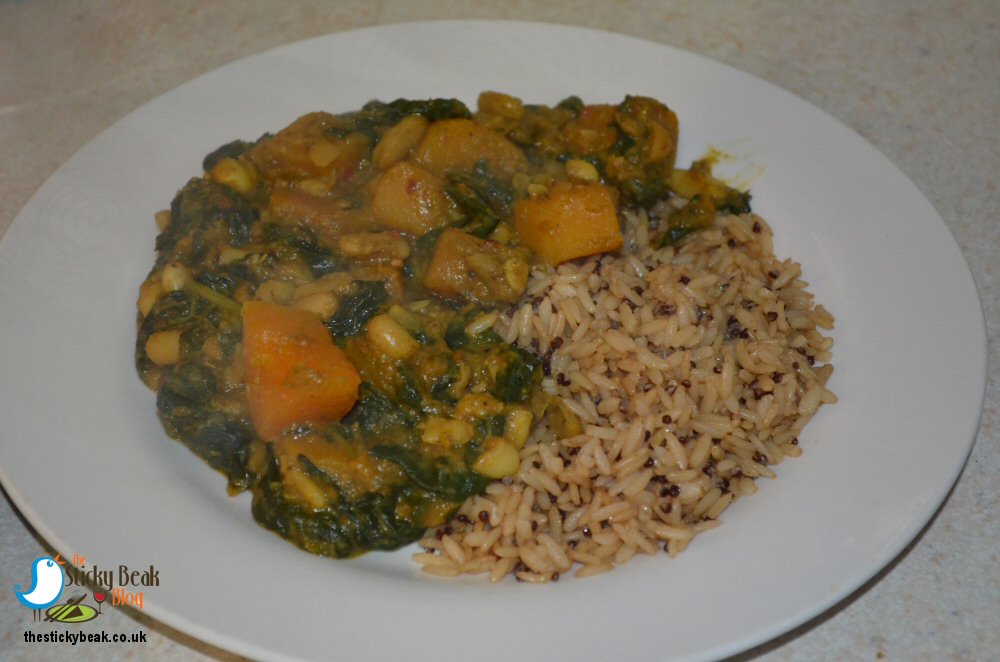 We do try to go meat-free at least once a week, so to pep things up I decided to make my own version of Lorraine's Butternut Squash, Chickpea and Spinach curry, using the Hot West African Curry Paste. I just love the simplicity that these sauces bring to a kitchen; simply chucking the jar of sauce into a pot, adding the
500g of foodstuffs you want, putting either a jar of water or some Coconut Milk in , and then leaving it all to cook. You can certainly taste the Scotch Bonnet Peppers' influence, there's a definite tingle to be had, but not too much. The blend of herbs and spices keeps things balanced in the mouth and makes you reach for just a bit more on your plate! Yet again, there was none spare in the pot!.

Hot Wings definitely given to these great products that can be used in families that have members with different dietary requirements; I'm all for making life easier. If you want to try Africa Al's products yourself then head over to their website

Better still, if you live in Derbyshire go and see them at Chesterfield Artisan Market on Sunday 31st March 2019, 10am-4pm.