Sampling Products From Raphael's Mediterranean Deli
---
Published On Monday 18 Mar 2019 by Sticky Beak
See Recent Food Producer Reviews | See All Recent Reviews


I had a great time at The Fine Food North Show in Harrogate recently, not only sampling the myriad of produce on offer but also meeting and talking to some incredible people. One of the things I love about my blog is the opportunity it gives me to chat to folks and find about what makes them tick, their passions, and what gets them out of bed in the morning.
The Man Bird was at the show in his day job capacity, which meant I got to go around unfettered and ask loads of questions without him getting impatient! Sometimes though you don't have to go too far afield to find a little gem, and so it was on this occasion. Literally the neighbouring pitch to His Nibs' stand was run by the lovely Zoi of Raphael's Mediterranean Deli Products.

Zoi had brought two types of Marinated Olives (Garlic & Herb, and Chilli & Garlic), as well as some Extra Virgin Olive Oil, and Oregano and Thyme herbs. One of my favourite things to do in the warmer months is sit out on the patio with a glass of something crisp and chilled and nibble at a selection of breads, oil s and vinegars, alongside a plate of Olives, Sundried Tomatoes, and Charcuterie. My beady eyes lit up at the jars of Olives on offer and I eagerly accepted Zoi's offer to try them.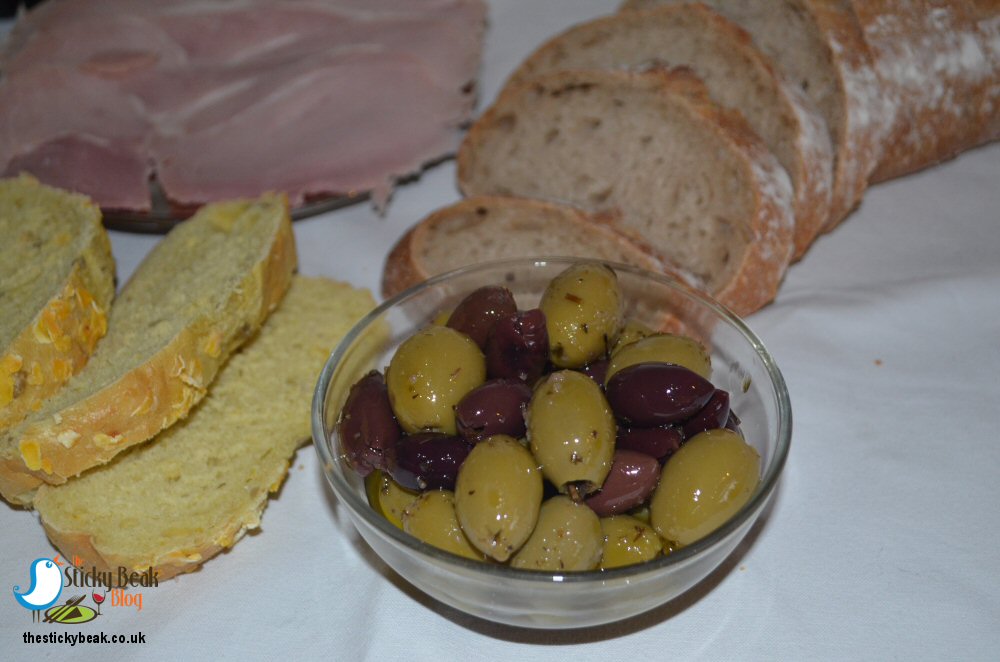 The mix of Kalamata and Green Halkidiki Olives were gorgeous, really rich in taste; so much so that for a few glorious moments I wasn't in a hall in blustery Harrogate, but had gone to the sunny climes of Greece. For those that like a gentle heat, the medium spice level of the Chilli and Garlic marinade will be just the ticket; if you prefer a more traditional offering, then the Garlic and Herb marinated Olives will have that bit extra appeal. I have to say that both variants were superb and equally delicious in my opinion.

I didn't try the herbs (organic Thyme and Oregano), but the aroma when the lid was opened was phenomenal – it was as if I was sniffing the plant itself out in the fresh air! These beauties are harvested from the slopes of Mount Olympus in Greece and you can smell their purity.

Small pieces of bread were waiting patiently in a basket to be plucked up and dunked into the lake of Raphael's Gold Label Extra Virgin Olive Oil. I duly obliged and was rewarded with a blindingly good surge of fruitiness on my palate. Over the years I have tasted many Olive Oils, but I reckon this is possibly the best I've ever had the pleasure to try! It really was intense; fruity, velvety, bright and clean in the mouth, with a sublime gentle sweetness to it that lingered softly on the tongue. Possibly the best description of this treasure is "other-worldly"; it is simply sublime.

As I got chatting to Zoi a bit more, she told me that her husband, Milton, has Cretan ancestry and that his family have owned and harvested olives from their own groves for many years. Grown in the Kolymvari region on the island of Crete's west side (world renowned for producing high quality Olive oil), the Koroneiki olives are cold pressed to release their oil, which is then bottled and labelled as Raphael's Gold Label Extra Virgin Olive Oil. I always say that you can tell if an animal has led a happy life by the quality of its meat, and if the quality and flavour of this "liquid gold" is anything to go by then I think I might want to come back on earth next time as an Olive growing in the Mediterranean sunshine!

Zoi, Milton and their son Raphael live in Bath and they are gaining a reputation for their fine produce among restaurateurs there. In my opinion, we need to be seeing more of their offerings up here in the Midlands; so come on, hop on their website and order some Mediterranean magic for yourselves! They definitely get the Hot Wings award from me.