Breakfast At The Railway Tea Rooms In Belper
---
Published On Thursday 21 Feb 2019 by Sticky Beak
See Recent Dining Out Reviews | See All Recent Reviews


As well as the main shopping area along King Street, Belper has lots of treasures tucked away on its side streets; we were invited along to one such venue, Railway Tea Rooms (3, Midland View), to try out their breakfast. Weekends were made for routine to be abandoned and relaxation indulged in, and as you know, The Man Bird and I whole-heartedly embrace this life philosophy.
We parked the jalopy up and made our way into the town, taking a quick detour to the stalls at Belper Farmers Market. Despite the weather's best efforts to scupper this event, the stall holders showed real determination and commitment to their customers, even though they were outdoors and couldn't have their tarpaulins up due to the wind.

The Railway Tea Rooms get their name from the fact that they are located at the side of the railway, and what stunning tracks they are! Ok, so the tracks themselves aren't particularly anything out of the ordinary, but the deep, sloping stone side walls are something to behold. The upper level of the Railways Tea Rooms affords you some great views of the rails below – fab for train enthusiasts old and young alike.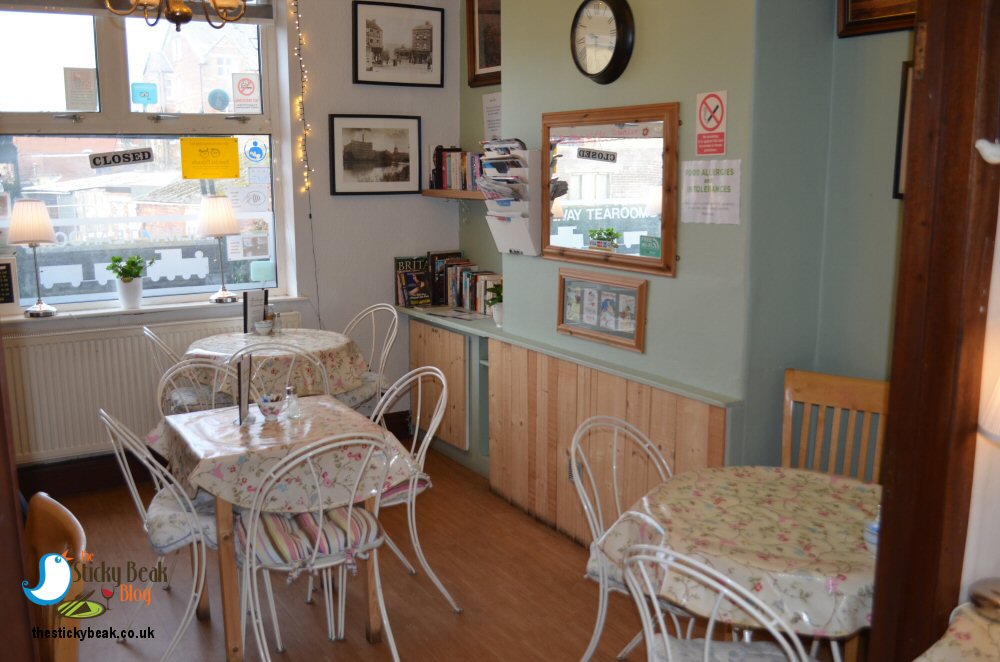 The moment you step over the threshold of the Railway Tea Rooms, you get a lovely feeling of coming home; and that's probably because you're literally stepping inside what was once a residential dwelling. From the pavement, the whole row of businesses looks like regular homes! There are a Barbers shop and second hand Vinyl Records store as well as the Railway Tea Rooms on Midland View.

Clare, the Tea Rooms owner, gave us a wonderfully warm welcome as we went in, and we soon got ourselves seated at one of the lovely tables downstairs. The walls are painted a gorgeous Duck Egg Blue shade, with pale Pine wood panelling to the bottom half of the room. Bunting hangs on one wall, spelling out the venue's name in pastel tones and there are a selection of black and white photos of Belper Town and the Railway from bygone days. On one wall there is a rack containing papers and magazines, so you can while away the time and relax whilst catching up with news and enjoying a drink and nibble.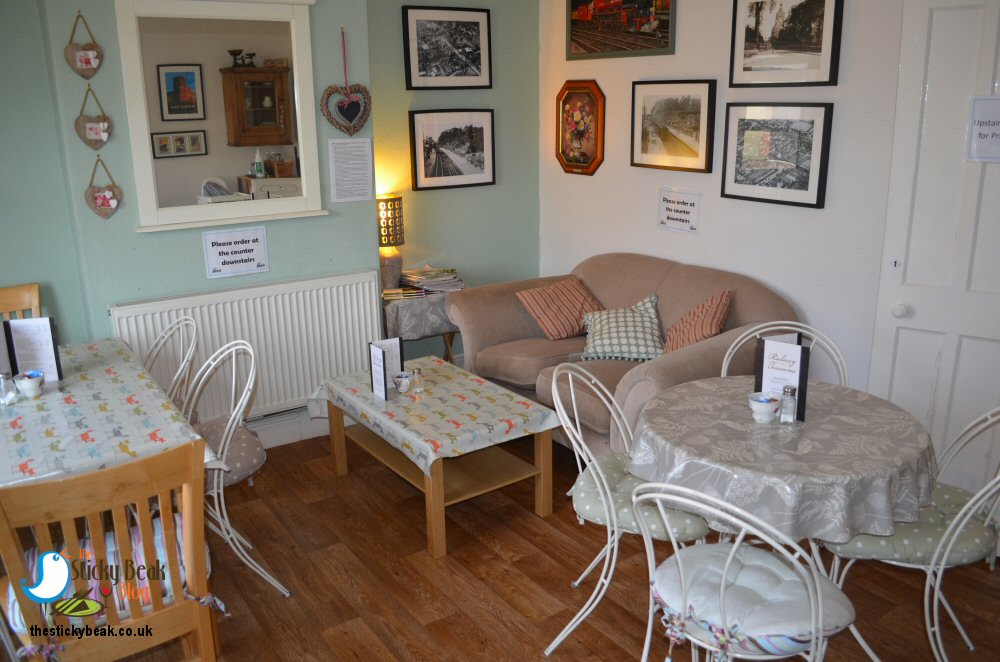 Floral oilcloth covers protect the tables and the white metal painted mid –back chairs have tonal covers too, which pulls the whole shabby-chic look together nicely. On a sunny day there is a superb little "sun trap" out the back, which seats probably another 20 or so folks, but given the frankly horrendous weather outside, we weren't going to sit there!

Nothing starts the day quite like a good brew in my opinion. I am partial to a fresh ground coffee on occasion, but my heart belongs to a good old cuppa if truth be told – especially for my first drink of the day. Don't let him know that I've told you, but The Man Bird is a romantic soul; he has brought me a cup of tea in bed every morning since we've been together. How cool is that?! Love the feathers off him. Clare offers a selection of both bagged and loose leaf teas, so I chose a solid English Breakfast loose leaved variety. His Nibs had a coffee to kick-start his day.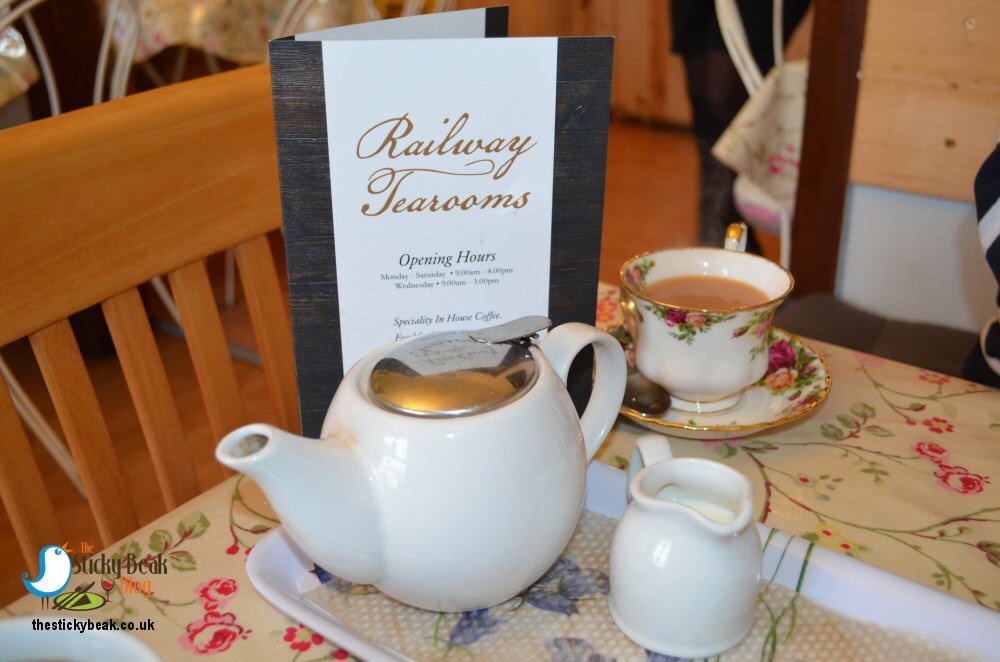 We both decided to try Clare's Full English Breakfasts, with the addition of Mushrooms to mine, and we both opted to have brown toast rather than white. All the food is cooked fresh to order and the smells coming from the kitchen at the back were making me drool! I should just mention the other wonderful members of Clare's team: Debbie does the cakes, quiches and biscuits, Katie creates the scones, and a couple of Saturday ladies complete the ensemble. The amazing Anita is currently on maternity leave, but without mentioning her, the team wouldn't be complete!

Before we knew it, two plates of scrumminess were placed before us and we began tucking in. Clare brought over the Ketchup and HP sauce – yep, the camp will forever be divided I'm afraid; I'm a HP gal, He likes his Tomato ketchup.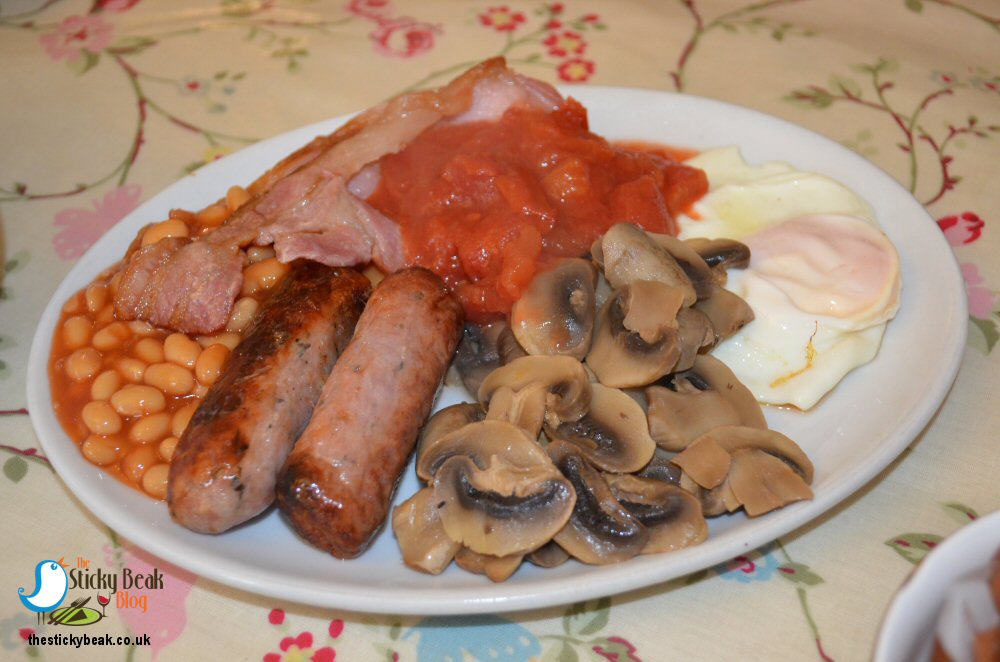 The slices of Bacon were lovely and thick and really tasty, not your water-filled, shrink-as-you-cook-them things. You can't beat a rich tasting egg yolk in a brekkie, but everyone has their own opinions on the perfect runny/setness of fried ones, don't they? I'm dead fussy; the white has to be totally set (I can't be doing with any "snottiness" to it) but the yolk needs to be runny so that I can dunk stuff into it. The Man Bird isn't as pernickety as me and finds it funny that I'm so precise about it! There was plenty of yolk to dunk, but it was setting a bit at the base near the white, so not a full "douze points" from me; I still scoffed the lot though as it was really tasty!

I'm also really fussy about sausages, as you're all aware. The ones served at the Railway Tea Rooms are thick meaty beasts, and actually pretty good if truth be told. I did let His Nibs have one of mine, but only because I'd got a good quarter pound of fried Mushrooms on my plate (nom nom nom!) and I was starting to feel full! The sausage that I did have was up to my requirements, with no repeat factor discernible.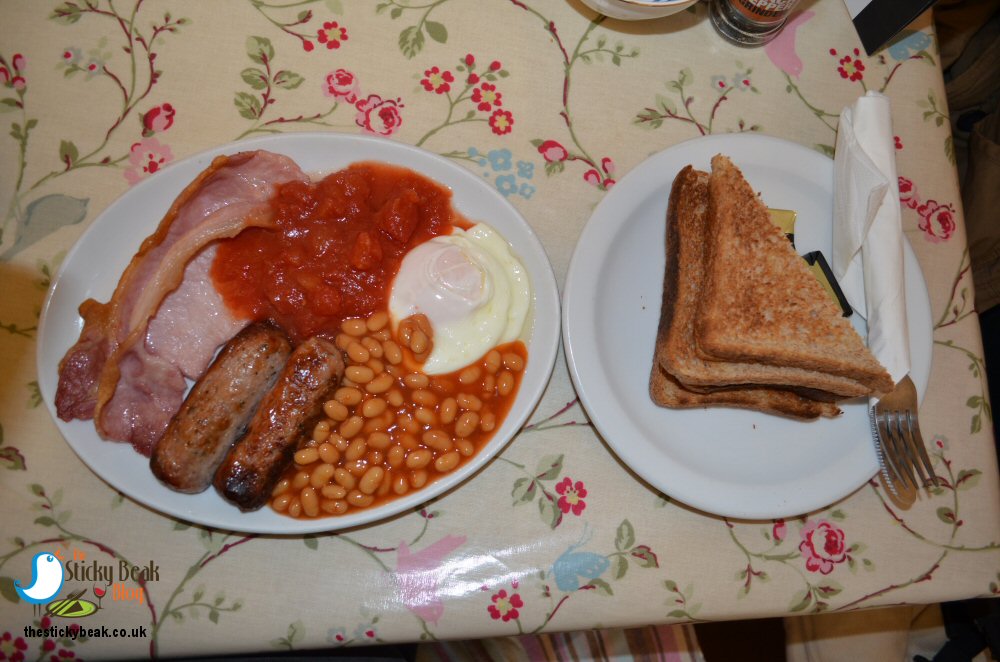 I've wanged on in the past about life's simple pleasures, and guess what? I'm about to do it again! I think I must get it from My Mummy Bird, the love I have for tinned Tomatoes on toast - I just adore the way it renders the bread all soggy and gooey and the fact that you can just wolf it down with minimal effort! I have no idea what is going on with The Man Bird recently, but he's definitely getting more outré when it comes to food. He decided he was going to come over to the dark side and try this morsel for himself. Aaaah, my work here is done. We couldn't leave the humble baked bean out of the glory though; this faithful servant is the backbone of the Full English Breakfast and deserves to be recognised as such.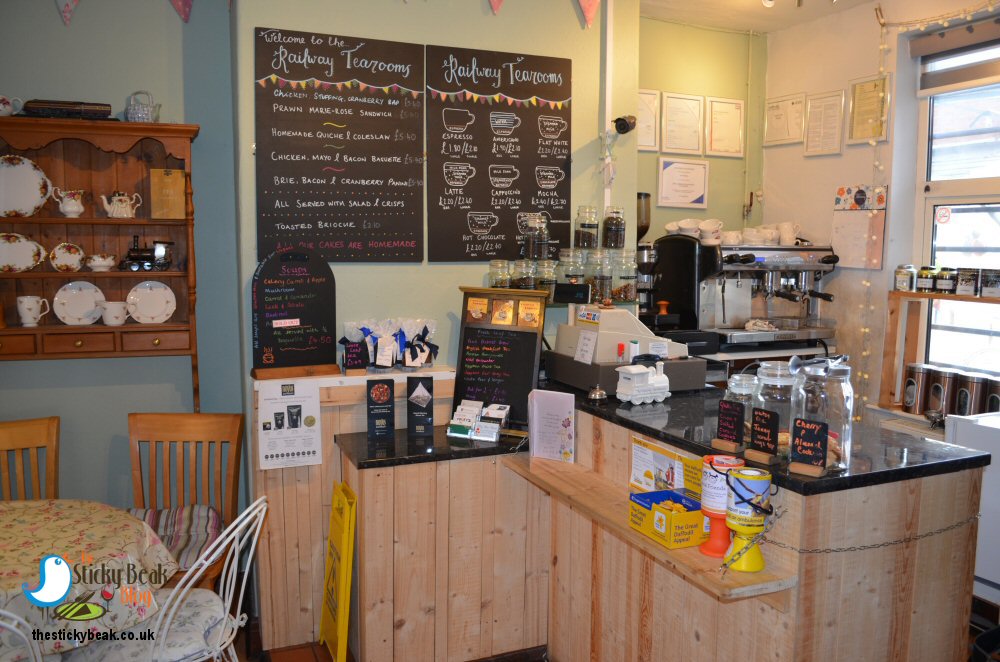 As well as the Full Breakfast, you can choose from a variety of Breakfast baps (which you can create a massive variety of by mixing and matching the various options), and hot items on toast. If you just fancy toast and jam, or a toasted teacake or Brioche, you can have those too.

There's a massive lunch range too: from jacket spuds with a selection of fillings, to Sarnies and toasties (oh my god, I loooooove toasties at lunch!), and delicious homemade Quiches. A specials board offers even more temptation too – as if there wasn't enough to choose from! Those with a sweeter tooth also have a choice of several homemade Cakes and scones to pick from, I personally thought the pot of tea for 2, and 2 scones with jam and cream for £6.90 was a bargain. If I lived in Belper, this would be my treat after surviving the rat-run of food shopping.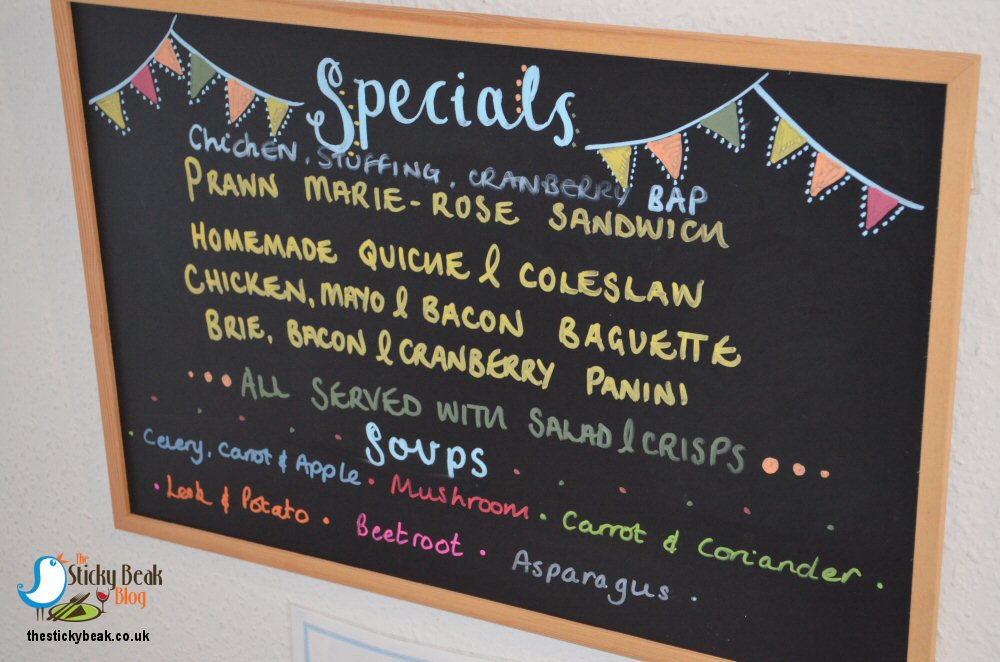 Hot Wings given to the lovely Clare and her Railway Tea Rooms team at Belper. If you fancy popping in, this lovely place is open Monday-Saturday 9am-4pm, with a slightly earlier closing time of 3pm on Wednesday. If you're in a group of more than four, or want to guarantee a table then just call them on 01773 823561.
Some form of incentive was provided to visit this venue
read more