Sunday Lunch At The Yard, Derby
---
Published On Tuesday 1 Jan 2019 by Sticky Beak
See Recent Dining Out Reviews | See All Recent Reviews


Ah, the Great British Institution that is the Sunday Lunch/ Sunday Roast; what would life be without it? Everyone has an opinion on what makes a fab lunch, and our flock is no different; non-negotiables include the Yorkshire Pud, the Roasties and proper Gravy. Oh, and everyone thinks their mum does THE best version of said lunch, don't they? My Mummy Bird does do the best one ever, just saying.
So when The Man Bird and I were invited down to The Yard, Derby County F.C's restaurant to sample their roast, my first reaction was "it best be good if I'm sacrificing my Mummy Bird's Sunday lunch". Harsh? Maybe, but there was only one way to find out if it was up to much, and that was to jump in the jalopy and make our way down there.




His Nibs and I have been to The Yard before, in the evening to sample their dinner menu – very nice it was too; here's the review if you're interested. The Yard is open all day, serving everything from sandwiches, lunch, dinner, Sunday roast, and Pizza made in their very own pizza oven. You don't have to be a member of the fan club or a season ticket holder or anything daft to eat there, you can just rock up and enjoy. I would check the fixtures list though; it can get rather lively for parking on match days if the Rams are at home!
I mentioned the fact that The Yard is a lovely open plan, modern space in my previous review; nothing has changed in this regard, but obviously it had got glitzed up for the Festive season. Tasteful snowflakes hung from the ceiling and ropes of fairy lights had been coiled around the central pillars, enhanced by the booth tables and their cascades of lights. Our booth had the extra "wow" factor thanks to one of the Christmas trees being behind it.

The lovely Rosie was our server and she soon got us settled in with a couple of drinks and brought the menu's over for us to look at. His Nibs had a pint of Peroni – he does like it on draught, and I had a large glass of what proved to be a very frisky South African Pinotage; its lovely deep berry colour was matched by a rich smoothness on the palate. Good health and all that jazz!

Now I don't know about you dear reader, but I always find it hard to gauge whether a starter is necessary when going out for Sunday Lunch. Chez Tribal Elders is home to perhaps the world's biggest roast, so I'm at a disadvantage comparing portion sizes anyway; no-one is a bigger feeder than My Mummy Bird! Luckily Rosie was on hand to give us the inside scoop. Clearly our reputations as gluttons had preceded us, so she recommended that we share a starter between us.




After a bit of discussion we opted for the Piquillo Pepper Arancini with Italian salad and Basil oil, priced at £4.50, to kick things off – kick things off, geddit? The balls of Arancini were gorgeous; lovely crunchy, crispy outers with nicely seasoned rice and pepper centres, and they were beautifully warm too so that the centres were just soft to bite. There were plenty of colours on the plate too, courtesy of the Italian salad; Artichoke quarters, Sun-dried Tomatoes, marinated Red Pepper slices, Black and Green Olives, and shavings of Parmesan cheese had all been mixed and carefully arranged on the platter. A scattering of edible leaves and shoots further added to this starters' visual appeal, and I'm glad to say that it tasted every bit as good as it looked; there was every taste and texture under the rainbow in this dish.

Rosie came over to check how we were getting on, and was pleased to hear her recommendation was being much appreciated; the evidence of which was apparent when she came to clear away the empty plates.




There were two meats on offer for the Sunday roast (priced at £11 per person); Beef or Turkey. I'm a Beef kinda gal, to me Chicken or Turkey isn't for Sunday Lunch – controversial I know, but that's how I feel. The Man Bird wavered for a couple of seconds before he followed my lead; that'll be two portions of (served pink) Beef then please, Chef Chris!

When Rosie came over with our plates, I had the advantage of facing her, so I could see the Food Mountains that were approaching; His Nibs however didn't clap eyes on it until his was placed before him, so his face was a picture when he first made visual with it! Honest to goodness, the slices of Beef were huuuuuge, both in terms of thickness and size; meat lovers, this is your kind of place, trust me.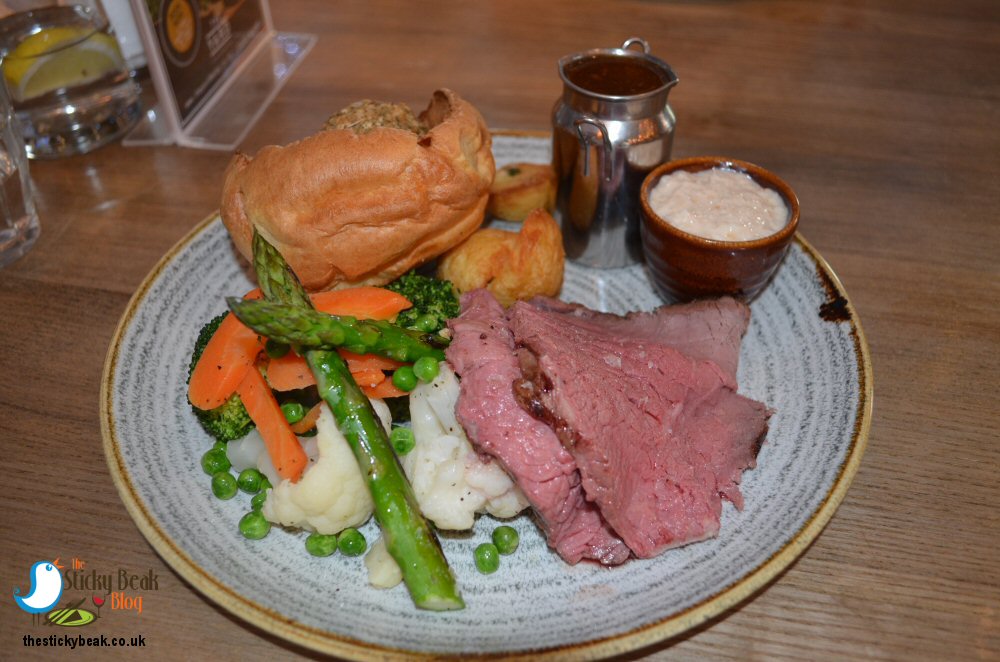 The homemade Yorkie wasn't much smaller either, which was perhaps as well given the golf ball sized globe of sage and onion stuffing that was nestled in its middle! There was a half dozen or so good sized Roasties to be seen on both plates and a large portion of vegetables: Garden Peas, Cauliflower and Broccoli florets, Carrot wedges and Asparagus spears. Punchy, lightly chunky Horseradish sauce was in a little pot on the plate, as well as a mini milk churn of proper meat-juice gravy. Rosie also brought over some English Mustard for The Man and some extra pots of gravy in case we needed more.

We took a deep breath and dived straight in. The meat was absolutely banging; moist, full of flavour and delightfully soft in the mouth – credit to Owen Taylor butchers (love to brag about our village butcher!) for their outstanding produce. Chef Chris clearly knows the importance of getting Sunday Lunch right, all the veg were cooked perfectly to retain that hint-of-bite to them – nothing worse than soggy, over-cooked veg is there?

His Nibs and I scoffed the Yorkshire pud in double-jig time, it was delicious; nice crisp outer, sky-scraper high, light textured and just-soft inside to give that pillow effect on the tongue. Oooh, come to Mamma! The roast potatoes had been lightly seasoned with sea salt and herbs on their crispy outers which gave them a gorgeous taste, and their inners were soft as a cloud in the mouth.

Both of us love a good larruping of gravy with our Sunday lunches and when it's as good as the one at The Yard who can blame us? As well as a pleasingly thick pouring consistency, you could see the flakes of meat in the gravy and the meats' juices gave it that glossiness (and taste) that comes from the fat. Being the rops that I am, I missed my mouth (!) and a dribble of gravy hit my chin, thankfully the napkins at The Yard are good thick numbers, more than up to the job of clearing my mess up. Yet again, Rosie had come to check that everything was ok with our meals and went back with a pair of clean plates.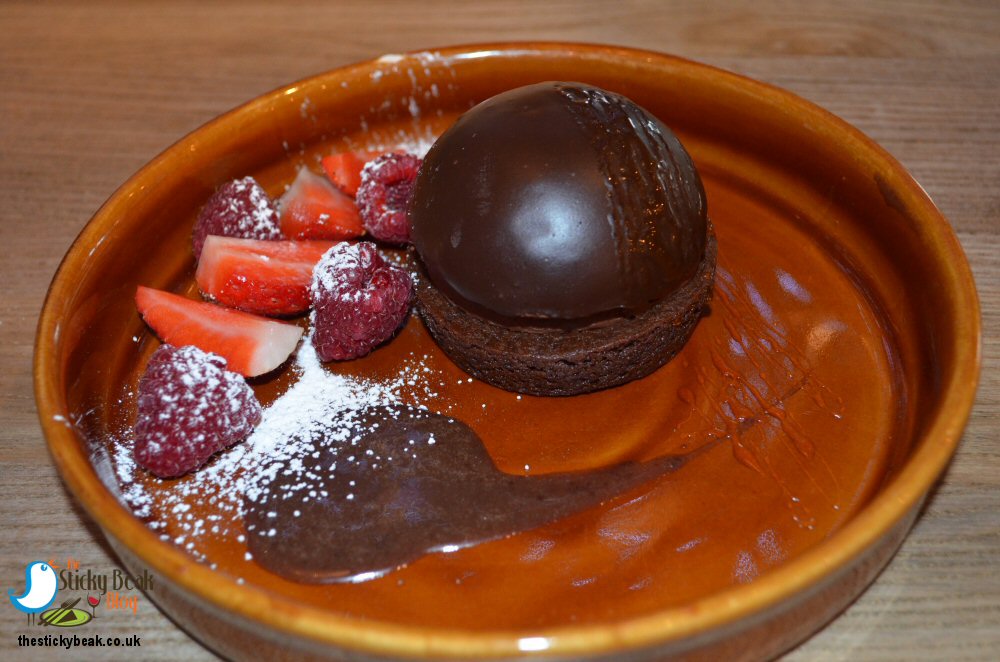 Quite what possessed us I don't know, but before you could shout "Rammie" we'd ordered desserts! I had the Chocolate Sable Dome, The Boy Wonder fancied the baked Cookie dough and Toffee Cheesecake; all of the sweet treats are priced at £5.95.

My choice was quite Frank L(y) inspired – couldn't resist, sorry! The base was a semi-firm, moist sponge upon which sat a gorgeous milk chocolate mousse, whose richness was incredible. As if this wasn't enough indulgence, the milk chocolate dome was covered with an even more delectable dark chocolate layer! It would've been easy for this dessert to be too much, but Chef Chris and Executive Chef Steve skilfully avoided this trap by serving it with slices of fresh Strawberries and whole fresh Raspberries – yummy.




There's something about the light crumbliness a baked Cheesecake has that I think is nicer than the fridge set, no bake versions. Given the speed at which His Nibs was wolfing his dessert down, he agreed! Steady on chap, it isn't going to escape! A superb chocolate biscuit base was just something a little different and partnered brilliantly with the toffee sauce that was rippled on top of the baked layer. Fine crumbs of cookie dough adorned the top of the cheesecake and gave another great sweet hit on the palate. As with my dessert, slices of fresh Strawberries and whole Raspberries tempered the sweetness, bringing balance to this morsel.

As we'd been sat eating our lunch there were families coming through The Yard's doors which was nice to see; one large group was a family getting together before Christmas, so several generations were sat together dining. At the bar were a couple of male friends just enjoying a quiet pint, and further down the room were a couple of couples who'd come for a bite to eat. It was nice to see the mix of people coming into The Yard, but given the relaxed, welcoming feel to the venue, who can blame them?




I didn't see anyone ordering pizza on this occasion, but I remember last time that there were a few coming out of the pizza oven and they did smell good! The pizzas are priced £9.95 - £11.50, and garlic pizza bread is just £3.95. If you fancy a regular meal on Sunday rather than the roast it's not a problem, and prices range from £9.95 for Gnocchi up to £19.95 for a Rib-Eye steak.

Hot Wings are definitely deserved at The Yard - I can't say that it was better than My Mummy Bird's Sunday roast (she'll be reading this, and I value my life!), but it's a real belter. Back of the net, Chris.
Some form of incentive was provided to visit this venue
read more