Sticky Beak Visits Notingham's New Japanese grill restaurant, Kushi-ya
Published On Tuesday 2 Oct 2018 by Sticky Beak
See All Recent News Articles
It's always nice to get invited to the opening night of a new venue, so The Boy Wonder and I were jolly happy when the invitation came from the Kushi-Ya team in Nottingham. In keeping with the pared back aesthetic of the orient, a simple A-board indicated the way down an alley to the venue. A rectangular pale wooden plaque with the restaurant's name was the only sign as to its location and some stairs led us up to the bijoux restaurant.
Kushi-Ya (translation: Skewer shop) is an open plan restaurant with perhaps seating for around 30 guests and 4 stools in front of the sleek bar. Matt black tiles are laid for flooring and pale wood, angular tables are laid out in a uniform fashion; a wraparound black banquette seat and light wood and black chairs make up the seating arrangement.




The tables are minimally set with black and gold plates; chopsticks and thick napkins are held in black ceramic holders. As you might expect, the decor is fairly minimalistic in nature: the skylight windows have black grid metal work on them, the wooden ceiling beams are kept in their natural state, and simple metal bowl-shaped lights provide the subtle illumination.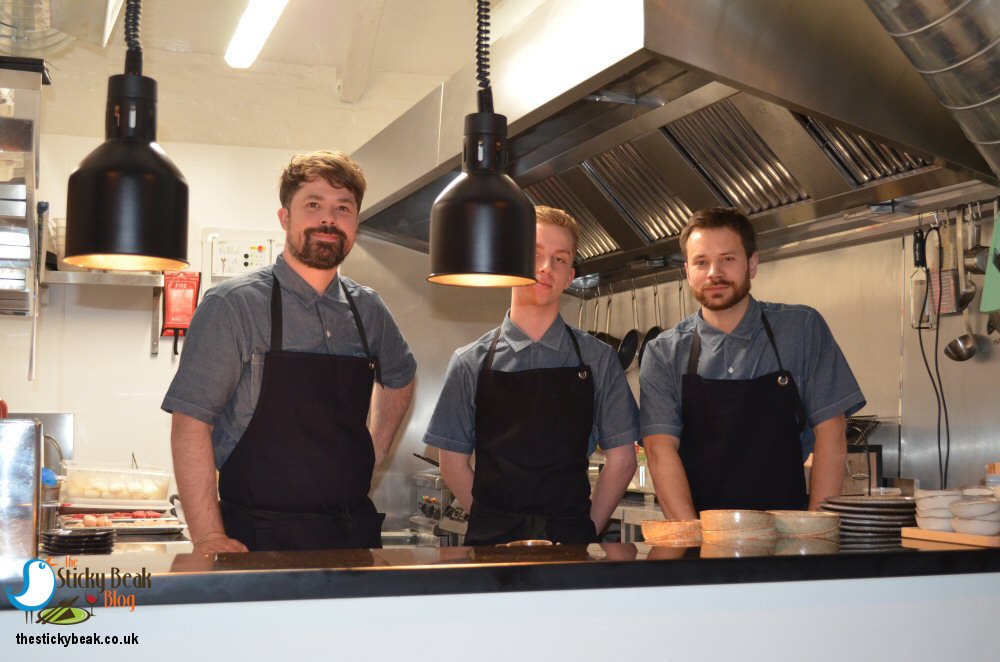 We were greeted warmly by one of the owners, Simon Carlin, as he looked out over his venue from the open kitchen – nice for diners to watch the theatre of a working kitchen as they eat. There was a selection of drinks on offer for the evening, and a Yuzu Margarita took my fancy – I love the tart edge of Yuzu - and His Nibs had Asahi super dry lager, as it isn't often you come across it on draught.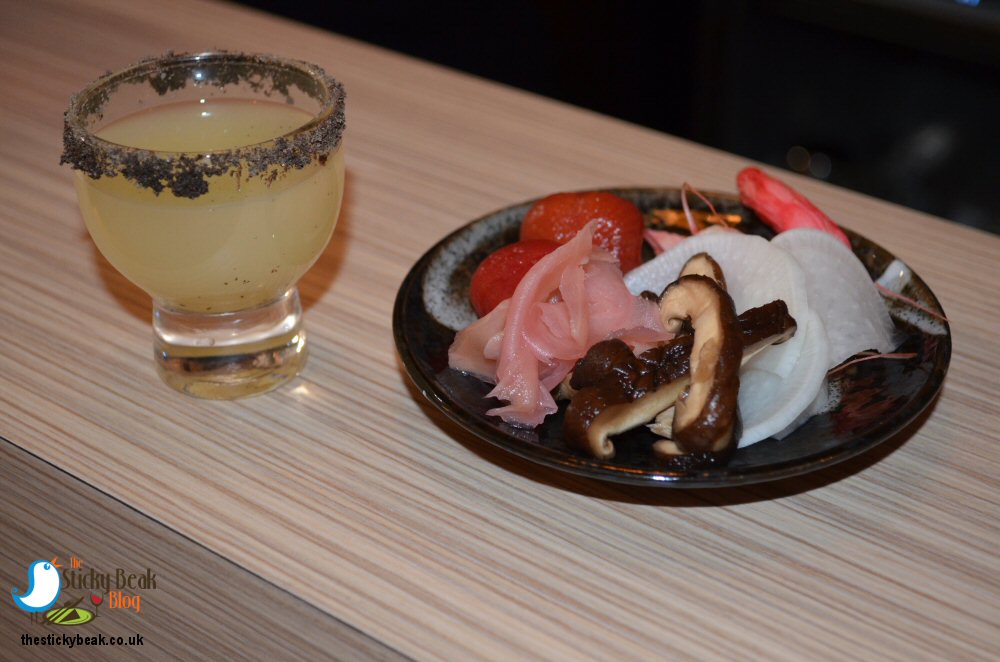 Plates of Nori and Sesame crisps and assorted Pickles were laid out for people to graze on whilst the food was being prepared; His Nibs and I headed over to a table directly opposite the kitchen where we could really get a sense of the atmosphere.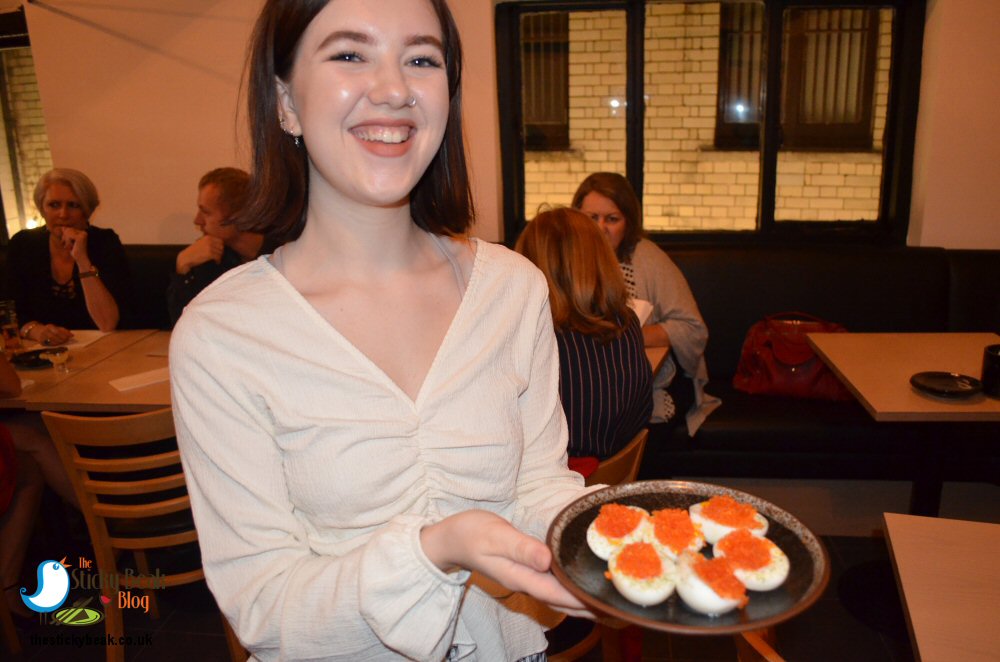 It wasn't long before other invited guests arrived and the atmosphere soon matched the upbeat music playing in the background. Soon after, the first dish came out of the kitchen, and it was a beautiful thing to behold: Hard-Boiled Egg with Flying Fish Roe where the yolk would be. The Roe was a delicate coral colour and glistened gorgeously in the light, really standing out against the bright white of the egg. This particular type of fish egg didn't have a strong taste to it either fish- or salt-wise, it was more of a sweet note that came through to me. When you think about it though, the egg isn't a strong flavour so it doesn't need a pungent partner.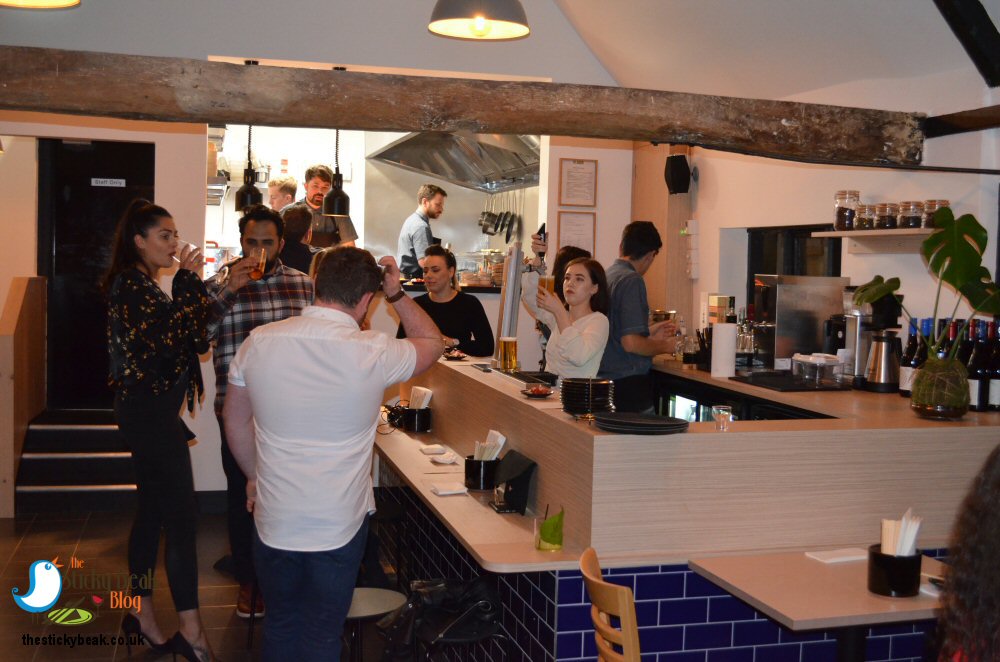 I decided to try the Sake on offer at Nottingham's Kushi-Ya restaurant; Futsushu Sake, and it was nicely rounded in taste. His Nibs had another glass of Asahi. In the meantime, the team were circulating and handing out other nibbles including Prawn and Shiso spring rolls, Aubergine Skewers with Barley Miso, and Beef Skewers with Black Garlic Mustard. All were very nice and full of flavour and texture.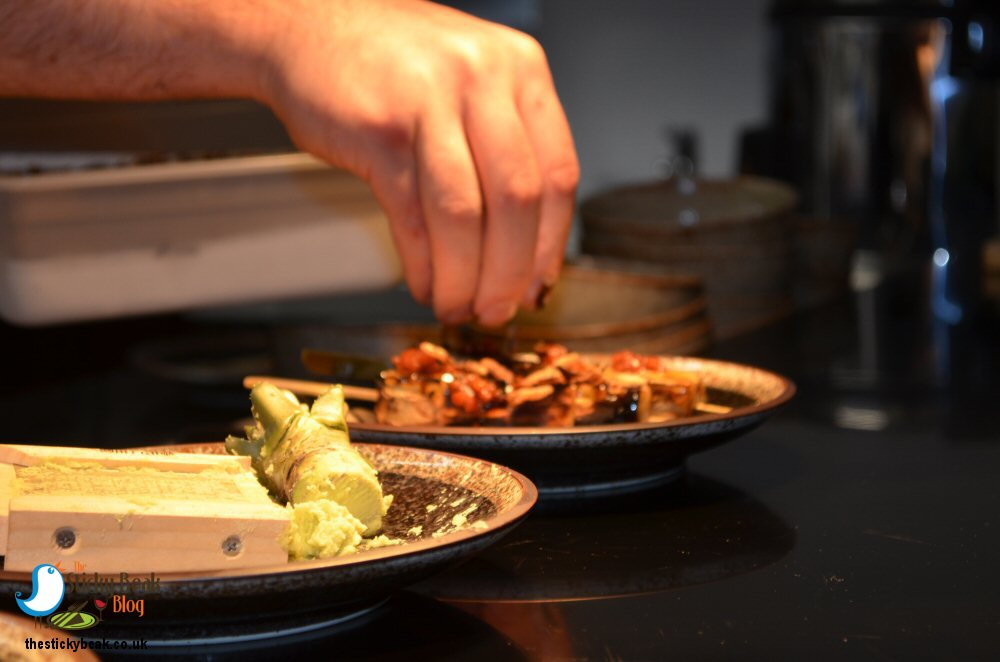 Tempranillo was one of the wines on offer, so I availed myself of a glass to go with the desserts that had started to be handed out. The Chocolate Ice Cream Mochi balls were gorgeous, really rich and satisfying, and both of us loved the Kinako fried waffle topped with Matcha Mousse.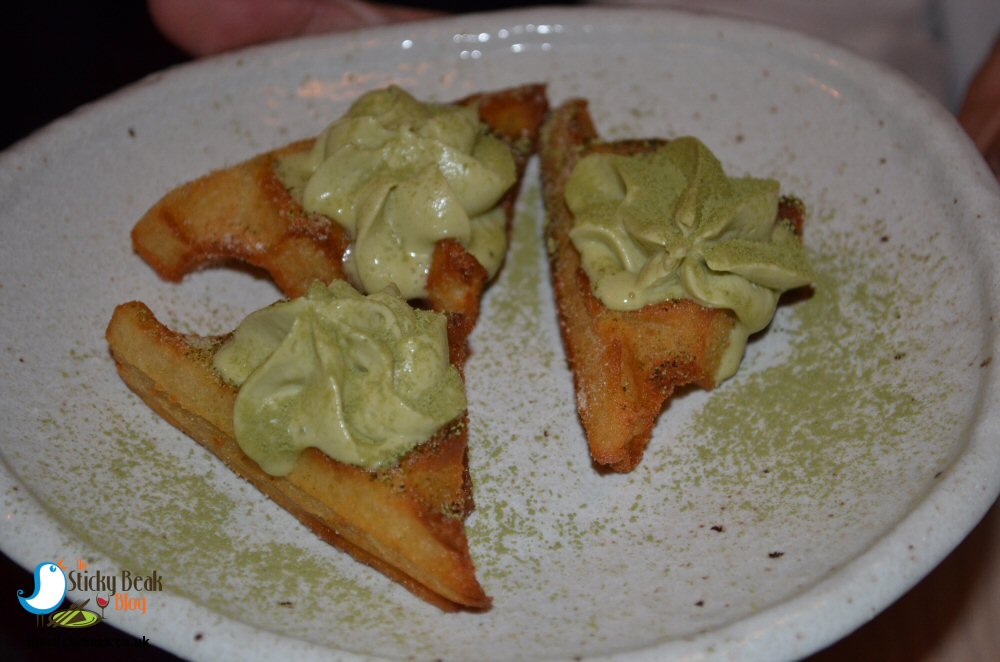 If the quality of these dishes is anything to go by, diners can expect vibrant, adventurous cuisine coming from Simon Carlin and Tom Clay's kitchen. Drop by and pay them a visit; they officially open this Thursday (4th October 2018) and you can book online or give them a call to reserve your table. They do a lunchtime offer for a tenner, as well as opening in the evenings for Dinner, based around the Tapas/ Small Plate/ Skewer concept.