Derby's Bustler Market Plays Host To Midlands Heat Of The British Street Food Awards
Published On Sunday 17 Jun 2018 by Sticky Beak
See All Recent News Articles
Logically, I know that when I've stuffed my face and sunk a fair amount of Prosecco at Revolucion De Cuba's bottomless brunch that I have well and truly had enough sustenance to last a week. Therefore, I also know that going to the British Street Food regional heats at Bustler market is going to end in me and His Nibs (Mummy Bird showed some restraint!) rolling home like a pair of Weebles!!
The atmosphere was as lively as ever when we all rocked up late afternoon, and said hello to Stuart on the door. We spotted a space at a table and plonked our bottoms down, whilst The Man went to get some more Prosecco. After a short while we got down to the serious business of trying out some of the contenders' dishes that had had renowned local chef Rupert Rowley and food journalist and British Street Food founder Richard Johnson drooling earlier.




First up was some absolutely corking bao buns from the team at Wallace and Sons; these really were like pillowy clouds and had been stuffed with various fillings. The Chicken Katsu bun was utterly gorgeous and bang full of flavour - it got demolished in double-jig time by us all! I loved the visual appeal of the Squid ink tinged bao bun that housed some amazingly spiced Cod – and needless to say, it tasted every bit as good as it looked. I can see why this was Ruperts' choice of winner.

We'd been informed that Richard wasn't around, but lady luck was on our side as he was still in the building. Richard materialised at our table and managed to take time out to have a natter with us. Sometimes having inside knowledge can be a bad thing, and on this occasion all it did was stoke the fires of my gluttony – which need no encouragement as you well know readers! The Man Bird was duly dispatched to gather more dishes to try, and bless him he came back with arms laden from Patty Freaks, Buddha Belly, Press De Cuba, Urban Cheesecake, and Bourneville Waffle Company.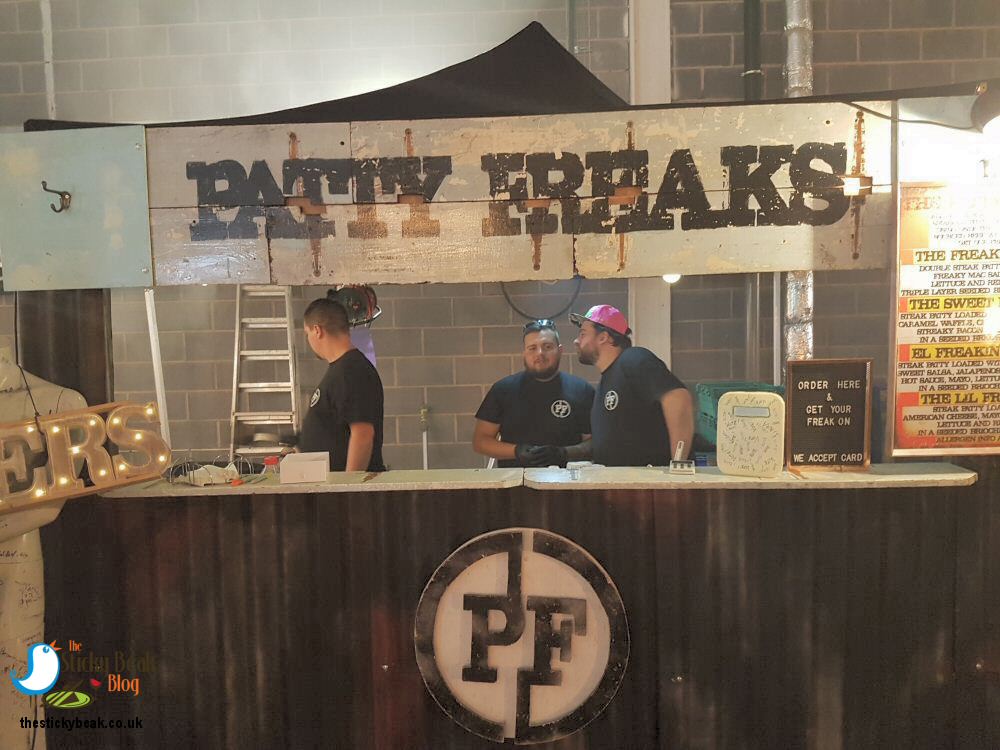 So many dishes, so little time!! We had to focus and get through them all as we had been given voting tokens, and after we'd sampled them all and discussed favourites between the three of us, we duly distributed our votes. In all honesty, every single competitor deserved a token, but that isn't how it works unfortunately, so we had to be a smidge ruthless.

I am a total fan of peanut butter and the burger from Patty Freaks' "sweet freak" burger has it in abundance; as well as a caramel waffle, chilli jam, maple syrup, streaky bacon and Swiss cheese that are then all crammed into a seeded brioche cream bun. Oh my days – my taste buds died and went to their heavenly paradise!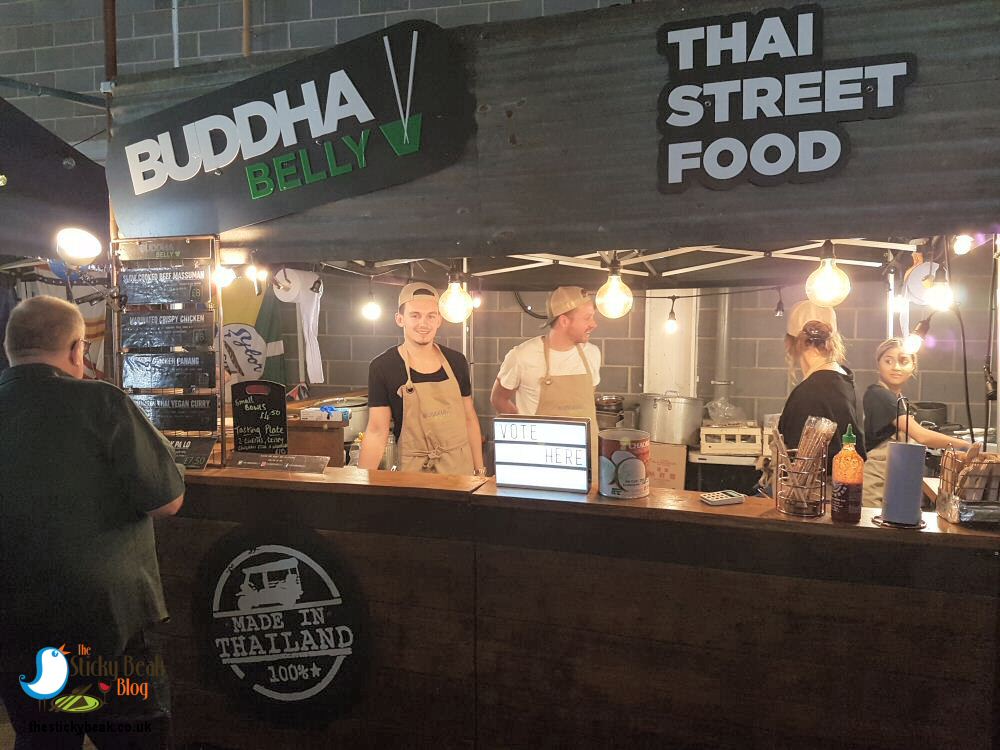 .

The team at Buddha Belly were clearly trying to make my belly the size of Buddha's judging by the amount of food they sent over!! This company specialise in Thai street food and flippin' 'eck is it good stuff. My Mummy Bird was proper gobbling up the Slow cooked Beef Massuman – she loved how the meat literally melted in her mouth, and although the dish had a bite to it, it wasn't overly spicy. My favourite had to be the Spicy Chicken Panang; this really was a taste bud tingler. Although saying that, you got all the different spices coming through, so it wasn't just about the spiciness of the dish.




His Nibs was crunching away on the marinated Crispy Chicken with its wickedly crispy batter coating. This little beaut was comprised of wonderfully juicy chicken breast meat that is marinated in a combination of Thai herbs that impart their bright, zingy flavours to the dish. Paired with noodles, homemade sweet sauce and tangy Sriracha Mayo, this was a real crowd pleaser – literally everyone that had tried it raved about it!




Our final dish from Buddha Belly was their Pork Belly Pa Lo, and this was quite possibly the thickest wedge of belly pork I've ever had! I loved the hint of Thai 5 spice that was running through the meat, as well as the braised Duck Egg that is in the dish. Both the belly pork and the egg had a superb creaminess to them in the mouth. Don't be fooled though, this wasn't a meek and mild offering – the vibrant taste of the chilli garlic pickle made sure your palate paid attention!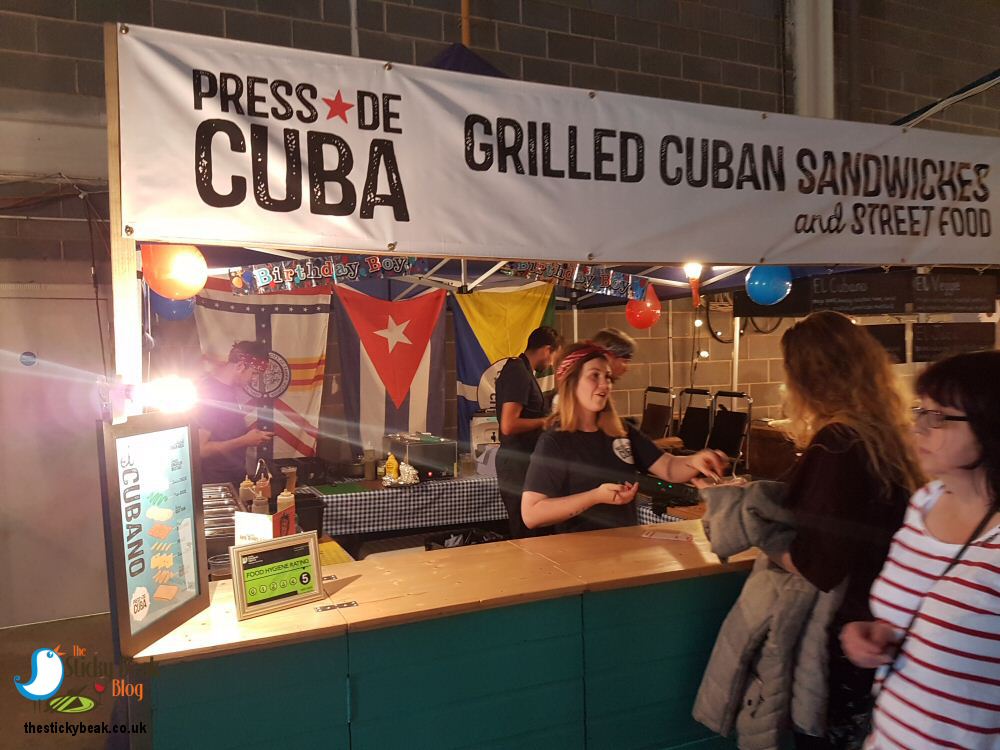 Press de Cuba does grilled Cuban Sandwiches, and their "El Cubano" offering was a taste bud sensation. This is no ordinary sandwich; it starts with a traditional recipe Cuban bread that is then stuffed with their own Mojo Pork (marinated for between 8-12 hours), Honey roast Ham, Swiss cheese, American mustard, and pickles. Seriously, it is so good!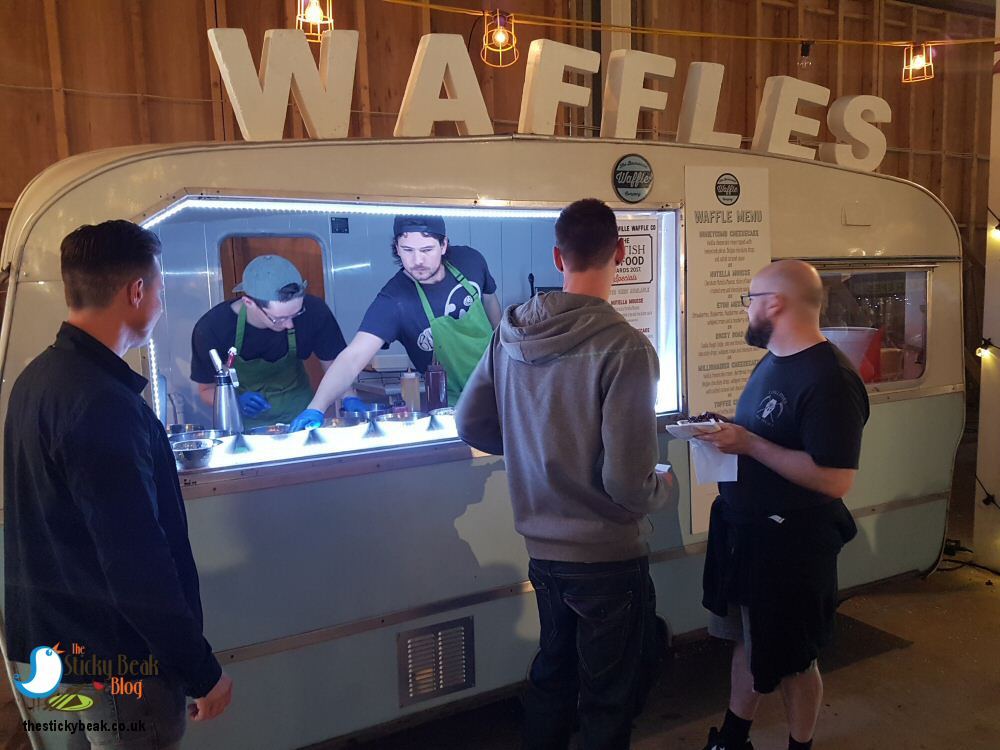 As well as savoury contenders, there were several companies specialising in sweet treats in the regional heats in the British Street Food contest. We tried Bourneville Waffle Co's "Honeycomb Cheesecake" waffle, oohing and aahing with delight as we savoured each mouthful. Urban Cheesecake had a morsel named "The Dark, Dark Wood"; triple choc Brownie pieces, Black Cherry compote, Chocolate truffle sauce and salted caramel pieces are all slathered on its signature biscuit base, and it was a truly decadent dessert.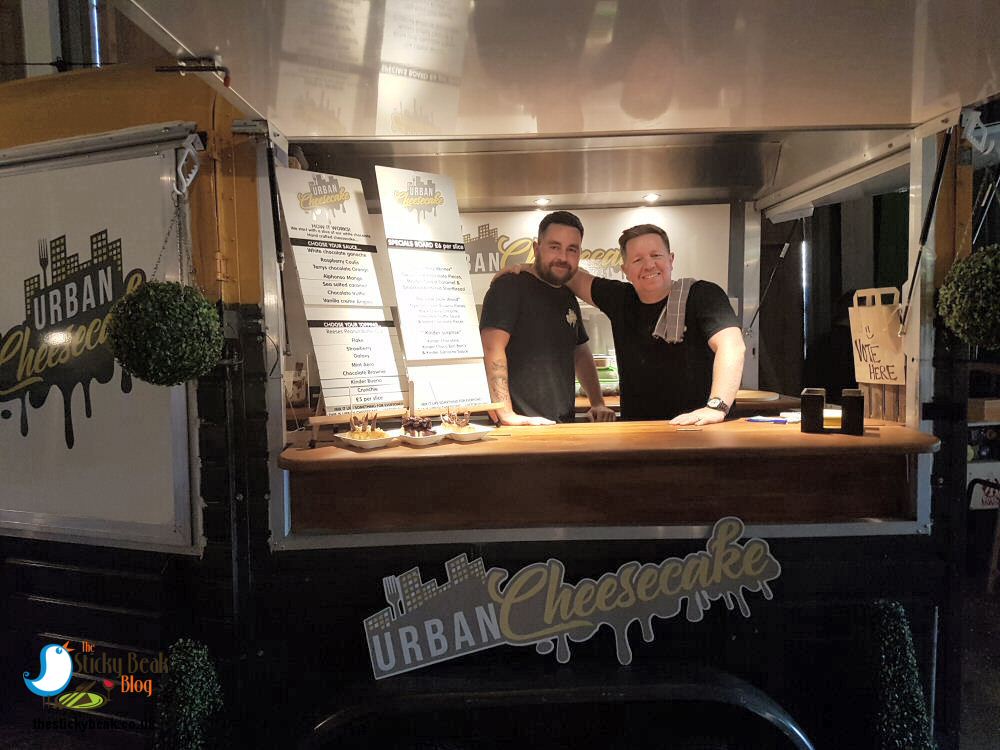 8pm came around, and Richard took to the microphone to announce the "People's choice" winner; these would accompany Wallace and Sons through to the National final of the British Street Food competition. It had been such a hotly contested position and was incredibly close in the final counting of votes, but Buddha Belly got the popular vote from Derby. The Northern heat is due to be held in Leeds next Saturday (June 23rd 2018), all I can say is that the folks of Leeds are going to have an absolute blast if they have even half the fun that we did.

Massive congratulations to both the winners, and an equally big cheer for the rest of the traders, you guys and gals were all awesome!