Launch Of The Streatery Fusion Street Food Truck At The Dapper Spaniel
Published On Sunday 28 Jun 2020 by Sticky Beak
See All Recent News Articles
Chef Karl Tyler and his partner Kat certainly don't lack ambition; nor do they lack energy or imagination, which is perhaps as well given that they've recently acquired a fully mobile, totally kitted out and self-contained food van, a.k.a The Streatery Food Truck! They previously provided food under this name at The Post House in Derby and loved producing fusion street food, so they decided to do it again. Releasing my inner girl, I couldn't but fall in love with the colour of the truck itself: a navy blue base that shone with a unicorn-esque, glittery iridescence in the right light.
Normally Kat and Karl and their team are working at break-neck speed in The Dapper Spaniel pub, restaurant and boutique rooms in Rolleston, providing top-notch food and drink, but the Covid-19 lockdown gave them some time to catch their breath and explore other avenues. With his 'Private Chef Karl Tyler' hat on, Karl was already providing bespoke dining options for events and in people's homes, so the idea of taking this a step further and being mobile, nationwide, wasn't a million miles away. The universe was clearly in agreement and Karl and Kat saw a van advertised that was ripe for a transformation and bought it!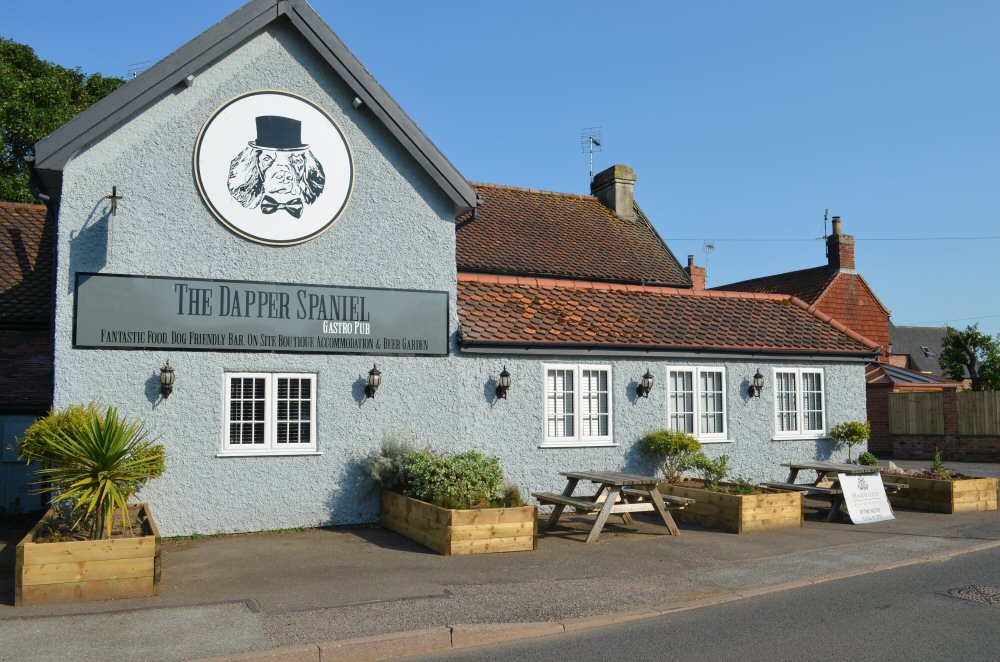 Fast forward a bit, and Kat got in touch to invite His Nibs and me to The Streatery's launch to be held in the car park of The Dapper Spaniel. Yet again the trusty Jalopy got us to where we needed to be and as we pulled into a shaded spot there were already a couple of people queuing up to place their order. A lady with her two children was waiting for the loaded milkshakes (£4.50), and in the heat of the evening they would hit the spot perfectly. Made with Vanilla Ice Cream and local whole milk, then blitzed with ice, these beauts come in three varieties: Pretzel, Rolo and Popcorn, Choc Brownie, Choc Sauce and Salted Caramel, or Eton Mess and Homemade Waffle. They looked delicious!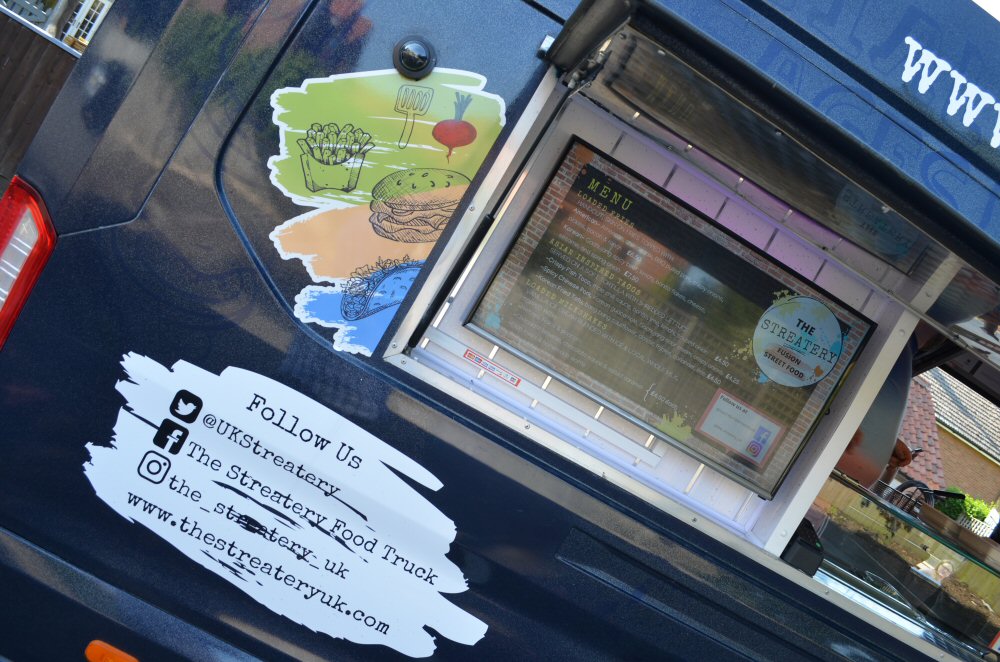 As well as the yummy milkshakes, The Streatery was offering Asian-inspired Tacos and Loaded Fries; the menu will be changing constantly though to reflect trends, ideas and available ingredients, as well as being tailor-made to the package that private event clients request.




I fancied the Fish Taco and His Nibs went for the Spicy Chinese Pork Taco; there was also a Korean Fried Tofu option and all 3 come served on a soft Tortilla with crisp shredded Lettuce, with prices either £4.25 or £4.50.

My fish goujons had a superb crunchy coating on them that was pimped up with spices and chilli flakes – just the thing to get the taste buds bouncing. The complex notes of Mole sauce had the addition of chilli too, so my palate was swooning with joy, and the sour notes of Soused Onions and Kimchi added another layer of flavour. Building on the foundation of the white fish goujons were the Bonito flakes (dried flakes of fish), contributing some crunch and texture to this delicious morsel. I had squeezed the juice out of the fresh Lime wedge that topped my Taco and revelled in its citrus zing, scrunching my face up in appreciation.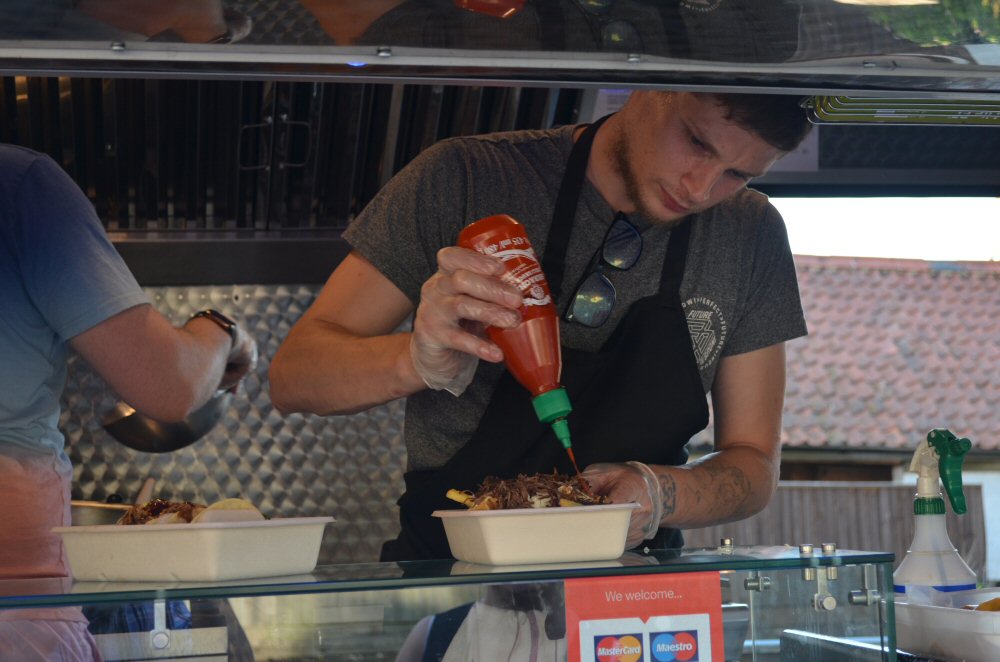 The Man Bird was chowing down on his Spicy Chinese Pork offering, smiling with joy at its tender, soft ribbons as they melted on his tongue. The sauce that the Pork had been marinated and cooked in was spicy, sweet and smoky all in one hit – what more could you want? To balance out the sweet element of the sauce was the splendid Korean Guac with its hint of fire, and the Gochujang (a Korean chilli bean paste) Sour Cream, which was a complex entity in its own right! For a fab textural hit there were crispy onions to crunch into, so this Taco had it all going on too.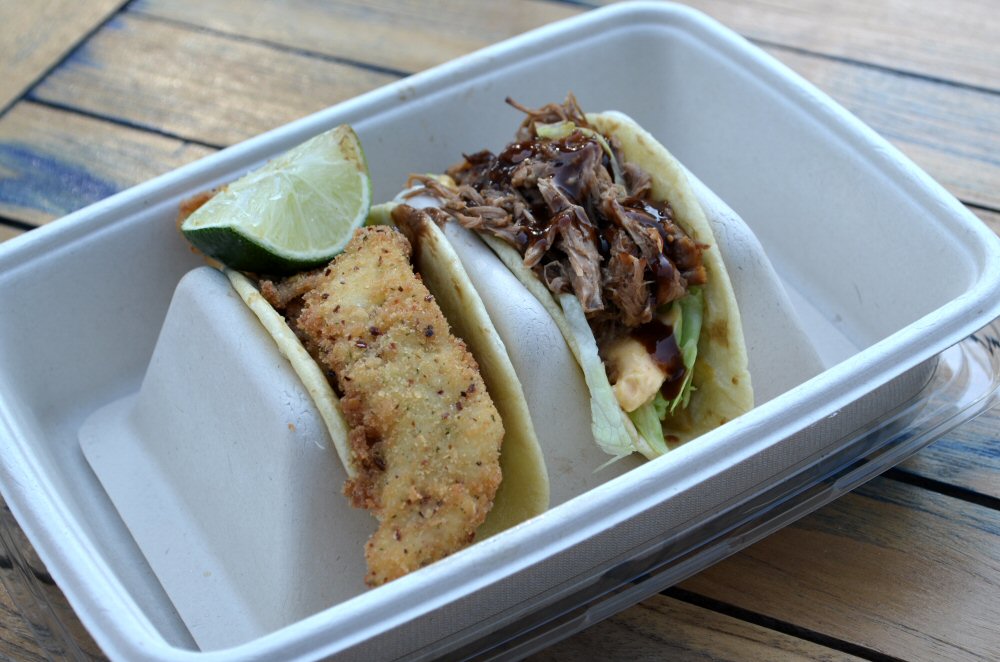 For a real feast though, you couldn't beat the loaded fries: we had the Korean ones, but there was an American option as well. The hand cut, skin-on fries were tasty in their own right, with soft inners and crisp outers, but they were topped with Gochujang spicy Beef, Kimchi, Bonito flakes, Cheese, Sesame, and Spring Onion which elevated them to something quite special. The Beef had a great chilli kick to it and was super-tender in texture, contrasting brilliantly with the crunch of the fresh, sliced Spring Onion and Kimchi. Personally, loaded fries for me have to have cheese on top of them -I love the stuff! – and Karl absolutely smothers his fries in it, so it had gone all gooey and melty. Ribbons of dairy yumminess hung from the fries as I pulled them away from their companions, a visual delight that I never tire of seeing. The final flourish was a generous scattering of fresh, micro-Coriander and this added a clean, bright note in the mouth.




Despite it being an unusual circumstance where we had to eat in the Jalopy rather than being able to eat in the beer garden (restrictions on social gathering numbers and all that covid jazz), we still had a lovely time chatting away and stuffing our faces with scrummy treats. The food from The Streatery Food Truck is every bit as delicious as the food Kat, Karl and their Dapper Spaniel team serve from the kitchen, so Hot Wings happily given to this new venture.




If you're interested in sampling dishes from the Streatery, or fancy hiring it out for your party or event then head to the website: www.thestreateryuk.com or email: info@thestreateryuk.com for more details.