Sticky Beak Perches At The Preview Night For Cosy Club, Nottingham
Published On Wednesday 29 Jan 2020 by Sticky Beak
See All Recent News Articles
Here at Beak H.Q. we're big fans of the Cosy Club in Derby, and have visited there regularly since it opened. Owned by Loungers, this iconic chain is opening its latest location in Nottingham on Wednesday 29th January and His Nibs and I (and a couple of friends) were invited to go and scope it out before they officially open to the public.
The sheer scale of Cosy Club, Nottingham is breath-taking; located over 3 massive floors in what was formerly the Victoria Club, it boasts no less than 5 bars - no chance that you'll die of thirst here guys! The third floor though is going to be solely for functions such as wedding receptions, events and parties #goodtimecentral.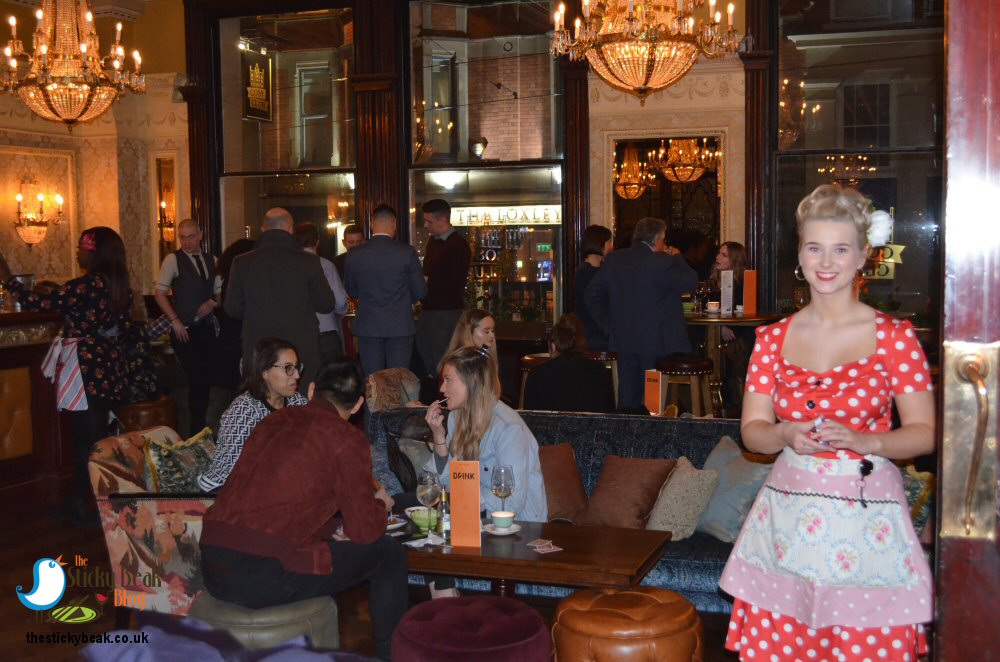 I loved the sweeping staircase that took you between the floors and the original stained glass windows catch the eye in the restaurant upstairs. As you know, I adore the chandeliers at Cosy Club, Derby, and the same ones twinkle and glint in the restaurant at Cosy Club, Nottingham.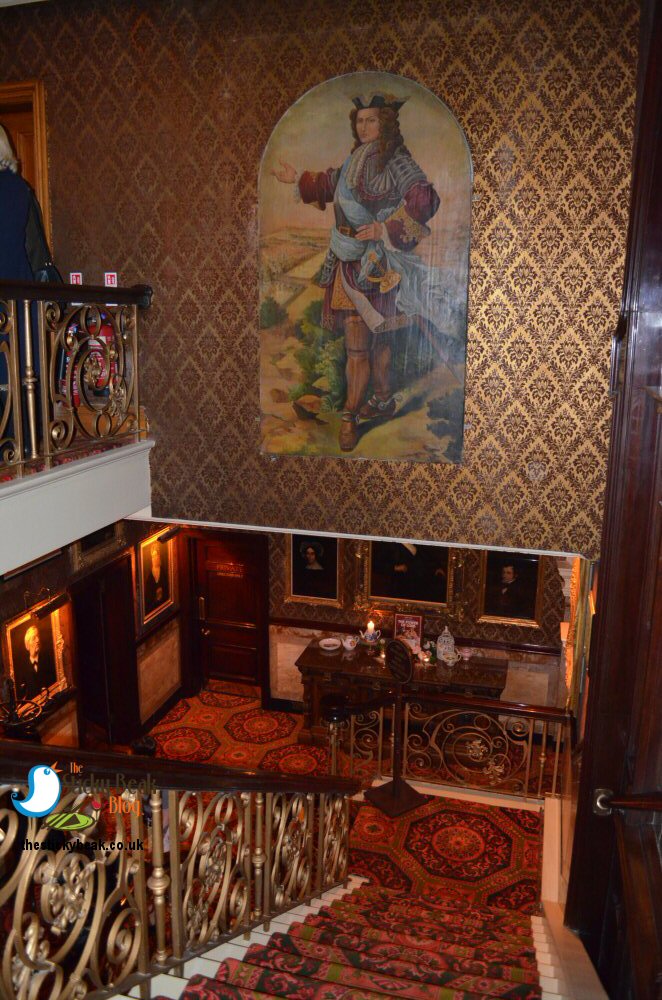 We were greeted at the door by nattily attired ladies and directed through to the ground floor bar to grab a glass of wine and find a seat. The room was buzzing with chatter and laughter; clearly the folk of Nottingham that came to this event were in the mood to celebrate Cosy Club's arrival to the city. Our little group perched on some stools at a free-standing table and before long another member of the CC team came to offer us a variety of tapas to nibble at before we went upstairs for our dinner reservation.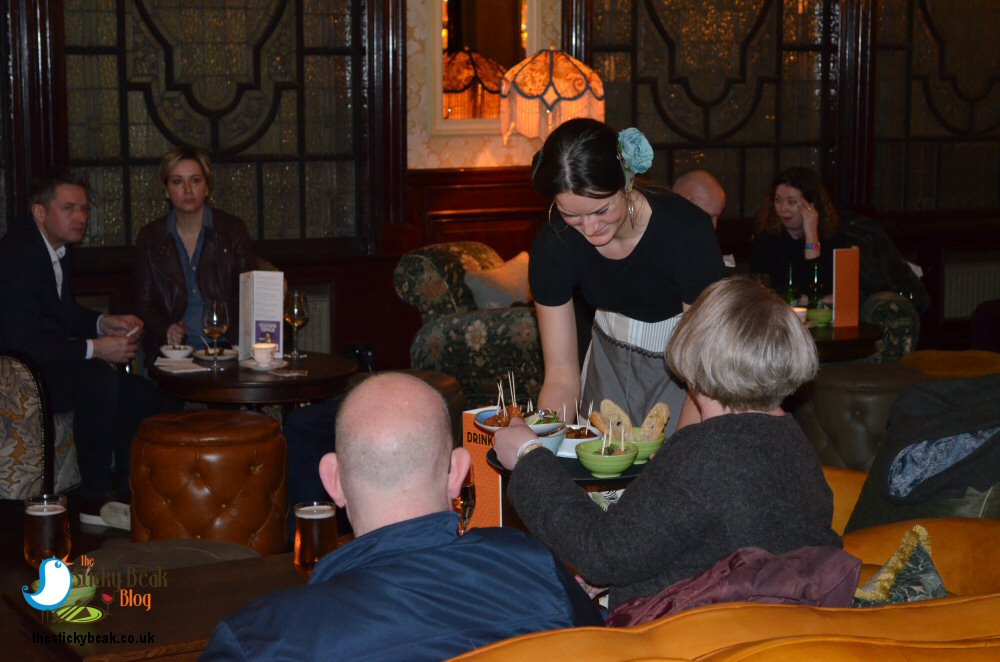 The King Prawns were going down a treat with one of our friends, and I loved the bite size Hot Smoked Salmon and Potato Fishcakes – they were seasoned perfectly and had a lovely texture to them. We also had some warm Ciabatta with creamy hummus to share and The Man bagged some of his faves: Halloumi fries.

We made our way up to the main restaurant at 7pm and were seated at a table with rich red banquettes on one side and freestanding chairs the other. The chaps had pints of Peroni and Estrella, whilst we ladies had a very cheeky Strawberry Gin and Tonic (as well as another glass of wine each!). The team at Cosy Club Nottingham were being supported by their colleagues from other venues, and our server was one of the treasures from Cosy Club, Leicester. I also got a quick catch up with the very dapper David (aka Mr Bramble) who was at Derby, but is now heading up Cosy Club, Durham.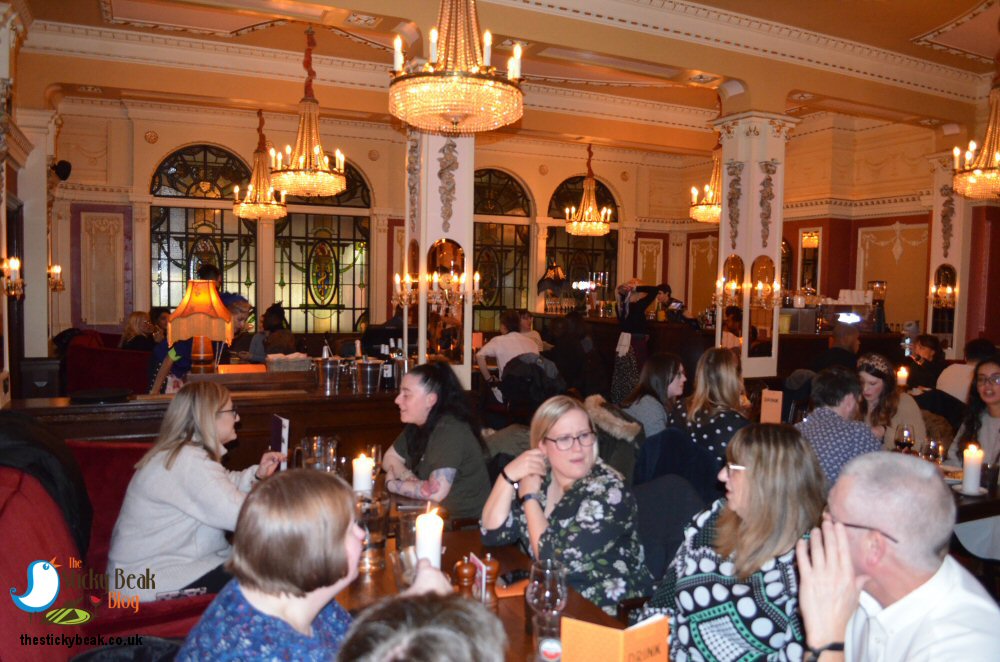 Due to it being a preview event, the full menu wasn't being made, but there was more than enough choice offered. To kick things off, we were served a selection of nibbles: Ciabatta with Balsamic and Olive Oil to dip into, a bowl of mixed Olives, Peppers and Garlic and a bowl of that marvellously creamy hummus that we'd tried downstairs. We all eagerly tucked in and enjoyed the selection of morsels; they got the juices flowing and made us look forward to our mains.




Our table was a male:female split; ladies fancied the Gruyere Cheese and Spinach Tart, the men opted for the Slow-Roasted Pork Belly. We also ordered a couple of portions of fries to share between us all. Despite the fact that the venue was so incredibly busy we didn't have to wait long for our food to arrive, but I guess that was the reasoning behind doing a smaller variety of dishes.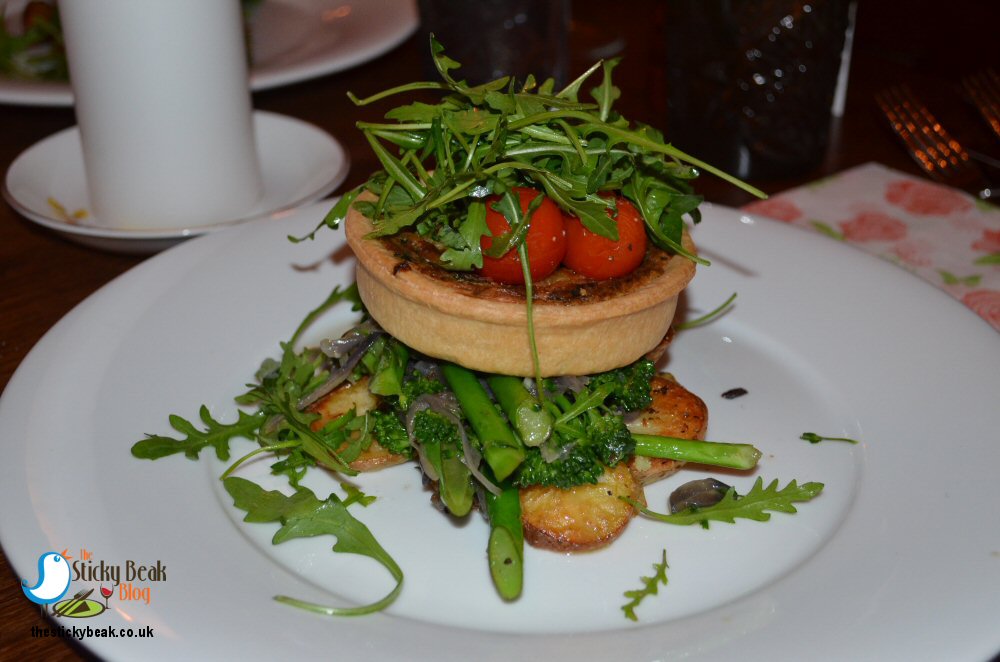 The Gruyere Cheese and Spinach Tarts were delicious; the pastry case was light, crisp and buttery – no soggy bottoms here! You got a lovely taste of the cheese coming through and the Spinach added a pop of colour and a bit of texture. This was served with sautéed, gently savoury Red Onion slices and gorgeously sweet, confit cherry Tomatoes as well as garlicky Tenderstem Broccoli that still had some crunch to it and crispy, golden brown herb-roasted Potatoes. There was certainly no shortage of flavour in this dish.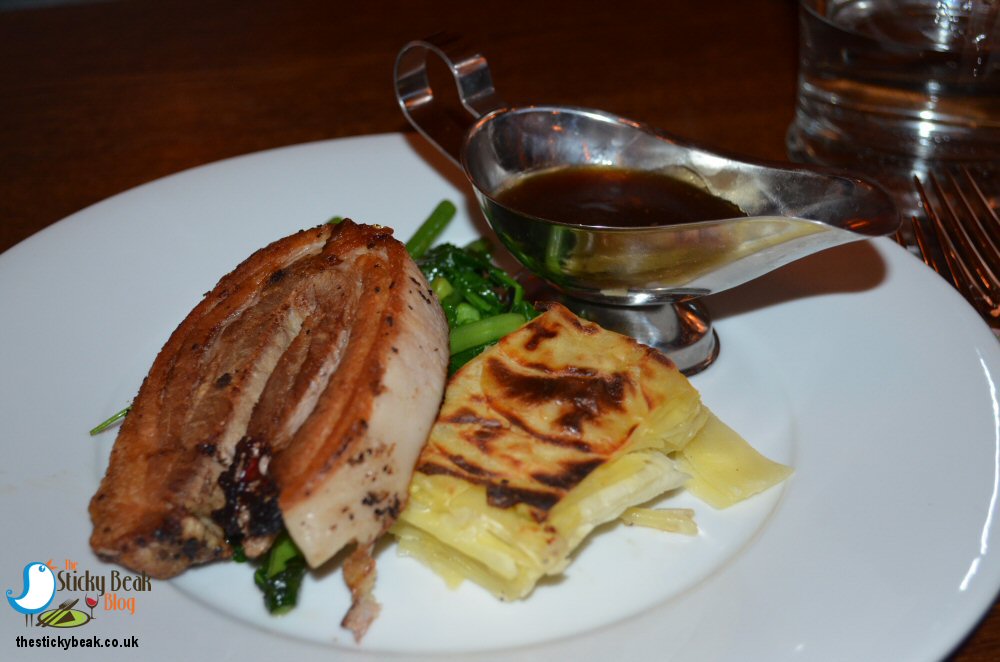 The Men were just as smitten with their creamy, moist slices of Pork Belly, and there was more than enough of it to really get stuck into! Partnering the beautiful Pork was a square of Fennel and Potato Dauphinoise and this had a lovely hint of anise to it that just swayed at the periphery of the palate rather than dominating it.




A medley of greens completed this dish: whole baby Green Beans, Peas and Garlic-sautéed Kale, all of which were bursting with taste and texture. In a separate jug there was a rich tasting Red Wine Gravy, so the lads could add as much or as little as they fancied; in actuality, we all ended up dunking the fries into it! The fries were lovely and crisp outside, with soft inners that melted on the tongue – yummy.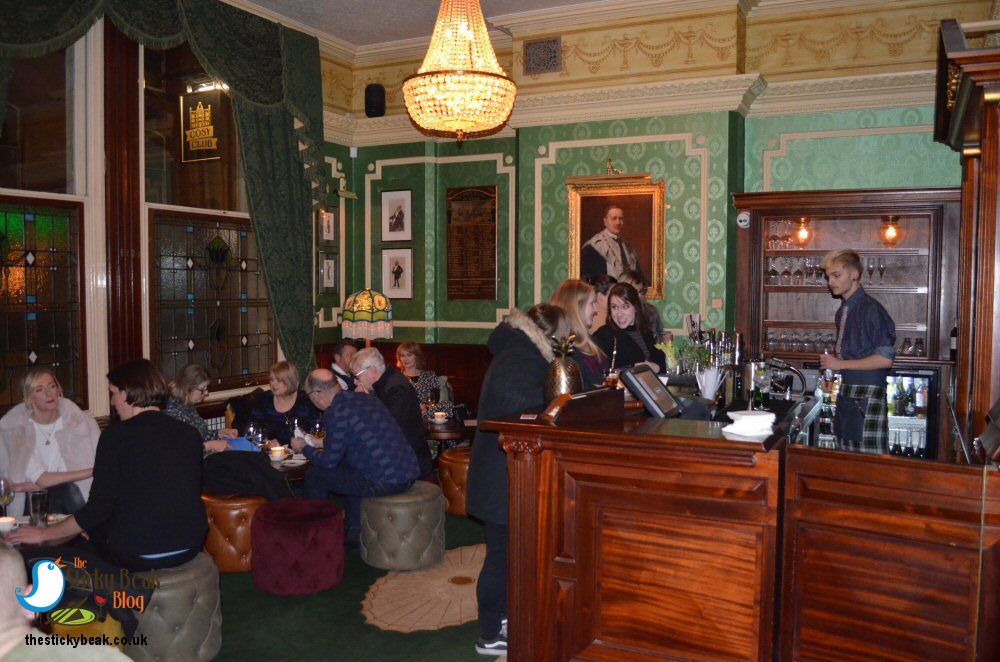 Before we knew it, it was 10.15pm! Time flies when you're having fun and the Cosy Club, Nottingham team certainly made sure that all their guests were going to have a memorable experience. Ladies and Gents, you're going to have some wonderful times at this new Cosy Club venue, located at 16-18 Victoria Street, NG1 2EX