Out At Revolution Derby To Celebrate World Vegan Day
Published On Tuesday 5 Nov 2019 by Sticky Beak
See All Recent News Articles
The Man Bird and I recently went along to Revolution in Derby to celebrate their refurbishment, and had a whale of a time making cocktails, doing a Vodka vs Gin challenge, and eating lots of yummy food. This time it wasn't the lovely Georgina that invited us along, it was handsome Will's brain-child. The occasion was World Vegan Day and it provided the perfect excuse (as if we need one!) to try some of Revolutions Vegan dishes, as well as make more fab cocktails and down vodka shots.
I, for one, did not know that every single one of Revolutions house-made vodka shots are Vegan friendly; thank you Jules for enlightening me. Heather (Friendly Vegans) was surprised to hear that even the White Chocolate vodka was suitable for Vegans – it is incredibly yummy, and just as creamy as Baileys. All the invited guests had got a flavoured shot in a shot glass and some in a pipette, and we watched Jules make the 'blank canvas' that the flavours then get added to.




With some speed and expertise, Jules combined the simple sugar syrup, lemon juice and plain vodka into a shaker and before you could say "Revolution" he was pouring us all the blank canvas into our larger glasses. All that remained was for us all to add the flavoured shot and pipette to this if we wanted.




Having downed our shots, it was time to get acquainted with each other so we all introduced ourselves. Billy, Heather, Anne and James are all Vegans so His Nibs and I were in the (meat eating) minority, which was a bit awkward at first I'm not going to lie. With the intros made, it was time to get down to the serious business of making our own cocktails. The Man Bird decided to make his all-time fave, Long Island Iced Tea, and stepped up first behind the bar. There was a bit of debate between him and Jules as to whether Cointreau or Triple Sec is more authentic in this cocktail recipe, and I'll leave it all to you to have your own opinion. I can never tell the difference if I'm honest!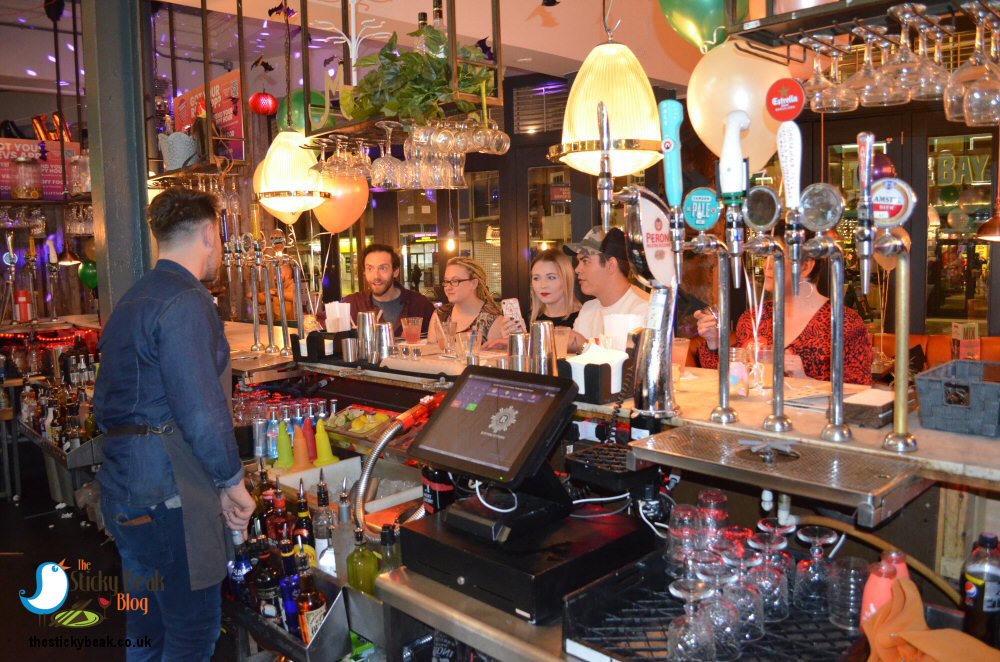 I went next as Jules decided we might as well just work our way down the seating order at the bar; well it's as good as system as any, I guess! I had liked the sound of the Proper Frenchie, as it has all manner of fruity components in and it's a cocktail that I've never tried before. Grey Goose vodka is at the heart of this cocktail along with Vanilla liqueur, Cassis, Apple, Cherry, and Lemon juices – but best of all, it comes served in a brushed chrome, Grey Goose-embossed 'glass'. Tres chic!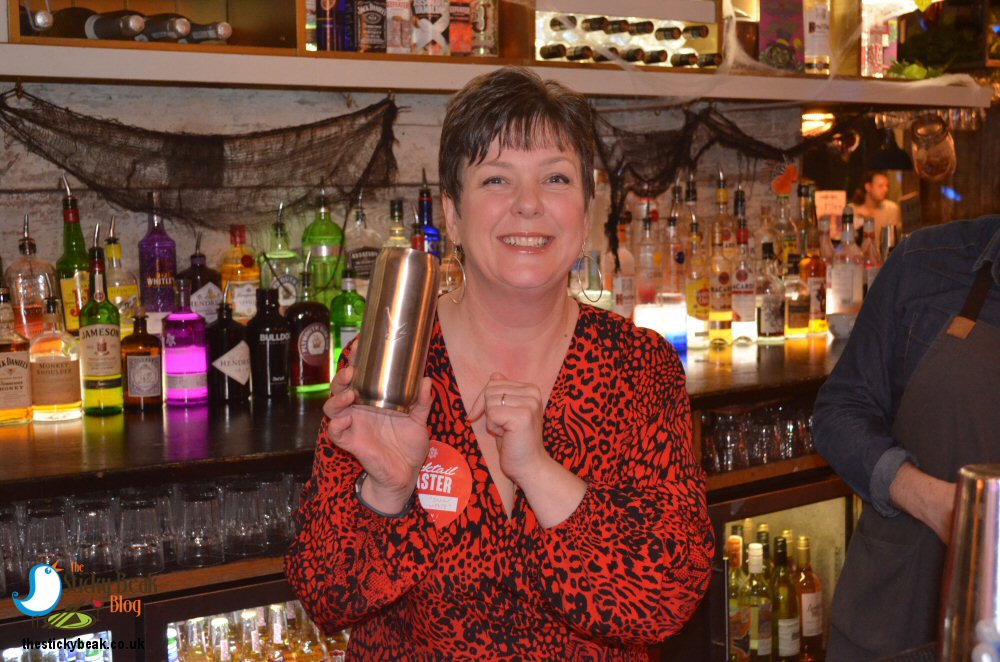 Heather made a Blue Movie (not THAT kind, the cocktail, you naughty lot!), which is unusual in that it's made straight into the glass. This cocktail has a really pretty colour thanks to the inclusion of Blue Curacao in it. The it was the turn of Heather's partner, Billy, and he made a cracking Pornstar Martini; the foam he got on the top of it was superb, even garnering praise from Jules.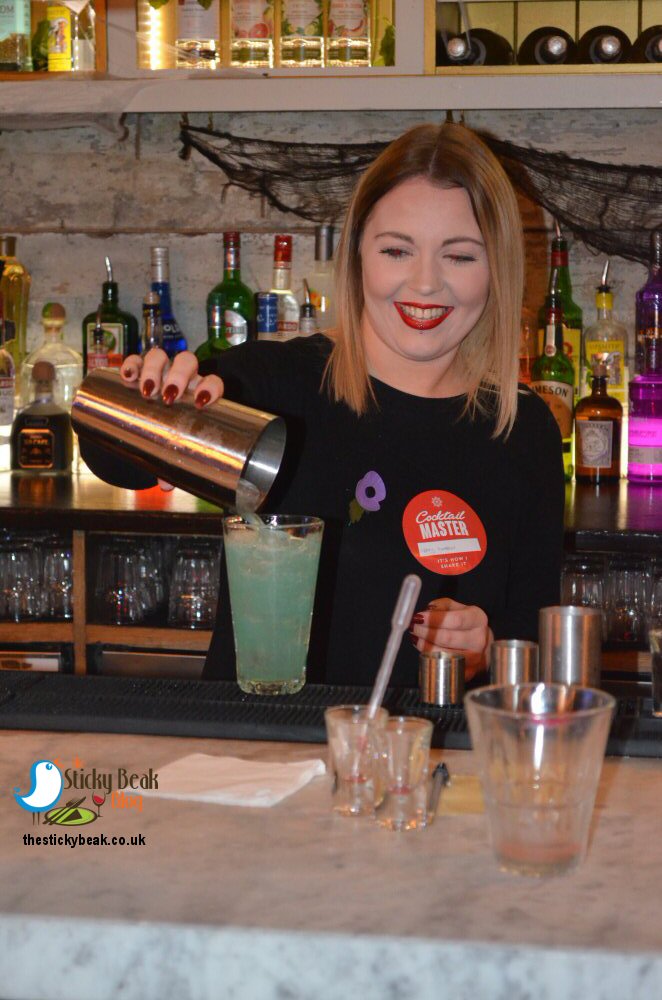 Anne went next and made a Zombie; this cocktail provides a bit of theatrics courtesy of the 75.5% proof Rum that gets set alight in a scooped out Passion fruit half! A comet-stream of sparks can also be made by sprinkling powdered Cinnamon into the flames – brilliant to see. Last (but not least) was Anne's partner, James, who made a classic tipple: the Espresso Martini. Again he managed to get a nice foam on the top and you could clearly see the difference in colour in the body of the cocktail too. The chocolate garnish used isn't (at this time) Vegan friendly, so that was omitted, but Coffee Beans are still able to provide the final decorative flourish.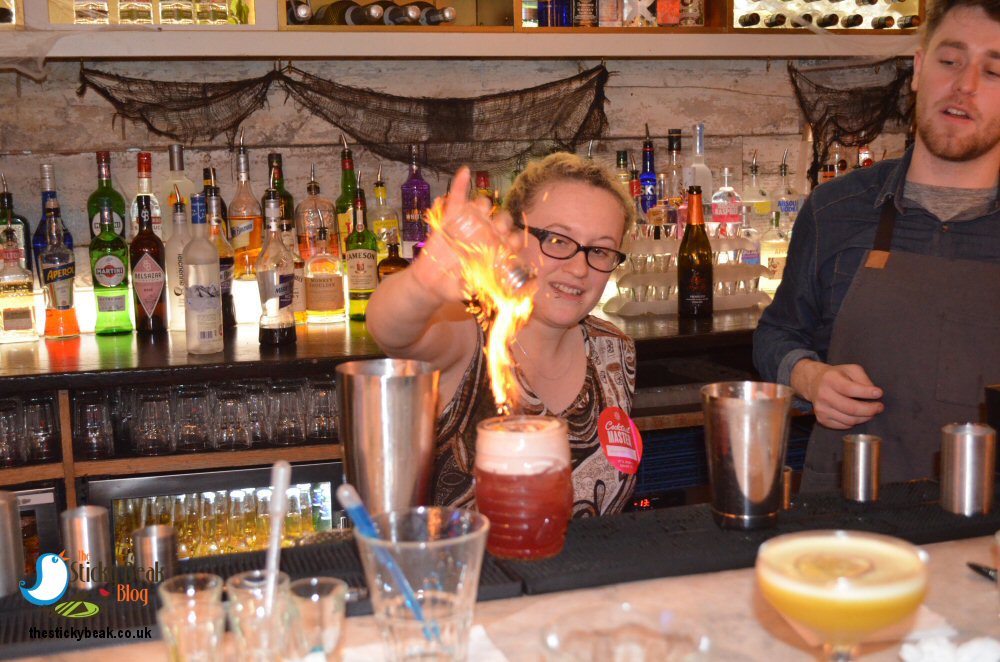 After the hard work (!) of cocktail making, Jules decided to set a little game for us. Each couple had six vodka shots (all the same) and had to see if they could tell which one it was from the menu. I'd love to say that we were great at this game, but none of us got them all right..... but we did have fun trying them all!!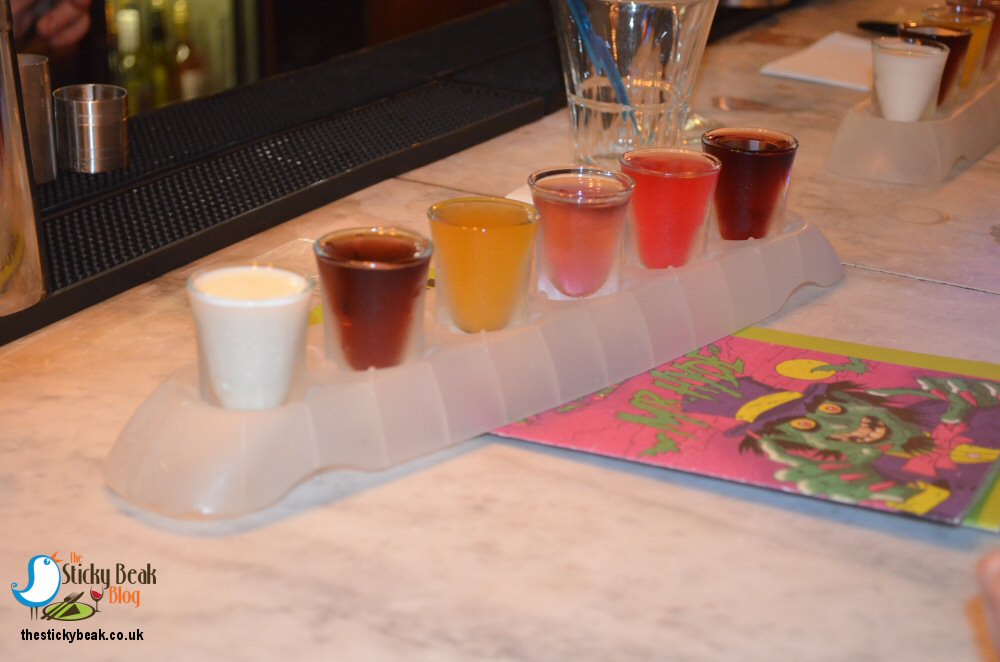 At this point, the food was being brought out to the tables for us to eat and chat whilst we did so. You'd think that that would be the end of the drinking, but no, Will brought over vouchers for us to choose one of five Vodka and Tonic combos that Revolution offer. I had the Chase Rhubarb and Ginger Ale temptation, His Nibs had the Ketel Vodka and Aromatic Tonic. Then it was down to the serious business of sampling the Vegan dishes on offer.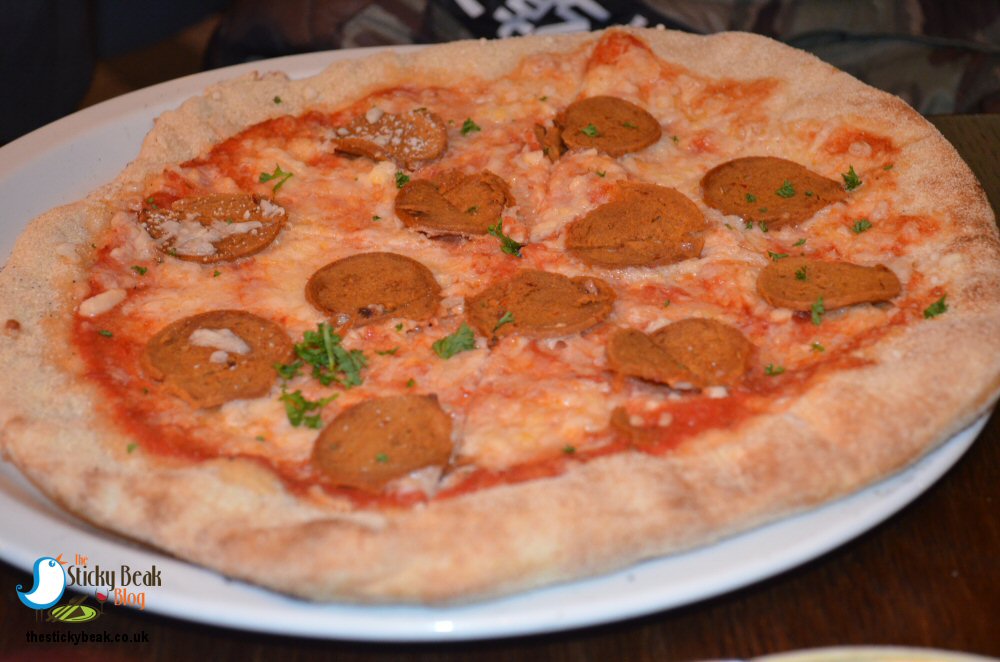 As you would expect, Revolution have done a couple of witty 'play on words'; the Marga' cheata and Pepper 'phoni being two fine examples. The plant based Marga' cheata was nice and tasty and the pizza base was very good, and we both liked this a lot. Sliced Seitan imitates the slices of pepperoni you'd get on what Revolution say is America's favourite pizza, and to be fair it does a decent job taste wise, but looks-wise it isn't quite the same.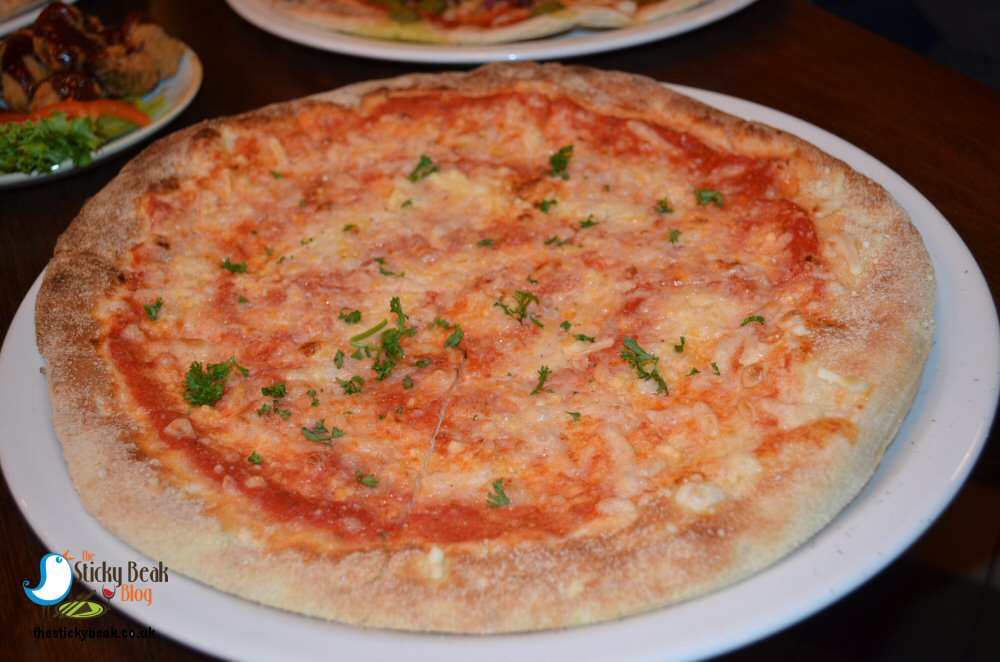 You're not going to get the same look though are you, simply because meat and plants respond differently to the cooking process? Actually, thinking about it, I reckon I know what the difference is. Pepperoni has those paler marbles of fat within it, giving it some depth and colour variation; Seitan is a uniform colour, so it doesn't stimulate the visual senses so much and perhaps looks "flatter" on the pizza.




The Beet Feast pizza isn't Vegan as standard, but it can be adapted to make it suitable for Vegans to eat just by using Vegan 'cheese'. This was my favourite pizza by far. I'm a massive fan of Beetroot anyway, as you all know, and on this pizza Beetroot is combined with Coriander and Mint to make dinky Falafels. These are superbly tasty by themselves, but add in Red Onion and Pesto and you get a great wallop of flavour that I defy anyone not to enjoy. Also, this is a lot more colourful to behold with the ruby tones of the Beetroot itself and then the contrasting green of the micro-herbs that garnish this pizza.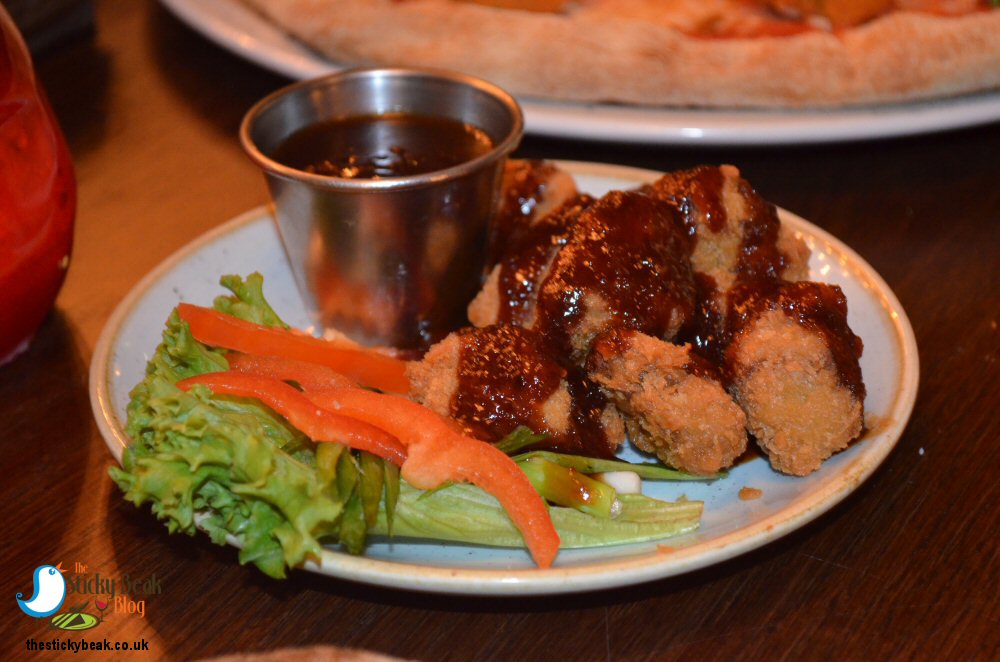 You can't just have pizza can you? There's got to be sides to nibble at and Revolution had provided us with a superb quartet to pick at and share: Sticky Seitan Bites, Vegan adapted Nachos (no sour cream), and some dirty (vegan) fries, loaded with vegan cheese and shredded Seitan. Both The Man and myself thought the spicy Seitan Bites were good, they certainly weren't lacking in flavour and the texture was (no pun or offence intended) nice and meaty.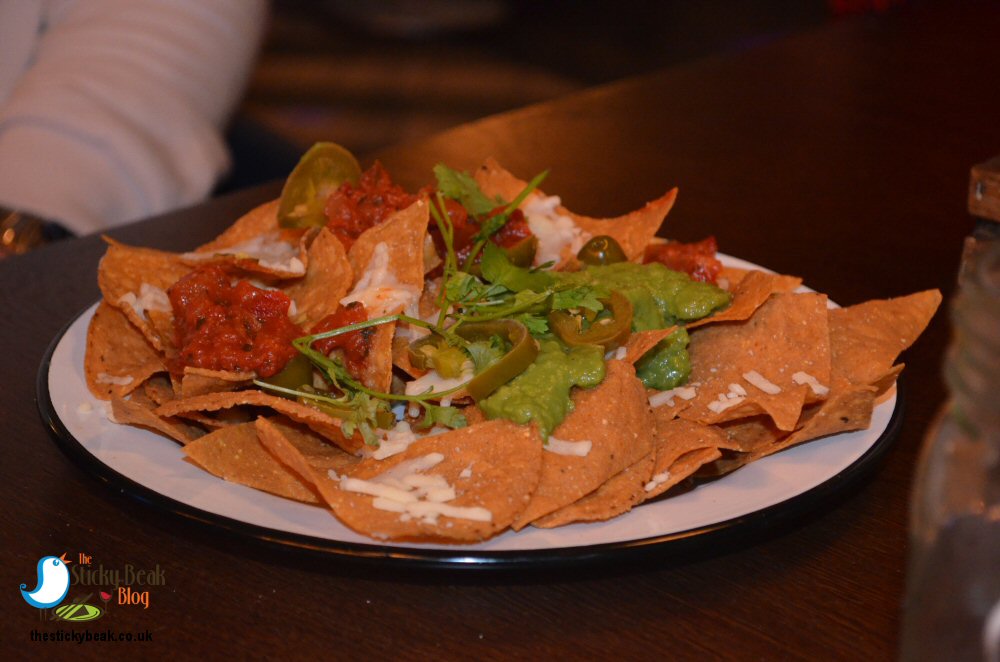 Revolution does cracking fries anyway, even if you choose to have them 'naked', so we munched away on the dirty ones very happily. I can't say that the shredded Seitan was my favourite thing in the world, but it wasn't unpleasant in any way either. The Nachos were brilliantly crunchy and topped with loads of Guac, so I was a happy Birdie! I popped a little bit of Chilli Jam Man's (Simon's) Rib Tickler sauce on my plate and dipped the nachos into that for an extra dose of taste; really happy to see Simon's products in Revolution!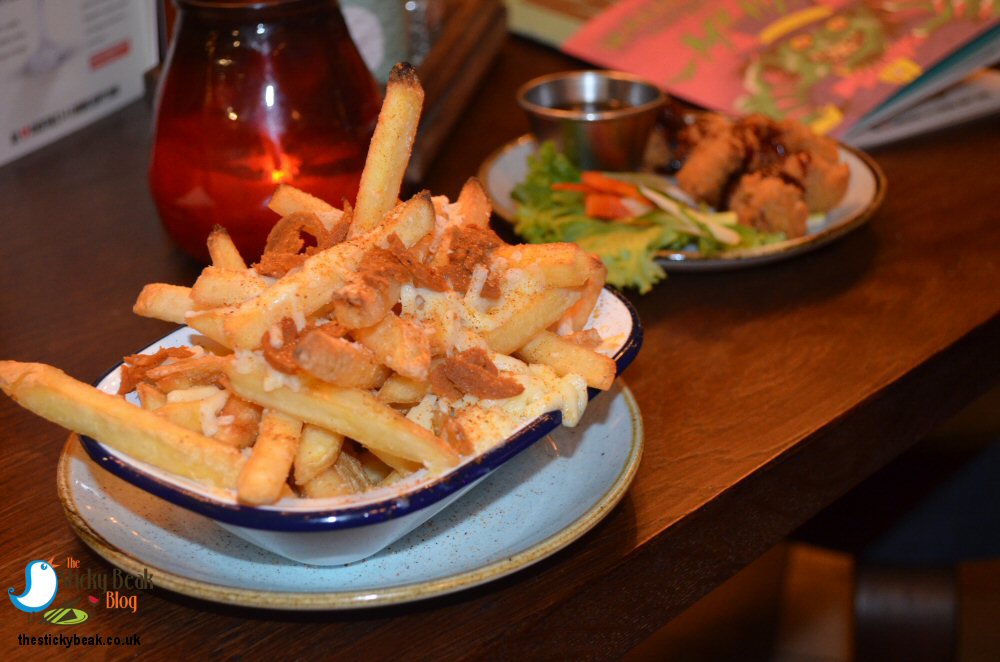 Texture plays a bit part of sensory pleasure for me, and I can't ever see me giving up meat – certainly not through choice. I like the texture and the flavour too much, but I do appreciate that it is abhorrent to many people. My attitude has always been 'live and let live' and we're all different in opinions, likes and dislikes, and there's also the fact that some folks can't eat meat or dairy due to allergies.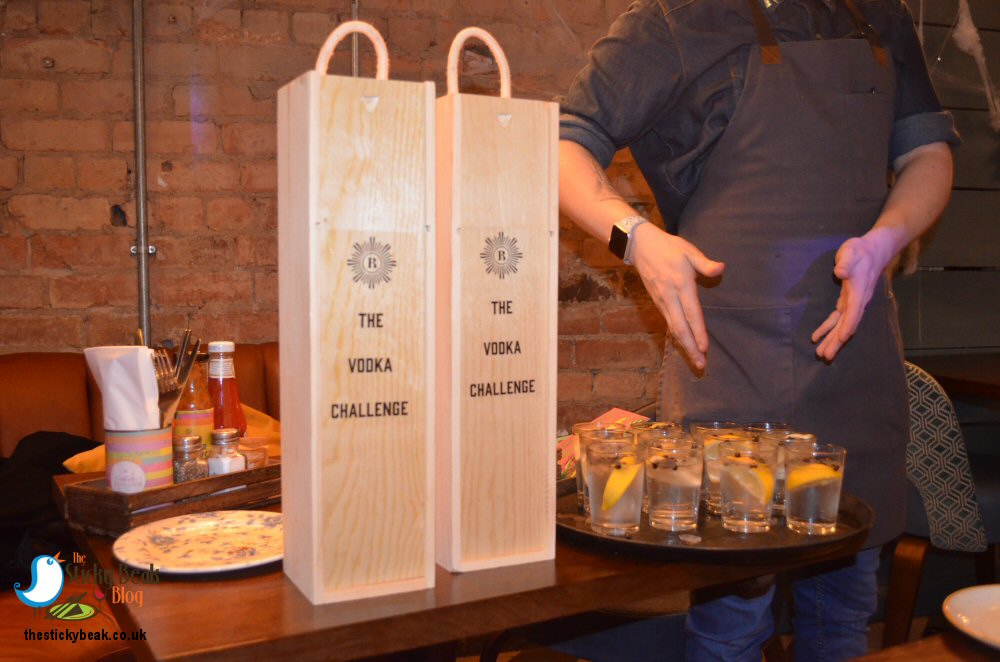 I welcome the increased awareness of allergies and think that companies such as Revolution are being more inclusive by adapting their dishes and evolving their menus so that more people can enjoy them. As long as food tastes and looks great, that's the main factor for me, and there's no disputing the taste and quality of Vegan friendly food available at Revolution Derby.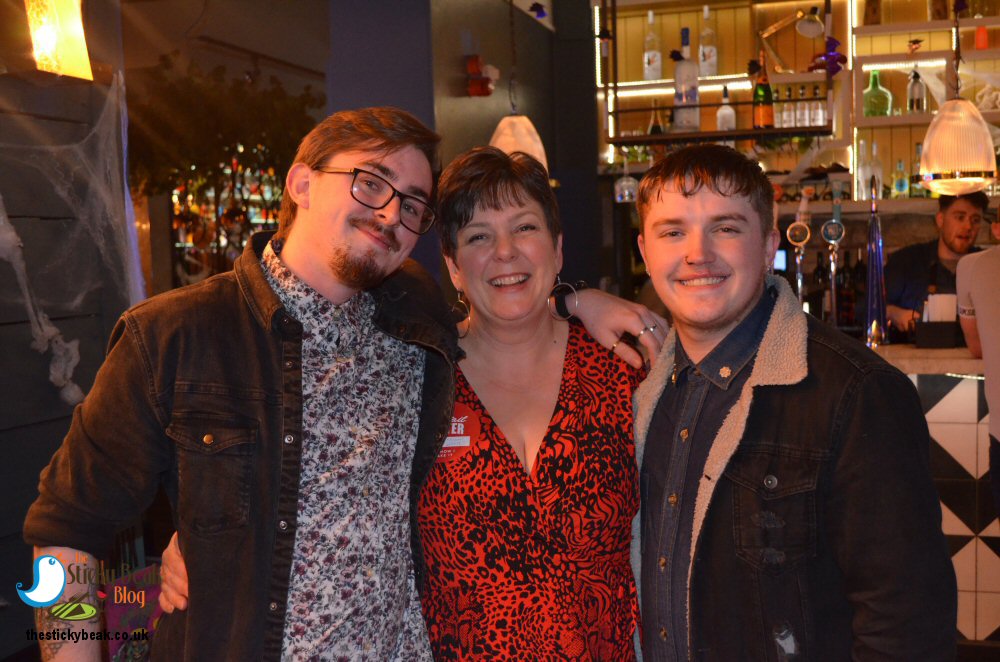 I also just want to say thank you to Heather, Billy, Anne and James for their company, it was lovely to meet you all, and we'll hopefully meet again soon. Oh, and huge thanks to Will for organising this evening too – massive love to you!