Winners Of The Marketing Derby Food and Drink Awards 2019
Published On Monday 7 Oct 2019 by Sticky Beak
See All Recent News Articles
Well what another great evening celebrating the crème de la crème of Derby (and a bit further out of town!) at the Marketing Derby Food and Drink Awards held at the Roundhouse in the city. Now in its 11th year, this event is a hot fixture on the calendars of Derby's restaurateurs, their hard working teams, and food and drink producers alike.
His Nibs and I got there a little later than we would've liked thanks to congestion and the traffic light gods not looking favourably upon us. No matter, we took our seats before the presentations began. Mr John Forkin (of Marketing Derby) introduced the event and handed over to the MC, Mr Nick Britten.




With minimal preamble, Nick got us underway with the first category; Best Newcomer. The three finalists were Annie's Burger Shack, The Creaky Floorboard and Elements Tea and Coffee House. We'd seen Pete (co-owner of Elements) as we'd arrived, so we were keeping fingers crossed for him, but it wasn't to be: winners of this Hot House Music-sponsored award were The Creaky Floorboard (love that name!). I was a little taken aback when they didn't do a speech, but assumed this was due to their newbie-ness. It wasn't, none of the winners did speeches; now if it was me, I'd be thanking my family and friends, the folks twenty doors down the road, and the next door neighbours' cat!!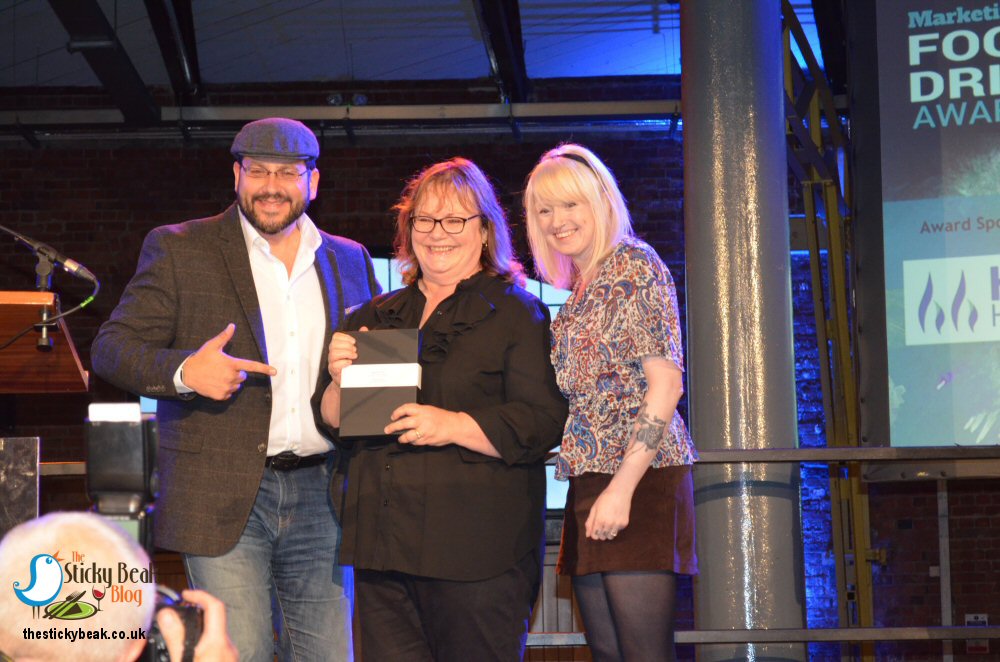 Next up was the Best International award, sponsored by KRCS, and finalists in this category were La Pizza, Lorentes, and Annie's Burger Shack. It was a case of second (nomination) time lucky as Annie and her enthusiastic team bagged this trophy. Congratulations guys.




With barely time to breathe, the third award was being announced. Winners of the Derby College sponsored Best Café award was The Squashed Tomato, with the two other finalists being The Coffee House at Derby Museums and Derby QUAD Café. Their winning qualities were a great ambience, friendliness and an "outstanding atmosphere" according to the judges.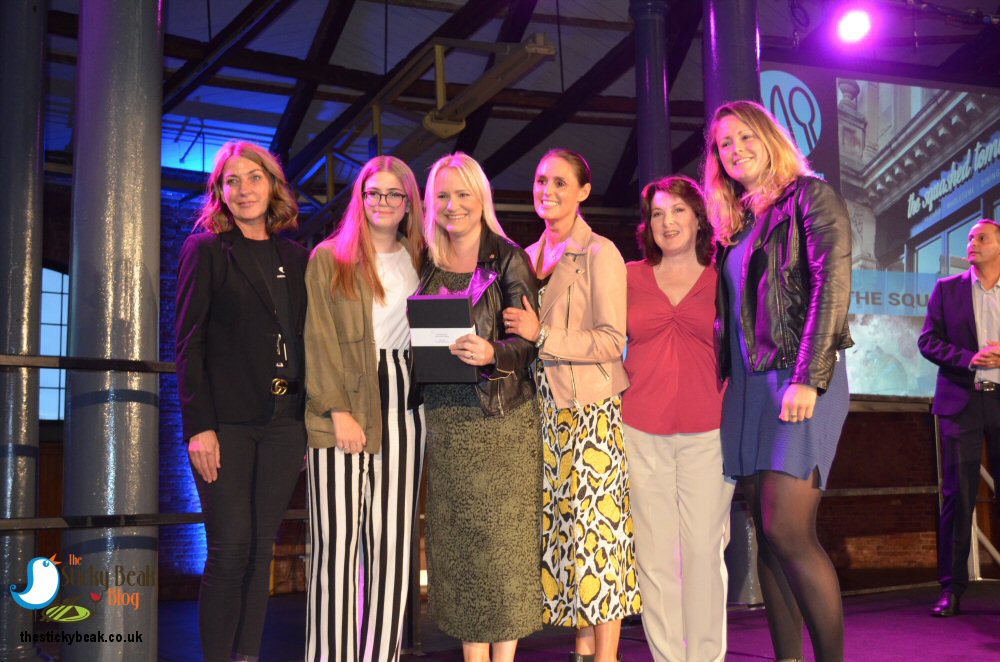 Fittingly, family business Cattermole Electrical (represented by Jamie Cattermole on this occasion) sponsored the "Most Family Friendly" award. Our friends at Cosmo were one of the finalists along with Bluebell Dairy Café and The Coffee House at Derby Museums. The Derby Museums team were the victors in this category, although they weren't around to accept their award as they were running late.




At this point in the proceedings there was a brief interlude from giving out awards. My friend Dawn Spendlove runs her own business, Love Marketing, and you may recall that I mentioned her "Love Marketing Bake Off" event that she'd been running over summer at Coghlans Cookery School at Stancliffe Hall on my blog. 'AV It media had made a film covering this event, from the heats to the final to the Afternoon Tea, and what a cracking job they'd done too. I feel very honoured to have been a part of this fab event as a guest judge along with Derby University's Ewen Crilley and Bev Crighton, and Chef Simon Lilley.




The Toastie Club (aka Jen, Ashley and Rhianna) came up on stage to talk about their new venture. These fantastic gals make incredible, belly-busting toasties from a converted pony trailer (what else?!) and their tasty treats are proving wildly popular with regulars to Bustler Street Food Market, which is where the idea was born, after one too many bevvies! I always say that the best things happen by chance and so it has proved to be with their infamous "Frazzle" toastie. Those of a certain age will've grown up on these wavy Bacon flavoured crisps, and paired with melted cheese they make a lip-smacking toastie combo; food of queens if you ask me.

The fifth award, Excellence in Customer Service, was sponsored by The Derby Telegraph, and their readers voted for their winner in this category. Unlike the usual three finalists, this award has six worthy finalists: Milk and Honey Deli, Katherine's Gift and Coffee Bar, Elements Tea and Coffee House, The Exeter Arms, Lisa Jean at Bennetts, and Kava Coffee Bar. The boom in Coffee and Café culture in Derby has a champion in Kava Coffee Bar, the team beaming with delight at their success.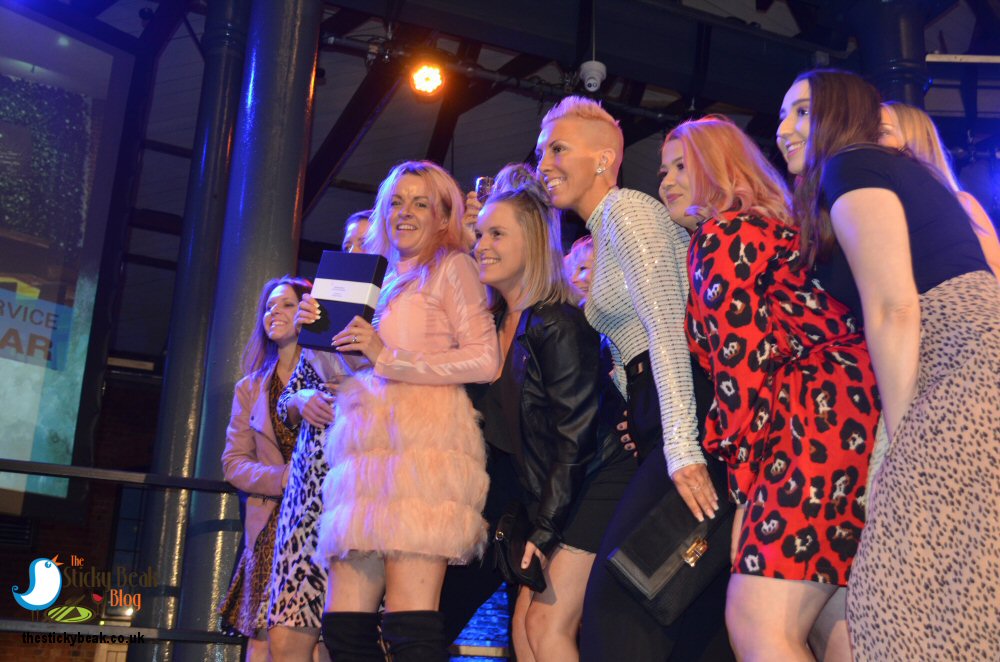 Category number six, Best Out of Town, was so hotly contested that four (not three!) venues made it to the final cut: The Cock Inn at Mugginton, Vegan Revelation, Amalfi White, and The Shed at Hilton. The very dapper Mr Ewen Crilley from the University of Derby (sponsors of this category) took to the stage to give the award to the Amalfi White team. I just want to give mention to the University of Derby students who had made the superb canapés for this event, everyone said what a great job they'd done.




Adam Collins from Royal Crown Derby presented the Outstanding Achievement Award to BEAR, who have just opened their fifth venue inside Derby's Intu Centre. Then it was time to crack on with the 7th award of the night, Best Bar.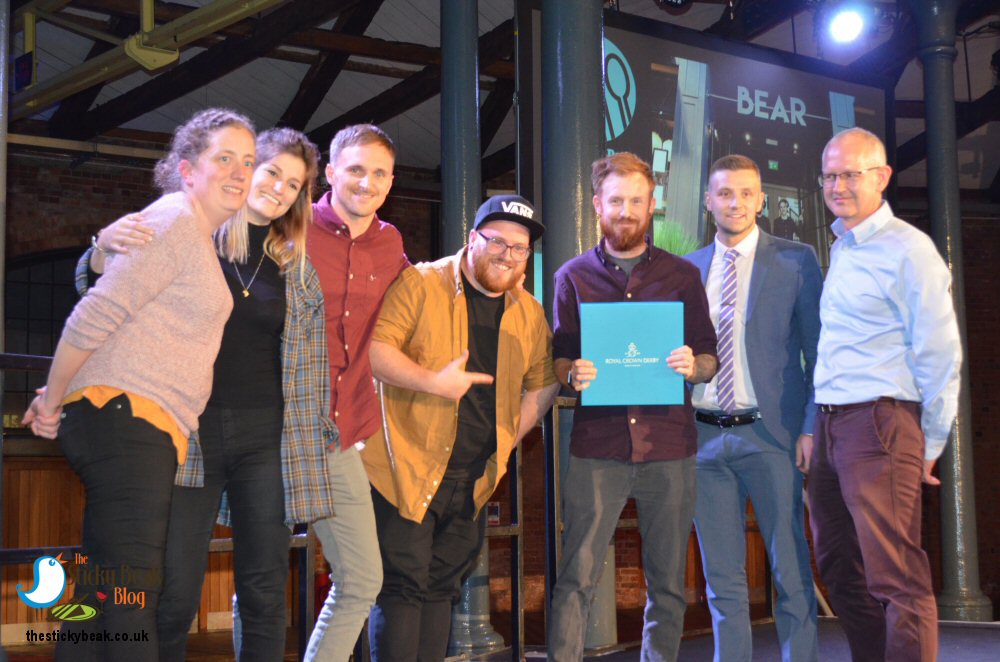 All three teams in the Irongate Group- sponsored Best Bar category were in fine voice, whooping loudly when their names were announced. Finalists were The Orange Tree, The Palfrey, and Suds and Soda, and it was The Palfrey team who were glorious on this occasion.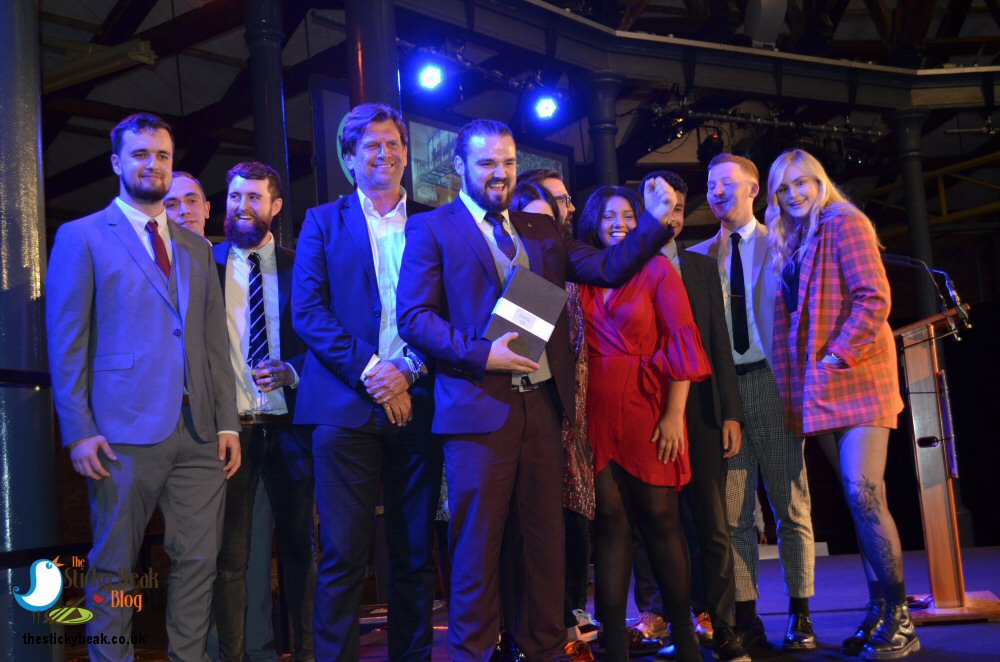 The penultimate category was sponsored by the Mortgage Advice Bureau and was for The Best Pub. The Bell and Castle, The Blessington Carriage and The Dog and Moon were the three finalists vying for this honour, and it was "The Bless's" team that walked off stage with the trophy in their hands.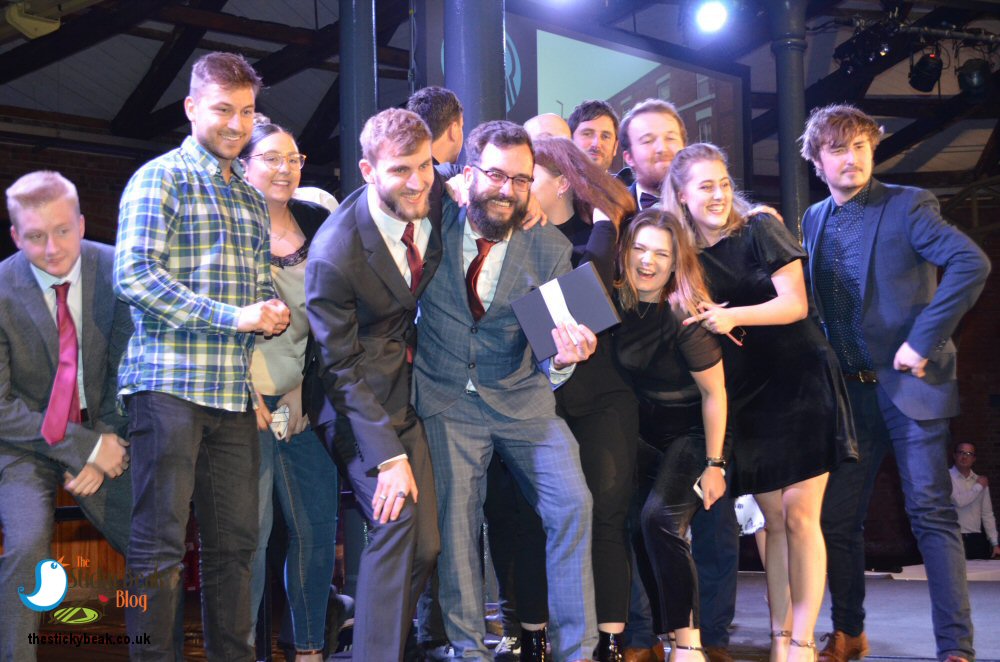 All too soon it was the hotly contested "Restaurant of the Year" award that was being announced, and this is widely considered to be the accolade that everyone wants. Denby Pottery sponsors this category and the finalists were The Palfrey (re-opened after a fire which saw its doors close for a while), Lotus Indian Kitchen at Mercia Marina and The Wonky Table. The Palfrey team scooped their second trophy of the night to much applause, and off they trooped to have their official winners photo taken.




It had been a fab evening of celebration with some very worthy winners, and I was glad to have been there. In the jalopy, His Nibs casually said "did you see the DoughNotts team at the back with their stand?" SAY WHAT?!!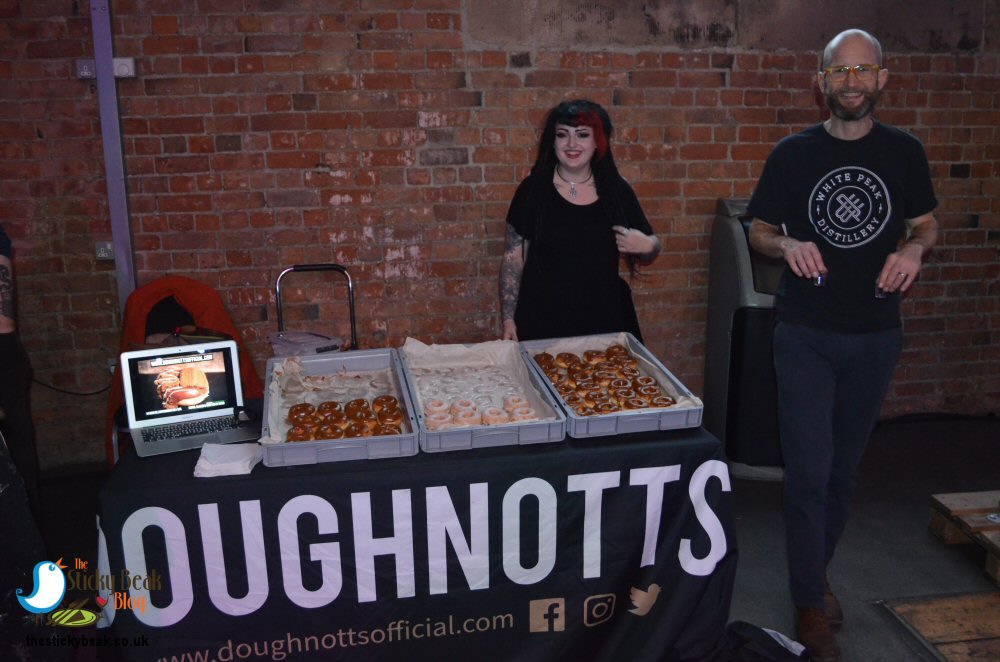 "Clearly not" says I, "else I would have one of their tingle inducing morsels in my mouth, wouldn't I?"

"Oh" came the sheepish reply.

Oh?? Is that all you've got to say sunshine?!! To say I am not a happy birdie is perhaps the understatement of the millennium. I have been deprived, DEPRIVED I say, of one of my fave treats. He'll keep, that's all I've got to say; meanwhile I shall go to sleep and dream of Salted Caramel, Weekend Billionaire's Shortbread and Red Velvet morsels. That is all.