Checking Out The Refurb At Revolution Derby
Published On Friday 4 Oct 2019 by Sticky Beak
See All Recent News Articles
It wasn't long ago that His Nibs and I were sampling the new menu at one of Derby's favourite eateries, Revolution, and listening to our server tell us about their imminent planned refurbishment. Fast forward a few weeks and boom! here we are again; this time in premises that are distinctly more modern and fresh feeling. I think my favourite thing (apart from the new scatter cushions, which I have a thing about anyway!) is the massive neon homage to Revolutions signature libation, VODKA.
We plonked our bottoms down at one of the new tables with its comfy new seats and had to make our first tough decision of the night: which tempting tipple to have?! I plumped for the Chase Rhubarb Vodka with Ginger tonic number and The Man Bird joined me. All the drinks were being served in beautifully patterned, heavy glassware; very elegant, and the perfect way to kick the weekend off in style.




Georgina was there too (who'd been organising this particular event), looking gorgeous and making sure everyone was settling in nicely. Although she was incredibly busy, she took the time to come over and tell us all the other things that were happening within Revolution that evening. As well as nibbles from the kitchen constantly coming around, there was a blind "Vodka Vs Gin" taste test with Cameron in the back bar area, and a cocktail making master class upstairs with Will and Tom.




Having scampered on to the trusty Trent Barton Nines bus straight from work, we were both pretty peckish, so you can imagine how good the freshly baked Margarita pizzas tasted as they came in our direction! Let's just say that the finest steak n chips in the whole wide world couldn't have tasted better! I love a fully loaded pizza as much as the next person, but sometimes you need to be taken back to the old school classics to be reminded of their merit, don't you? Revolution Derby's Margarita pizza was just sublime: thin crisp base, topped with intense tasting tomato sauce and then covered with a good layer of tangy melted cheese. Folks always think that "just" cheese and tomato will be boring and bland; let me tell you that this little minx was anything but boring and bland –there was flavour a-go-go to be had here.




With our growling bellies tamed for the time being, we made our way into the back bar for Cameron's blind tasting challenge. Cameron was busy filling up rows of glasses with white spirits and tonic, ready for his participants to try when everyone was assembled. Mysteriously, the bottles were only referred to as bottle 1 or bottle 2 as Cameron talked a little about Gins and Vodkas in general, before asking us to put our blindfolds on. And these weren't your bog-standard blindfolds either; oh no, they had proper little flaps to cover your nose too, so there was no chance of any "mistaken" peeking underneath! I loved the print on them too: "I'm a secret Vodka lover". I do love a bit of Vodka, not that it's a secret!




We all sipped our way through both glasses of spirit and then came the moment of truth: did we prefer the taste of bottle 1 or bottle 2? Out of eight in our group, 6 preferred bottle 2; His Nibs and myself included. Despite it tasting very Juniper laden (the ingredient that must be included for Gin to be called Gin), bottle 2 was in fact Vodka!! Cameron told us how the Revolution team manage to work their magic in making this Vodka taste so G&T-y; nice little trick of the trade to know.




Upstairs has had a bit of a re-jig, layout-wise; gone is the large booth table that always caused a bit of a bottle neck to the stage and dance area. This is now a much more open-plan space with the bar moved to the end of the room, rather than to one side, so that the dance floor is completely accessible. The DJ booth (complete with smoke machines and confetti cannons (my fave!) and DJ are at the top end of the room and centre stage of it all – well, what did Faithless say: God is a DJ? He certainly is at Revolution!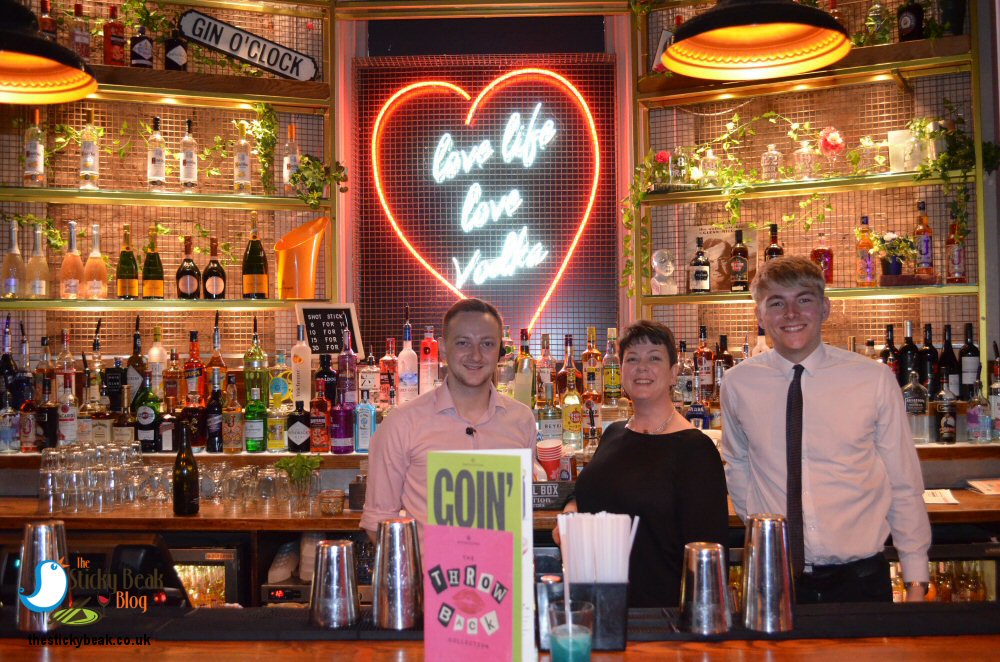 Will and Tom were letting us all make our own cocktails (under their guiding eyes, of course), so I decided I'd try to make a Strawberry Woo Woo, and The Man made his favourite: Long Island Iced Tea. As we were chatting away, Will told us that he'd made a Strawberry Woo Woo in 24 seconds!! Not as tidily as I'd made mine, but then in a competition you're not particularly concerned with tidiness are you?! I'd love to say that I managed to make my concoction in 24 seconds, but I'd be lying; more like 5 minutes and 24 seconds for my effort!




The Man Bird is one of those jammy little toads who manages to make anything look effortless; me, I can make putting on a pair of socks look complicated! He shook and swayed his way through making the Long Island Iced Tea, even managing to make straining the liquid through that posh cocktail-sieve thingy look sexy! We got to savour the fruits of our labour, so we sat at one of the tables and sipped away to our hearts content.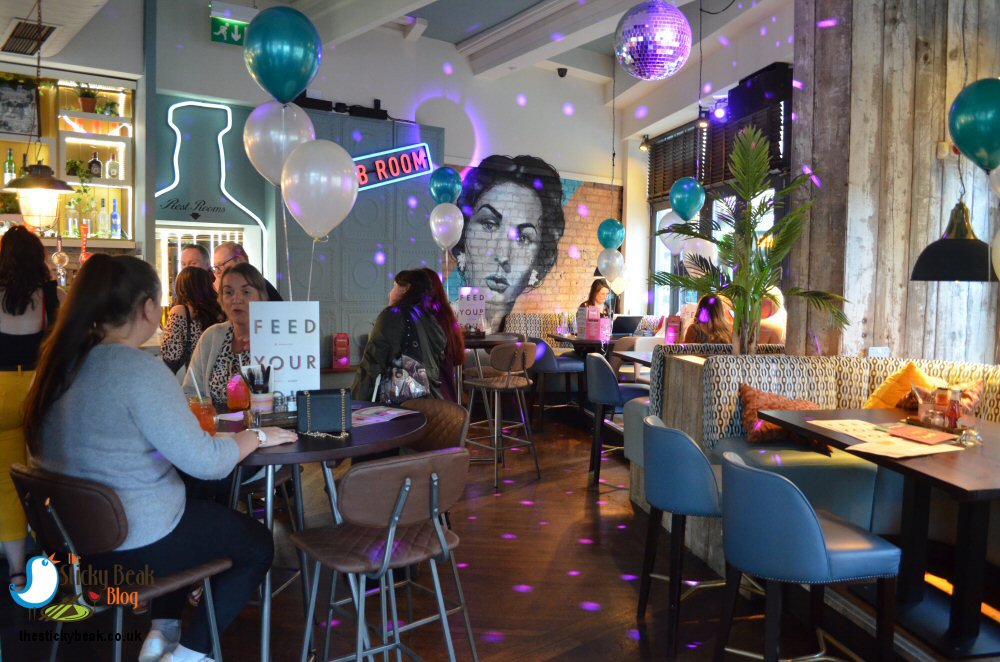 When we went back downstairs, things at Revolution had ramped up a notch or two with people milling around left, right and centre! Everyone was in a fab mood and the buzz was amazing – exactly as it should be at the weekend! We said our goodbyes to all the Revolution team, they'd really pulled out the stops to ensure we all had a great time, and headed out into the night.




One thing's for sure: next time you go into Derby and head to Revolution, you'll be bowled over not just by the food and drink selection, but by the swanky new decor too.