Charity Tuesday Fundraising Event At Cosmo, Derby
Published On Thursday 3 Oct 2019 by Sticky Beak
See All Recent News Articles
His Nibs and I were off to Cosmo Authentic World Kitchen in Derby for a VIP evening to raise funds for a local family who need the communities' support ASAP. Many of you will be familiar with the Derby based Cattermole Electrical that's owned and run by Adam Cattermole, but recently this young (only in his 30's) gentleman has been diagnosed with stage 4 Bowel Cancer. In a cruel twist, there is a drug, Avastin, which could give him invaluable extra time with his 3 very young children, but it isn't available on the NHS. Each cycle of Avastin costs around £20,000 and Adam would need an unknown number of treatments. Now we all know money doesn't grow on trees, and time is of the essence, so Adam's wife Emma set up a GoFundMe page with great support being shown so far.
Cosmo, Derby is a keen supporter of local charities and decided to hold a special event, with Derby Mayor Frank Harwood in attendance, to raise funds for the Cattermole's at the launch of their Charity Tuesday 2019 campaign. Charity Tuesdays are where kids can eat for £1 when accompanied by one full paying adult, either at lunchtime or in the evening, and runs from September 10th until November 19th. Having previously worked with the When You Wish Upon A Star charity, this year Cosmo is working in partnership with Derby County Community Trust to support their endeavours at home and abroad. Children seem to have endless appetites, so the chance to feed them for a quid seems great if you ask me! And let's face it, at Cosmo Authentic World Kitchen there is literally something for everyone's taste buds.




Anyhow, Sid and The Cosmo Derby team had really pulled out the stops; the back room was decked out with posh red napkins and an array of glassware and cutlery lay on the flower-bedecked tables. The staff are always smartly attired, but our server, Piotr, was looking extremely dapper: pristine white shirt, black dickie bow, immaculately pressed black trousers and fitted black waistcoat. Piotr wasted no time in sorting out our drinks and even fetched our starter soup course; we'd both gone for the Miso soup, but there was also Minestrone to choose from.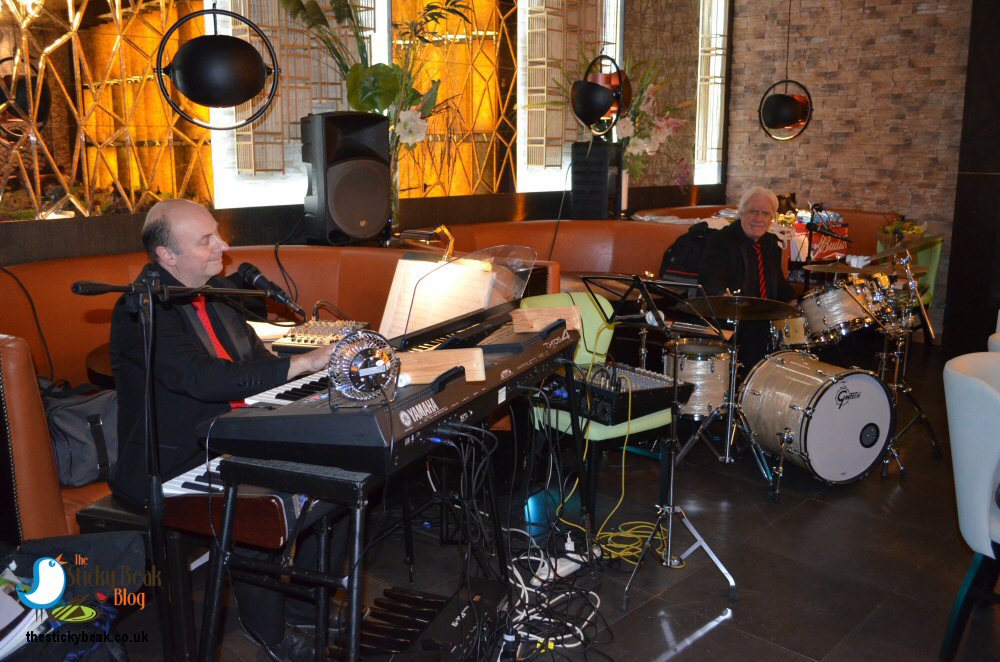 The Miso soup had a lovely spicy tone to it without it being hot or overpowering, so everyone will be able to enjoy this if they fancy it. I resisted the urge to lift the bowl and slurp out the very last bit of soup and noodles – got to be on my best behaviour at posh events! With the delicious soup polished off it was time to go out into the restaurant and visit the many stands of world cuisines on offer.




If you've never been to the Teppanyaki area before, I would urge you to go here. The chefs prepare a variety of foods for you fresh-to-order and to the level of spice you want; the smells and sound of the sizzling hot-plate are great sensory experiences. As per usual, His Nibs asked Chef to "make the flames dance", so we got treated to some food theatre too. I had the Teriyaki Squid and Teppanyaki Scallops, and The Man had Black Pepper Steak and Scallops from here. Everything was juicy and tender, and cooked to perfection – yummy!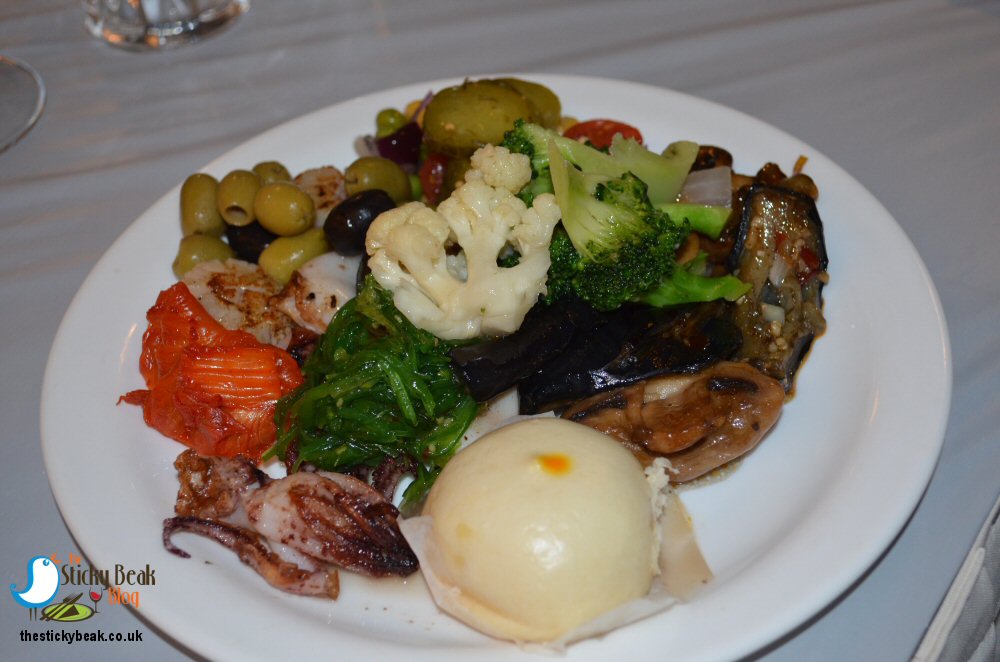 I spied my beloved Custard Bao Buns and two of those magically jumped onto my plate! It isn't custard in the centre of these pillow-soft delights; it's a creamy coconut concoction that isn't overly sweet, but is very moreish and comforting. His Nibs had the Roast Pork Bao bun and remarked on how plentiful and juicy the meat was. There was a mountain of yummy temptation on both our plates, with every possible type of meat and vegetable that your hearts could possibly desire. I wish I could say that we just had the one plate, but if I did I'd be lying; plate number 2 was equally loaded up and The Man even managed a third plate (albeit a tad more restrained in size!).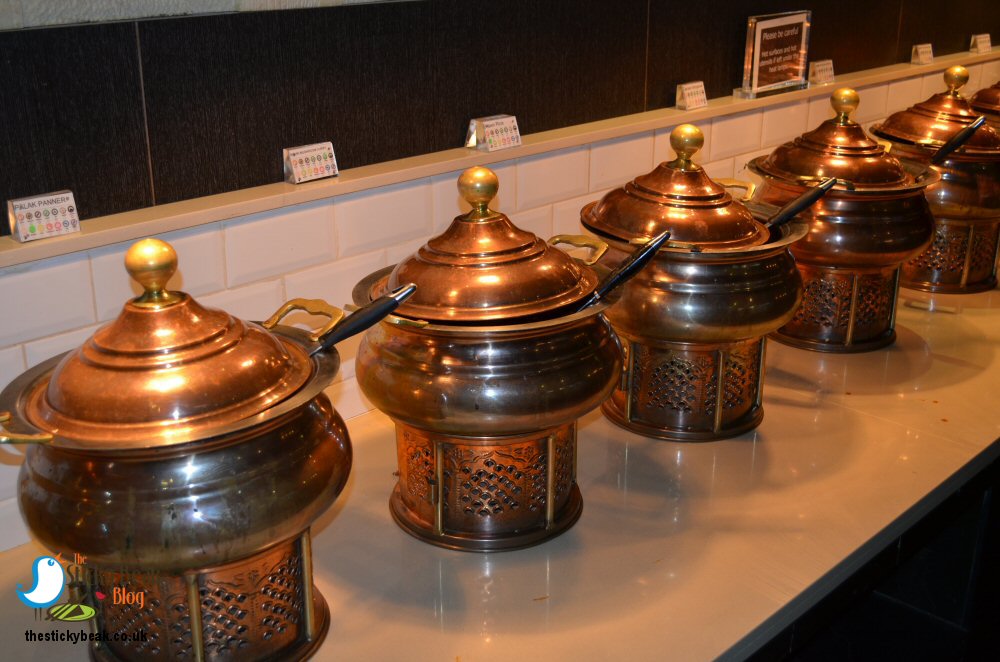 What I like about Cosmo is that, not only do you get the main dishes from each corner of the globe, you also get the sauces and sundries that go with them. For example, the Indian section with its plethora of curries also had stacks of Poppadoms and Naan breads alongside, a variety of rice dishes, vegetable sides, and Bhajis too. Likewise, the Chinese section had Prawn Crackers, noodles, stir-fried vegetables, and various types of fried rice on offer.




We didn't stint on our puddings either; I had the Cherry Clafoutis, Apple Sponge, mini Chocolate Muffin, and some fizzy Cola bottle sweets – all off which hit the spot nicely. His Nibs was sorely tempted by the Eton Mess, but decided not to push his luck with dairy on this occasion; instead he had some Rocky Road and Chocolate Brownie.




With our bellies well and truly filled, we settled back to see if Lady Luck was shining down on us in the Charity Raffle. This wasn't to be our lucky night, but in all honesty it didn't matter; the main objective was to raise funds for Adam and his family, and a lot of fun was had in the process of doing so.




Thank you to Cosmo and the Penguin PR team for inviting us along, we were happy to come and support such a great local cause. Doing good makes us all get a fuzzy feeling inside, so why not eat good and do good by bringing your munchkins along on Tuesdays; they can eat economically and you can support charity at the same time. Win=Win.