New Cocktail Menu At The Lost City Adventure Golf, Nottingham
Published On Tuesday 7 May 2019 by Sticky Beak
See All Recent News Articles
Everyone knows the "in" joke about the 19th hole on a Golf course, right? If not, here's the explanation on brief: a golf course commonly has 18 holes as standard, the 19th hole is the watering hole i.e. the bar in the clubhouse!
The Man Bird and I had been invited over to Lost City Adventure Golf in Nottingham to sample some of the new libations at their 19th hole, the Tiki Bar. If you haven't been here before, let me tell you its location first; you'll find the Lost City in the Roundhouse building, on the basement level. I love the entrance to this venue, it's really atmospheric! You can imagine that you're in a dense rainforest or jungle with all the foliage artwork, birdsong and dimmed lighting. We got right into the groove, channelling our inner Lara Croft and Indiana Jones (snr!!)!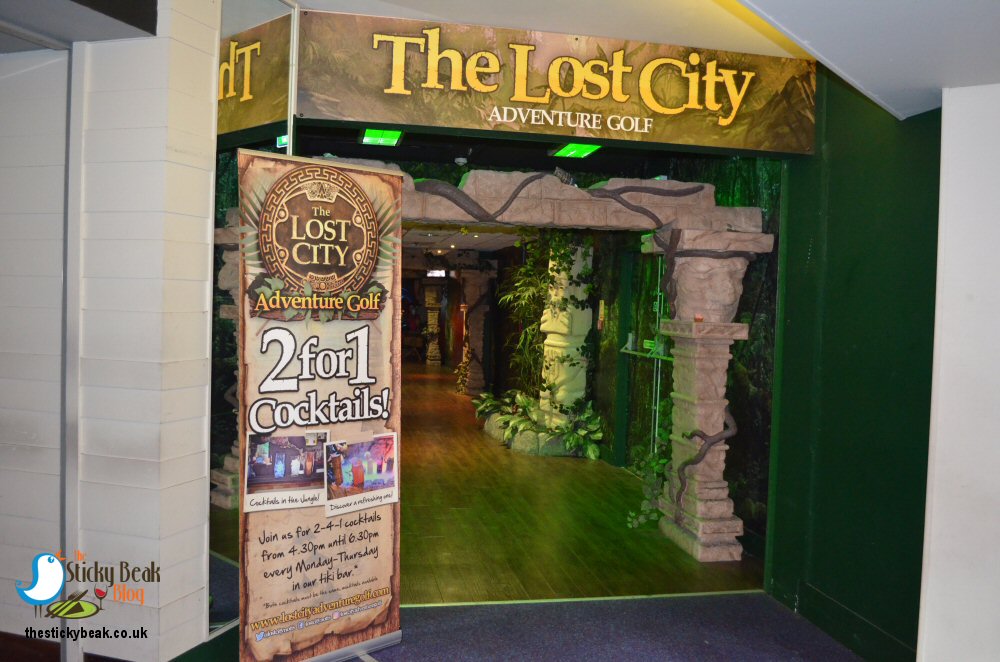 Having arrived a bit early for the blogger event, we took advantage of the outer bar area and had an orange juice and coffee to refresh ourselves after walking from the train station. Fellow Derby blogger Jay was there, looking as beautiful as ever, and Notts TV contributor Jake (Legit Boss) was there too; it was going to be a lively evening, I could tell.

The Tiki Bar is amazing! I love the thatched beach hut vibe it's got going on and there were upturned barrels used as tables as well as some incredible rattan "thrones" – one of which I bagged! Our hosts had provided us with some Bacardi merchandise to dress up with - Hats and Sunnies - as well as some colourful flower garlands to pop around our necks. We were all treated to a glass of chilled Pimms and Lemonade on arrival too.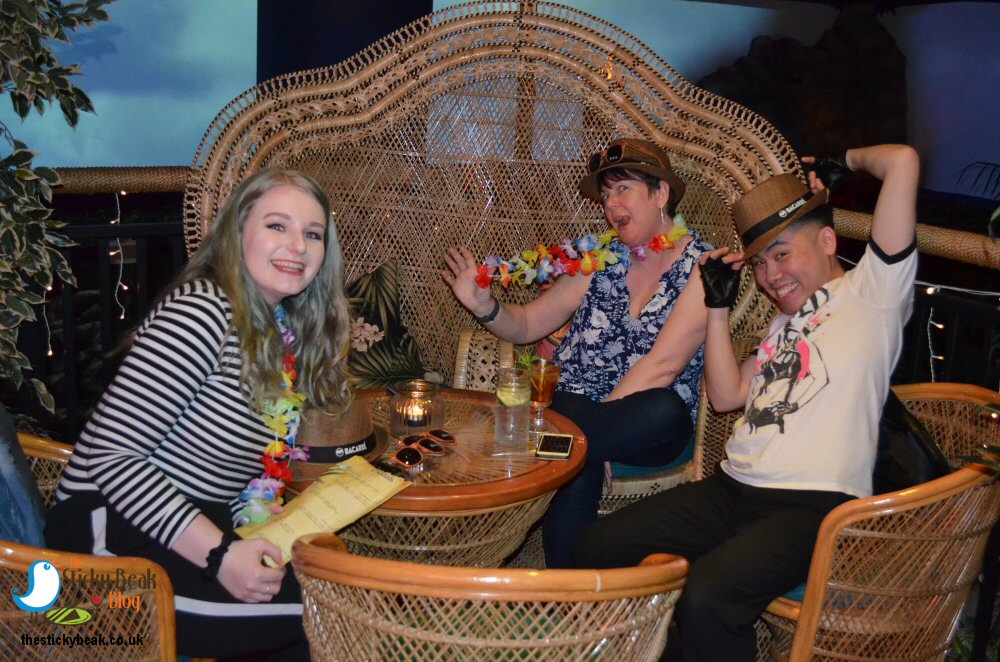 It wasn't long before the cocktails were starting to be made by the mixologists at the Tiki Bar and that sublime sound of ice being shaken around metal cocktail shakers filled the air. I began my journey with the Violet Ark; a delicious Parma-Violet tasting fusion of Archers, Violet Gin, Vodka, Bacardi, Cointreau, Violet Syrup, Lemon juice, and Lemonade. This has a fab shimmer to it and a delicate Violet hue (very inviting for summer days and nights' revelry), and it tastes every bit as good as it looks!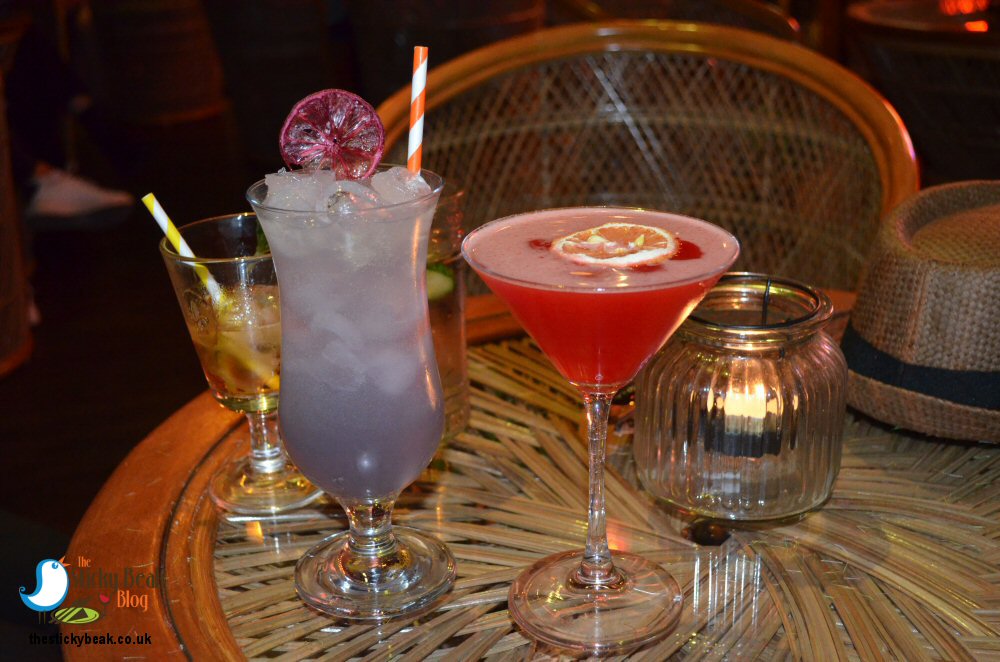 His Nibs was breaking himself in gently, opting to have the low alcohol tipple; The Lost City. This was made with Raspberry Vodka, Archers, Lemon juice, Grenadine, and Cranberry juice and had a treasure-like ruby colour. As you may expect from its ingredients, this cocktail has a vibrant fruity flavour with a refreshing sharp note from the Cranberry and Lemon juices in it.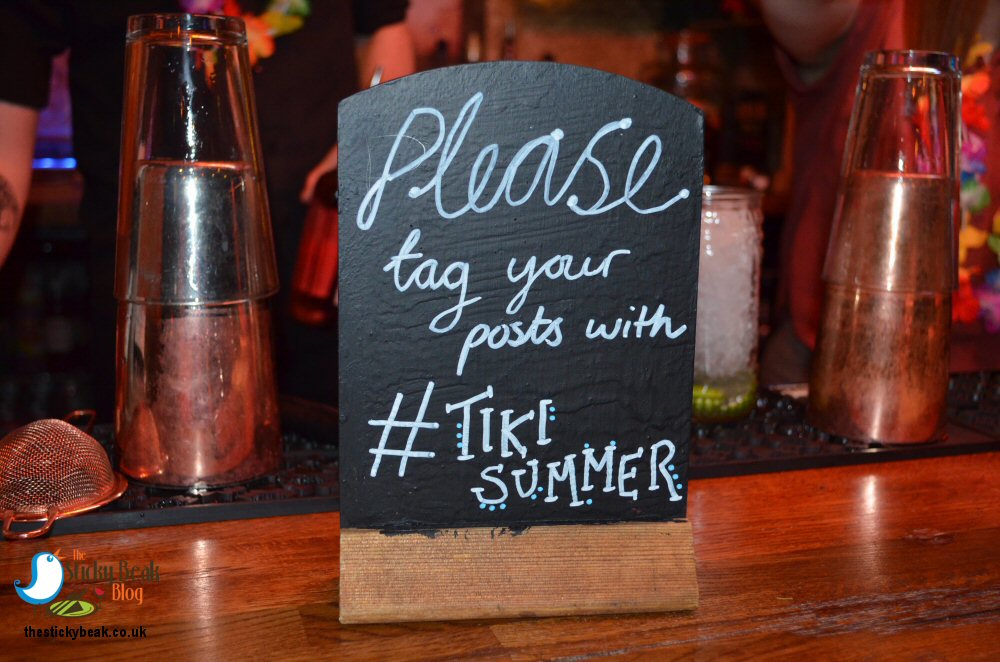 Having got our taste buds warmed up, we moved on to "Reggies Revenge" and "Silver Mojito". I loved the glass that Reggies Revenge comes in; a ferocious looking tribal face etched into the glass gives you some inkling of the respect you need to give this drink. One of the ingredients in this rum-based cocktail is the 75.5% Old J Tiki Fire rum and you can smell the alcohol in this one quite easily! There's a spice note in there too, courtesy of the Old J spiced rum, and fruitiness abounds thanks to Midori, Kiwi syrup, Lime, Apple, and Cranberry juices' influence.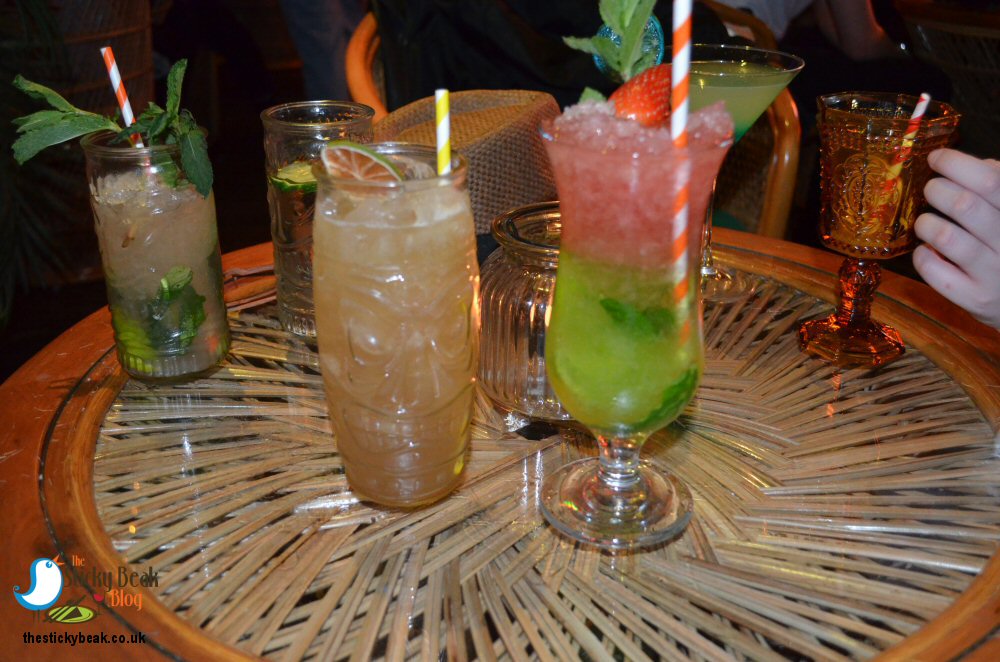 One of the most eye-catching cocktails of the evening was the Silver Mojito; this has a gorgeous two-tone green and pink colour, much like a Watermelon. This tipple does have Midori (melon liqueur) in it, so quite apt, I thought. Yummy Strawberry and Raspberry juices come bursting through in the mouth as you get a hit if fresh, clean Mint too. This is a fab example of a summer tasting cocktail – love it!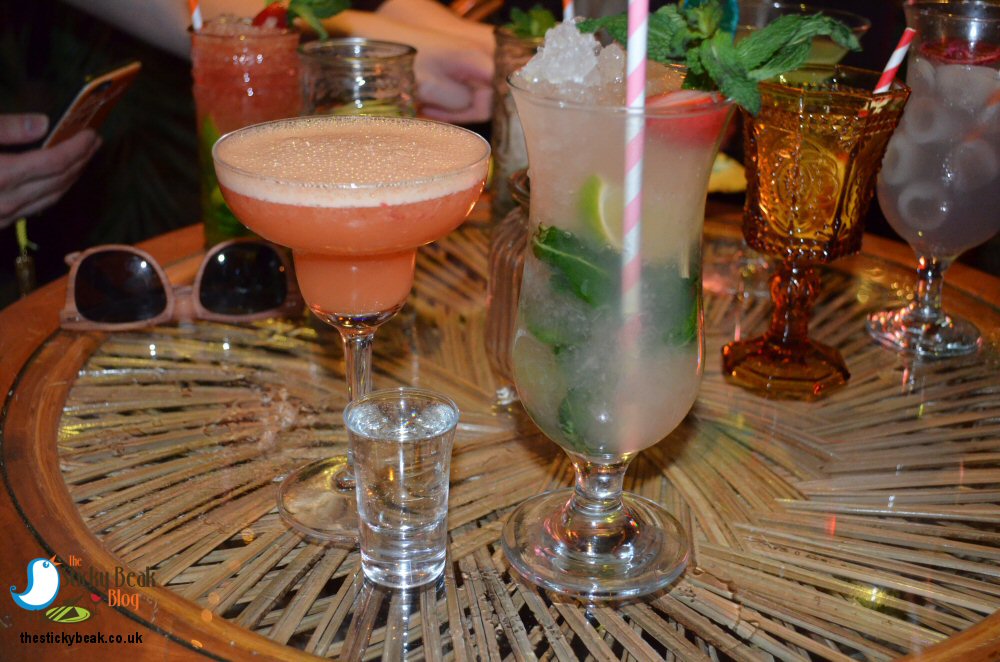 Nothing says summer and sunshine quite like a frozen cocktail though, so there was nothing for it but to head to the bar and grab The Ravenwood! This little minx also comes with a side shot glass of Prosecco – even better! I think this has got to be one of the nicest cocktails that The Lost City Adventure Golf is offering their guests this summer; it's bouncing with fresh, light fruity flavours and has a cooling, quenching, slush-type texture.

The flip-side of being responsible and not drinking and driving is being at the mercy of public transport schedules. Unfortunately we had to scurry off without being able to enjoy one of the two 18-hole Adventure Golf courses available at The Lost City. Luckily though we are able to go back another time and use the tokens we were given, which means we'll be able to make a proper afternoon of it and maybe explore Nottingham a bit more at the same time.