Who Else Was At The Marketing Derby Food & Drink Awards @RestedCocktails @EngineShedDerby @The_Quirky_Cook @JohnCowings
Published On Sunday 16 Oct 2016
by Sticky Beak
See Recent Chatterbox Entries
As the name of the blog suggests, I am a rather nosey little birdie who loves asking questions and finding out about things. The Marketing Derby Food and Drink awards 2016 had some fantastic stalls to browse before the award ceremony itself, so I decided to go and investigate.

Now we all know what cocktails are, but I really had no clue as to what a rested cocktail was all about, so I went and had a gander at the delightful bottles on display. Johnathan Eley is the man in the know as he owns The Rested Cocktail Company and he rather generously talked me through a basic version of how he creates the magic. The cocktails are mixed and then left for thirty days to mature, a bit like marinating if you will, to take any sharp edges off the taste. After this time they are bottled and ready to serve straightaway and have 30%ABV. As well as selling wholesale and through their online shop they also provide refreshments for weddings and events.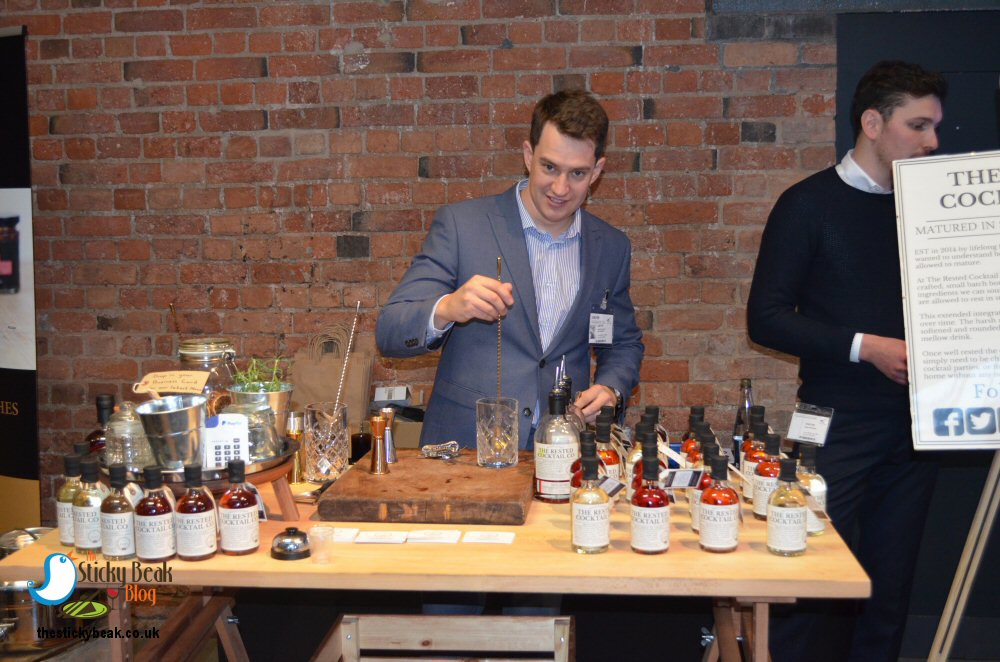 Cacao Elora had a beautifully arranged stand that showcased their handcrafted chocolates to perfection. They are based at Tansley, near Matlock, and this is where they craft their wonderful looking chocolates in different cocoa strengths and add the fillings and decoration. I have to say that the couple I sampled were utterly delightful :)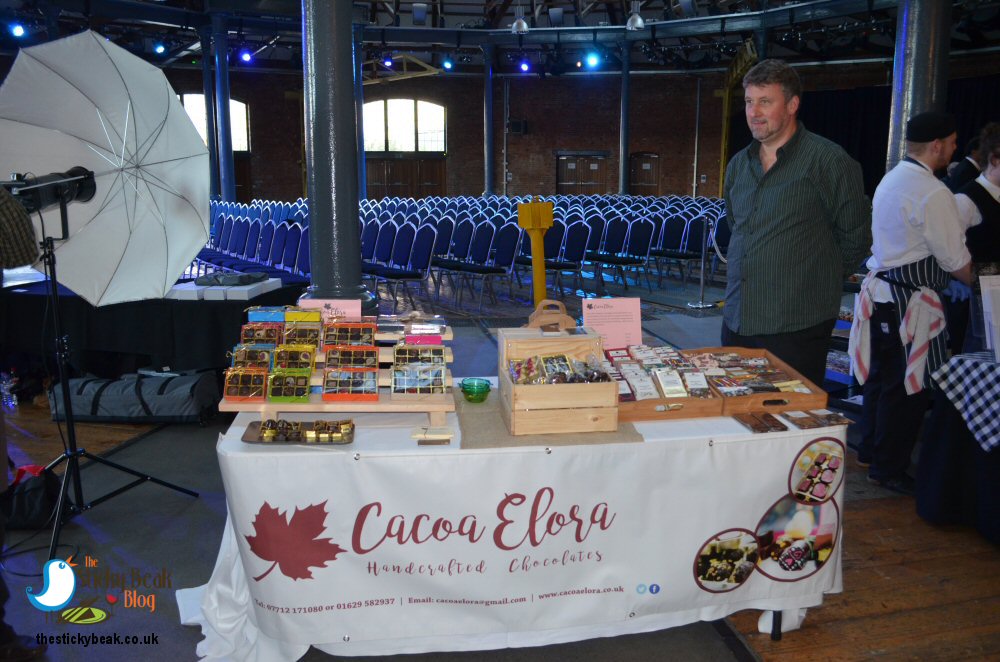 I was thrilled to see the gorgeous Kay Wagstaffe in her Quirky Cook capacity, along with her marvellous range of Chutneys and Relishes. As you know, I am a huge fan of Kay's Chilli Piccalilli, so I was intrigued by her range that she has been working on since April this year; these little treasures contain Black Garlic, something I had never tried before. There are four different types to try: Caramelised Onion with Black Garlic relish, Tomato and Chilli with Black garlic relish, Apple and Date with Black Garlic Chutney and Fig and Honey with Black Garlic chutney.

Kay was informing me how the Garlic is transformed into the Black variety, through a very carefully temperature and humidity controlled environment. This softens the cloves in the bulbs and develops the almost black colour as well as deepening the flavour of the garlic. The result is a superb flavour that has caramelised notes with a sweet/sour balance to it. To my palate there was a wonderful rich black Treacle note to savour and a slight Liquorice edge too. Other notes that are apparent include Tamarind, smoke, Black Cardamom and an aged Balsamic tone. There is no harsh aftertaste to the Black garlic when the whole clove is eaten and it is much more rounded in the mouth in my opinion.




I got to sample the two relishes, both of which were delicious, but I have to say that the Fig and Honey Chutney has got me drooling. Hopefully I shall get to try this in time for Christmas as I think my friends Chicken Liver pate would go sublimely with it (as well as a bit of Hartington Stilton).

Canapés were provided by the Engine Shed Restaurant and the students; Tomato Salsa in a pastry case, Tomato, basil and Mozzarella skewers, Chicken Liver Parfait and Mini Jacket Potatoes with Tuna or Cheese and Beans. These had been carefully to maximise their natural colours and provide an eye catching arrangement on the stall, and tasted as great as they looked :)




I have to mention the amazing venue, The Roundhouse, as it looked superb after having been restored from its near derelict state, and of course the award ceremony was great too, so a top evening was had by The Man Bird and I.