Trying Out The New Moroccan Cookery Course At Coghlans Cookery School
---
Published On Sunday 6 Jun 2021 by Sticky Beak
See Recent Experience Reviews | See All Recent Reviews


Once again, the lovely team at Coghlans School of Wine, Food and Dining had kindly invited me along to one of their fab half-day cookery classes; this time it was the newly launched, Moroccan course. Just like millions of other folk, I have been a bit glum at the prospect of not doing much (if any) travelling abroad again this year – one of the best things about holidaying in foreign climes is sampling the local cuisine. Oh well, if I can't go to other countries dishes, then their dishes will have to come to me! Enter Master Chef of Great Britain, the one, the only, Mr Simon Lilley: tutor extraordinaire.
As I parked my car in one of the school's designated spaces I could see STM (Steve The Magnificent) getting the last few bits ready to greet each 'pupil' in a covid-safe manner. It wasn't long before I was being beckoned to come out of my car (facemask firmly on) and use the automatic hand sanitiser before going inside the building itself. When I got inside, STM took my temperature with what I jokingly call the 'ray gun', asked me some questions and then got me to sign and date the paper form.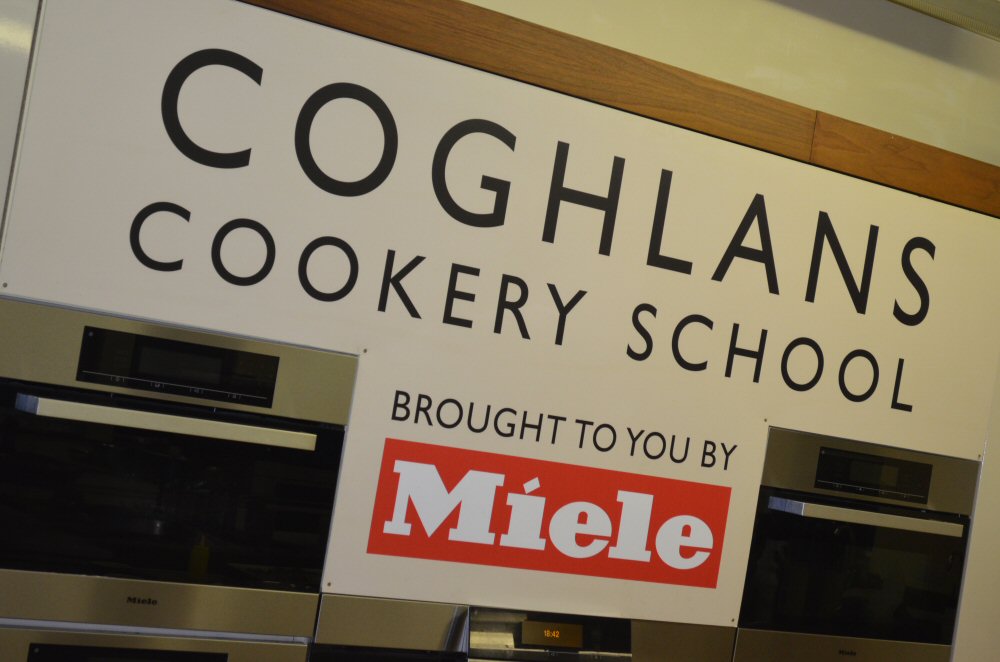 With all the formalities out of the way, it was time to begin the first task of the class; make the dough for the Batbout (Moroccan Pitta Bread), knead it, and leave it to prove whilst we popped the Aubergine - in the pre-heated, mosty-toasty oven - to roast for the Zaalouk (Aubergine)dip. In the meantime there was much to do and the room soon filled with the sounds of chopping, peeling, measuring and mixing. Chicken thighs were sizzling nicely to achieve a golden brown hue on both sides before being placed in a terracotta toned Tagine, and soon onions, garlic, spices, tomatoes and lemon juice joined them. A quick swap saw the Aubergine come out of the oven for cooling and the Tagine go in for cooking.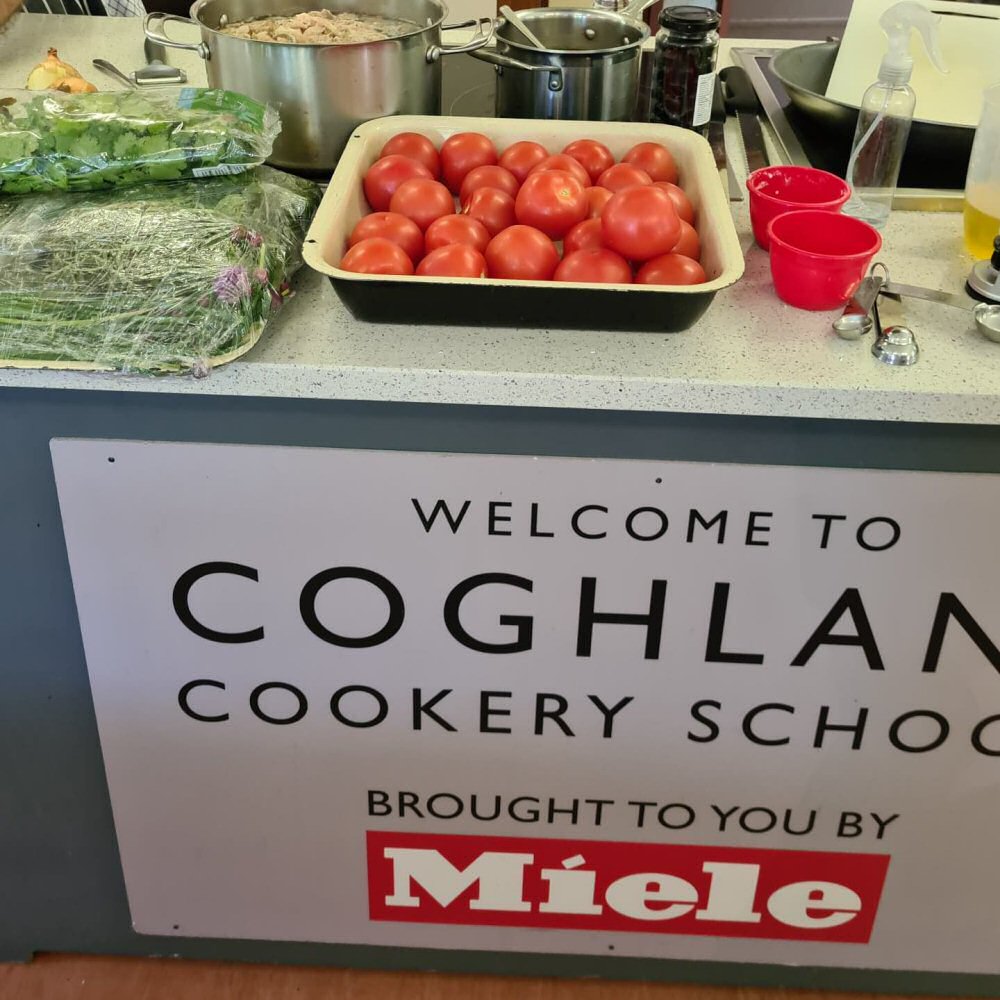 The weather was channelling its own Moroccan vibe with temperatures outside in the mid-twenties, so needless to say we were getting rather warm inside! STM had thoughtfully put the bottles of water in the fridge and it was utter bliss to sip the chilled liquid in between cooking. Pre-covid, STM used to make teas and coffees for guests (he does a proper brew, not just a 'wave a teabag at the mug' for those who like a cuppa) but for now he puts out individual bottles of water at each work station to keep folk hydrated, and there's more to replace it if you're really thirsty.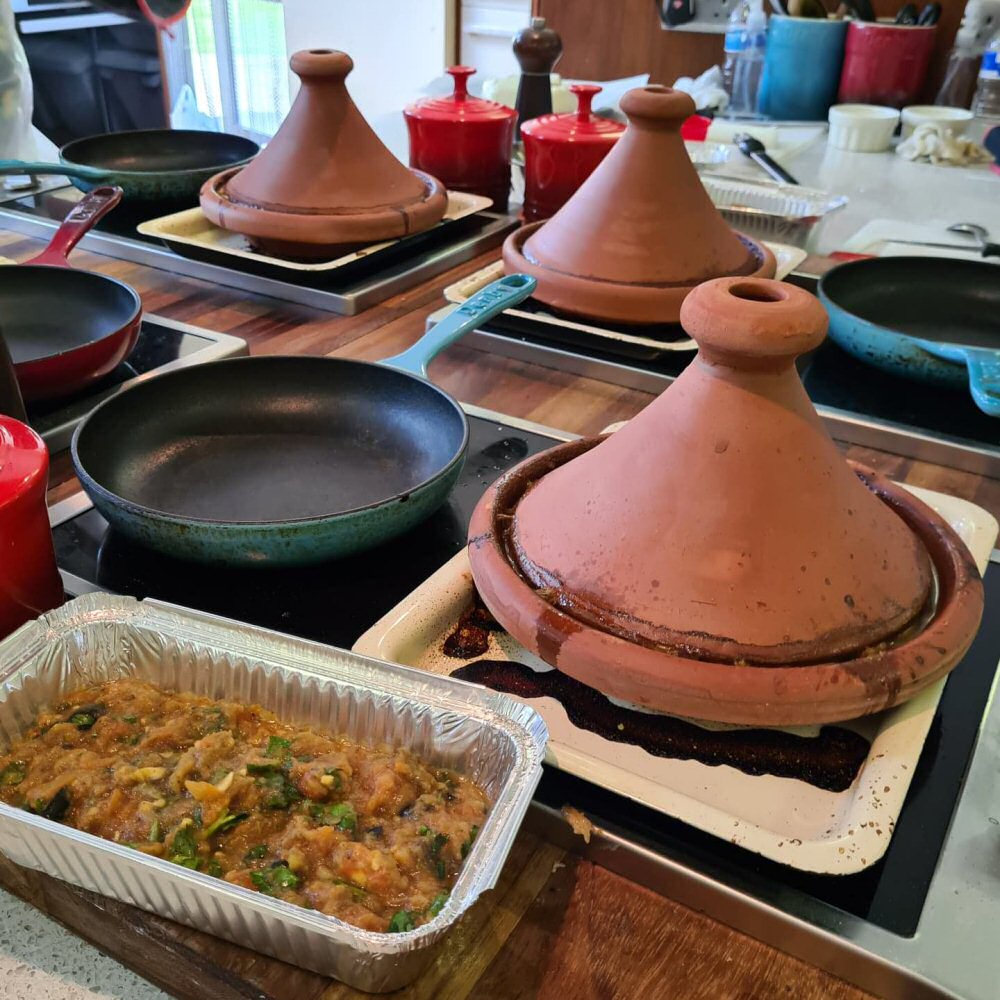 Originally there were six attendees on this particular class, but thanks to Covid, a pair had to drop out – just goes to show that we still all need to be on our toes peeps; let's all keep staying safe and stop the spread of this virus. The four of us struck up a steady stream of conversation and I must admit that that's one of the things I really like about the classes at Coghlans; everyone is of a like-mind when it comes to being interested in cooking and I can honestly say that I've never been to a session where there hasn't been some good banter. If you need something, there's always a willing pair of hands to pass it over or to pop extra herbs etc. in if there's spare.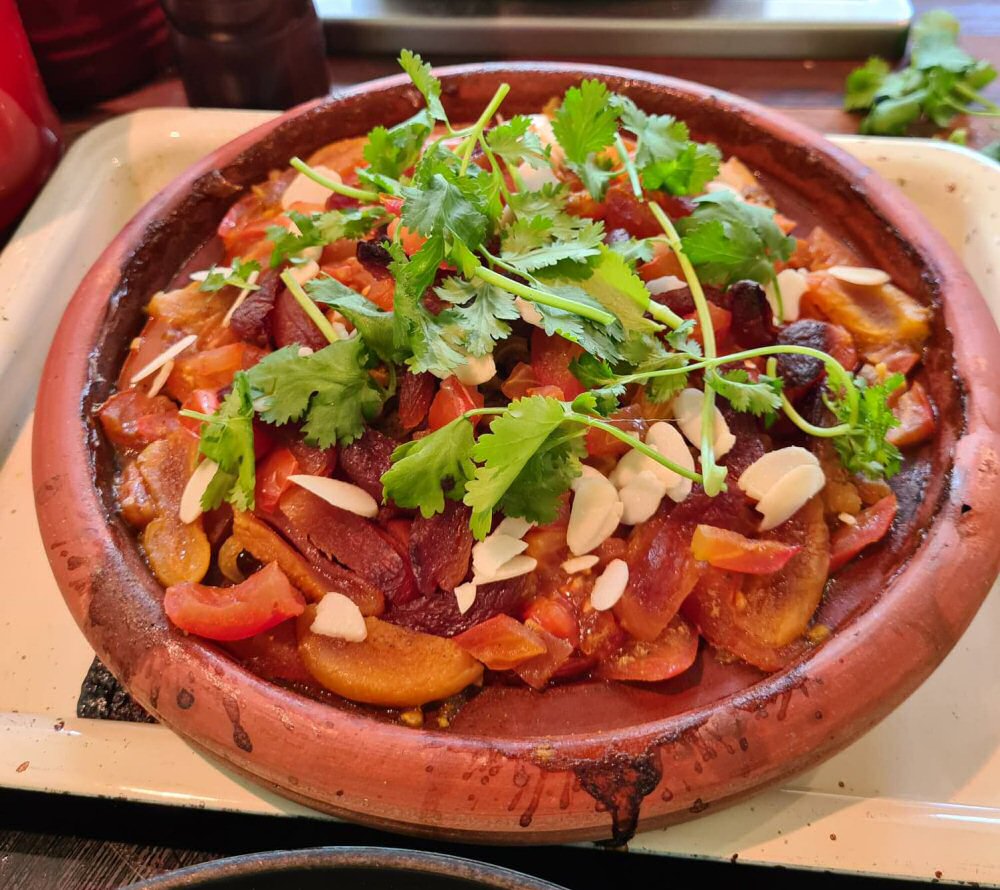 Small classes mean that Chef can listen to the likes/dislikes of each pupil and amend recipes accordingly – after all, the name of the game is to take home some seriously good grub. And that's the other thing; even I manage to take a feast back to the nest, and whilst I am undeniably fantastic at scoffing, the cooking side of things isn't my forte! Chef Lilley though, has always guided me through and there hasn't been a single occasion that I haven't had compliments on the dishes I've made when The Flock have sampled them. If I can do it, trust me, anybody can!!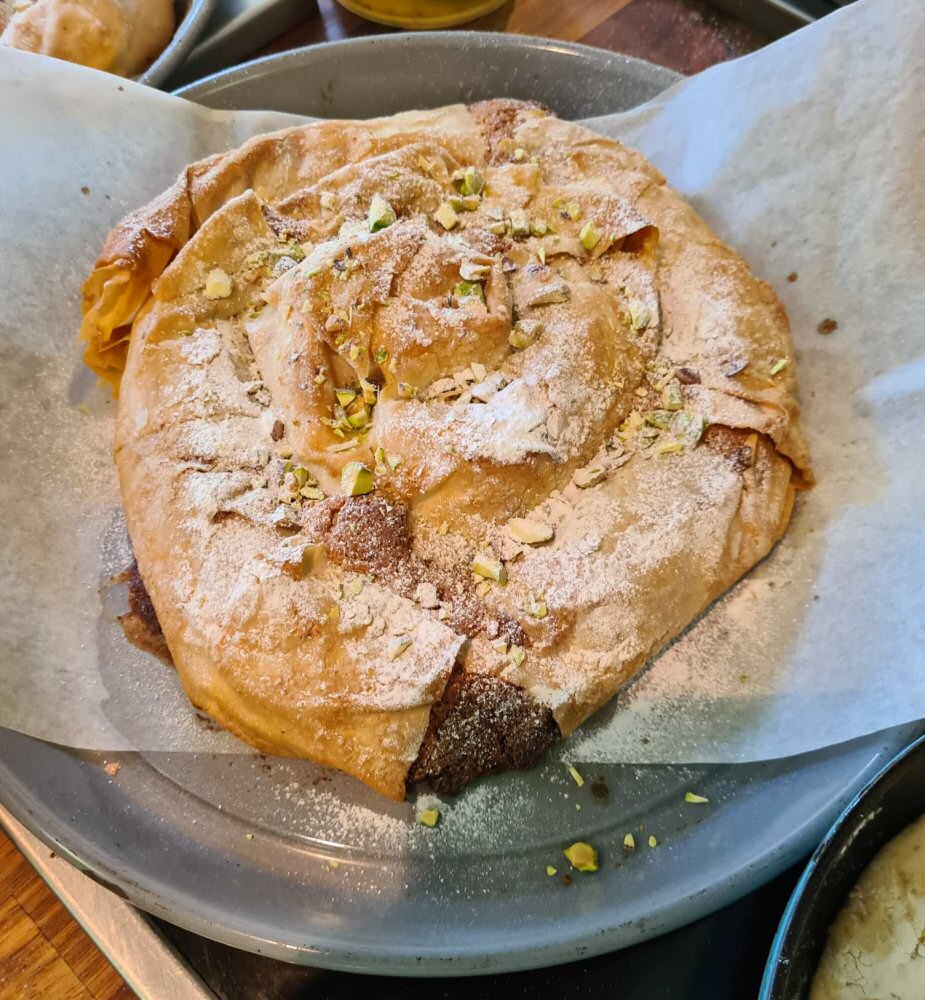 Whilst the Tagine was cooking merrily away in the oven we all set-to assembling the other components of the Zaalouk dip and soon the kitchen was filled with the aroma of simmering tomatoes, garlic, olive oil, spices and herbs. The roasted Aubergine got whizzed to a fine pulp in the blender and then it was time to combine it with the tomato and spice mix; a few black olives and a final flourish of seasoning added the last layers of flavour to a surprisingly tasty dip – it might not be the prettiest dip on earth, but it gets the taste buds tingling.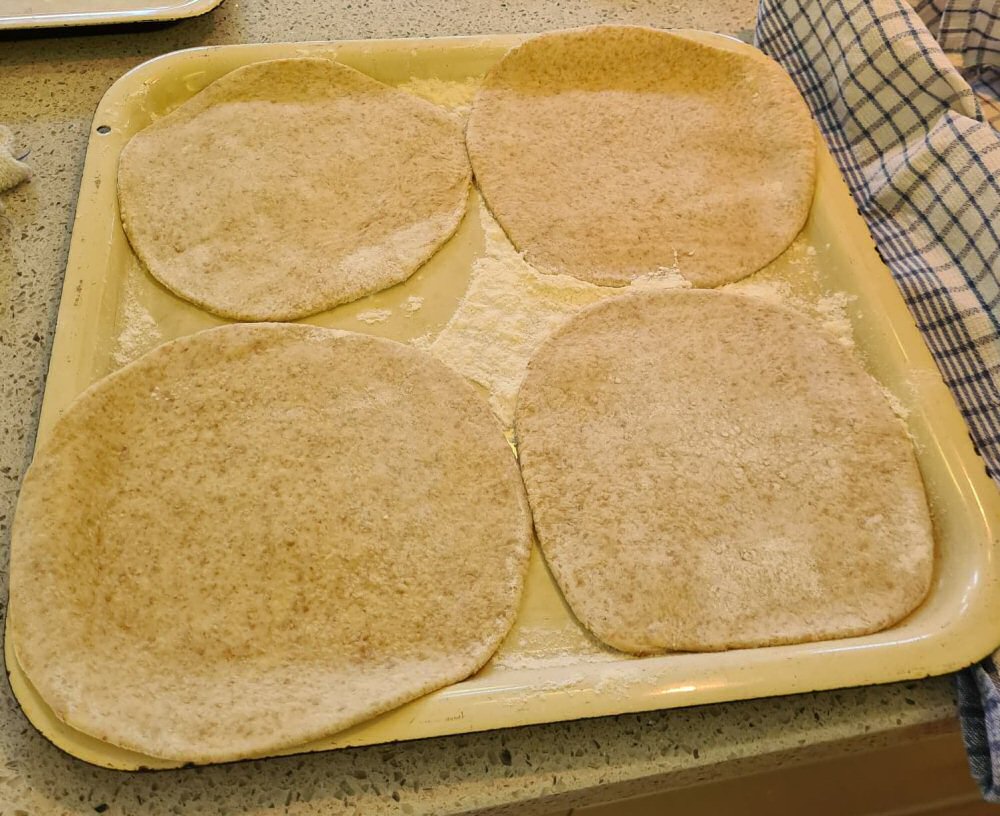 I hadn't really considered Morocco as a country that would particularly 'do' desserts, thinking it would be too hot, but Chef had got us all whipping up a delicious Almond and Pistachio filo spiral concoction. There's no denying that this was a decadently sweet treat, but it wasn't cloying due to the inclusion of Orange and Lemon zest and a zap of Cinnamon. How I managed not to nibble at the filo pastry when it had come out of the oven I don't know, but it arrived back at the nest in one piece – much to The Man Birds' joy.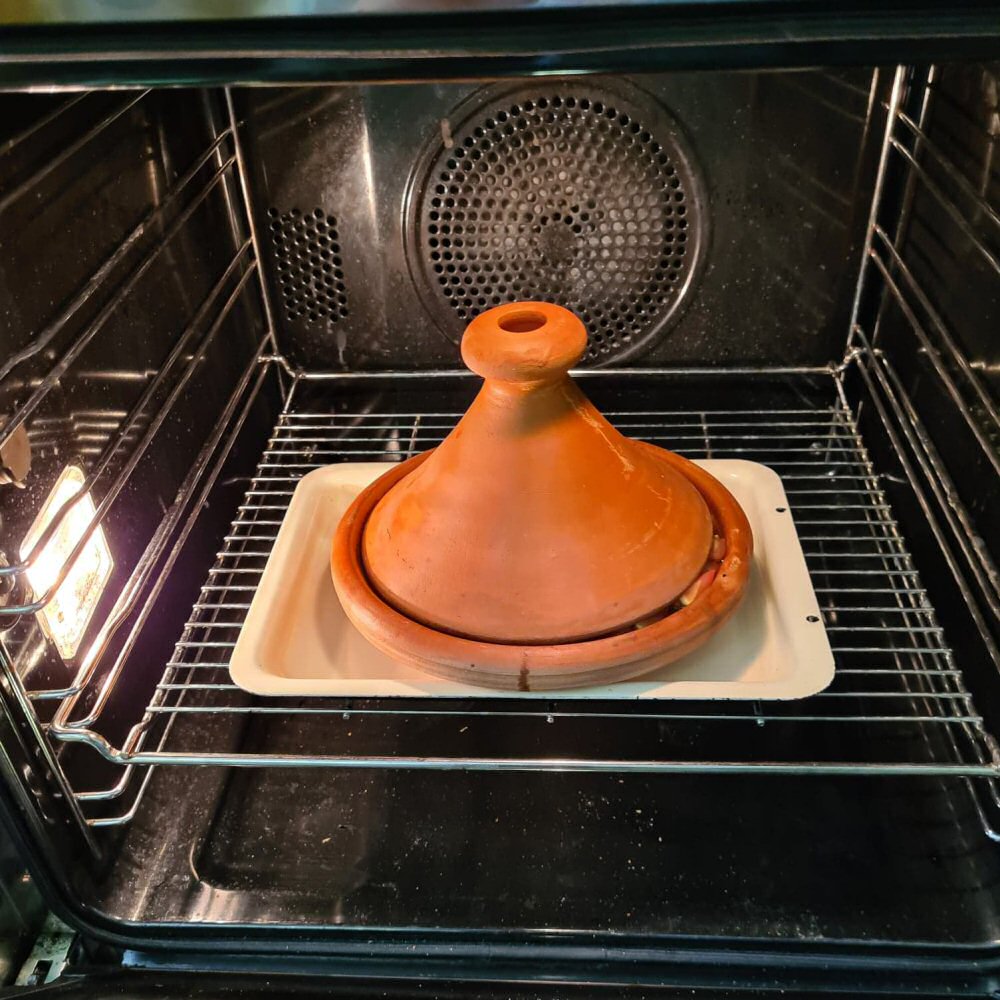 The hours had just flown by again thanks to the work to be done, the great company and the sterling efforts (as always) of Chef and STM. I just love the time I spend at the swanky Miele kitted –out kitchens at Coghlans School of Wine, Food and Dining. Our last task of the day was to cook the Batbout until they were puffed up and golden on each side, and even just the smell of the dough cooking was making my mouth water – imagine how excited I was going to be when I dunked them into the Aubergine dip later that evening!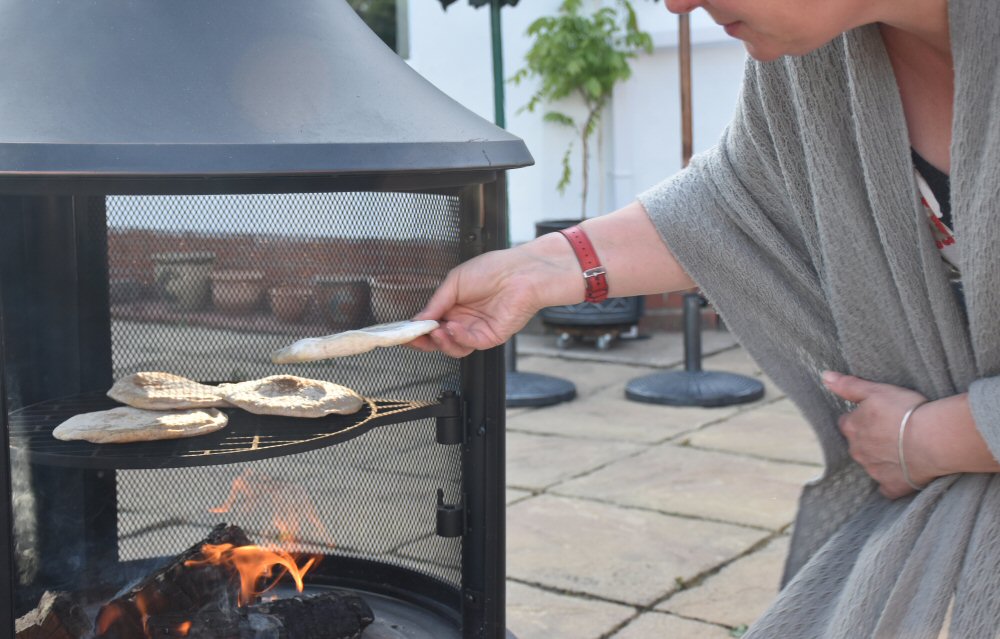 STM was busily washing all our used utensils (to minimise movement around the kitchen) so all we had to do was apply final touches to our dishes as we popped them into an assortment of containers; the Tagine and Zaalouk went into foil trays, the Batbout and dessert into a large, square cardboard box. We all said our farewells and headed off in different directions home, happy with the fruits of our labour.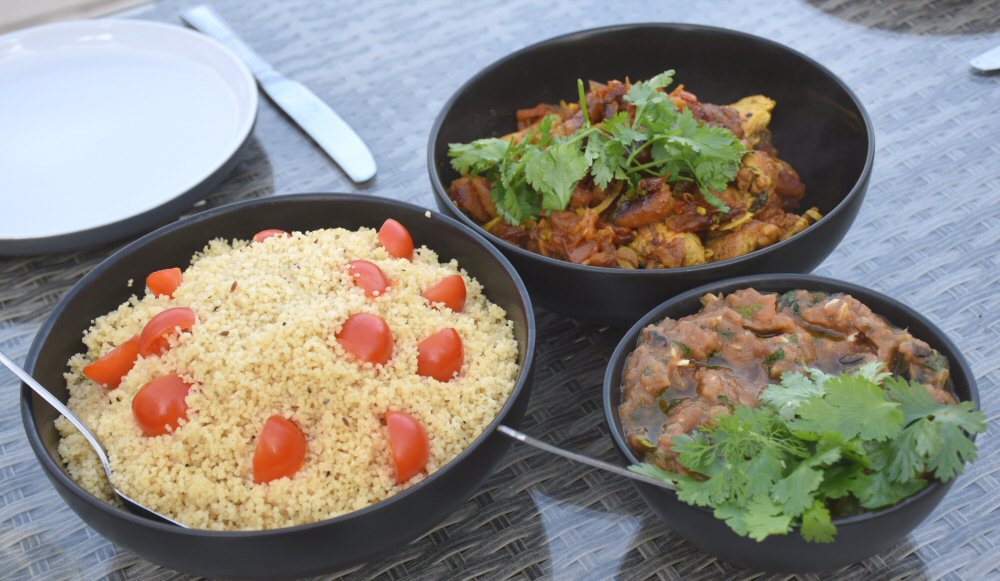 Massive thanks to the Coghlans team again; every time I come here I have a great time (Chef probably has a nervous break-down, but I have fun!).Head over to the school's website to check out the huge range of courses they offer and available dates. I am just keeping everything crossed that the pop-up dining evenings will be able to return before much longer too, they are also fantastic events.

Find out more about Coghlan's Cookery Courses