Sunday Lunch At The Durham Ox, Ilkeston
---
Published On Tuesday 22 May 2018 by Sticky Beak
See Recent Dining Out Reviews | See All Recent Reviews


Nothing beats a good Sunday Roast; we Brits can't get enough of them. Actually, that's a big fat fib – having someone else cook the Sunday Roast for you beats doing it yourself, especially now the weather is getting warmer. I can't stand being in a hot kitchen, but being gluttons' means that The Man Bird and I really can't bear going without our fave meal of the week!
Luckily for us, Tony and his team at The Durham Ox in Ilkeston invited us over to sample their Spring Sunday Lunch menu. It's a quirky place to get to, although SatNav manages it no problem and you park in a public pay-and-display car park, as the few spaces are for guests staying only. Again, lady luck shines down as parking is free after 6pm Mon-Sat, and free on Sundays; The Durham Ox only opens Thurs-Sunday; in the evenings 6-10pm on Thurs, Fri and Sat, and from Noon-6pm on Sunday.
We booked in for 2pm, and it was still really busy – clearly we're not the only ones that let someone else do the hard work, so we can relax and enjoy our food. Which brings me to the classic conundrum; why does food always taste better when someone else has cooked it? The Durham Ox attracts diners of all ages, although there weren't any young children in when we went, but then nippers get hungry earlier than 2pm don't they; or should that be hangry?!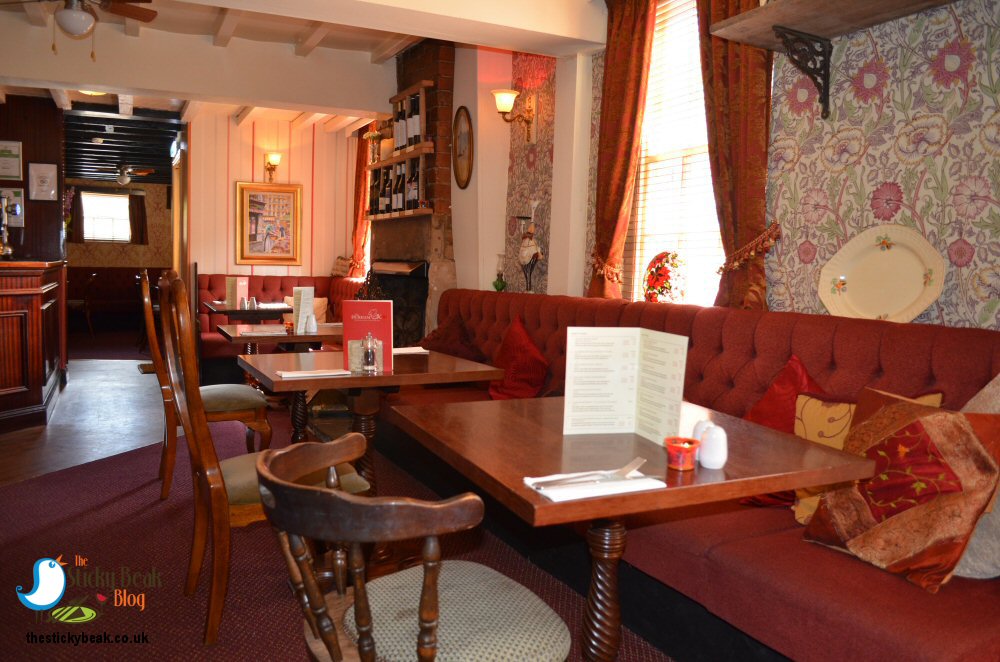 What we like about the Durham Ox is its laid back atmosphere; you definitely get the traditional country Inn/Pub vibe with the bar, knick-knacks, and no-nonsense tables and chairs, but the staff treat customers more like friends than paying patrons. As with any pub premise of a certain age, light is always going to be limited, thanks to the smaller proportioned windows, so some clever tricks had to be used. The Durham Ox team have decorated the top half of the room with a light floral paper and painted the ceiling white to reflect as much light as possible, and it works very nicely.
This laid-back approach and resourcefulness is also applied to the menu. There is the usual choice of four meats for the traditional Sunday roast, and then the a la carte selection depends entirely on what produce is left from the previous evening. So, for example, there were no twice baked cheese soufflés left, nor any Smoked Mackerel Pâté or Scottish Mussels on the starters; diners the previous night had polished all those off! However, instead of the soufflé there was a rather nice sounding Lemon and Oregano Chicken skewer with flat bread; that sounded right up His Nibs' street, so he was a happy chap. I had one of the specials' starters; Stilton, Red Onion, and Pickled Walnut puff pastry tart, so starters were easily dealt with.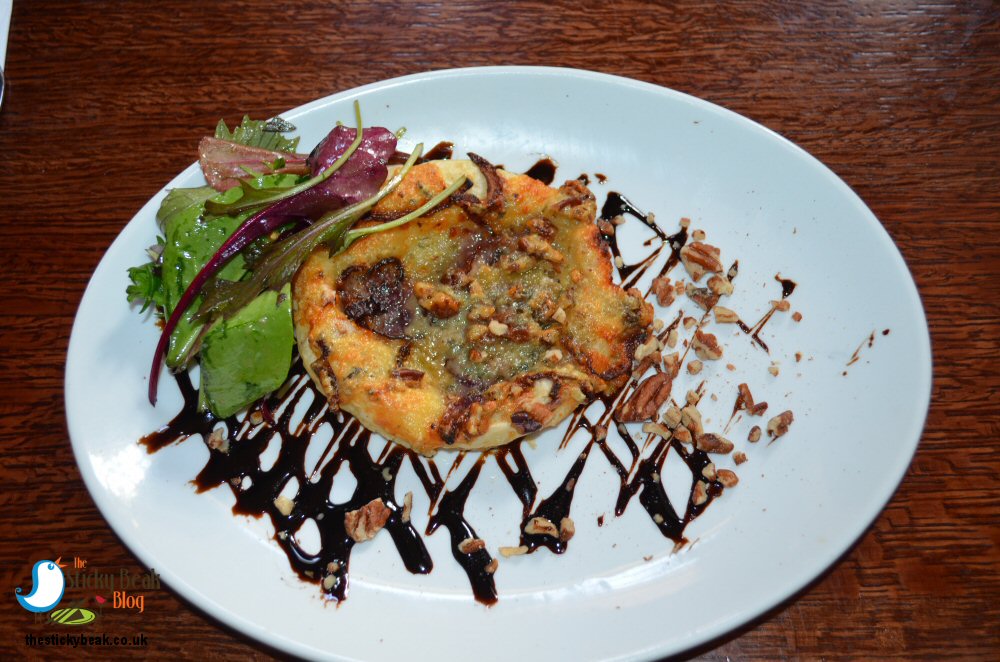 When it came to deciding on main courses we ended up flipping a coin for it! You can't accept an invitation to try the roast, and then neither of you have it – to me that is just rude. The issue was that we both fancied the roast but both had an equally appealing reserve; in typically English fashion we were both saying," I'll have the roast if you fancy the a la carte choice" and nothing was getting settled! The final outcome was The Man Bird had the leg of Lamb with all the trimmings for his main course, and I had the pan fried Sea Bass fillet with Parsley mash, lemon butter sauce, and Asparagus and Green Bean medley.
Tony had sorted us our drinks out; Chardonnay for moi and a pint of San Miguel for The Boy Wonder, and we sat sipping and chatting for the short while it took for starters to arrive. When they came, they both looked lovely and had been carefully presented. His Nibs loved the chunky pieces of juicy chicken breast; they'd been gently marinated in lemon and oregano as they cooked, and then scattered with more of the fragrant herb. When they were placed on the skewer, the chicken pieces had been interspersed with lemon slices, so the charred citrus fruit gave a lovely lift to the dish on the palate when bitten into. A soft, light warm flatbread provided the base on which the skewers lay and it tasted very nice and fresh. A separate pot of natural yoghurt and cucumber was perfect for dipping all the elements in, and the result was a light, bright starter that got the thumbs up from His Nibs.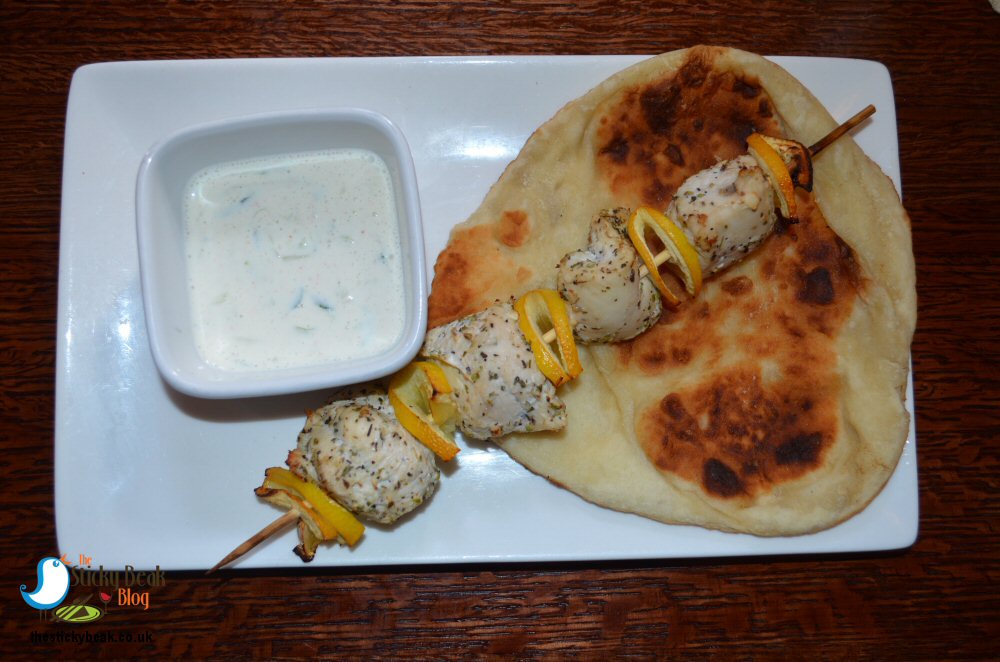 My starter was a circle of puff pastry filled with stilton, caramelised red onion and pickled walnut pieces that had been gently baked in the oven until golden and the cheese had melted. Again, it was a lovely, light starter with a nice balance of flavours and textures. This was served with a simple garnish of dressed mixed leaves, more pieces of walnut, and a tangy Balsamic glaze. We were both more than happy with our choices, and told our server how much we'd enjoyed them.
In my opinion, there are some absolutes that are non-negotiable when it comes to a Sunday dinner; the meat (or whatever veggie option you want) has got to be top quality, hot and plentiful, the Yorkshire puds have got to resemble sky-scrapers, and Roasties have to be crispy on the outside, fluffy on the inside. No ifs, buts or maybes; if you haven't got these, it's not a Sunday dinner – end of. Oh, and proper meat-juice gravy too.


The Durham Ox clearly agrees with me, as all boxes got ticked :) Tony brought out some of the Beef rump for us to try too; he admits he's biased, but having tried it, I have to agree that it really is something special. You won't have to hunt for the meat on your plate at The Durham Ox, you can't miss it there's that much! They serve the Lamb pink, unless stated otherwise, and it was so succulent and flavoursome that The Man couldn't praise it highly enough (and Lamb isn't even his fave meat!).
The volume of meat, Roasties, Yorkie pud, and ball of stuffing pretty much take up the dinner plate, so all your veggies come on a separate platter; Cauliflower cheese, Carrot slices, and Cabbage, Leek and Broad Bean medley on this occasion. A big jug of proper gravy is also separate so you can add as much or little as you fancy (or dunk things in like His Nibs did).




Special mention needs to be made of the Yorkie; it was a marvellous mountain of a pud with a nice light texture and crispy outer. Chef clearly gets his oil smoking hot before he adds his batter mix to it – good lad. Everything on the plate was hot, and cooked perfectly; no soggy veggies here and the meat was beautifully tender and tasty.
My Sea Bass fillet was cooked perfectly so that the skin was crisped and the flesh was moist and juicy. A bed of beautifully soft, buttery mash show-cased the fish nicely, and the inclusion of fresh Parsley gave it a great energetic taste in the mouth. There was a nice drizzle of lemon butter sauce around the mash, which was perfect to dunk the Asparagus in. Both the Asparagus and Green Beans had been cooked just enough to retain their bite and texture, so they were nicely firm when bitten into.


Our server came to ask if we were happy with the food, and grinned happily when we said that it was delicious. Looking around, there were plenty of empty plates in evidence, so other diners were equally happy with the cuisine. You certainly need to bring your appetite to The Durham Ox; they love to feed people properly that's for sure. The roast is priced at £11.95 (childrens is half portion at £6.25), or if you're a hungry Horace they do a platter of all four meats, two Yorkies, and double Roasties for £16.95!
Given the volume of food we'd consumed, we needed a bit of a breather before deciding whether pudding was a goer or not. Purely in the name of completeness for the blog *cough* we soldiered on and had a third course. I had the Manchester Tart with cream, and The Man Bird chose the Rhubarb Crumble and cream. All the desserts are homemade and priced at £5.90 (except for the cheese board which is £8.50).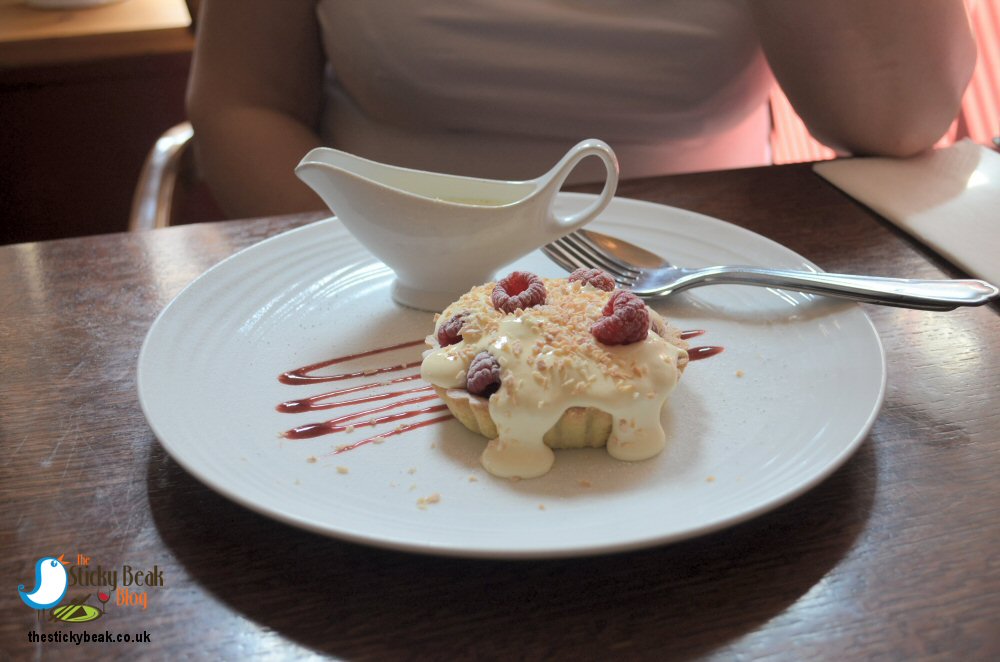 Manchester tart, which I've never had before, is a pastry case filled with Raspberries and jam, topped with homemade Vanilla custard, and finished with toasted Coconut. The pastry was light and buttery, and contained loads of plump fresh Raspberries and a nice layer of fruity jam. I was expecting set custard, but it isn't; it's more akin to lightly whipped double cream, and it had a deliciously mellow vanilla taste. There was a gentle scattering of toasted Coconut, which danced at the edge of the palate rather than dominating everything. It was such a good dessert that I completely forgot to pour any of the extra cream over it!
One of the things His Nibs loves about spring and summer is Rhubarb, specifically if it's in a crumble and lathered in cream! The wonderfully sweet pastry case was generously filled with a deep layer of poached Rhubarb that hadn't been overly sweetened (which given the sweet pastry was a smart move). On top of the fruit was a deep crumble topping that had been baked until golden, and when The Boy Wonder pierced it with his spoon a mouth-watering aroma wafted up. A great fruit crumble manages to be both sweet-yet-tart, and has a lovely knack of lingering for a small while in the mouth; The Durham Ox team have got it down to a fine art.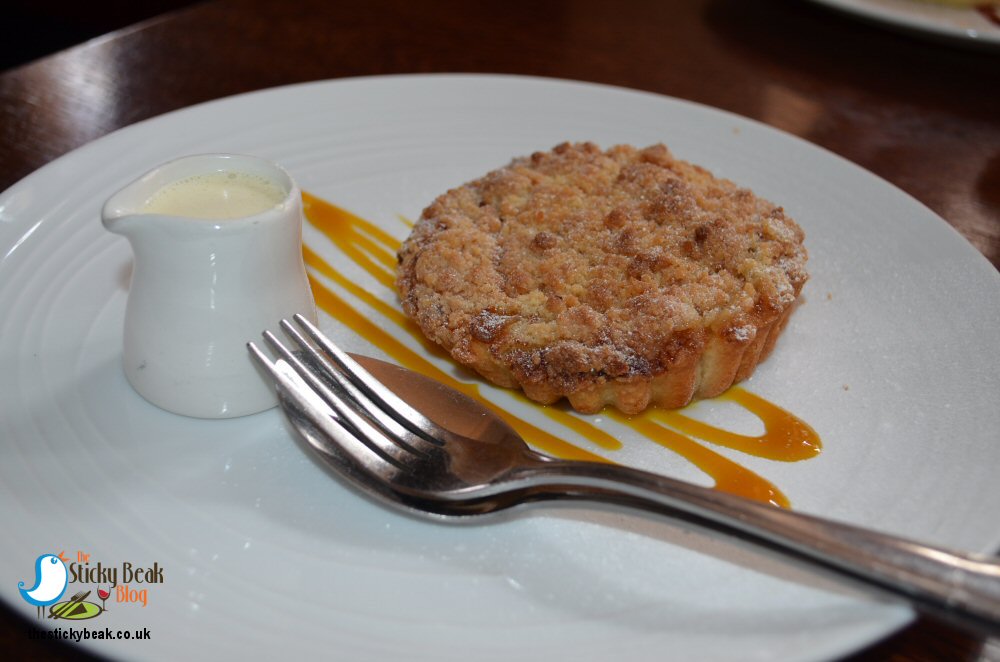 With our tummies full and the pair of us resembling Weebles, it was time to thank Tony and the Durham Ox team, and then head off back to the nest. This was a really fab Sunday Roast, and one that I'm more than happy to award Hot Wings to. Everything was presented well, lovely and hot, plentiful and tasty, and topped off with great, friendly service. Diners that needed drinks refreshing simply asked a passing staff member (and there was always someone in the room) and a new libation was brought over to them; minimal fuss, and no interruption to eating :)
Due to the limited days and times that The Durham Ox is open, I would recommend that you ring ahead and reserve a table. Thursdays are when the Steak Night happens; The Man Bird and I went to this last year, and it was great read more; booking is definitely recommended for this as it's great value and top quality – two rump steaks (and standard accompaniments) and a bottle of house wine for £29.50.
Some form of incentive was provided to visit this venue
read more