Trying Out A Rate Good Brownie Box From Chesterfield
---
Published On Thursday 10 May 2018 by Sticky Beak
See Recent Food Producer Reviews | See All Recent Reviews


It isn't just restaurants that we review; it's also food and drink producers too. Chesterfield lass Amy from Rate Good Brownie Boxes got in touch to see if she could send us a box to try – heck yeah! – and we eagerly waited for the postie to arrive
Sure enough, the next morning there was a knock on the door and Mr Postie handed over a large box; when we told him what was in it you could see him kicking himself for handing it over – hahahahaha!
Each substantial brownie had been carefully wrapped to protect it as much as possible, and there didn't appear to be any casualties of travel. Amy had sent us "The Terry's" (chocolate orange), "The Flutella" (Nutella and Cadbury flake), Cookie Dough, and Gold Bar brownie varieties to try. They were larger than I was expecting and a good 1-1.5" thick, so they were going to have to be treated with a bit of respect when scoffed.
After unwrapping them and re-spreading the caramel on the Gold Bar one (it is so thick it stuck to the cling film and stubbornly refused to budge, but it hadn't reckoned on my determination!), we took the photographs before our miniscule will-power caved to the temptation in front of us.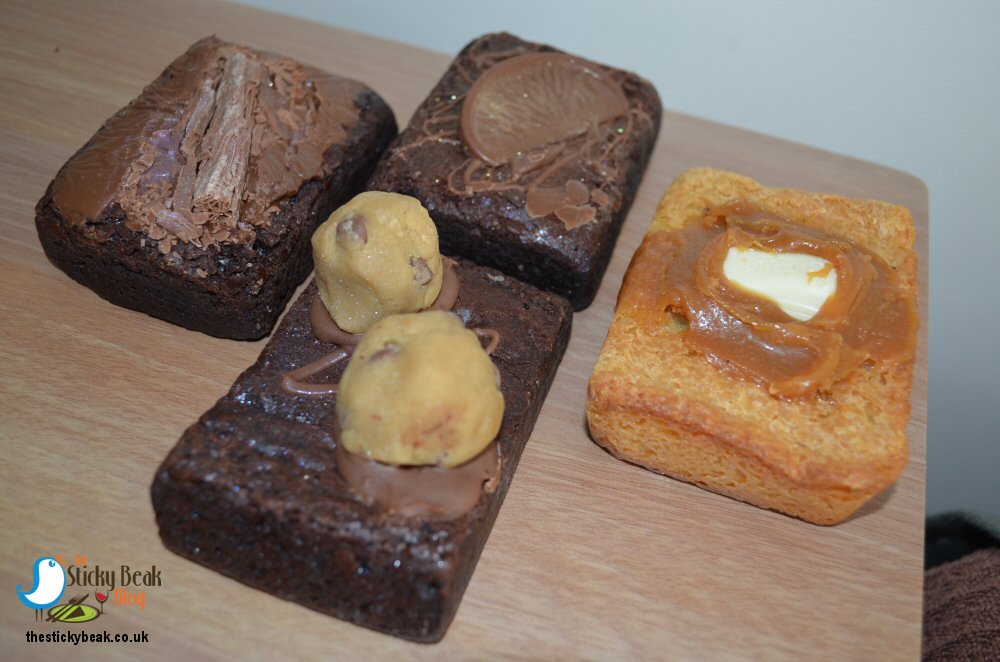 Faced with an array of deliciousness, it was hard to choose where to start; we eventually decided to go with the Cookie Dough variety. The brownie was super, super, super, super moist and gooey, and chocolatey and indulgent; omg it was sooooo good! We both loved the intense richness of it; if you have the self-discipline you could easily eak this treat out over an entire day as just a small piece would satisfy the sweet centre in your brain. Two large balls of chocolate chip cookie dough decorated the top, one at each end, and again this was really nice; sweet but not so much that your teeth tingled from it. I think smaller balls of dough scattered over the entire surface of the brownie would look nice too, Amy :)
Normal folk would've left the brownies alone at this point, being more than satiated by the intense flavour of the Cookie Dough creation; The Man Bird and I are hard-core gluttons though, so we tucked straight in to the second brownie!
The Gold Bar morsel was second up, and what a gorgeous blond (ie) bombshell it is tooJ. Like the cookie dough type, it was beautifully dense, gooey, and very very moreish! The caramel that tops it is a "proper" caramel, you know, the kind that sticks to your ribs as my Nana Bird used to say; the flavour was wonderfully buttery and rich, and had that great quality that lets it coat your mouth and linger there for a while. A large chunk of white chocolate sat in the middle and was beautifully creamy to taste. Superb, or as The Chick said "flippin' ace" when we let her have a little piece.
It was a toss-up as to which brownie would be next to disappear into our black-hole bellies; I wanted the Flutella, His Nibs wanted the Terry's. We flipped a coin, and the jammy swine won the toss so the Terry's it was! Now, I don't know about you dear readers, but I don't particularly like fruit flavoured things normally; they're too easy to bodge up and have that overly artificial quality to them, so I'm a bit cautious around them. Clearly, Amy has done a lot of product research and recipe refinement though as the orange flavour to the brownie was superb – just enough to be discerned and appreciated, but not harsh or excessive at all. I have to say that I really liked it, and was pleasantly surprised that I did; The Boy Wonder loved this one, and was scoffing away at it like his life depended on it :) A gold- decorated slice of Terry's chocolate Orange proudly sat on the top and gave a lovely crunch when bitten into.
Our mid-afternoon/ early tea-time cuppa slot was eagerly awaited as it was when we planned to tuck into the final brownie, the "Flutella". This morsel really is a triumph of brownie brilliance, showcasing the triumvirate of moistness, moreishness and indulgence that you want to see in a quality product. The deep layer of Nutella topping and a whole Cadbury Flake was the piece-de-resistance, I tell you :)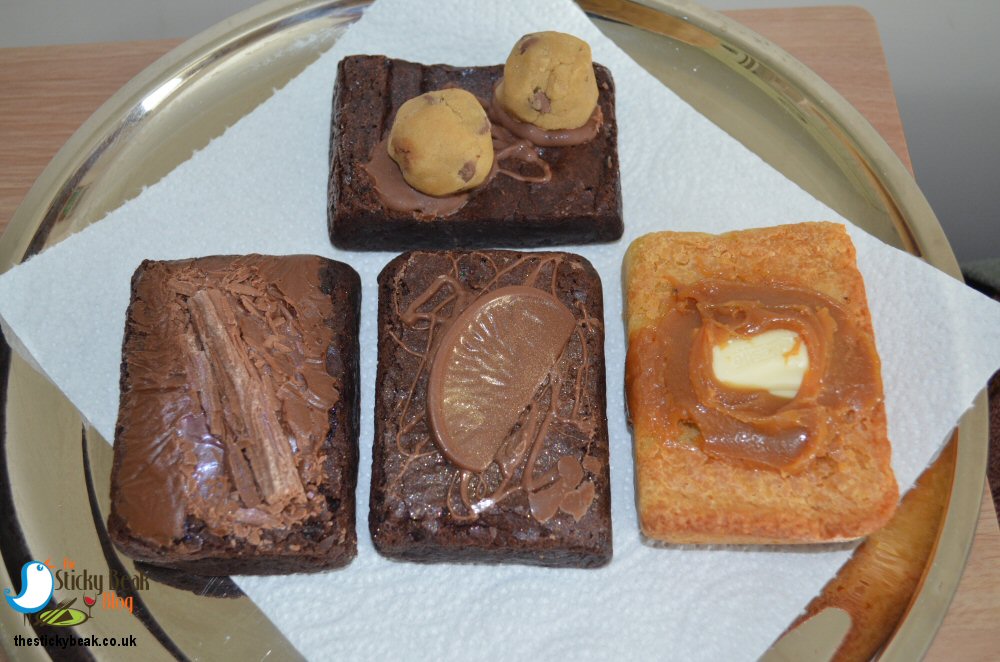 Never mind saying that they're rate good Amy, they're belting bobby-dazzlers! Value for money has to be considered too, if Derbyshire folk think they're being short-changed they'll soon get't munk on!! Amy sends them out at £9.50 for a box of 4, £14 for 6, and £20 for 9, and does a vegan range for the same price. We thought that for the quality and quantity of brownie, Amy offers a fantastic service.
Happily, rate good brownie boxes aren't just available via the post; Amy does a lot of local markets and also supplies some of Chesterfields'' businesses with her goodies. Brownies aren't just for every day eating either, and Amy does luxury celebration brownies, brownie cakes, and special edition brownie boxes for special occasions. Fathers' Day is coming up quick, so perfect chance to order some sweet treats for all those special daddies out there :)
Amy also does brownie Rocky Road, brownie bites, brownie towers - whatever her customers request really; she even decorates them to your specific needs!
Hot Wings happily given here, and I'll just volunteer my services now for future product testing!