Dinner At The Three Cottages, Hasland, Chesterfield
---
Published On Sunday 5 Nov 2017 by Sticky Beak
See Recent Dining Out Reviews | See All Recent Reviews


The Man Bird and I were out on Halloween; not tricking, but enjoying a treat from the team at The Three Cottages in Hasland. In former days the premises were three cottages (no surprises, eh?) that are now one building, which means that there is plenty of parking. As you walk in the door there is a little check-in plinth so that those who are eating can be taken to their tables and those who just wish to quench their thirsts can walk straight through to the large open bar.
The Three Cottages has a nice, homely feel to it no doubt in part to the warm earthy tones of browns, russets, plums and golds that make up the decor. There is a good level of lighting provided by the recessed ceiling fittings and wall mounted lamps; the effect isn't at all harsh. A large open-plan layout lets the space flow nicely, but several mini areas keep things more cosy rather than just having one expanse of floor space with tables and chairs within it.

A very pleasant young lady came to take our drinks orders and left us to look through the menu for a few minutes before returning to take our food order too. There is an early bird club menu available Monday-Thursday between 4-7pm that offers nine choices of main meal priced at £9 each or two meals for £15. When we arrived at 6.30pm the venue was bustling with people taking advantage of this offer and the Pie offer that runs on Mondays and Tuesdays (buy one pie get the second at half price). There was a great mix of ages dining at the Three Cottages, from couples, to family groups celebrating birthdays, and families with young children.


For starter I had the herbed Crab with Chilli Mayo and fresh Lime that came with Ciabatta slices, and His Nibs had his favourite of the moment, Scotch Egg. There was a large pot of shredded Crab meat that had been kept slightly coarse for me to delve into and the Mayo was in a separate little pot, so I could slather as much or as little of it onto the Ciabatta as I fancied. I squeezed the Lime wedges onto the Crab meat and stirred it around a bit and I just got a nice sharp hit of it every now and then as I munched my way through the dish. The clean, fresh flavours of this dish really got my juices flowing in readiness for the courses to come.


The Man Bird was mightily delighted with his Scotch Egg; it had a deep layer of herby Sausage meat to bite into and the runny, sunset hued yolk of the egg was very rich in taste. In contrast to the smooth creamy flavour of the egg was a nicely tangy mustard dressing that accompanied the bed of mixed salad leaves in which the Scotch Egg nestled.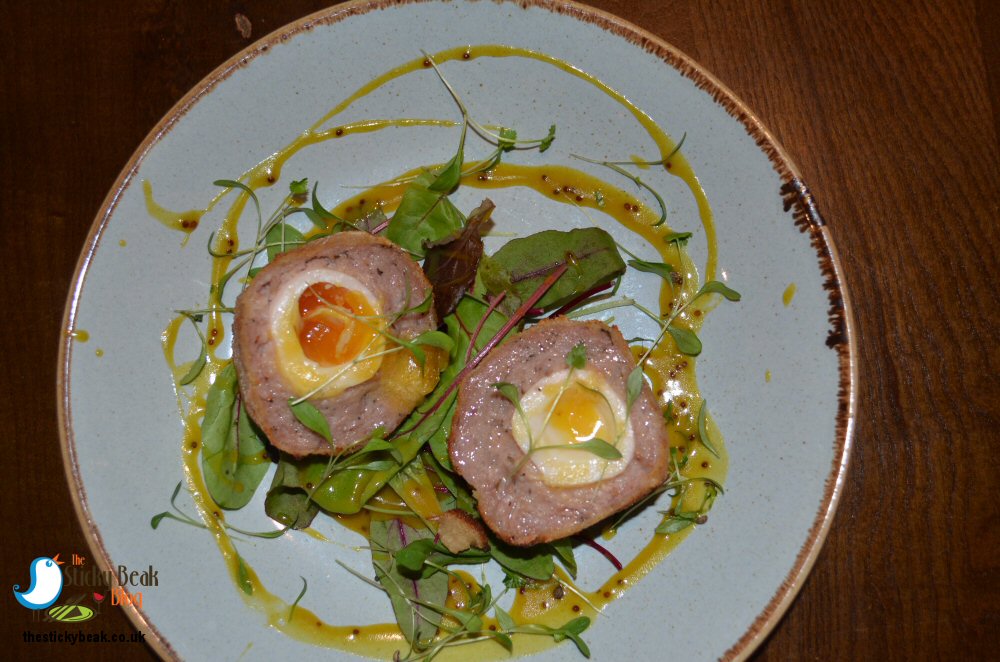 Now that the temperature has done a swandive I am craving belly warming comfort food, and what better morsel to scoff than a proper homemade meat pie? I was sorely tempted by the Lamb and Mint version but the lure of Steak and Ale with the addition of Stilton for an extra 50p was too great to resist. The pies are cooked fresh to order, so you need to be prepared to wait about half an hour for this item. A lot of folk have Mash with their pie but I wanted some fresh home cooked chips and mushy peas on this particular occasion; I did order a side salad too, just to assuage any guilt :)
The nattily titled "Mix and Mash" section of the menu caught The Boy Wonders' eye, and what a fab idea it is. You choose three Sausages from the selection on offer, ditto with the varieties of Mash, and then top it off with Onion, Mushroom, or rich Beef Gravy. Genius in its simplicity.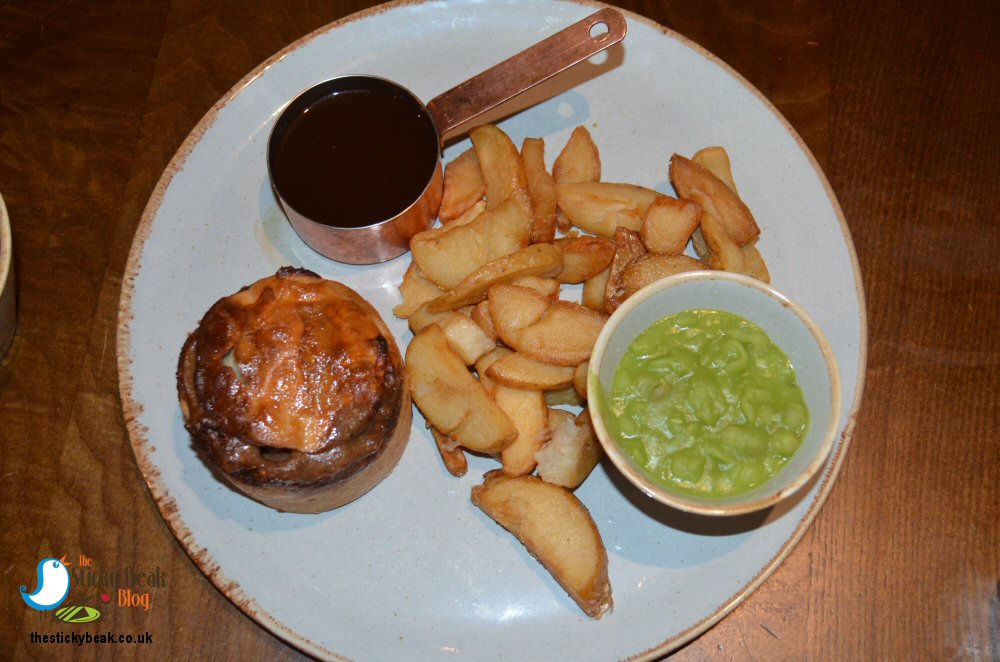 My pie was magnificent, everything you want in a traditional pie. A good layer of Short crust pastry encased generous chunks of tender steak that were bound in a rich gravy. There was enough Stilton to taste as an addition, rather than it being a Steak, Ale and Stilton pie if that makes sense, which is exactly what I was after. A little copper pot held more gravy which I slathered all over my chips and mushy peas (which I'd unceremoniously plonked on top of the chips).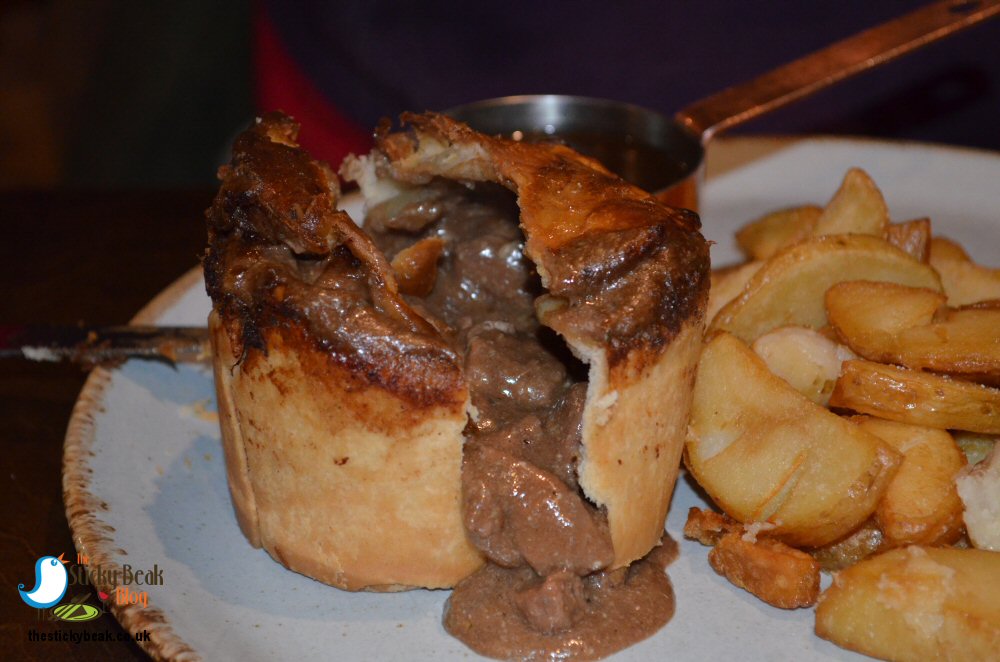 The chips could've come straight out of my Mummy Birds chip pan on a Friday or Saturday evening, they were bang on the money if good honest, wholesome food is what you desire. It was a no fuss, no nonsense meal that satisfies the heartiest appetite and warms the belly on a chilly night; posh it isn't, but by 'eck it's the business. The salad was pretty good too, being a variety of Tomato, Cucumber, Lettuce, Peppers, and Onion all chopped and presented in a lovely little side bowl.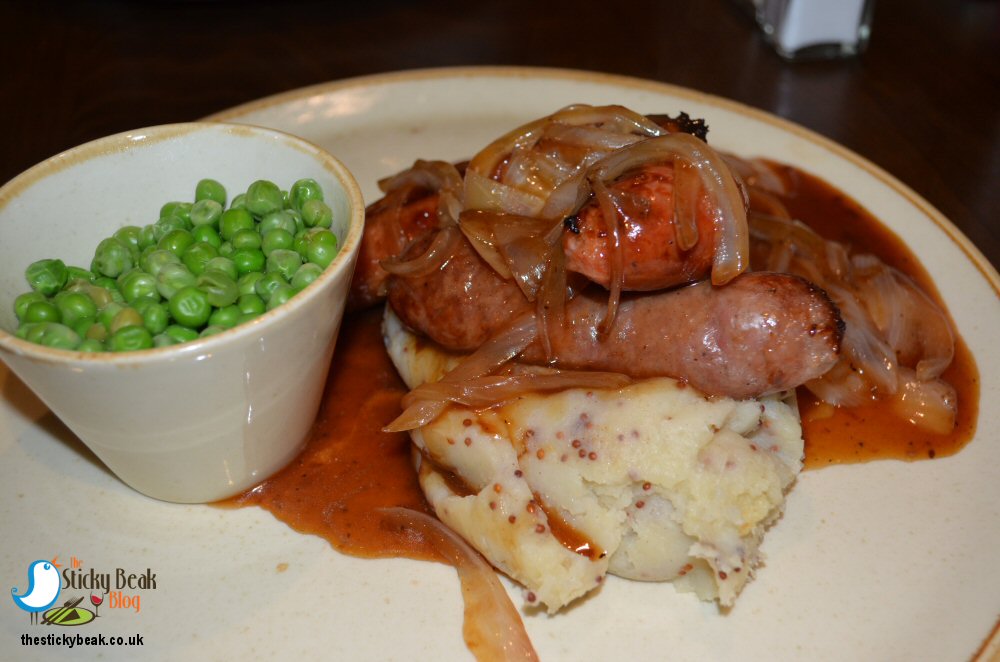 His Nibs was cutting into his trio of thick, meaty sausages and tendrils of steam poured from them, releasing that gorgeous aroma that quality sausages have. They all tasted as they should; a nice Tomato flavour came from the Tomato one, the sweet Chilli sausage had a pleasant bite to it, and the Old English variety had a nice seasoning and coarser texture than its modern cousin. The mash was more than abundant, its smoothness punctuated with speckles of Wholegrain Mustard.

There was that wonderful mustardy heat to savour, but it didn't over-power the taste of the potato and the seeds gave a textural element when bitten into. Nothing beats proper Onion gravy and the tender slices of Onion sat nicely in the thick, meaty tasting gravy that the kitchens at The Three Cottages serve.
Our server was pleased to see clean plates as she came to take them back to the kitchen and even more pleased to hear our praise of the food. Despite our tummies straining against the confines of our belts we couldn't resist taking a look at the pudding selection, and when the lovely lass told The Man Bird that the Cheesecake of the day was Cookies and Cream that sealed the deal for him! Well, I couldn't let him eat solo could I? What kind of wife would that make me? So, I ordered the fruit crumble and custard for my dessert :)


My crumble came in a little "Le Creuset" style pot with the custard in another separate copper vessel. The crumble top was definitely homemade; there was a wonderful non-uniformity that delivered pieces of crumble to bite into as well as finer bits. Sweet, succulent chunks of Apple and juicy blackberries had softened into intensely flavoured morsels that had the mouth in raptures; this again was traditional food at its finest, the kind that your granny used to make.

Piping hot custard made you blow on the spoon before you ate it and there's something about the ceremony of doing this that really beckons to the foodie in us all. It really was a splendid end to my meal.


The Man Bird couldn't contain his glee when an obscenely huge wedge of Cheesecake was placed before him; honestly, it would've made a nice sharing portion -no argument. The cream toned top layer had pieces of cookie crumbled within it so that it looked very pleasing to the eye, and the honey coloured base layer was wonderfully rich and buttery to taste. Both layers were in the right proportion so that neither dominated the palate, resulting in a buttery, creamy dessert that somehow managed to remain light on the tummy.

A whole Oreo decorated the cheesecake slice and fresh Strawberries, Raspberries and Blackberries were carefully placed around it. Swirls of whipped Cream decorated the plate very prettily and a small jug of fresh pouring Cream was placed at the side of the dessert plate, to be added as wished. Again, this was deemed to be a superb finish to His Nibs' meal.
Throughout the evening there had been a steady stream of diners coming and going and when we left at about 8.30pm the Three Cottages was still about half full with tables of diners.

The size of the burgers, grills, and Cod and Chips going to other tables was no less generous than our meals had been, so take your appetite with you to The Three Cottages at Hasland! All our food had been piping hot where applicable and full of taste and it was definitely good value for money, especially with the offers that they have. Hot Wings are very well deserved by this team :)
Some form of incentive was provided to visit this venue
read more