Dinner At Restaurant Zest in Derby
Published On Tuesday 13 Jun 2017 by Sticky Beak
See All Recent Reviews
A few weeks ago you may recall that The Man Bird and I reviewed The Belfry Steakhouse; this time it was the turn of the restaurant downstairs from it, Zest, to play host to us.
As you step through the door you are greeted by something that wouldn't look amiss in a production of Shakespeare's A Midsummer Nights' Dream; the wooden timbers are all festooned with twinkling fairy lights that create a gentle, warm, almost ethereal glow. The ceiling is given the same treatment with two "spider web" effect lights, and then the rest of the room has more understated light fittings.

The tables are laid out in a non-uniform way and there is plenty of privacy space between them; as you go past the bar the restaurant space opens out into a covered courtyard complete with 17th century original cobblestone flooring. This back area was the stables during The Old Bells glory days as a coaching Inn, with Zest itself being the alley way through which the horses were led down to their stabling.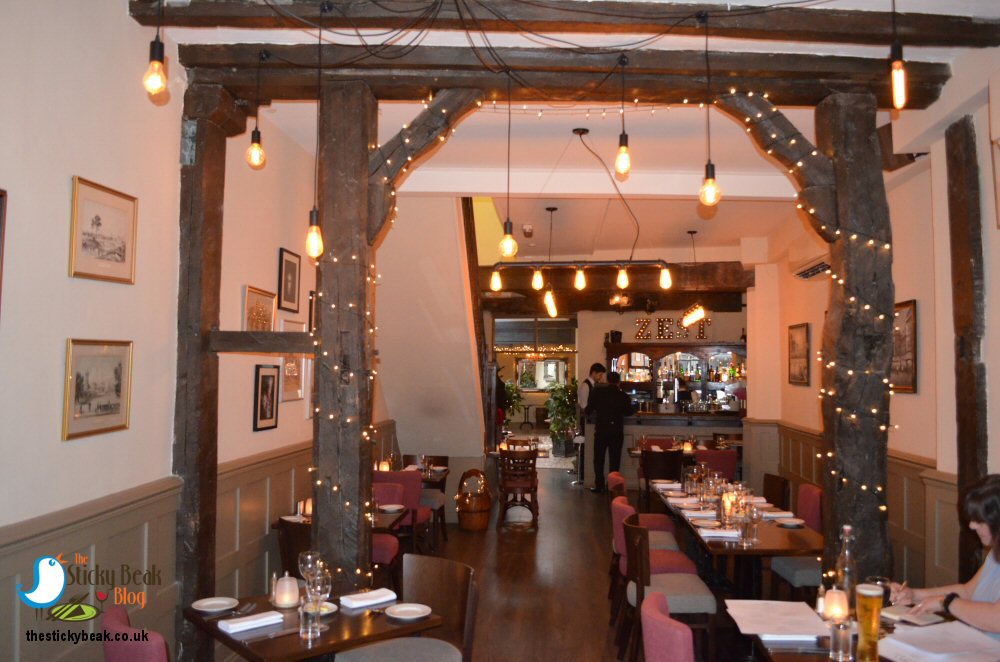 Classic cream, putty, and warm reds are the predominant choice for the colour scheme throughout Zest, giving it a warm, relaxed feel. The front dining area has wooden floors in it, and the level of background music was just right.

Our main server for the evening was Lallie (Bruce to his friends) and a friendlier chap you couldn't wish to meet. He has that air of someone completely in his comfort zone; working with a quiet assurance and confidence that means he puts you in a fantastic mood whilst being the consummate professional.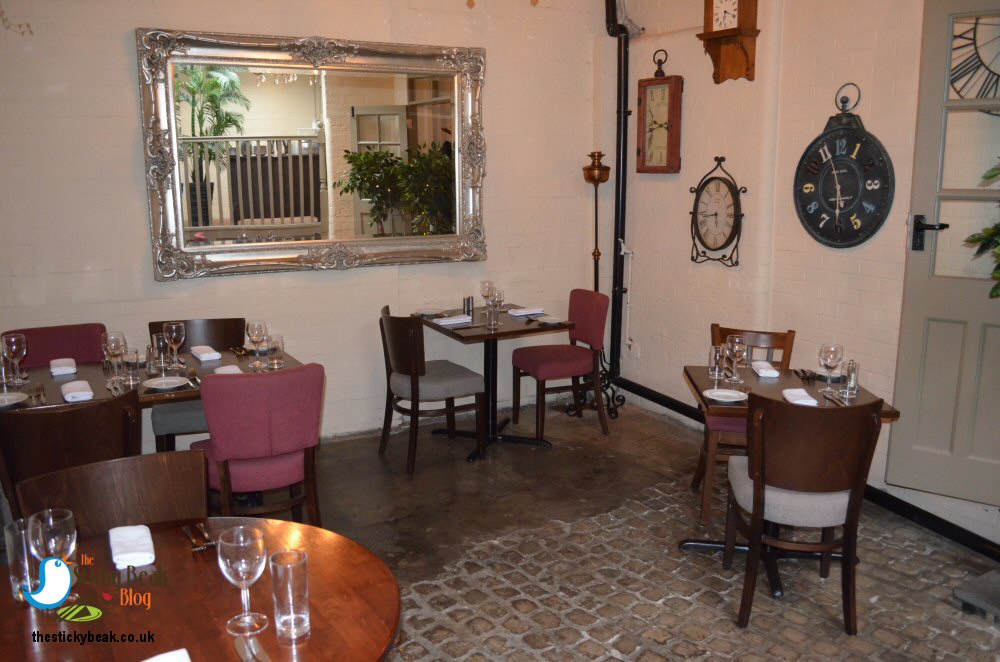 We had arrived a little ahead of schedule, thanks to traffic being lighter than we anticipated, so we were handed both the a la carte and early evening menus to look at. A lot of the dishes on the early evening menu were also on the a la carte one ( just not the starter His Nibs wanted) so we missed out on the fantastic value of 2 courses for £17.25 or 3 courses for £21.95, but I can recommend you take advantage of it as it's an incredible offer.

For starters we had the Garden Beetroot Salad (me) and the Venison and Black Pudding Scotch Egg (His Nibs) and whilst we waited we nibbled on the fresh bread and black pepper butter that was on the table. Both starters were beautifully presented and carefully placed in front of us.




My Beetroot salad had both the Red and Golden varieties in it and there was a chilled puree, room temperature slices and cubes of the vegetable, and a hot Goats Cheese and Beetroot spherical fritter to enjoy.

Chilling the puree seemed to intensify the sweet note of the Beetroot, whilst the warm dish accentuated its earthy character which contrasted brilliantly with the tang of the Goats Cheese. I hadn't been able to choose between that dish and the Smoked Salmon and Crab starter, but Lallie recommended the Beetroot option and I'm glad that I trusted his opinion.




The Man Bird was happily chowing down on his Scotch Egg revelling in its rich, meaty taste. The outer was very crunchy and had no hint of grease or oil to it, so he really got the full flavour of the Venison and Black Pudding. At first glance they looked smaller than regular versions, but the reason became apparent when they were cut into; only the yolk of the egg was used in the centre, not the white as well as usually happens.

Two Scotch Eggs make up the dish and they proved to be very filling; no surprise given the meat content, but the egg yolk was also very rich and creamy. It would've been very easy for this dish to be heavy on the palate given its meatiness but the inclusion of fresh redcurrants, redcurrant jam, and a smooth Celeriac puree lifted the taste superbly well in the mouth.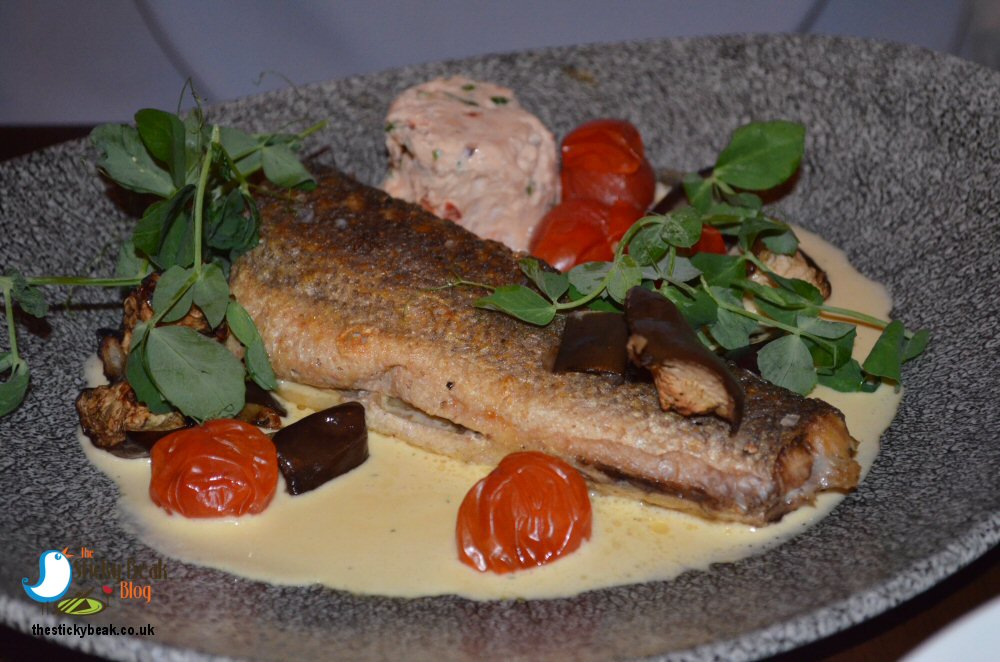 I had chosen the Whole Sea Bass in a Lobster sauce, Lobster timbale, Aubergine, and Tomatoes with Garlic as my main course whilst The Man Bird had gone for the Three Little Pigs dish. The Pork came in three guises, hence the name; as an Ardennes Pâté, smoked Paprika Tenderloin with bean Cassoulet, and Crispy ears served with Chorizo and Chilli jam.

Again, the presentation was super, and we both tucked in with gusto. The glutton in me soon got a reality check though; I had to slow down and remove the pin bones in my Sea Bass meaning I couldn't just bolt it down. No bad thing as I really had to take my time and savour the delicate flavour of the fish, that was wonderfully moist underneath its crisped skin.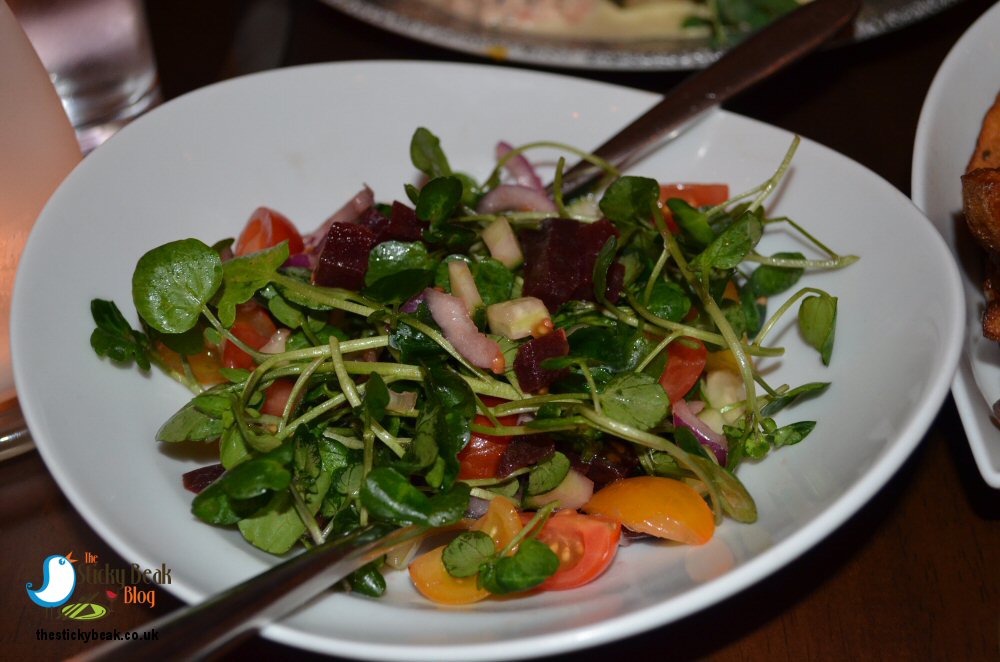 The aubergine and Tomatoes were gorgeous and just had a hint of garlic to them, but nothing that over-powered the fish. I absolutely loved the Lobster sauce and there was just enough of it on the plate so that its colour added to the visual appeal of the dish without drowning the individual components within it. The Lobster timbale was nice and chunky so you could discern the lobster meat within it, and was nicely seasoned.

I had also opted to have side salad with my dish and this was equally delicious with a very tasty mix of baby Watercress, red Onion, Beetroot, red and yellow Tomatoes, and Cucumber, all super-fresh and bursting with flavour.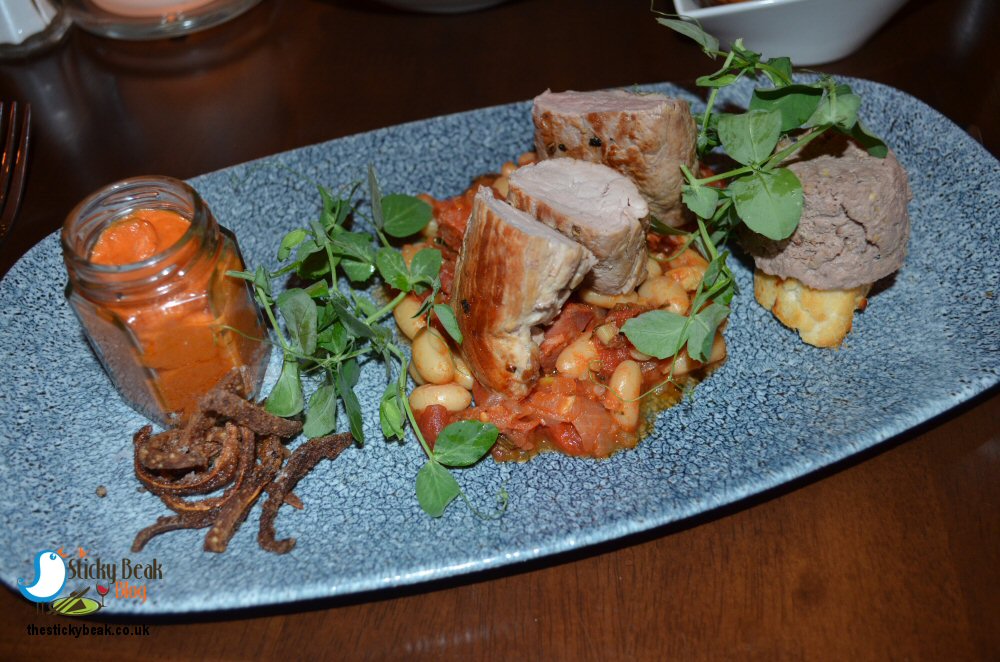 His Nibs loves a good Pâté and was impressed with Zests' offering, saying that it had a great texture to it and hadn't been overly seasoned as can sometimes be the case. The three pieces of Tenderloin Pork had him a little bamboozled though; their rich, creamy flesh managed to be dense, yet silkily light at the same time.

Cutlery was pretty much redundant as the meat was falling away with the merest pressure, and the delightfully spiced bean Cassoulet provided the perfect partner to it. A nice little jar of Chorizo and Chilli jam was surrounded by curls of crispy Pigs ear which are like strips of crackling but more flavoursome and not as greasy (thanks to no layer of fat being on them). Across the dish there had been a fantastic array of textures to keep the mouth happy and an assortment of spices had amused the palate.




Lallie had popped back on each course and was more than happy with our satisfaction, a beaming smile spreading on his handsome face as he heard our words of praise. He kept a discreet note of the levels of our drinks and water, topping them up if needed.

Given the standard of the food so far, it was safe to say that pudding was definitely going to have to be tried at Zest. Herein lay another problem for a glutton like me; there were simply too many yummy things on the dessert selection and I couldn't narrow it down to less than three!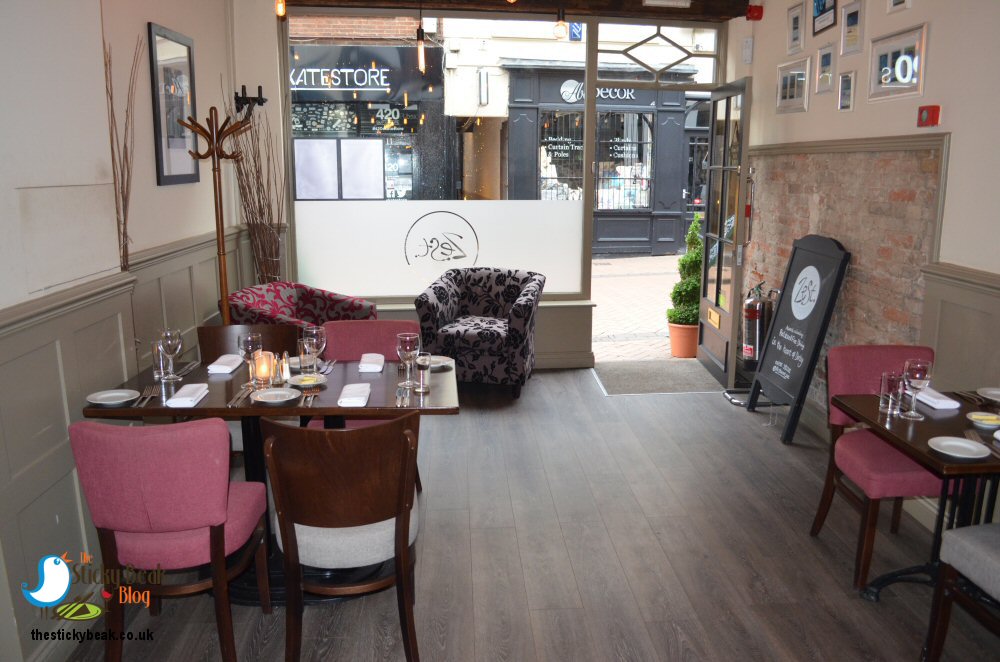 Luckily Zest offer two Assiette platters for those who can't decide; a classic selection of their favourite desserts on the menu, and the brilliantly named "All the Fun of the Fair" which has mini doughnuts, Blueberry Candy Floss, Ginger Beer slushy, Shortbread sand, mini Toffee Apples, and Ice Creams on it.

We settled on the classic Assiette, and waited to see what lay in store. Before long Lallie came over bearing a massive round slate piled with everything your sweet-toothed heart could desire. There was velvety Ice Cream, zesty fruit Sorbets, chunks of divinely rich Chocolate Fudge, deconstructed Jaffa cakes, a pot of "Zest Mess" in all its fruity glory, a mound of incredibly thick cream smothered with Strawberries, and a ridge of insanely lively Popping Candy to dig into!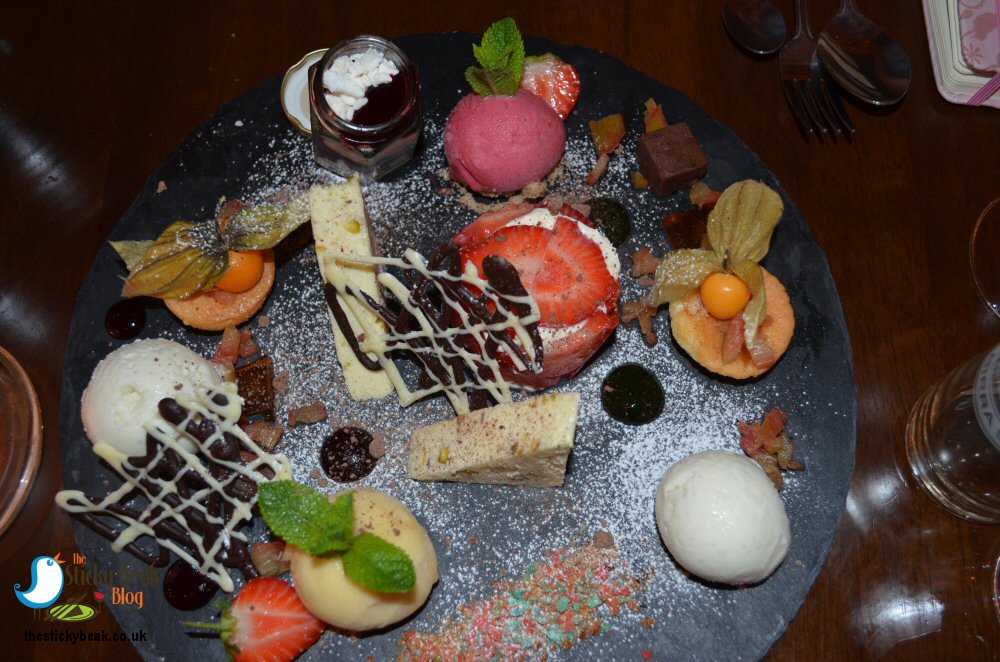 The sheer enormity of the platter before us made us have a sharp intake of breath, and trust me, The Boy Wonder and I can demolish desserts for Britain (and reserve team too).

Everything was blooming gorgeous; so much so that I honestly can't choose my favourite. The biggest grins were elicited by the Popping Candy though, and we were giggling like the youngsters we still are at heart as we opened our mouths and let the cacophony of crackles loose into the airJ Laughter is good for the soul they say, and if you can't have a giggle from time to time it's a bit of a do isn't it?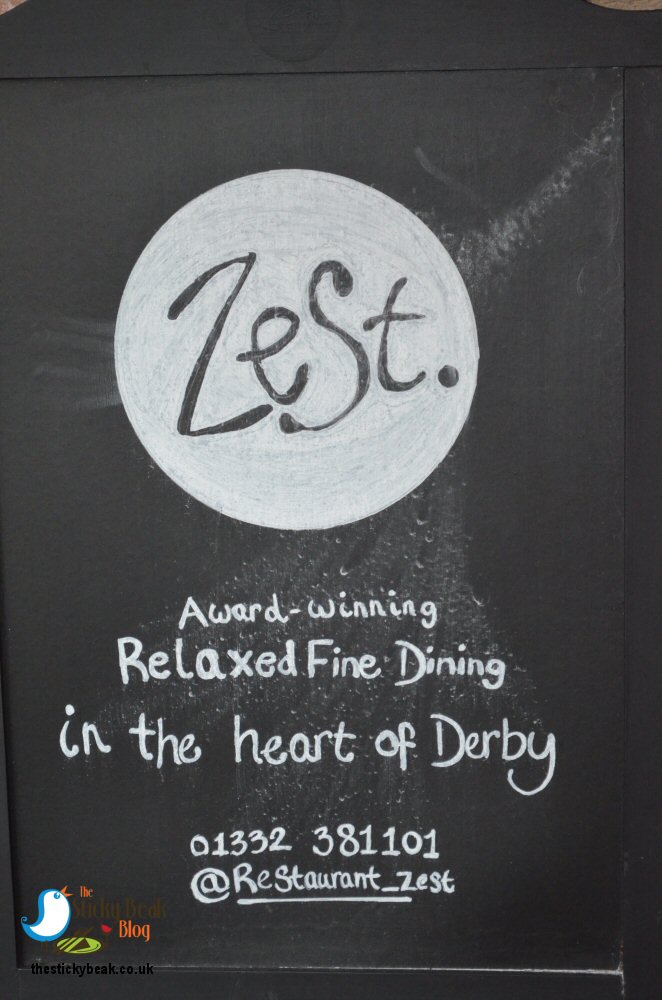 A couple of coffees brought our evening to a close all too soon; time had simply flown by in the incredible atmosphere at Zest in Lallie's wonderful hands. If you haven't been before to Zest, or have been thinking about it, then I can heartily recommend that you pick up the phone and book a table sooner rather than later. Hot Wings definitely awarded to this fantastic team and thank you for kindly inviting us to your superb restaurant.
Some form of incentive was provided to visit this venue
read more