Dinner At The Tavern At Tansley
---
Published On Sunday 11 Dec 2016 by Sticky Beak
See Recent Dining Out Reviews | See All Recent Reviews


After having spent a lovely couple of hours as a flock in Bakewell, it was soon time for us to head back to the nest. Our tummies grumbled gently to remind us that they needed some sustenance, so we pulled in at The Tavern in Tansley, a place we had been meaning to visit for a few months.
The festive decorations are very tastefully done and don't dominate, or detract from, the homely feel of the premises. A lovely young lady showed us to a table and left us to look at the regular and festive menus as she took our drinks orders.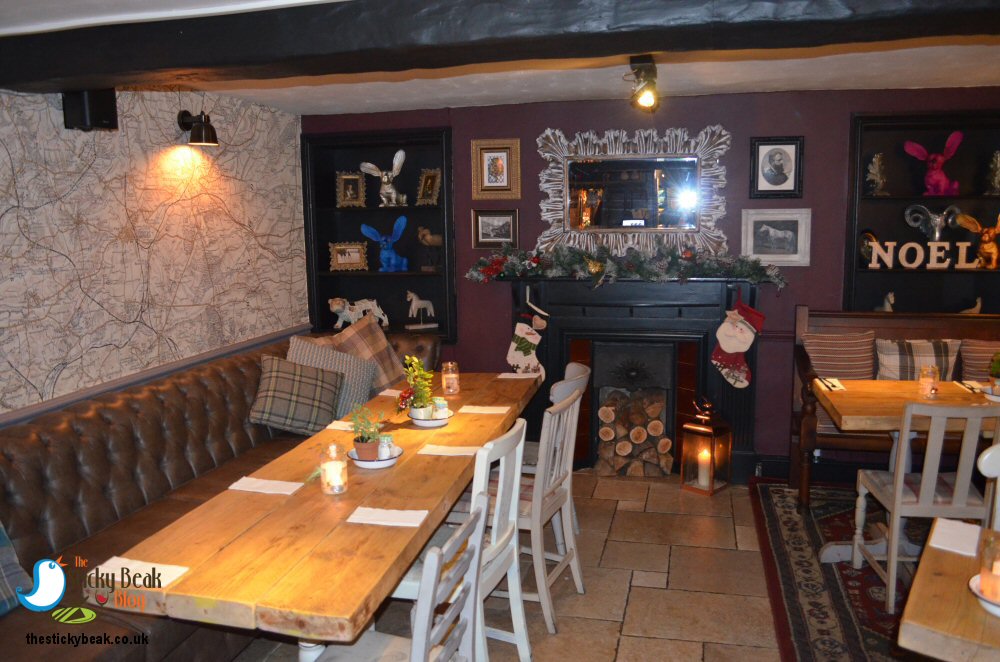 Returning with our drinks a couple of minutes later we informed her that we were ready to place our food orders. Chickadee opted to have the Breaded Whitebait for starters, followed by the Goats Cheese and Pesto Risotto; I chose the Gin cured Salmon to start and pan seared Duck Breast for mains, and The Man Bird kicked off with deep fried Breaded Calamari with the 8oz Tavern Burger following after.
The starters were all nicely presented with mixed leaf garnishes and tartare sauce for the Whitebait and a trio of dips for the Calamari (BBQ, Sweet Chilli and Garlic Mayo).


My Chick was delighted with the Whitebait; there was a very generous size portion of them to dig into, and the batter was nice and crispy with no hint of greasiness or taste of the cooking oil. I tried one for myself and they were indeed very nice, in fact we both agreed that it was the nicest we've had anywhere.
The Gin cured Salmon was also delicious with its nice firm flesh having a mere hint of gin to it; the addition of Juniper berries and Coriander seeds gave a great bite to the palate when they were bitten into. Nice crisp ribbons of cucumber rounded the dish off beautifully with the texture of its crunch.


His Nibs was also pleased with his choice of Calamari as there were six large rounds to munch on, and they had been cooked superbly to avoid turning them into rubbery rings. All of the dips complimented the Calamari very nicely, and the Garlic Mayo had one of The Chicks Whitebait dipped into it. Yummy.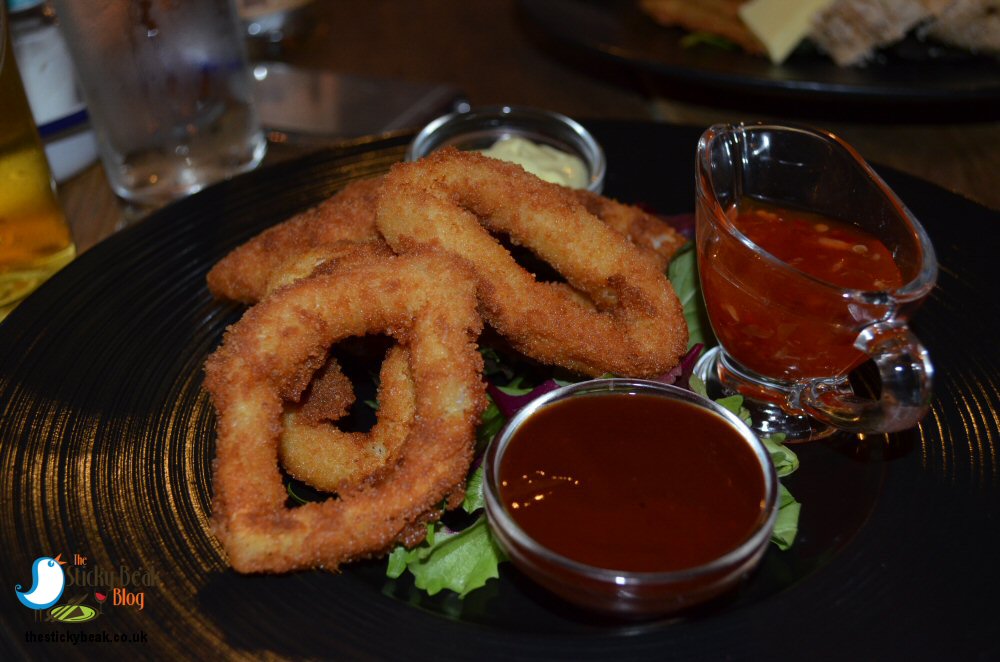 Our lovely server had come to check that things were to our liking and went away happy when we replied that we were more than satisfied. It wasn't long before she cleared our empty starter plates away and checked to see if we needed any more drinks.
A short time later she returned with our main courses, and again these had been presented very nicely.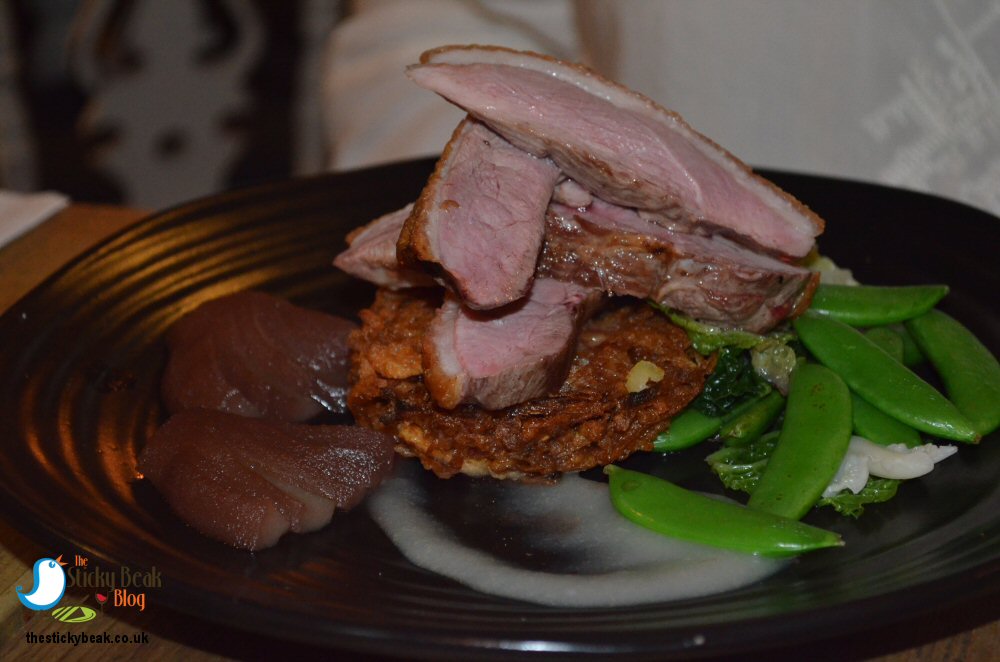 My Duck breast came with a Potato Rosti, Caramelised Pears, Pear puree and seasonal vegetables (sugar snap peas and Savoy Cabbage on this occasion). The duck itself was wonderfully moist and full of taste, and apart from the fatty layer under its skin it was a very lean piece of meat.

I love a Potato rosti, but it has to be crispy on the outside and the potato seasoned, and the Chef at The Tavern at Tansley definitely knows what he's doing; it was superb. The vegetables were cooked perfectly too, a nice amount of crunch was still in evidence when they were bitten into.


Most burgers come either in 4oz or 6oz sizes, so the 8oz variety on offer at The Tavern looked like the Tyrannosaurus Rex of the burger world! Accompanied by hand cut chips, onion ring and homemade coleslaw, as well as all the usual suspects in the bun itself, this was going to take some eating. Luckily the Boy Wonder was ravenous and polished it all off, albeit slower than usual! He said that the burger was crammed full of flavour and was still nice and juicy, and the chips had a nice taste to them too.
Two out of Three satisfied tummies, would the Chicks choice make it a hat trick?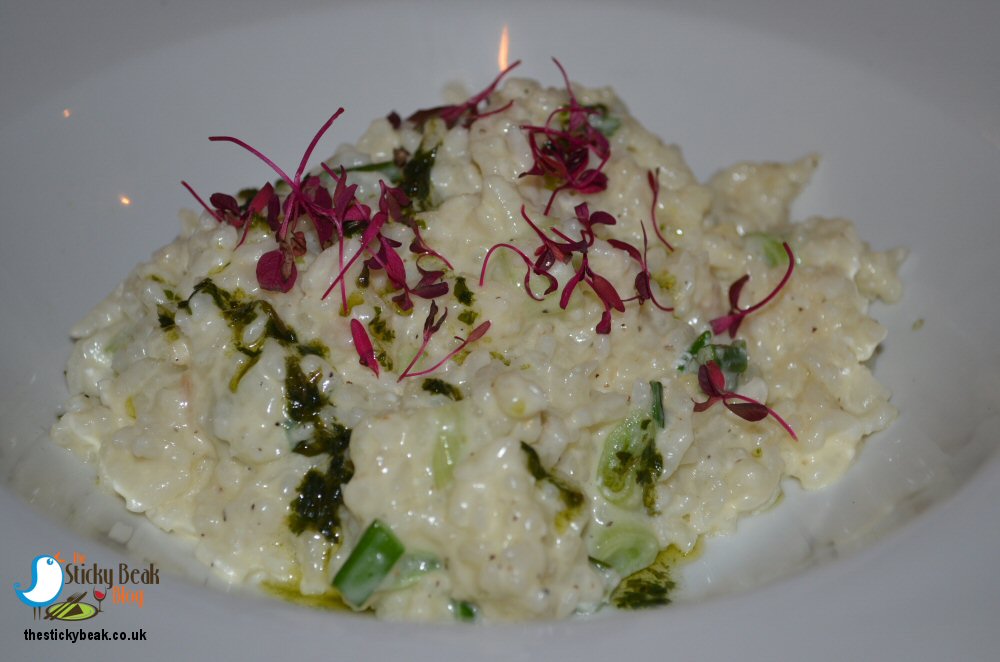 The Risotto was deemed to be absolutely delicious with just the right amount of wetness to it, a nice creaminess and a great flavour. Again, it was a very generous portion size due to the deceptive depth of the dish it came in and there was just a little bit left at the bottom that beat the Chicks belly!
The Chick and I had also ordered a side salad and this was a pleasing mix of assorted leaves, fresh sweet pepper slices, cucumber, spring onion and cherry tomato. It was nice and fresh and just a nice size to dip into occasionally.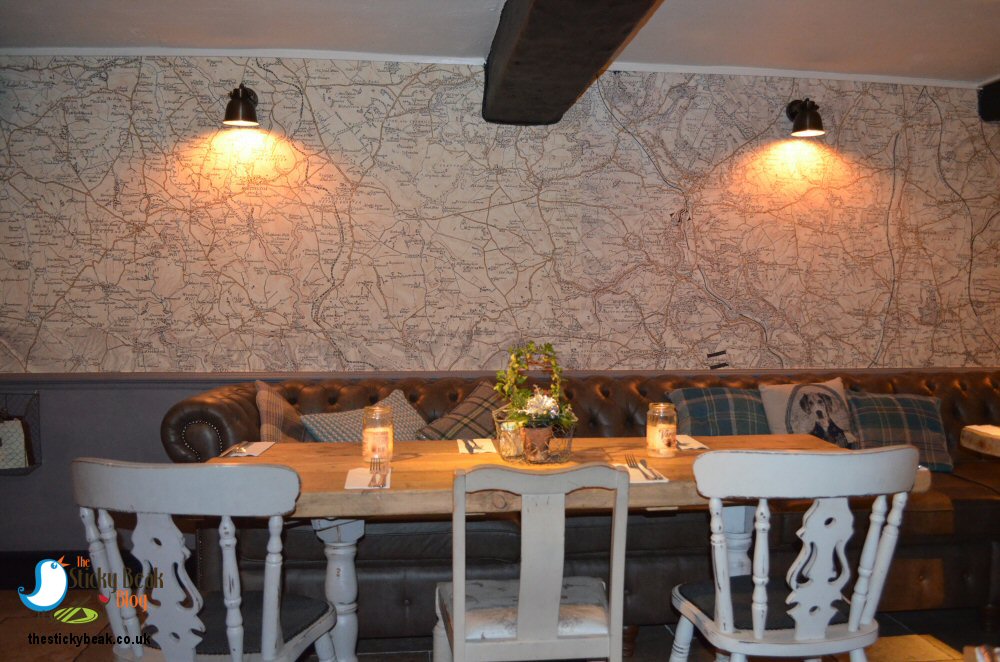 Due to it being more tea time/ late afternoon rather than our usual dinner time we decided not to have pudding, although I could've been temptedJ. There was a steady amount of people coming in and out of the Tavern, including some with Canine friends in tow. By the time we left there were another three tables of diners tucking in to their food in the area where we had been seated.
If you haven't been before, I can say with confidence that you will have a lovely time at The Tavern at Tansley; we certainly did. Hot Wings on their way to this talented team.
No incentive was provided to visit this venue
read more