A Big Breakfast From The Shepherd's Rest, Lower Bagthorpe
---
Published On Thursday 2 Jul 2020 by Sticky Beak
See Recent Take Away Reviews | See All Recent Reviews


It's funny what you find out when you getting yapping to someone isn't it? You may recall that His Nibs and I had taken advantage of the '2 steaks and a bottle of wine for £30' offer at The Shepherds Rest in Lower Bagthorpe recently, followed by another meal from them for his birthday. Well, whilst waiting for said food, the lovely manager let slip about the breakfast specials that this fab village venue offers and the mention of the Shepherds Breakfast (described as 'big' and priced at £10) caught The Man's attention.
You can guess what happened the next weekend can't you? Yep, we made our way back for a couple of theses beasts – and you'll soon see why I refer to them as beasts – both kindly gifted to us. Whilst we waited, we enjoyed a superb cup of freshly brewed coffee from mobile coffee van, The Mobile Coffee Co, parked in the car park; you can't beat a fresh brew to kick start you at the weekend, and this was a rich, smooth bean for sure.




Now I'd been expecting a fair sized plate of yummy food, but nothing prepared me for the sheer volume that made up a pair of Shepherds Breakfasts!! I have a trio of large serving platters that come out at Christmas to serve the Turkey and trimmings on (the veg go in separate tureens) and I had to use all 3 to accommodate the breakfasts; shocked was not the word! Even the Man Bird was stunned, and he can eat a big brekkie no probs; I think he was wondering if this was going to be a rasher too far.

Each Shepherds Breakfast consists of: 4 fried eggs, 4 rashers of thick farmhouse Bacon, 4 sausages, 3 slices Black Pudding, 2 whole field Mushrooms, 2 Hash Browns, a grilled Tomato, Baked Beans, 2 slices of buttered toast and a generous serving of skin-on Chips! Yep, you read that right –EACH breakfast had that, not as a serving for two folk. We took a deep breath, pulled up our big-girl pants (him too!!!) and tucked in. With this much grub to tuck into it was hard to know where to start to be honest, so I took the tried-and-trusted route of Bacon and Egg.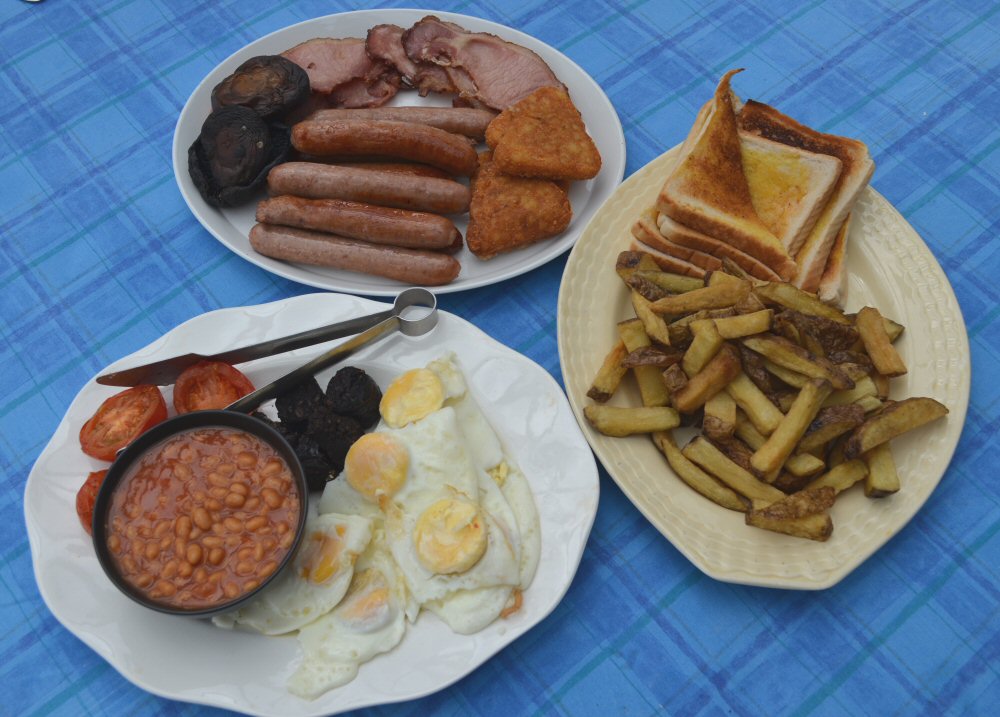 It was always going to be hard to get the fried egg perfect when it had got a 15-20minute journey back to Beak H.Q, but despite the yolk having only a mere hint of softness left, the taste was blooming gorgeous: rich and creamy in taste and velvety textured on the tongue. Much as I love eggs, I couldn't eat 4 of them (and His Nibs declined to have any more as he was grappling with his own quartet), so the pooch dropped lucky for one! The Bacon was the stuff of legends with its meaty taste and density; as we chewed it, the sweetness came bouncing through followed by a nice salt tang. Bacon is always best, I feel, when cut slightly thicker and the team at The Shepherds Rest clearly think the same so the slices were definitely high on the satiety scale.

All the Black Pudding was mine and when something is a rich and deep in flavour as this, it's a pleasure to eat. Now, I realise that this morsel isn't for everyone, but for those that do like it I can say that these slices were top-notch, dense-textured treasures rather than being plumped out with filler and grains. My luck continued with the Mushrooms too and these had a superb earthiness to their flavour, matched with a pleasing compactness in the mouth. To me, Baked Beans are all much of a muchness so I only had a small spoonful of them; His Nibs however, loves them, so he gobbled them up happily.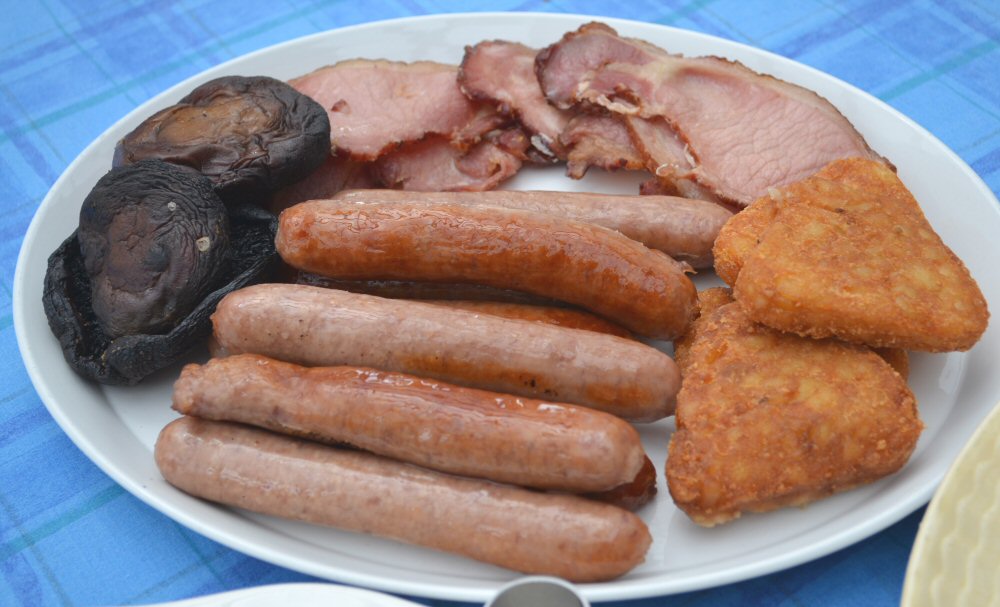 At one time I would've had the pair of Tomatoes to myself, but His Nibs has recently discovered their deliciousness, so I had to content myself with just two halves of sweet, softened tomatoey loveliness. In complete contrast to the soft fruit (yes folks, Tomatoes are fruits) was the wicked crispness and crunch of a perfectly fried, good quality Hash Brown. The shredded Potato was soft inside, having been protected superbly by the outer layer that had turned an irresistible golden shade with no trace of oil or grease taste, either.

Now regular readers of the blog will know that I'm a classy gal (*cough, splutter* !!!), so to hear that I wedged the 6" sausage between two slices of warm white bread will shock them to their cores, I'm sure! Much to His Nibs' disgust, I actually got a ruler to measure these satisfying treats; well a girl doesn't want to be short-changed now, does she? I'm very finicky when it comes to the sausage I'll eat (something I've wanged on about lots in the past) but these were magnificent I must say. They weren't overly seasoned or packed with unnecessary filler; they were just good quality pork offerings made by a butcher who knows his craft. No repeat factor with these bad lads.




The Shepherds Rest do challenge you in their advertising of the Shepherds Breakfast to see "if you can finish it" and I must confess that, having eaten a measly dozen chips between us, The Man Bird and I had to concede defeat. Don't panic though, we didn't waste any food; we had got some burgers in the freezer, so we had a burger 'n' chips lazy dinner that evening.

As with the steak & wine and family meal experiences, The Shepherds Rest at Lower Bagthorpe gets Hot Wings awarded again for its brekkie offering. I can't wait for the day when we can actually go and sit down in the venue for a meal; I have a feeling it will be extremely memorable.