A Tasty Delivery From Pizza Pan in Somercotes
---
Published On Thursday 18 Jun 2020 by Sticky Beak
See Recent Take Away Reviews | See All Recent Reviews


Contrary to popular belief, I do actually cook sometimes (as little as possible though, granted!) but the weekends are generally not the time for it! On this particular Friday I did have a really good excuse for being lazy – it was The Man Birds' Birthday weekend. I felt justified, therefore, in devoting all my time to fun things rather than subjecting him to my culinary "creations"; quicker than you could shout "pizza", I'd got the takeaway menu from Pizza Pan in my hands and was thrusting it before His Nibs eyes.
We're very lucky that Pizza Pan is in our village; many is the time that we've got back from a night out in Derby (having used the Trent Barton 'Nines' night bus) and got the munchies: Amal has still been open and served us nibbles whilst we waited for a scrummy pizza. Pizza Pan may not be a high-faluting gourmet pizzeria but I can say that the morsels are mouth wateringly good.

Pizza Pan is your typical high street venue; quite small inside with a couple of seats at the window to perch on whilst you wait, and with all the toppings colourfully arranged in boxes behind a Perspex counter. We have popped in to collect our pizzas before, as well as used the delivery service on several occasions – all positive experiences.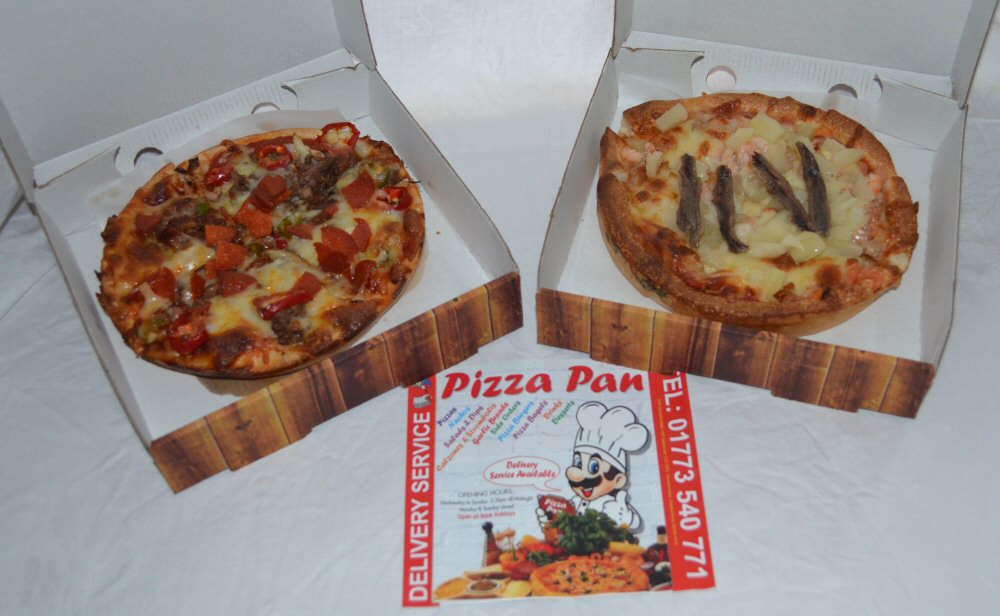 I don't mind admitting that I'm a creature of habit, so invariably I end up ordering the same 2 or 3 pizza varieties. I just know what I like, and my fave is the Seafood (to which I add Pineapple – yes, it definitely DOES belong on a pizza!!). The Man Bird likes things a bit spicier generally, so he rotates between the same few hot offerings: this time he opted for the Hot and Spicy.

You can choose from three sizes of pizza: 8", 10" or 12" with prices ranging from £3.80 - £10.50; we tend to each order an 8" pizza and then have some topped French baguette slices (£1.50 - £2.60) and a box of green salad (£2.50) to go with them. Pizza Pan is a family-run business, so delivery tends to fall to Amals husband and he is an absolute superstar; always a massive smile on his face and takes the time to have a quick word or two with you.




As always, our pizzas arrived piping hot and groaning under the weight of the toppings laden on to them, so we tucked straight in. The menu has recently undergone a complete re-vamp, so my humble Seafood morsel has been sexed up by the addition of Anchovies and is now known as 'Ocean Scent'. I think that if I picked out all the Tuna on my pizza there would've been a good 2/3 of a tin there, and there were more Prawns than you could ever possibly imagine. Amal knows I love Pineapple so she always puts me plenty of it on and the sweetness of it partnered the tangy, salty Anchovy fillets perfectly – heavenly!

His Nibs hates all of the components of my beloved pizza and sits there pulling faces as I open the box and that first delightful wave of fishy aroma wafts his way; I just laugh and inhale deeply! To be fair though, he turns the tables on me when he opens his box and that spiciness floats over to my nostrils. I do like spicy food as you know, but the 'repeat factor' for some reason is always high for me when it comes to pizzas, so I avoid them. As well as plies of Pepperoni slices and chunks of Chilli Beef, Amal also loads her Hot and Spicy pizza with plenty of Green Chilli slices – just in case you haven't got enough heat on your tongue! The pizzas from this fab village pizza business are deep pan varieties so when you bite into them you get that soft, comforting feel rather than a crunch that a thin base gives you.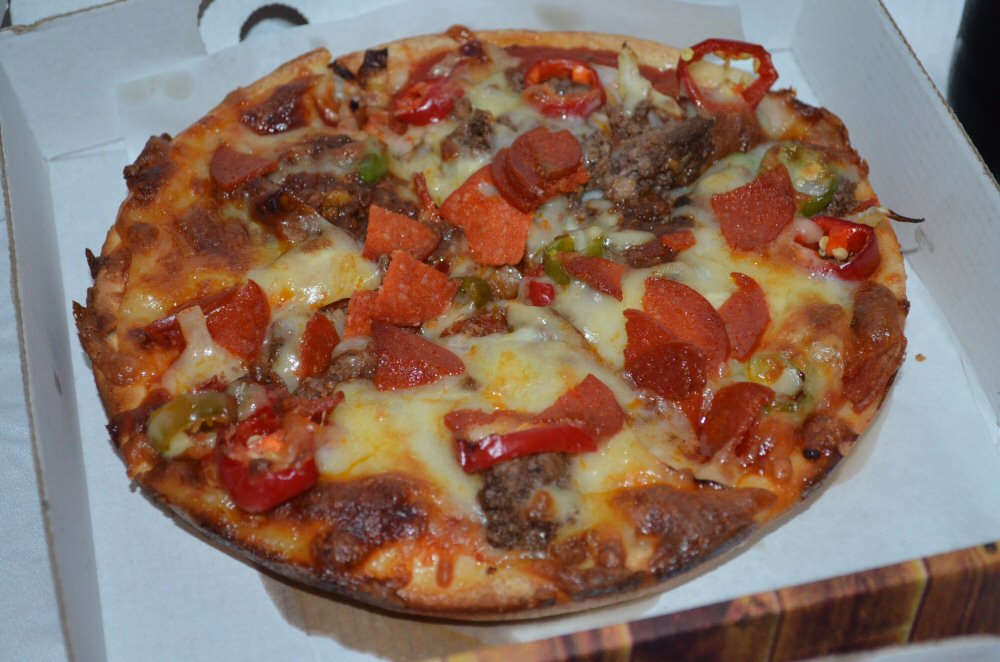 If it's crunch you're after then the French baguette slices will be sure to satisfy. We usually get a mix of four different ones (Amal is used to our tastes so she does us a combo that she knows we'll like) and they do make a lovely accompaniment to the pizzas. I usually go for the chicken ones whilst The Man dives for the donner meat or spicy salsa ones, so there's always plenty to go around between us. As a fully paid up member of the salad-dodging club, His Nibs swerves the salad box which suits me just fine! Given that there's no competition for the salad, I take my time with it and lazily graze at it throughout my meal; the chilled Lettuce, Cucumber, halved Tomatoes, Sweetcorn and Coleslaw provide a crunchy contrast to the warm pizza.




It's very rare that there's a crumb left in any of the delivery boxes; I think we only made that mistake a couple of times early on when we ordered larger pizzas as well as a 10" pizza garlic bread with cheese!

Pizza Pan in Somercotes really does have something for everyone on the menu; as well as pizzas there's Calzones (folded pizza) and Stromboli (rolled pizza), nachos, pizza burger, 'pick n mix' pizza bagels, pizza wheels, pizza wings and even pizza hot dogs! A selection of salads, speciality garlic breads , fries and potato wedges, Garlic Mushrooms, Onion rings, Chicken Goujons and Chicken wings make great sides, and there are also 3 meal deals to be tempted by (ranging from £10 - £30). If you have a sweet tooth, Amal has a range of Gateaux and Cheesecakes for you too.

Hot Wings more than happily awarded to this friendly, family-run local high street pizza venue. I cannot wait to get stuck in and try all the new items on the menu, and I know that His Nibs is desperate to wrap his chops around the Pizza Burger – so watch this space for updates!

Give them a call on 01773 540771 or find them on facebook