An Afternoon Par-Tea at the Village Hotel, Nottingham
---
Published On Thursday 25 Jul 2019 by Sticky Beak
See Recent Dining Out Reviews | See All Recent Reviews


Hands up those that had lip envy whenever Candice Brown appeared on Great British Bake Off with her lovely full lips painted a dramatic shade (#lipstickgoals)? Not just me then?! Well, having had success as a contributor in The Sunday Times and appearances on cooking shows, Candice has now designed an Afternoon Tea for The Village Hotel in Nottingham.
The Man Bird and I were invited along by the Hotel's Pub and Grill Manager, Dan, to sample this latest offering cheekily named Afternoon Par-Tea. The Par-Tea is available every Saturday between 2-5pm and starts at £17.50 per person with Tea and Coffee included; you can also choose from a couple of upgrade options: the G&T, Pornstar Martinis or Aperol Spritz option costs £25 per person, or for £30 each you can have a half bottle of Prosecco. His Nibs and I went for the cocktail option – well it was the weekend!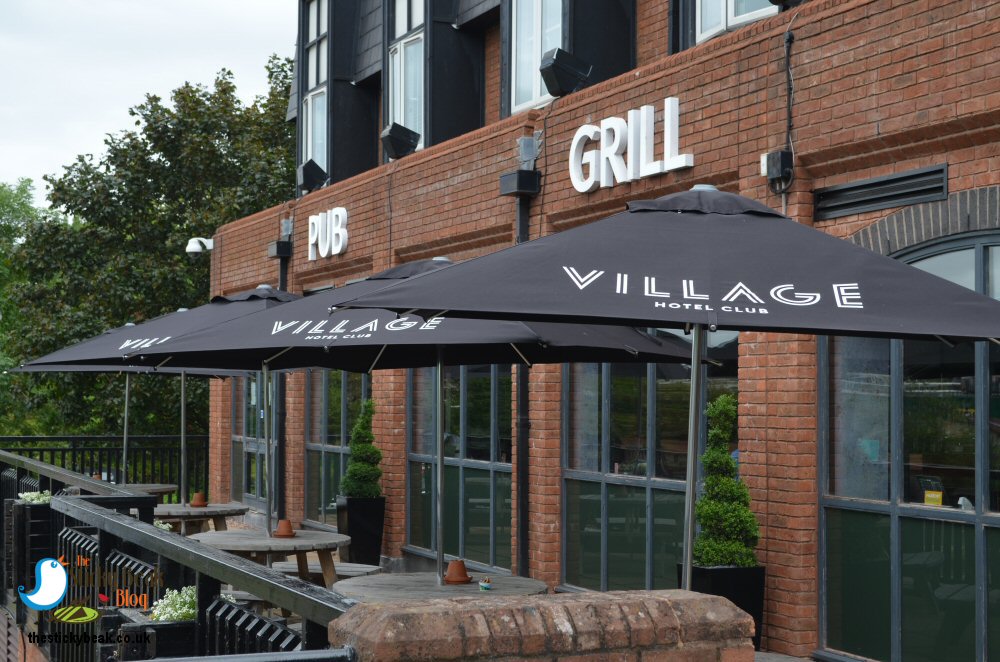 There's plenty of parking at The Village Hotel; like, loads of it – you're not going to struggle for a space trust me! Reception is straight ahead as you walk through the main door, and the lovely lady there guided us left to the Pub and Grill area. We were greeted warmly by a young lady and taken to our table that was all laid out with pastel pink menus and table mats with a lipstick kiss and Candice's signature on them.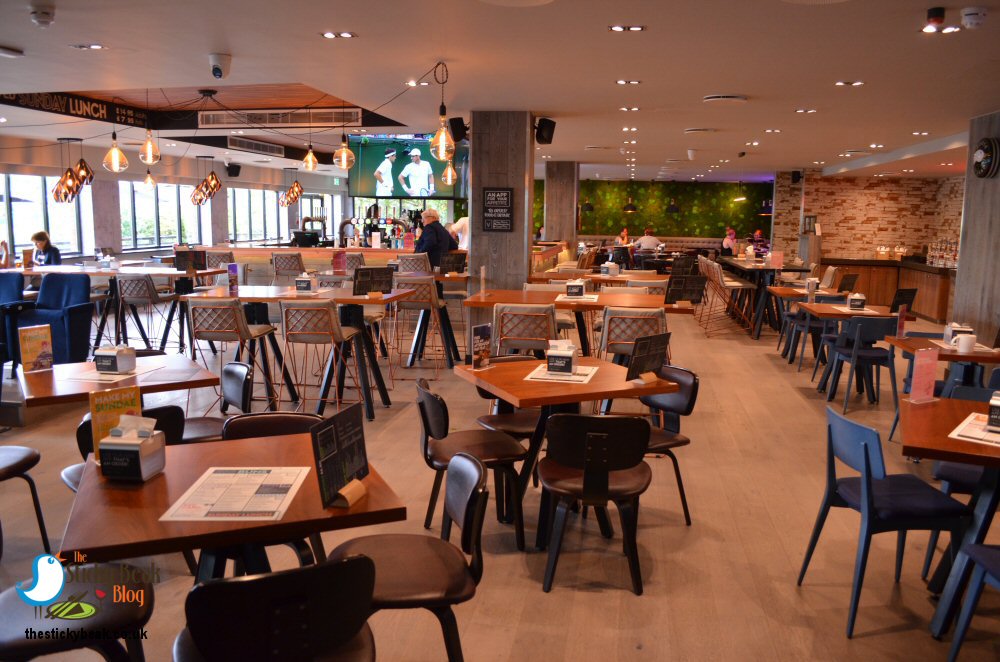 It wasn't long before the triple-tiered stand was placed before us, and it did look rather good I must say; certainly different to the usual finger sandwich selection for savouries! The savoury choices were at the top too, rather than on the bottom level as is the norm.

Whilst I tucked into the Prawn Marie Rose and Avocado on a cracker, The Man started on the dinky mini Brioche with Egg Mayonnaise and Spinach topped with micro Cress. I do like a tangy Prawn Marie Rose and this one was delicious, just a hint of sharpness to it, and not too much sauce as to drown the Prawns out. Slivers of pale green Avocado lay seductively on top of the Prawns, adding their creaminess to the mix and the cracker had a rich taste to it (slightly grainy and nutty)rather than being a boring, bland processed type.
His Nibs' mini Brioche was lovely and buttery with a soft texture that melted in the mouth, contrasting well with the tangy Mayo (very Salad Cream-esque) and Egg filling – of which there was plenty. The verdant Spinach and micro Cress added a splash of colour too, as well as imparting a nice fresh taste in the mouth.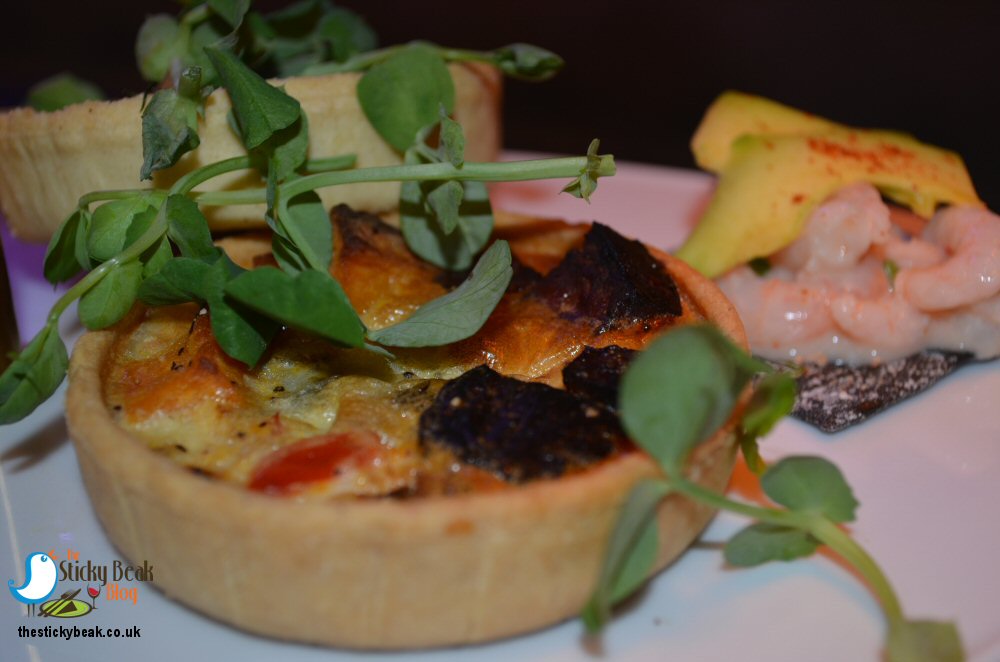 There were two different individual tarts to complete the savoury part of the Afternoon Par-Tea: Smoked Salmon and Asparagus, and Roasted Sweet Potato, Chorizo, and Red Pepper. Both tarts had incredible pastry cases that were light and buttery with a gentle "crumble factor" that meant they didn't disintegrate into a thousand pieces when cut into. Each had a rich, set egg centre and it was within its folds that the Fish, Meat, or Vegetables were suspended.




The Smoked Salmon was beautiful in taste and there were ample flakes of it to enjoy, with the slices of Asparagus sitting proudly on top to add colour and texture. The Man Bird only had a small piece of this tart, as he's not keen on Smoked Salmon – suited me right down to the ground!. However, in the interests of marital harmony I reciprocated by letting him have the Sweet Potato, Red Pepper and Chorizo one of mine, once I'd had a piece of it to try. This little beaut was jam-packed with fresh tasting vegetables and the Chorizo was wonderfully intense and spicy, really putting some pizzazz onto the palate.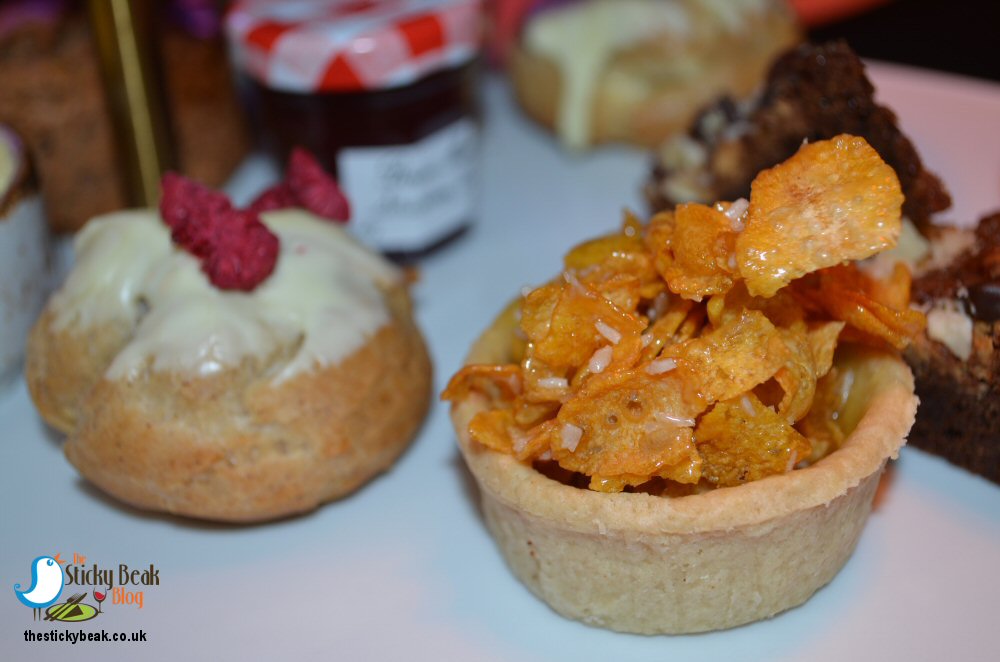 Having seen off the savoury selection, and the garnish of crunchy Pea shoots, it was time to turn our attentions to the remaining two tiers of the Afternoon Tea stand. First up was the Mini Cornflake Tart with Lemon Curd, and what a star this was! The bijoux pastry case was filled with crunchy cornflakes that had been bound together with a ridiculously zesty Lemon Curd glaze, whose citrus twang was wonderfully bright in the mouth. It managed to be nicely sweet without being cloying, and you still got the taste of the Cornflakes too.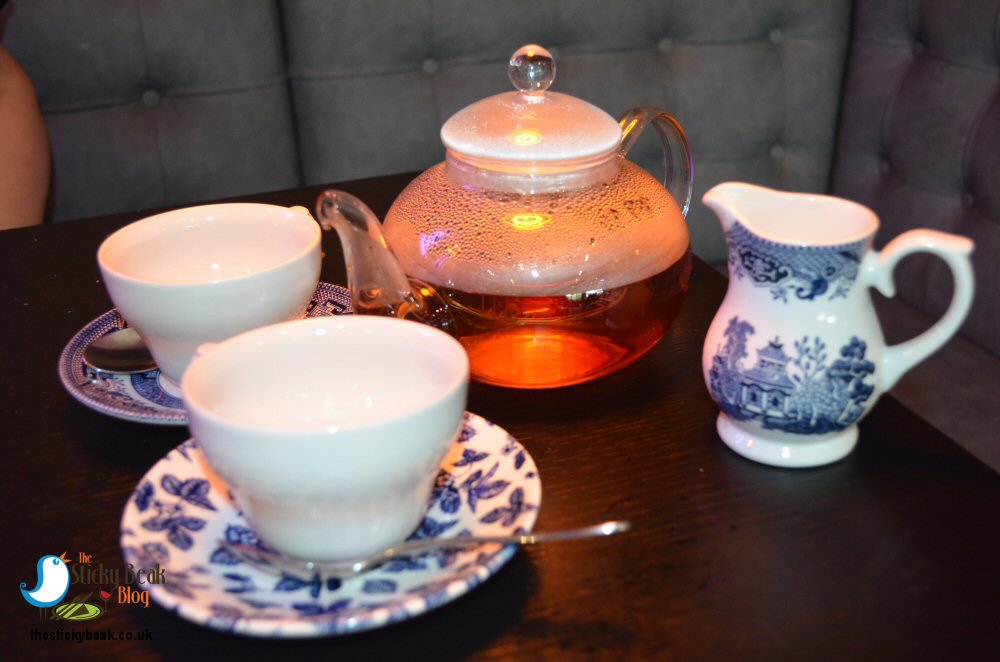 We'd finished our cocktails by this point (ooops, naughty us!) so we ordered some tea; I had the regular brew and His Nibs went for the Earl Grey. Both teas came in their own infuser tea pots, which look very stylish; for those that like a stronger cuppa, I would say to let the bag infuse longer than you would normally – it was taking its own sweet time! There is a good selection of herbal and fruit teas including Peppermint, Green, Cranberry and Orange, and Ginger and Lemon – amongst others.

We next sank our teeth (literally) into the Peanut and Chocolate Brownie triangles. These little minxes were wickedly gooey and indulgent, with a superb cocoa hit punctuated by peanut that was the perfect balance of both flavours. Absolutely cracking is all I can say.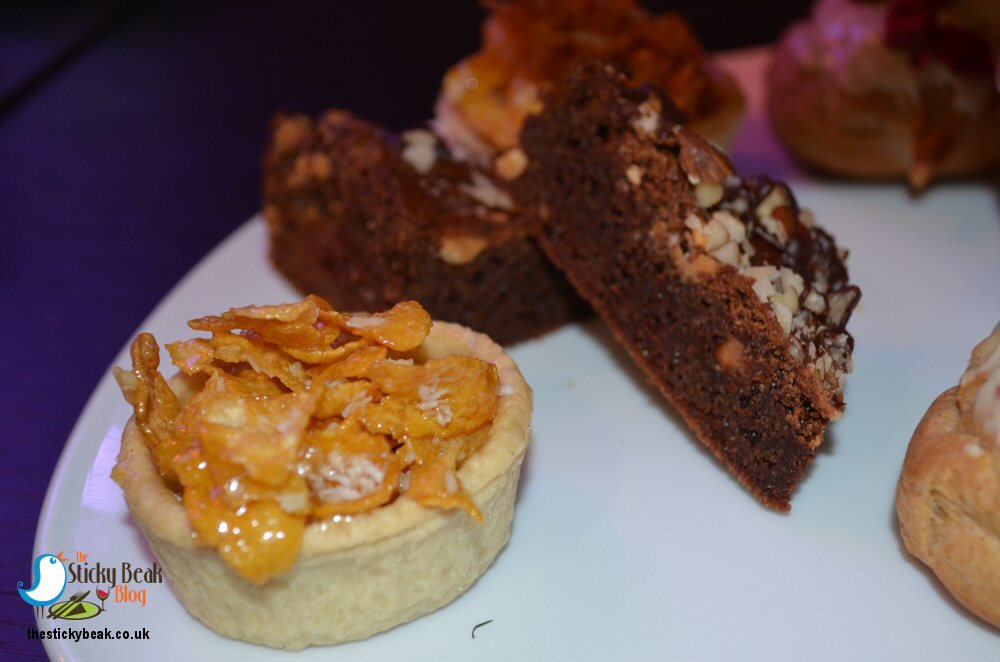 I don't know why, but we always save the scone until last on an Afternoon Tea; therefore the only remaining sweet treat was the Rhubarb and Custard Profiterole. The lovely light Choux pastry bun was filled with gently tangy Rhubarb-infused runny custard, coating the inside of our mouths and lingering there beautifully, bouncing around like a ray of summer sunshine; joyous and happy. A creamy White Chocolate had been melted and poured over the profiterole and then pieces of freeze-dried Raspberry were set into it. The Raspberry gave a pop of colour and added an intensely fruity blast to this gorgeous morsel.




The Chocolate and Orange scone looked fairly dense in texture when we first cut into it, but was deceptively light in the mouth. There was a lovely harmony between the two flavours, and it reminded me of a certain Christmas treat that you have to "tap and unwrap". The concentration of the Orange taste was strong enough to let it stand up to the Strawberry conserve and Cream when they were added to the equation – and I do tend to be a bit heavy-handed with them both!



This was a cleverly thought out Afternoon Tea offering, with a great mix of tastes and textures. We both liked the fact that it was a little different in steering away from the traditional finger sandwich formula; not that there's anything wrong with this, but it's nice to have something alternative from time to time.

Hot Wings given to The Village Hotel at Beeston team, Candice would be proud of your delivery of her vision! The Hotel does open for Spa guests and of course there are the Hotel residents to consider, so I would definitely book ahead to be sure of availability.
Some form of incentive was provided to visit this venue
read more