New Menu And Cocktails At Revolucion De Cuba, Derby
---
Published On Thursday 18 Apr 2019 by Sticky Beak
See Recent Dining Out Reviews | See All Recent Reviews


If I set up a little camp bed in the corner of Revolucion de Cuba in Derby, do you think they would notice? Asking for a *ahem* friend. It's no secret that The Man Bird and I are big fans of this venue and whenever we are lucky enough to be invited back by Erin to review new food or drink items on the menu, we're only too keen to oblige.
Our server for the evening was Monika, and she was a star..... and a bad, bad influence when it came to supplying us with the new cocktails on the RDC menu! We got settled at our table and my fave Guacamole in the world was brought over with a bowl of mega-crunchy Tortillas. Shortly after, the first of the new cocktails were being brought over to us – Amour Cubana, and Bananarama. Both these cocktails are in the "not rum" section of the drinks menu as one is vodka based (Amour Cubana), the other is Tequila based.




Banana isn't one of my favourite things in the world, so His Nibs had the Bananarama; I tried a sip and was pleasantly surprised. You do get a hint of Banana, but nowhere as strong as I'd been anticipating; instead it's balanced with a gentle Almond note and fruity Pineapple and Mango juices. I would have this in future, so to those of you who, like me, normally veer away from all things 'nana I would say this; give it a punt, you'll be surprised. The Amour Cubana is blooming lush! As well as Ketel One vodka, you've got Peach Schnapps in there as well as Lime, Pineapple, and Cranberry; combined all together, they make for a light, fruity, refreshing tipple.




For starters we did our usual trick of ordering 3 Tapas to share, which is what Revolucion de Cuba recommends. There are loads of new temptations on the Tapas section of the menu as well as perennial faves for devotees of RDC. We had the Lime and Coconut Prawn Tostadas (mine, all mine!), Jackfruit Chilli Nachos, and Chicken and Melted Cheese Quesadillas.




Monika was soon bringing out this trio of yumminess, and huge grins spread across our mushes as we clapped eyes on it all. The Lime and Coconut Prawns were amazing! Huge, juicy prawns were nestled on uber-crisp mini Tostadas with finely shredded Iceberg Lettuce and Coriander providing a colourful bed to nestle on, as well as vibrant, fresh flavours in the mouth. A dressing provided a fab punch of zesty Lime and the gentler, sweeter notes of Coconut; both flavours worked together in harmony to make this dish a perfectly light starter.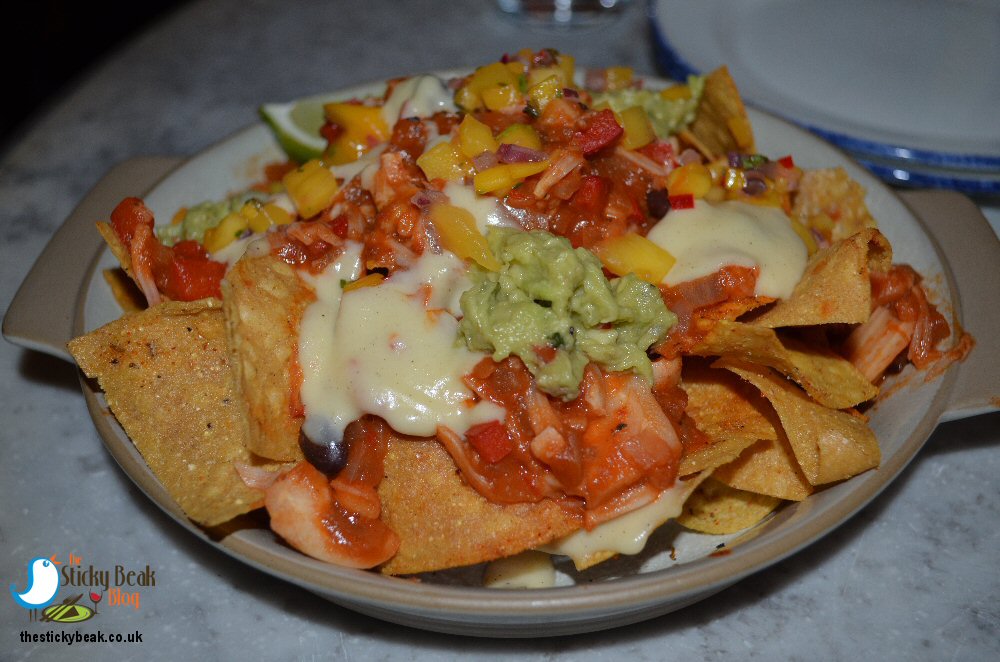 Jackfruit is a fab meat-free alternative that carnivores and non-carnivores alike will like due to its dense texture; you can really chow down on Jackfruit and feel satiated as you chew on it. The vegetable absorbs all the flavours of what it's cooked with, so in this instance it was a brilliantly spicy chilli heat that came through on the palate. RDC'S nachos are very generous in portion size due to them being loaded with toppings and finished with Manchego cheese sauce, fruity Mango salsa and that mouth-watering Guacamole that I adore!!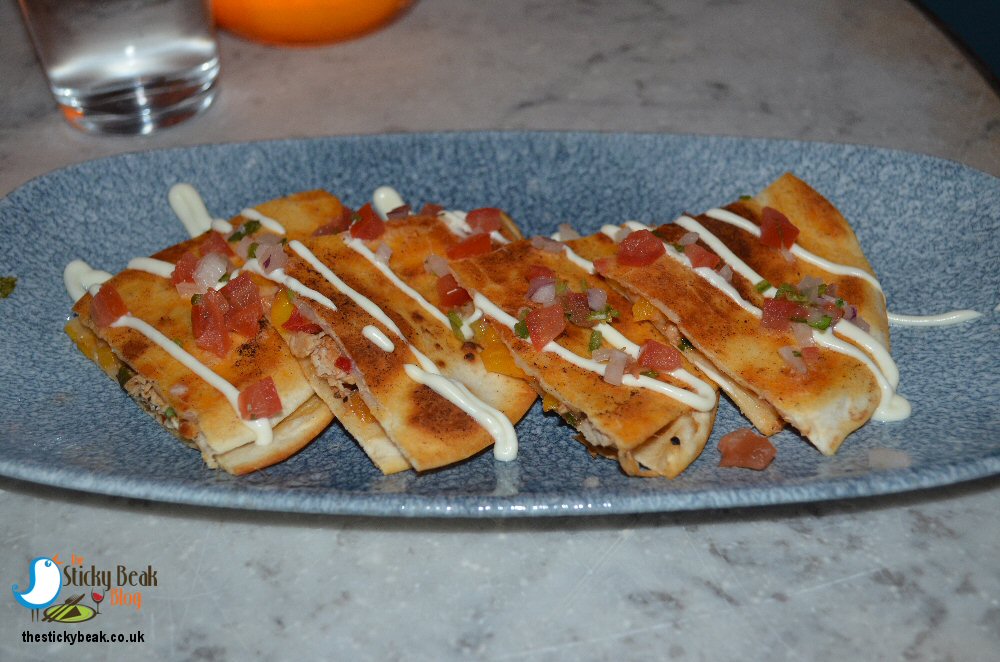 Quesadillas are a classic South American dish, and as Tapas, they make a great choice. The crisp paprika dusted Tortilla was lovely to taste, and was plump with tender Chicken strips, Onion, and Peppers. Tomato salsa and an abundance of fresh herbs kept it lively and clean on the tongue.

As she cleared our empty plates away, Monika took our drinks orders, determined to keep us on the "try the new numbers" themes. That'll be Mans Ruin and Tiki Punch coming our way then! Both of these minxes are centred on RDC's latest Rum offering – Spice Hunter Rum and they were both very quaffable. Mans Ruin is Spice Hunter Rum with Amaretto, Lime and Coca-Cola Zero; definitely not just "rum and coke", the Amaretto clearly makes its mark on the palate. Best thing? The (just about) no-cal coke – gotta save those blighters for the important things in life...... like food! Amaretto features again in the Tiki Punch, along with the Spice Hunter and Appleton Estate Signature Blend Rums. Fruity notes from Pineapple, Cranberry, Lime, and Passion fruit ramp this up in the refreshment and drinkability stakes; take it easy though, this has a real kick to it if drunk too quick!




His Nibs had one of the new dishes on the mains, Beef Ropa Vieja, and I had Rumba Chicken; we ordered a couple of sides too: Mojito Onion Rings and Ensalada Poquito (another new-comer on the Tapas section). Beef Ropa Vieja is an authentic Cuban dish that consists of slow cooked, shredded Beef with charred Onions and Peppers in a spicy Tomato sauce. Revolucion de Cuba serves their interpretation with a portion of zesty rice and Butternut Squash crisps.




The "ropes" of beef were incredible; melt-in-the-mouth tender, and exceptionally flavoursome. I tried a bit, and they were just phenomenal! This is definitely one to try folks. The Tomato sauce was lovely and thick with a nice rich taste, not spicy particularly, but it packed a taste sensation nonetheless. If you like a bit of spice then the zesty rice provides this perfectly; it doesn't overwhelm the other flavours in the dish or make your lips tingle, but you get the spices coming through really nicely. Texturally, the crisps hit the mark bang on; as a dish, the Beef Ropa Vieja has got it going on!.




Chomping is thirsty work, and right on cue, as if by magic, Monika was there to whisper suggestion into our eager ears. Not that we ever take a lot of persuasion: willpower 1 – His Nibs and SB 0!! Before we knew it, we were sipping away at the Solero and Painkiller tipples. If you like a Pina Colada but find it too rich, then the Solero is right up your street! The combo of Bumbu Original Rum, Coconut, Vanilla, Milk, Passion fruit, and Pineapple is just as delish as its creamier cousin - but a lot lighter on the tummy.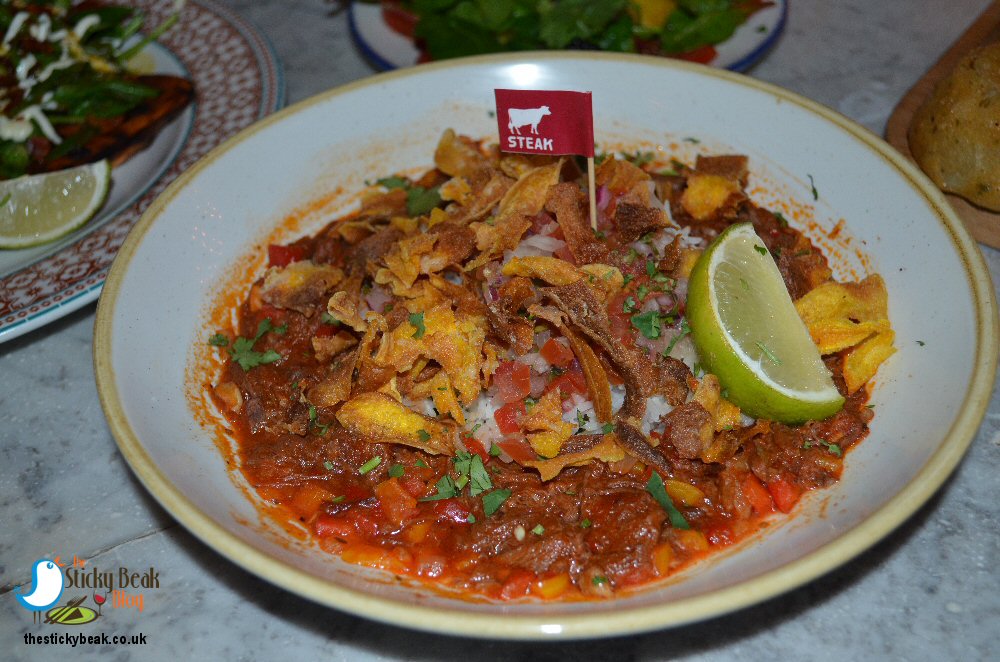 Pusser's Gunpowder proof Rum is the base ingredient in the Painkiller cocktail, and its name gives an indication of why it can numb pain! It packs a real punch does this bad gal, so sip it with caution. The rum is shaken with Pineapple, Orange, and Coconut to produce a deceptively fruity little number, but the best bit is the theatre it provides. Cinnamon is dusted over the poured drink, and alcohol fills a Passion fruit half, which the bartender sets light to! Blue flames dance enticingly bright in the glass, mesmerising its recipient; don't say I haven't warned you about its temptation!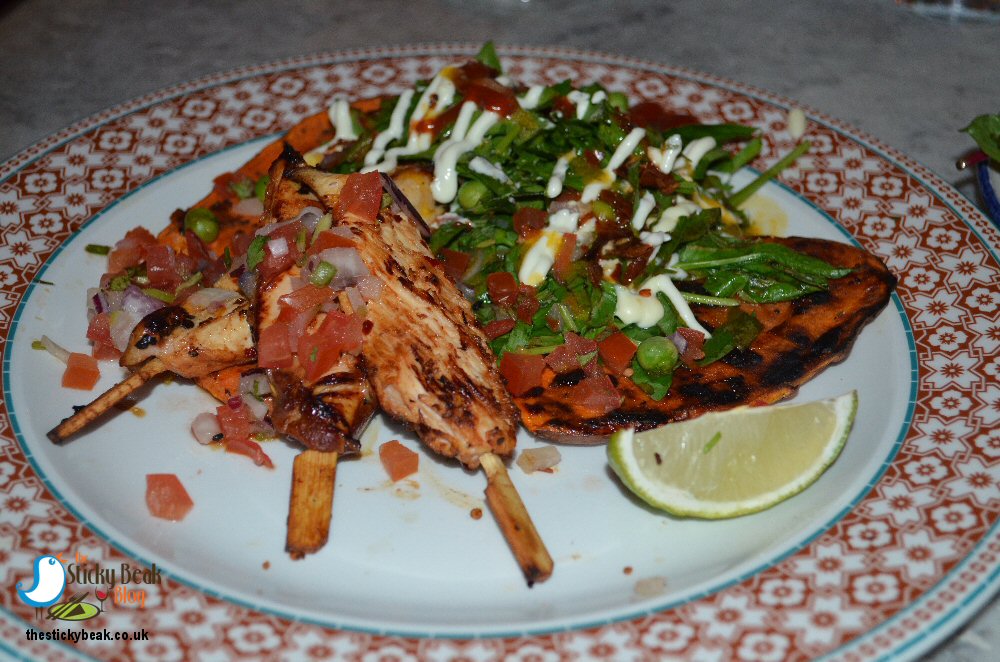 My Rumba Chicken was beautiful too, both in terms of taste and presentation. A trio of skewers held pieces of super-tender, marinated Chicken breast meat that were wonderfully succulent in the mouth. The sunset tones of the Sweet Potato slices provided a fab contrast to the green Spinach and Pea-based salad that comes with the chicken. I loved the sour cream and crunchy bits of Bacon in the salad too; they gave a great zip in the mouth and stood out against the sweetness of the softened, charred Sweet Potato. This was one of those clever dishes that manages to be really filling but light on the tummy simultaneously.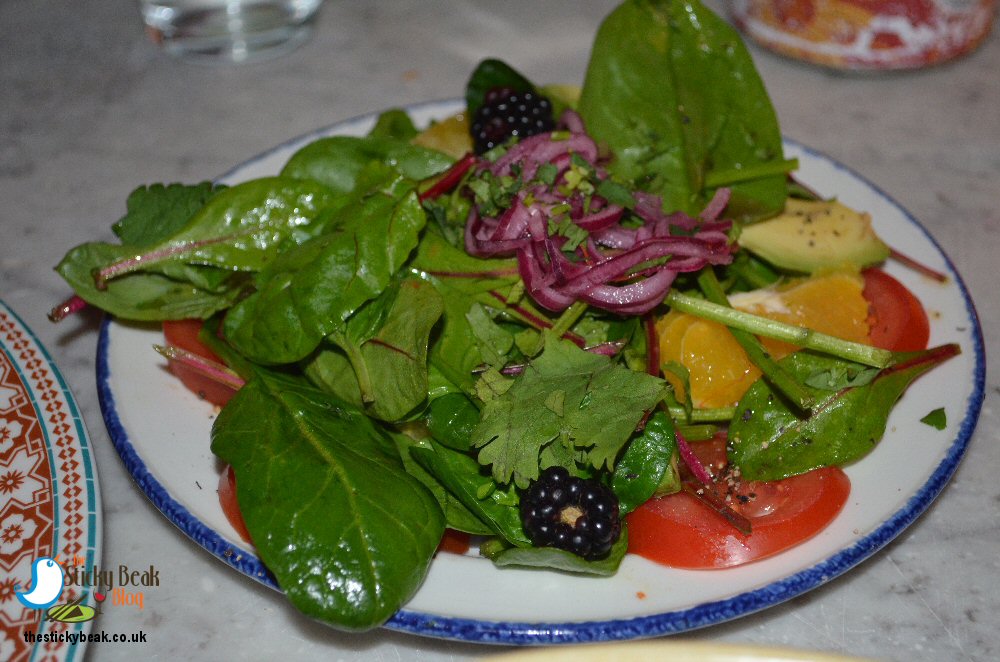 Both sides were fab too. The Mojito onion rings are absolute giants – seriously, they're HUGE! Rings of softened (but still nicely firm to the bite) onion are coated in RDC's thin, crispy, Mojito tasting batter and fried until tantalisingly crunchy. These beauties are simply magnificent; light, crunchy, and not at all greasy. His Nibs loved the tangy Mayonnaise that comes with them too!




If you love colour in your life then you won't find anything more suitable than the Ensalada Poquito, it's an edible rainbow. This will also give you your recommended 5-a-day in one hit; there's Plum Tomatoes, Red Chard, Baby Spinach, Avocado, Pickled Onion slices, Blackberries, Orange segments, fresh Coriander and Mint dressed in Olive oil and cracked Black Pepper, combined with Mango, chilli and Lime dressing. Some salad, huh?! This was a veritable smorgasbord of tastes and textures and it all worked magically together.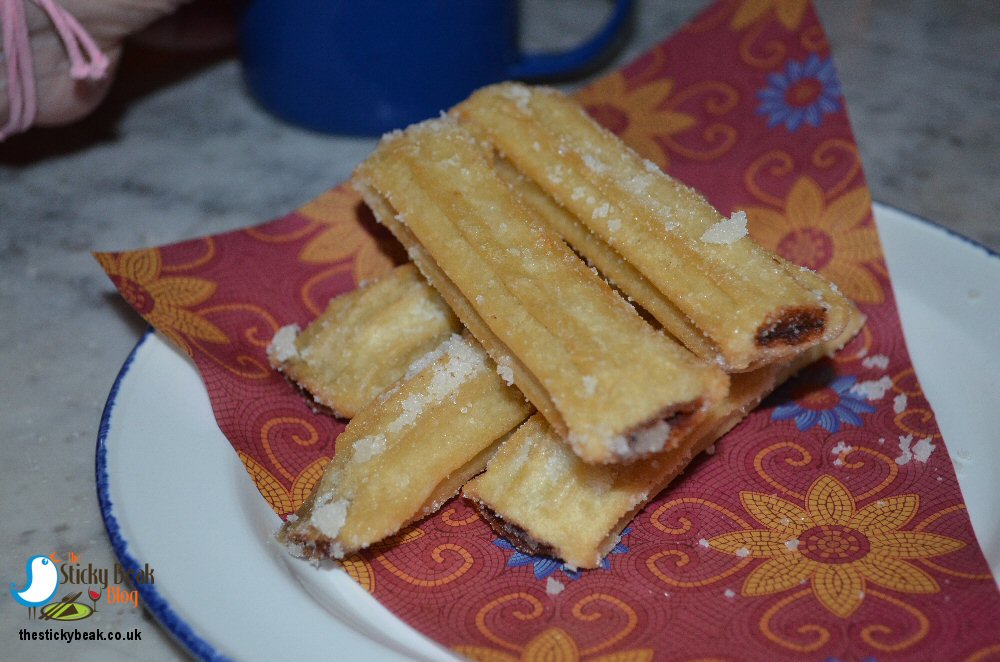 By now our tummies were happily full, but I spied the new version of my beloved Churros on the menu - El Supremo Churros. There was no way I was passing up the chance to try these delights! The Spanish Doughnut sticks are filled with an indulgent Chocolate and Hazelnut cream and then dusted in sugar (lots of sugar!). I loved the balance between the doughnut and its rich filling – and even better, the filling didn't ooze out and splatter down my front.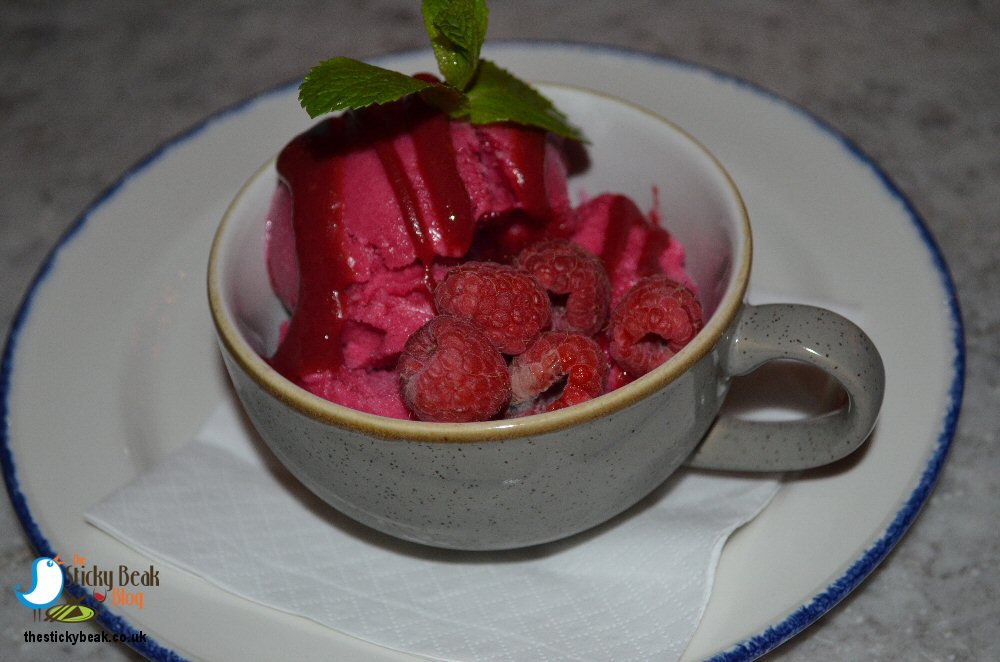 The Man Bird opted to have the Raspberry and Prosecco Sorbet, served with fresh Raspberries and Raspberry purée. At Revolucion de Cuba, if they say something is in a dish, you can bet your bottom dollar that you'll taste it and so it was with the prosecco element of the sorbet. The Raspberry purée was intensely fruity with that "scrunch-your-face" quality to it that's indicative of its sweet/sharp nature.

Monika had clearly been keeping a subtle but watchful eye on our progress and came bouncing over with her final suggestion for a cocktail; one of the new teapot offerings, which are designed to serve 3 people! This young lady is the mistress of suggestion and temptation; she said, in honeyed tones,"this will help you make a proper evening of it, and you can take your time to enjoy the finish to your meal". Damn, she's good! Up-selling is clearly her forte. A bright red teapot containing the Navy Rum Punch and a couple of matching tin mugs were soon winging their way over to our table.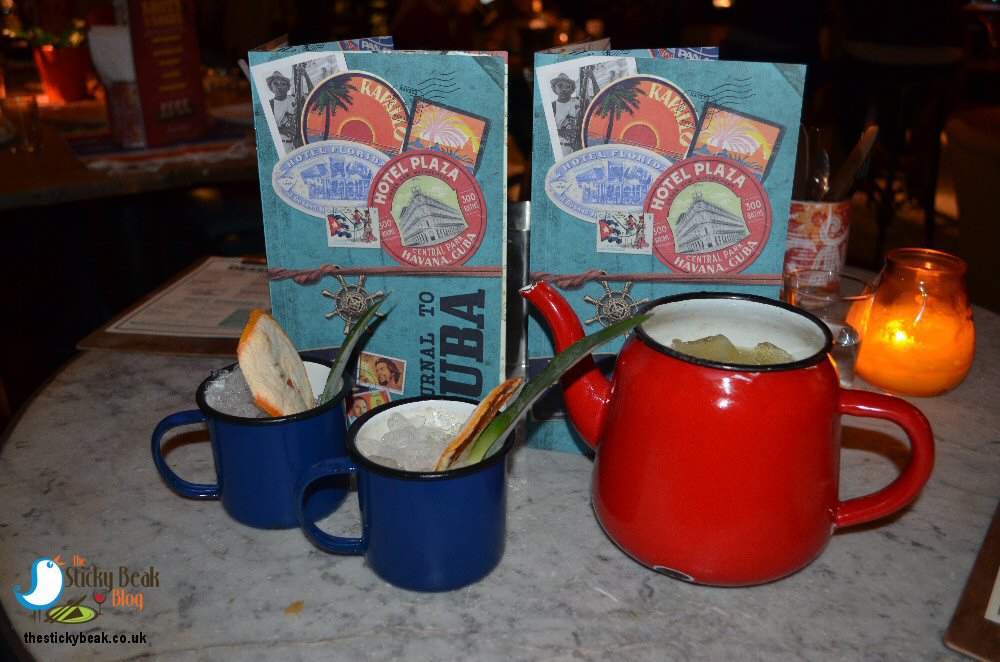 This tropical rum punch is another of those tipples that are deceptive in their, well, punch! Chock-full of fruit flavours such as Banana (from the Banana liqueur), Passion fruit, Pineapple, and Grapefruit (from Ting soda); this really does slip down all too easily! It is blooming lovely though, I can't deny it. This cocktail has two Rums in it too: Bacardi Carta Blanca, and Wood's Navy Rum; both combine to provide a smooth, warming platform for the fruits to shine against. Top Marks to the mixologists at RDC.

I think we can say mission accomplished; The Boy Wonder and I managed to try the vast majority of new offerings from Revolucion de Cuba, and I can't wait for you all to experience these things for yourself! Hot Wings most definitely given again to this brilliant team, and Monika especially!!.
Some form of incentive was provided to visit this venue
read more