Tasty Treats from the Peckish Artisan Kitchen
---
Published On Monday 11 Feb 2019 by Sticky Beak
See Recent Food Producer Reviews | See All Recent Reviews


It's always a pleasure to support local up-coming talent and you don't get much more local than Tam and Lisa of Peckish Artisan Kitchen; they're based just a few miles up the road from Beak HQ! These lovely ladies have known each other from being knee-high to Grasshoppers, so they just "get" how the other works, and they have a shared passion for tasty, flavoursome food. Although Tam is the qualified Chef (with over 20 years experience in the industry under her hat), Lisa is more than able to hold her own in the development of culinary ideas. I'll tell you more about Lisa's input later, so stay put and keep reading!
We had been trying to arrange a meet-up since Christmas, but these two gals are hard to pin down due to being so busy. Anyhow, they were taking their wares to Ruddington Village Market and we were going to be in the Nest, so we were finally going to be able to put faces to names.

Laden down with a basket of yummy sweet and savoury treats, Lisa and Tam made their way through to the hub of our nest, the kitchen, and talked us through what they'd brought us to sample. Given that they'd completely sold out of their produce at Ruddington Village Market, His Nibs and I felt very lucky to be trying their mouth-wateringly good smelling items. After an all too brief chin-wag, the Peckish Artisan Kitchen team headed back to their home – probably in need of a good rest after such a busy market!

The Man Bird and I are like kids in a sweetie shop whenever we have food in front of us, so the oven was swiftly put on as we opened up the first morsel to try. We'd decided to kick off with the Chicken Club Quiche, the Peckish Artisan Kitchen's interpretation of the classic Chicken Club Sandwich. Lisa said that this beaut is just as good whether eaten hot or cold, so we thought we'd try this one cold as we planned to heat up other bits that they'd brought.




Tam makes her own pastry, apart from the puff pastry for their sausage rolls (and let's face it, who has time to make puff pastry from scratch?!) and she certainly does it very well. The pastry on this quiche was nice and rich to taste, but not claggy in the mouth – and it didn't have a soggy bottom either! Within the pastry confines was a base layer of fresh peppery Rocket upon which nestled lovely moist chunks of Chicken Breast. Bacon pieces were suspended in the baked egg mixture of the quiche and halves of sweet Cherry Tomatoes added a pop of colour as they garnished the top of it all. This was a superb type of quiche, that I'm sure would have been just as good served hot.

We moved onto the Pork and Red Onion Chutney Sausage Roll next, having removed it from our oven where it had been warmed up; the Pie we'd been given was left in there as it needed an additional 10 minutes to re-heat thoroughly. As I mentioned, Tam uses pre-made puff pastry in the sausage rolls and the filling in this morsel is Lisa's secret recipe that I also hinted at earlier. Instead of the standard Sausage meat only filling that you find in Sausage rolls, the Peckish Artisan Kitchen blend Sausage meat with minced Pork, Parsley, and Garlic; and it is absolutely belting! The mix gives it a much rounder, deeper taste than bog-standard offerings – paired with their homemade Onion chutney, this makes a Sausage roll that cities could be built on! Mark and Roxy from LadBaby need to try these bad boys, they blow Greggs out of the water!




The Sausage, Mash, and Caramelised Red Onion Pie was finally heated through, so having removed it from the oven and portioned it up, it was time to tuck in. Peckish Artisan Kitchen use a Pale Ale in the pastry they make for this pie, and it gives it a nice light texture. Now I'm a fussy monkey when it comes to Sausage as you know, but the one used here has no "repeat factor" at all, and I really enjoyed it. A base of ultra smooth mash provides the perfect nestling place for the slices of Sausage and then a generous layer of rich, sweet caramelised Onion sits on top; a snug cover of pastry keeps it all tucked up and encased nicely. There is a fantastic balance of flavours in this pie and both His Nibs and I loved it. Served warm, as we had it, it is proper belly warming comfort food.

With the savoury offerings out of the way and safely in our tummies, it was time to turn our attention to the pair of sweet treats that the Peckish Artisan Kitchen team had sent us.

First out of the sweet starting gate was the lovely looking Strawberry and Coconut Tart. The pastry on this tart was obviously a sweet type for desserts, but saying that it wasn't overly sweet either – just nice. This had a lovely deep layer of Strawberry jam at the bottom and this was topped with a coconut mix that was then baked in the oven. His Nibs is always wary of foods with Coconut in as, whilst he doesn't mind a bit of Coconut, it isn't his favourite thing in the world. On this occasion though he really liked the balance between the fruit and coconut; I have to agree, it really was nicely balanced. On the top of this tart was a wonderful, sun-tanned layer of toasted Coconut that gave it a beautiful visual appeal.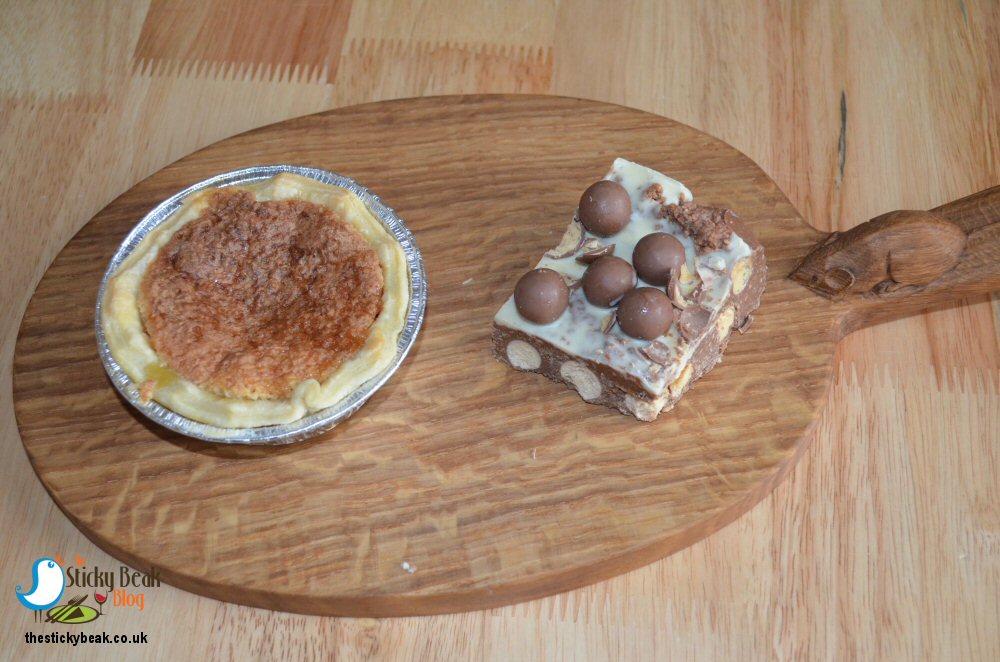 Last, but not least, was the Malteser Slice, one of the tray bakes that Peckish Artisan Kitchen offer. This was a master piece of Malty, Chocolatey, and Honeycomby wondrousness! There were more Maltesers in this slice than there are stars in the entire Galaxy! If you love this type of chocolate in its normal state, then you're just going to go crazy for this, trust me. Whilst there's no denying that this minx is total chocolate over-load, there's no harm in having it as the treat it's intended to be; everything in balance is what they say after all. Just to crown it all nicely, there is a delicate layer of white chocolate on the top for good measure – get in!!.

The Peckish Artisan Kitchen also do buffets to your specification, including Vegan and Vegetarian options. You can even mix it up, so that meat eating guests and non-meat eaters alike can all be catered for in the same buffet package

Not content with that, Peckish Artisan Kitchen also do pop-up supper clubs! To say this team only started out in July 2018 they're certainly on a mission to promote good wholesome food; as Tam and Lisa say," food without flavour is like life without love". The whole of Nottinghamshire is in their sights for these one-off evenings, and Madhatters in Kimberley is hosting one on Friday 22nd February, 7-11pm.This pop-up supper club is offering a variety of pies and puddings and is priced at £15 per person, so if you're interested phone Madhatters on 0115 9383255 to book your place.

Hot Wings awarded to this fledgling business, The Man Bird and I wish you all the best; and if you need any testers for future morsels, you know where to find us!.