Dinner At Black Barn Restaurant In New York
Published On Tuesday 11 Jul 2017 by Sticky Beak
See All Recent Reviews
Every once in a while something wonderful happens, and 11th July 2017 was one of those great moments. All credit is due to Chef Johnny Hernandez for it is he who recommended Black Barn to me when I picked his brains for great dining in New York. To be fair he had given us three or four names of places that he had eaten at personally and thought great, but Black Barn was fairly easily accessible from our hotel.
We had reserved a table quite early as it was our last night and we needed to pack etc, so the Taxi ride was smack bang in the middle of rush hour; and what an experience that was! Everything you see in the films is true; horns blaring, manoeuvres that a stunt driver would be proud of, and gestures all over the place!
Black Barn is located just across from a cute little park called Madison Square Park, and its frontage looked gorgeous with the topiary and outdoor seating that allowed post-work drinks to be sipped in the late afternoon warmth.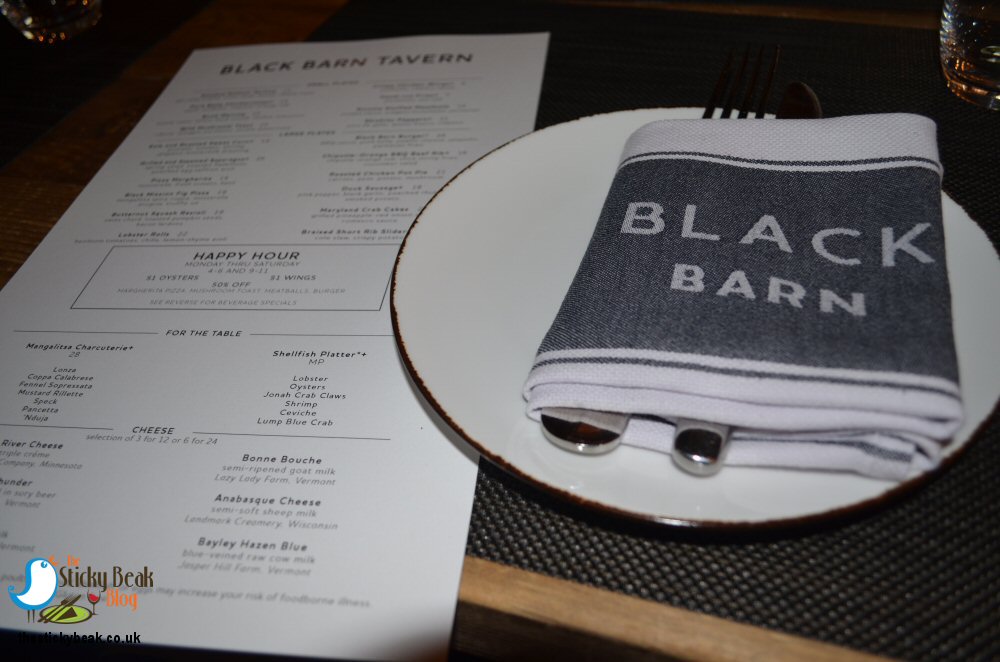 The young lady on the door greeted us very warmly and took us to our table which was exactly in the centre of the tavern; she must've known that I love people-watching, and we were afforded lovely views of the park too.
After only a few moments the gorgeous Gina Doost, Director of Marketing and Media at Black Barn, came over to greet us; it was so nice to be able to finally put a face to the name rather than just by tweets and emails. Also with Gina was the Chef Owner of Black Barn, Mr John Doherty himself. John was very amenable with us, and gave us a personal tour of the restaurant and the private dining areas too, including the upstairs Loft. Unfortunately John had to leave us as he is an incredibly busy man and had another appointment across town, but it was a real thrill to meet one of the men behind the Black Barn restaurant vision.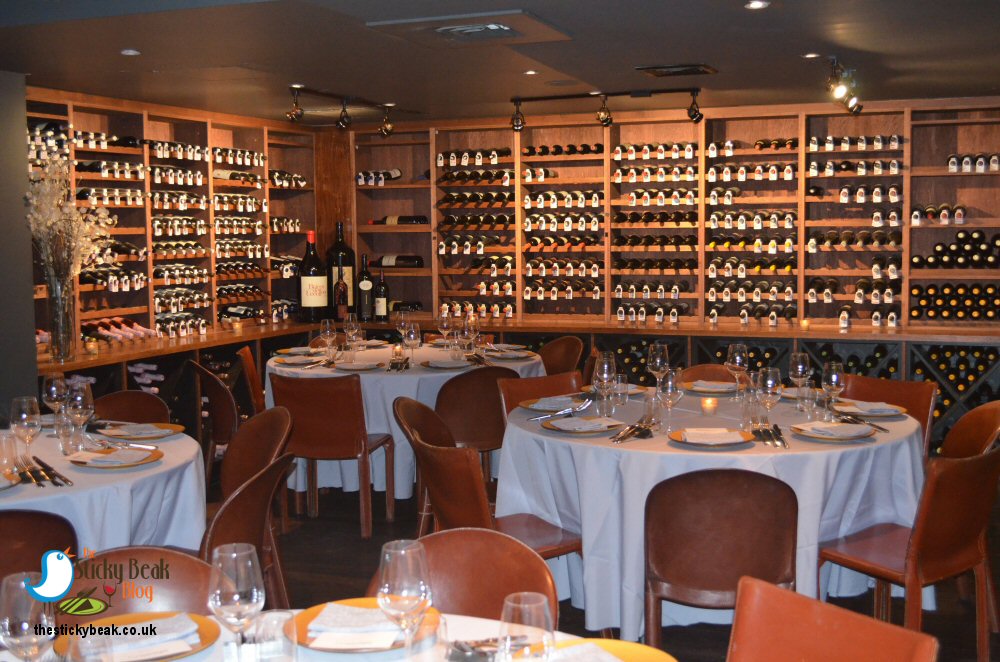 The fact that we got there early doors meant that we managed to get some very stylish shots of the venue, but I have to say that it so much more incredible in the flesh. High above you are some solid wood ceiling beams arranged in a triangular roof shape and these had large lights suspended from them that were surprisingly gentle in their illumination, so you weren't hit by any harsh glare. Concrete/Stone pillars and paned windows enhanced the rural barn feel, and I loved the agricultural paraphernalia suspended from the walls both upstairs and downstairs.
Black Barn is a total gem if you're a tourist in the Big Apple and here's why; from Times Square where we were staying it cost us $15 for the taxi and when you factor in the cost of the food (and bear in mind we had a three course meal for three) it is still cheaper than eating in restaurants of lesser quality in Times Square. The food by the way was out-of-this-world; but more details of that in a minute.


There is also the opportunity to do a bit of celeb-spotting too; Chelsea Clinton (daughter of former U.S President Bill Clinton and Presidential candidate Hillary) lives in Black Barns' neighbourhood. Imagine being able to have late-night deliveries/pick-ups from there! Gina was telling us that during the recent presidential election, Hillary Clinton would host meetings and fundraisers in the Loft dining area and I can see why; it is a fantastic private space that not only has the dining table, but also has separate sofas on which to lounge and enjoy a post-prandial Brandy.
Jennifer Lopez has been known to say "Hi" to friends on the patio at Black Barn too, and who can't appreciate the glitz and glamour that she would bring (I have a girl-crush on La Lopez myself :) )? Other glamorous ladies that have been spotted dining at Black Barn include Julia Stiles, Naomi Watts and Jessica Alba; unfortunately for The Man Bird they weren't there when we visited so he had to content himself with the company of yours truly :)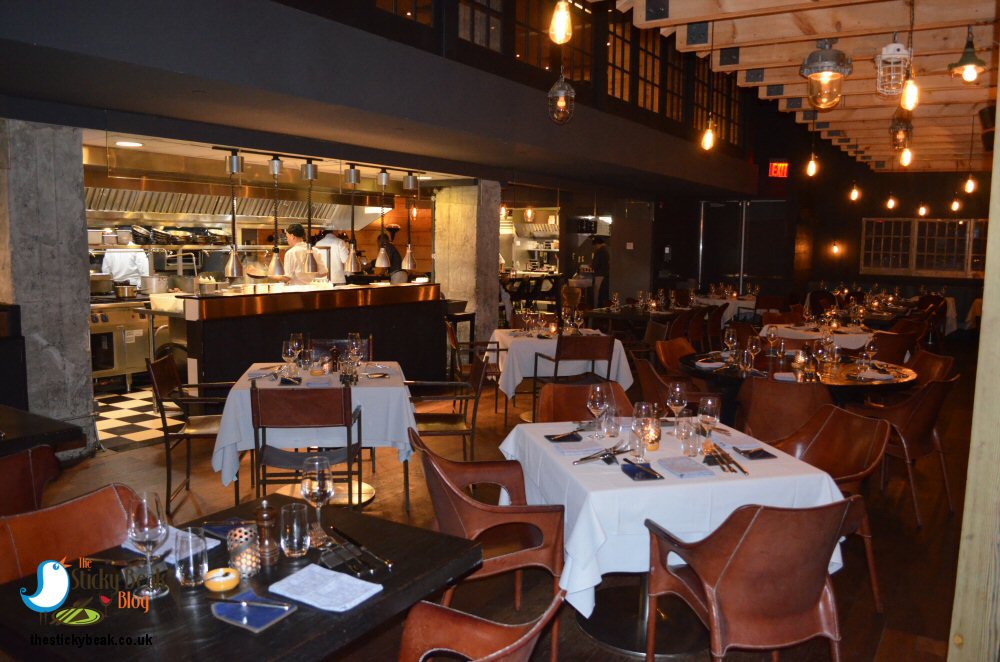 Mr Kevin Spacey, yes he of "American Beauty" fame, and now a some-time London resident thanks to his involvement in our theatres, also appreciates the cuisine at Black Barn. Clearly John Doherty and his talented team are so good at what they do that they can lure Kevin back stateside!
For those among you who are into your wines and spirits, you will think you're in Nirvana at Black Barn. As we toured around with Black Barns' Chef Owner John I couldn't help but notice an incredibly high-end Brandy collection nestled in one corner, and this was flanked on three sides by a stupendously impressive wine cellar. There are some seriously swanky and rare bottles that a true wine buff would travel continents for. Amongst this liquid wonderland there are a handful of dining tables; what I would have given to win the lottery and sit down to dine and drink in that spot!


When we went back upstairs to our table the bar area was filled with an electric buzz from all the drinkers and diners who had finished work and were looking forward to a most enjoyable evening with friends and/or family. Although it was busy we didn't feel at all hemmed in and there is a nice privacy space between all the tables in the more informal tavern area that we chosen to eat in.
As well as great food, John and his team are appreciative of the effect great music can bring to a venue. To this end, John turned his hand (or should that be ear?) to creating a special playlist that really epitomises the relaxed vibe that Interior Designer Mark Zeff envisioned for Black Barn. If you pay the venue a visit at weekends then a treat of live Blues music awaits you; man, I am so jealous that we don't have a Derbyshire Black Barn!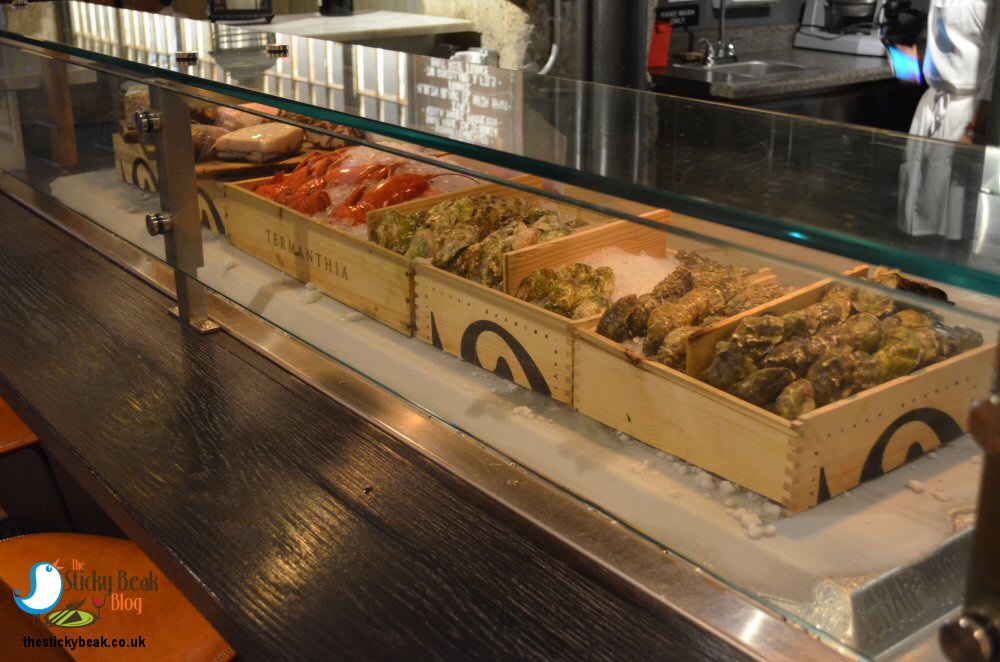 Without exception the staff members were all incredibly polite, and nothing was too much trouble for them. Normally The Man Bird and I would've had a drink with dinner but we had a 4.30am alarm call set for the next day as we were heading off to Toronto, so iced water had to suffice. I think there is a magic water fairy in Black Barn as our water glasses never seemed to go below half full!
Although we were in the Black Barn Tavern, Chef Owner John Doherty said that we could also select dishes from the restaurant menu for dinner if we so wanted; an incredibly kind offer I think you'll agree. For starters The Chick and I had options from the restaurant menu (Wild Mushroom Toast and Grilled Baby Octopus respectively) and His Nibs had Ricotta stuffed Meatballs from the Tavern menu.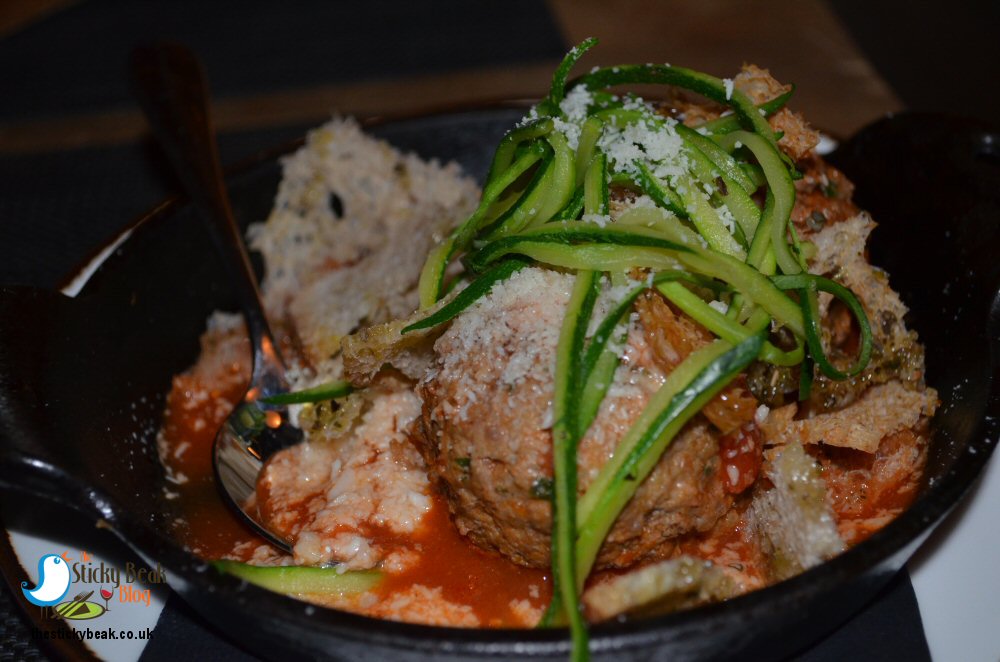 Chickadee loved the creaminess and texture of the mushrooms, and the bread is baked on-site at Black Barn so it was just like a pillow on the tongue. I know I've said it before but food really does taste so much better when it's fresh, and there is something so delicious about freshly baked bread; the smell alone of a bakery makes me grin like a Cheshire cat.
My own grilled baby Octopus was amazing, not only visually but to taste too; it was exceedingly tender and delicately flavoured. One of my biggest bug-bears is over-cooked seafood, it goes chewy and rubbery, and there really is nothing at all nice about it. The Chefs at Black Barn are obviously at the top of their game anyway and their skill comes shining through in this simple dish that leaves no room for error. The Chickpea Puree was lovely and creamy, a great base against which to display the fresh Orange segments, bright Fennel notes and the bold taste of Sun-dried Tomato gremolata.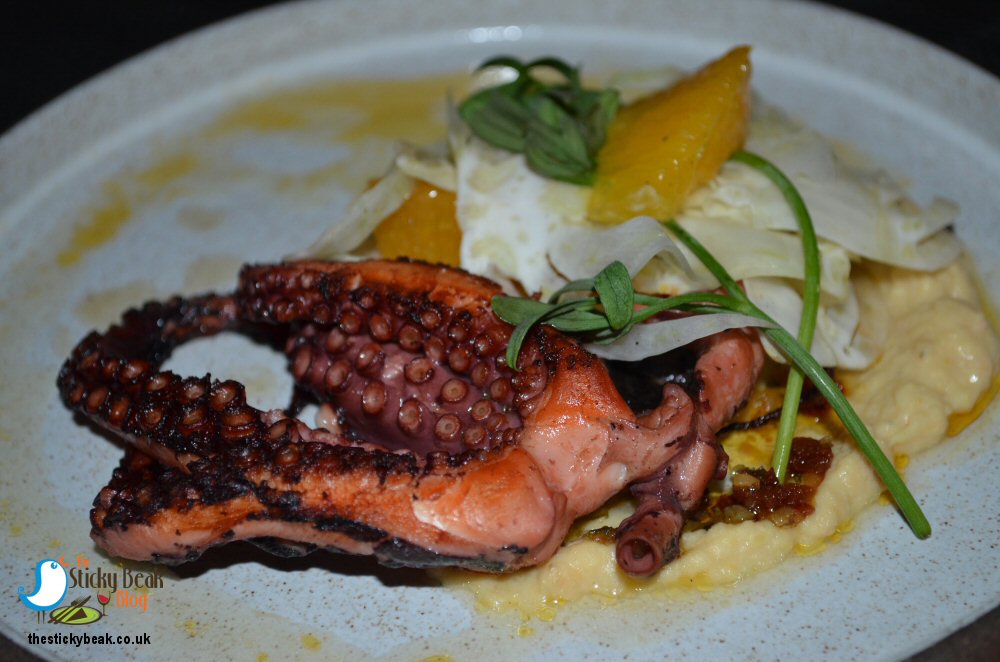 The Man Bird is moderately intolerant to Lactose, but some cheeses don't seem to bother him particularly; Ricotta is one of those cheeses that seem to agree with him luckily, as he fancied the Ricotta stuffed Meatballs to start his meal. The meatballs themselves were juicy and flavoursome with a melted Ricotta ball in the middle and the accompanying Tomato sauce was lovely and rich; Parmesan added its own unique flavour to the dish, somehow seeming to enhance everything.
Our lovely server came to check that everything was satisfactory and was very happy when she took three empty starter plates away; needless to say we had all thoroughly enjoyed our first courses.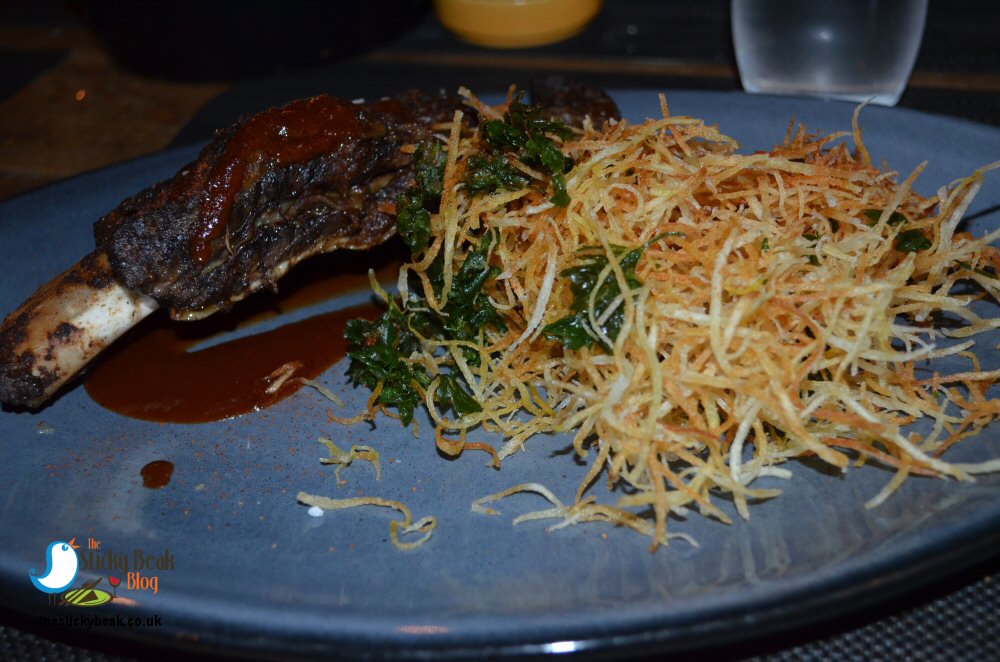 For mains The Man Bird and Chickadee had dishes from the Tavern menu; Chipotle-Orange BBQ Beef Rib with shoe-string fries and Cucumber salad for His Nibs, Maryland Crab Cakes with grilled Pineapple, Red Onion salsa and Romesco sauce for The Fledgling. I had a dish from the Restaurant selection; Roasted and Braised Rabbit with soft Polenta, Fava Beans and grilled Romaine.
As you know dear reader, my favourite meat in the world is Rabbit - I would mug my own granny for it! The rabbit served at Black Barn is gorgeous; rich and deep to taste with an incredible tenderness to it. Paired with silky tasting Fava beans and velvety Polenta it was one of those good-for-the-soul meals; the texture and crunch from the grilled Romaine was the proverbial icing on the cake. Yet again I sorely wished I had a DeLorean to take me back in time to eat it all over again. And again.


The Boy Wonder might as well not have used cutlery; his rib beef was that tender it just came off the bone as soon as any hint of pressure from the knife and fork went near it. We all marvelled at how tasty the shoe-string fries were. Those of you that are a certain age will remember how good Walkers' crisps French Fries tasted; imagine a smaller, thinner version with no hint of grease and you get the yummy picture :) The Chipotle-Orange rub was just smoky, hot, and citrusy enough for His Nibs to get its effect but not over-powering so that the natural tastes and texture of the meat couldn't shine.
During this holiday our Chick has been slowly expanding her culinary horizons and felt confident enough in Chefs' ability to try Crabmeat for the first time; she was very pleasantly surprised by its sweetness, and really enjoyed the subtle seasoning and the texture of her crab cake. So brave was she feeling that she tried the Romesco sauce and quite liked that; Pineapple was a step too far though, for some bizarre reason she can't stand it, unlike me who loves it. The Tomato and Onion in the salsa went down well though, and I was a very proud Mummy Bird that she trusted the Black Barn team enough to try something new with them.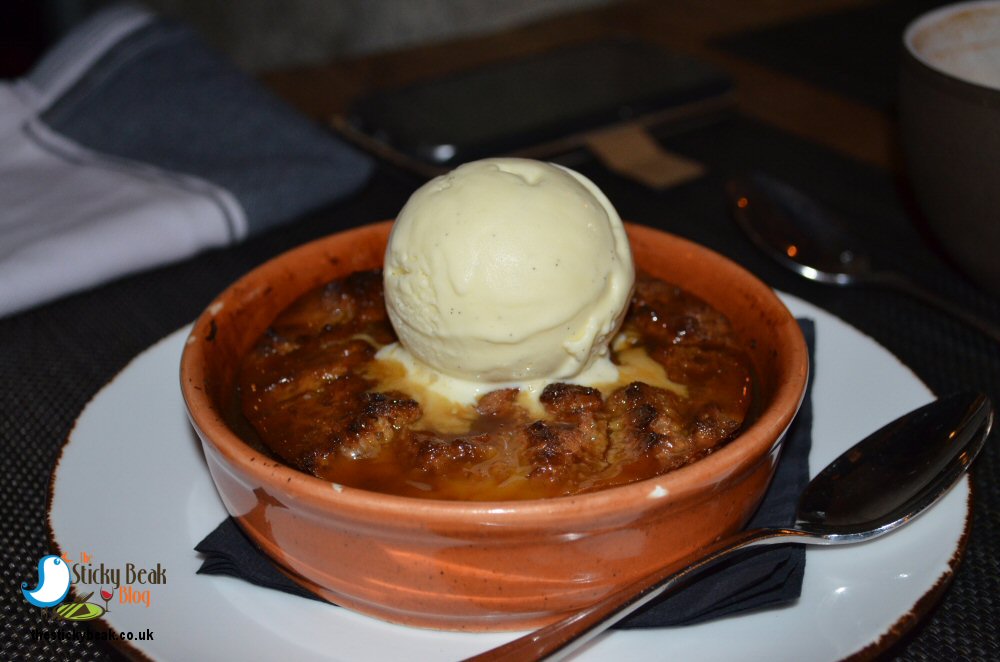 At the start of the evening we had been told about the Apple Cider Doughnuts on Black Barns' menu and how ridiculously good they were, so His Nibs just had to try those for pudding; I had the Rum Butterscotch Bread Pudding, and Chickadee had her first Soufflé.
You can't beat a bit of table theatrics and when The Chicks' dessert arrived the server plunged a spoon into its centre and then poured Vanilla sauce into the middle of it from a good height. Her face was brilliant, as was our evening so far in the Black Barn Tavern. It was declared to be scrumptious and she said that she was a soufflé convert :)


Light, fluffy ring doughnuts are a treat to savour when they're done right and the ones at the Black Barn hit the bulls 'eye. Not only were they superbly light and airy but they had a discernible Cider taste to them, unlike a lot of supposedly Cider containing dishes we've encountered elsewhere on our travels. A wickedly rich Caramel dipping sauce completed this stunning pud, and The Boy Wonder was a jolly happy chappy I can tell you!
How to describe my dessert? Stupendously sinful, artfully addictive; you name it, my bread pudding was it. And then some. Gorgeous rum tinged custard had soaked into the slices of bread and was then baked so that I just got a spoonful of unctuous, creamy delightfulness. The hidden treasure was the butterscotch at the bottom which was crazily rich, muchos yummy. All this warm delight needed was the simplest partner, and a wonderful Vanilla Ice Cream was slowly melting on top to provide another layer of magnificence for the palate to revel in.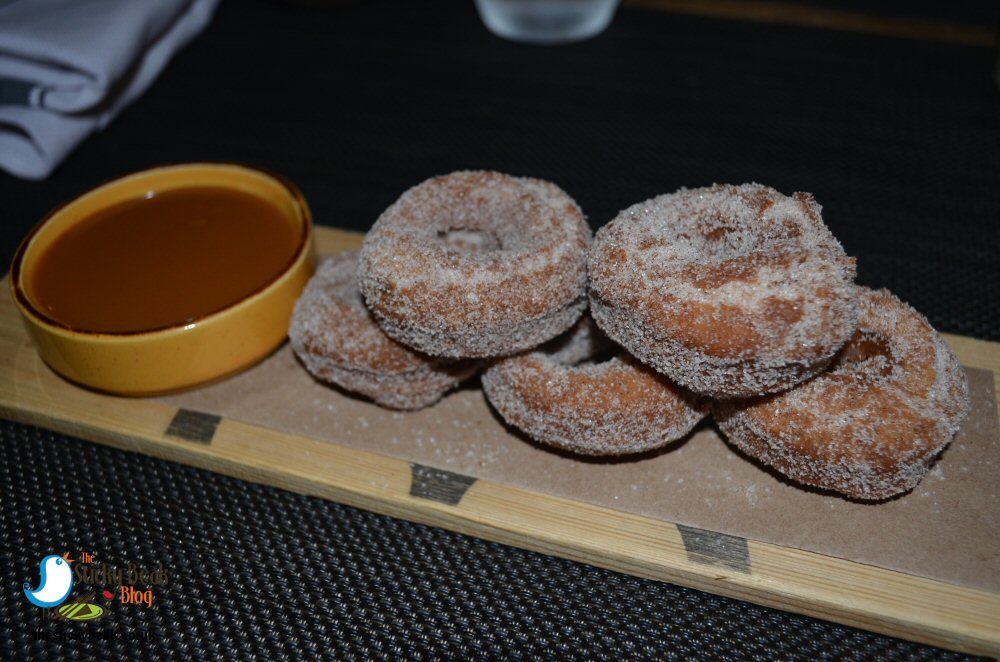 So good was our evening that we all quietly sat there in a kind of dazed amazement, not quite able to process all the myriad tastes and textures we'd just experienced. It really was one of those meals that have you slightly over-whelmed and wondering whether you dreamed it all. Over some coffees we all slowly processed the evening and grinned with unbridled joy.


I really can't emphasize the fact that if you're in New York you need Black Barn in your life! The venue is great, as are all the staff and the quality of food for the price is simply unheard of. If I was a New York resident I would be dining here at least once a week, if not more. Hot Wings definitely deserved at Black Barn Restaurant :)
Huge thanks need to go to John and Gina for their hospitality, thank you so much for allowing us to share your wonderful vision with you; and the family holiday memory we created will stay with us forever.
Some form of incentive was provided to visit this venue
read more